The English Shore of the Dee Estuary:- From the vast lonely sand banks around Hilbre Island to the seemingly endless marshland of Parkgate and Burton, the estuary provides a wealth of habitats for the birds. To this is added easy access along the whole coast making the Dee Estuary a Mecca for Birdwatchers. Below is a description of the five main birdwatching areas:
The Hilbre Islands
Hilbre Island is part of a local Nature Reserve maintained by the Wirral Borough Council. There is a bird observatory on the Island, read their blog - http://hilbrebirdobs.blogspot.co.uk/. Almost anything can turn up at Hilbre during migration and some great rarities have been recorded. Sea watches can be particularly productive typically producing Skuas, Gannets, Manx Shearwaters, Leach's Petrel, Kittiwake and Little Gull. In the sea around the Island a good selection of Divers, Grebes and sea ducks can be observed, including Red and Black Throated Diver, Great Crested Grebe, Scoters, Scaup, Long Tailed Duck and Eider. Purple Sandpiper are a Hilbre speciality being present from November to April and over 200 Turnstones are to be seen on the rocks surrounding the Islands. July and August is the time to observe Terns, good numbers of Common, Sandwich and Little Tern pass the Island in a steady stream, with a few Arctic and Black Terns usually spotted. Many terns use the sand banks around the island as a low tide roost. At high tide all three islands - Hilbre, Middle Eye and Little Eye - are used as high tide roosts by a large number of waders. To the south of Little Eye are the Tanskey rocks, best seen from either Little Eye or the outer wall of West Kirby marine lake they attract large numbers of waders and Shelduck at low tide.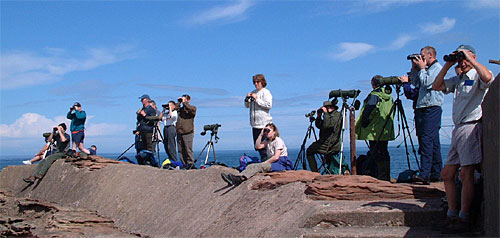 A busy day on Hilbre Island

If you hear a weird moaning sound whilst visiting the Island, don't worry, it is just the Grey Seals. At low tide they can be seen laid out on West Hoyle Bank to the west of the Island with typically a maximum of at least 400 in August. Dolphins and porpoises are also occasionally seen but you will be extremely lucky to see any.
The Friends of Hilbre Website gives a lot more informaton, including Planning your trip to Hilbre.
Top of page
.
Map and directions.
Part of the Wader Roost at West Kirby, the marsh in the foreground. The species shown
are Dunlin, Knot and Grey Plover.
West Kirby
West Kirby shore between the Marine Lake and Red Rocks is a high tide roost for thousands of waders. This area can be subject to disturbance but the presence of Voluntary Wardens during the winter months keeps it to a minumum. In the winter months Dunlin and Knot should be seen in their thousands with Bar Tailed Godwit, Sanderling, Ringed Plover and Grey Plover.
The Marine Lake can hold Goldeneye, Red-breasted Mergansers and Cormorants but get there early before the windsurfers drive them off. Rarer visiting birds include Red-throated Diver, Scaup and Common Scoter. The shore on the Caldy side of the lake (next to West Kirby Sailing Club) is much more muddy than the north end, holding good numbers of feeding waders at low tide, Turnstones are a particular feature next to the Sailing Club. Carrying on up this shore leads to Cubbins Green, an area of grass, scrub and brambles which might hold some interesting migrants or breeding warblers in the spring.
Gilroy Nature Park at the inland side of the town is a locally maintained lake holding good numbers of duck, mainly Mallard, and the scrub and hedgerows hold good numbers of warblers in the spring and summer. The flooded field adjacent to the Gilroy Nature Park attracts hundreds of Black-tailed Godwits from late July through to October as well as sandpipers, Lapwings, Redshanks, Greenshanks, Ruff and even Knot. Gargany are recorded here form time to time.
Caldy
Off Caldy steps are Caldy Blacks, a mussel bed which holds large numbers of waders and gulls, particularly Oystercatchers. A channel comes close to the shore here and stays close all the way beyond Heswall, affording great views of the birds at all states of the tide.
Caldy Hill on the inland side of Caldy is an area of heathland, gorse, birch wood and mature mixed woodland. A very pleasant place for a stroll with excellent views over the estuary towards Wales and Hilbre Island. In the spring it will be teeming with Willow Warblers and Chiffchaffs. Green and Greater Spotted Woodpeckers, Jays, Nuthatches and a variety of Warblers and Tits can be seen at Stapledon Wood, Wood Warblers occasionally visit on spring migration The fields below Stapledon Wood often hold good numbers of feeding Curlew and Oystercatchers.
The Wirral Way
The Wirral Way, a path on the track of an old railway, is 12 miles long and goes from West Kirby to Hooton in mid-Wirral. It is lined with scrub and woodland offering cover to numerous breeding passerines, Yellowhammers and Linnets. Wild flowers attract butterflies and in the winter thrushes and finches feed on Hawthorn berries. In the winter many waders, especially Curlew and Oystercatchers, feed in the fields either side of the path. It runs close to the estuary all the way to Neston.

Top of page.
Thurstaston and Heswall
Map and directions.
Thurstaston Hill and Royden Park
An area of sandstone outcrops with heathland, birch scrub, gorse, pine woods and mature woodland. This mix gives a variety of habitats for woodland birds and is particularly attractive to Willow Warblers, Chiffchaffs and numerous members of the tit family. In the more mature woodland both Green and Greater Spotted Woodpeckers can be seen along with Nuthatches and Jays.
Thurstaston Country Park and Shore
The park and nearby Wirral Way has thickets of blackthorn, hawthorn and brambles - all excellent nesting sites and holding a mass of berries in the Autumn, attracting Fieldfares and Redwing. The fields nearby hold feeding flocks of Curlew, Lapwing and Oystercatchers in the Winter with breeding Skylarks in the Spring. Dawpool Nature Reserve is particularly for spotting a good selection of warblers in the spring.
The shore here is a major feeding area for Shelduck, Black-tailed Godwits, Oystercatchers, Knot and Dunlin. Walk out on the causeway by Dee Sailing Club and it is like being in the middle of one of the better RSPB films, completely surrounded by the sight and sounds of the birds. Numerous Herons feed in the nearby channel which attracts the birds at all states of the tide. Visit Thurstaston shore 3 hours before a big high tide and you will be rewarded with the sight of these thousands of birds slowly being pushed up river resulting in a concentrated mass close inshore.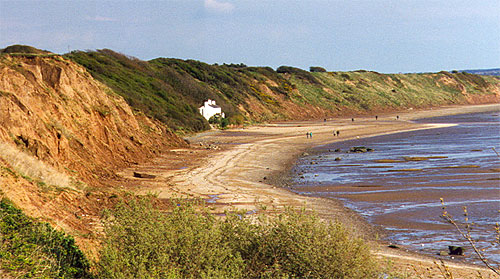 Thurstaston Shore with Sally's/Shore Cottage in the centre. In winter the mud flat on
the right is full of waders. © Richard Smith.

Heswall Shore
In October every year up to 8,000 Shelduck are seen here, a spectacular sight. The marsh starts at Heswall affording good shelter both for boats and birds. The channel (or gutter) comes within 50 foot of the shore which gives excellent views of the numerous Teal feeding in it. The marsh edge is a major roost site for both Curlew and Redshank. A large flock of Black-tailed Godwits can often be seen feeding on the mud off Heswall Fields, particularly in early winter. Peregrine Falcons, Hen Harriers and Short-eared Owls are often seen hunting over the marsh.
I cannot think of many better places than Heswall shore on a winter's day, walking along the beach just watching these thousands of birds. Get down here at least two hours before high water when the birds are concentrated near the shore for really spectacular views, but it's excellent here at any time.

A more detailed description of Heswall shore can be found in the November 1998 newsletter.
Heswall Marsh
Both the Riverbank Road car park and the path leading past Heswall Golf Course from Cottage Lane give good views of the marsh on a spring tide where it is often covered here when the tide is still a long way from Parkgate. This area is particularly good for seeing Short-eared Owls flushed from their roosts by the sea. Also expect Pink-footed Geese, Teal, Shelduck, both Hen and Marsh Harriers and many waders, and on the edge of the marsh we often get Red-breasted Mergansers, Brent Geese and Great Crested Grebes.
Neston and Parkgate
Map and directions.
Parkgate is renowned for its high tide Birdwatches when up to 400 birders may be present. This only occurs on the few occasions in a year when the tide covers the marsh with heights of over 32ft/9.8 metres. At high tide Pintail, Wigeon and Teal can be seen close inshore and waders continually fly past on their way to roosts at Burton. Short-eared Owls, Hen Harriers and other raptors are observed on the lookout for rodents evicted by the rising water and also Water Rails may be seen trying to escape the tide. All the marsh off Parkgate is part of the Dee Estuary RSPB Reserve. There are various flashes on the marsh fairly close to the promenade and these often attract a good numbers of birds, especially Greenshanks in late summer and autumn, as well as various other waders including Redshanks, Spotted Redshanks and Black-tailed Godwits. Little Egrets are everywhere and look put also for Great White Egrets and Spoonbills which sometime occur. Through the winter hundreds of Pink-footed Geese are on the marsh, sometimes quite close to the promenade but they can be difficult to see in the long grass and reeds, but every so often a flock will take flight giving spectacular views.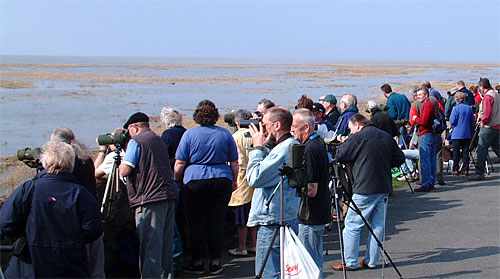 Parkgate at high tide, hundreds of birders turn up to see the birds driven in by the
incoming tide. © Richard Smith.

An excellent description of High Tide Birdwatching at Parkgate is given in the December 2001 newsletter. At the end of Moorside Lane in Neston is a path going to the shore. High tide is an excellent time for views of Pintail, Wigeon and Shelduck with a large wader roost nearby. Just to the south of Moorside Lane is quite a large reed bed, known locally as Neston Reed Bed. This is a good spot for Reed Warblers, Grasshopper Warblers, Reed Buntings, Water Rail and maybe the odd Bittern in winter.
Denhall Quay near the Harp Inn is a fabulous place on a high spring tide and unlike Parkgate you will have the place more or less to yourself! There are large wader roosts on the marsh and the possibility of getting good views of Bewick Swans on the Burton side of the Quay. As in Parkgate the high tides bring in flocks of duck close inshore.
Between Denhall Quay and Moorside Lane is Neston Old Quay, here a stream enters the marsh and seems particularly attractive to Water Pipits in the winter. Both Denhall Quay and Neston Old Quay make very good vantage points to observe Marsh Harriers, Hen Harriers and Short-eared Owls. Just inland from here is scrub, reeds and a sewage farm - watch out for Cetti;s Warblers and Water Pipits.

Top of page.
Burton
Map and directions.
Burton Marsh, part of the Dee Estuary RSPB Reserve, is a good place to look for Marsh Harriers, Hen Harriers, Short-eared Owls and Great White Egrets. There is standing water here which attracts various duck including Teal, Wigeon and Mallard. A large flock of Lapwing is usually present some of which stay to breed in the spring. Bewick and Whooper Swans are sometimes seen here in the winter. Where Station Road reaches the bottom of the hill with the marsh in front of you turn left (to the south) and walk along the track to Burton Point where great views of the marshland birds can be had, there are usually Grasshopper Warblers here in the spring and Stonechats through the winter, a sizeable reedbed may well hold Cetti's Warblers. If you walk from the end of Denhall Lane towards the Harp Inn at Neston you will pass a series of brackish pools on your left, these are the Decca pools and attract a good selection of wildfowl and waders, plus Little Egrets and Grey Heron. The walk along Denhall Lane is especially good on a high spring tide when you will be rewarded with views of large numbers of waders and duck, the waders use this area as a high tide roost.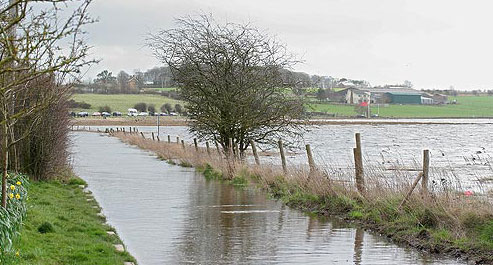 A flooded Denhall Lane next to Burton Marsh on an unusually high spring tide.
©
Steve Round

Burton wood is an area of mature woodland with a good variety of woodland birds including Woodpeckers, Warblers, Tits, Jay and Sparrowhawk. Haddon Wood beyond is closed to the public.
Last but not least is the RSPB Reserve at Burton Mere Wetlands - click here for details about the reserve. It is an extensive area of fresh water lagoons, scrapes, reedbeds, wet fields and woodland with several hides. To quote the RSPB: "A magnificent mosaic of wetlands and beautiful woodlands". Download a MAP here, and see the RSPB Website page about BMW here.