---
Dee Estuary Birding - latest sightings, site guides.
See various Articles about the wardens - list of links below.
---
Teams warden West Kirby beach in North Wirral to:
Prevent disturbances to wading bird roosts at high water
Monitor the roosts
Show the birds to passers-by
If you could give just three hours of your time a month, it would be of great help.
For information. phone the Coastal Ranger, on 0151 648 4371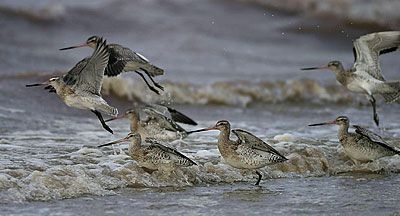 Steve Round © Bar-tailed godwits on the Wirral Coast.
The Dee Estuary is one of the North West's last surviving wildernesses. Every winter it is visited by thousands of wading birds. At times of high water, birds are forced to feed and rest on the limited beach margins including the shore at West Kirby in Wirral.
The Dee Estuary Voluntary Wardens scheme was set up by Wirral Borough Council at the request of English Nature fifteen years ago to protect the birds at these times and to monitor their movements. The data collected by the Wardens are being computerised at Liverpool Museum and contribute to Liverpool Bay Wader Study Group research.
Two to five Wardens are scheduled to be on the beach for about three hours each time the height of the tide is above 8.6 metres at high water during daylight hours between September and March.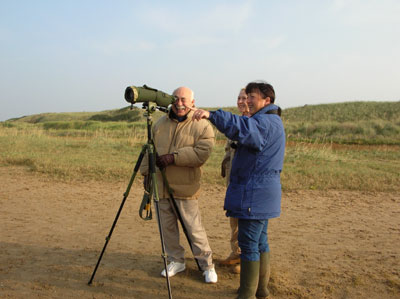 David Esther© One of the wardens showing the birds to a couple out for a walk
WE NEED MORE WARDENS, CAN YOU HELP? You don't need to be an expert and there is some great birdwatching to be had in the company of some experienced birders only too pleased to pass their expertise on.
Please note that the Dee Estuary Voluntary Wardening scheme at West Kirby is not the only scheme on the estuary, see also:
Neston Reed Bed,
Point of Ayr Wader Roost,
Gronant Little Tern Colony.
For regular updates about the wardens and the West Kirby High Tide Roost see the monthly newsletter on this web site. Past newsletter articles have included the following:
Description of role and appeal for new wardens (Sep '99)
West Kirby High Tide Roost Counts 1986 to 1999 (Dec '99)
West Kirby High Tide Roost Counts 1999/2000 (May '00)
The role of DEVW in stopping bird disturbances at West Kirby (Nov '00)
DEVW Annual Report 2000 (Mar '01)
West Kirby High Tide Roost Counts 2000/2001 (May '01)
History of the DEVW (September '01)
The Wardening Year (2001) (May '02)
DEVW Bird Report 2001 (June '02 and July '02)
Lovebirds! (Dec '02) by John Pugh.
Appeal for Wardens (Sep '03), and (Sep '04).
West Kirby High Tide Roost Counts 2004/2005 (May '05), and July '05.
West Kirby Review of season 2005/2006 (Aug '06)
Also see http://www.wirral.gov.uk/er/devw.htm