The north Wirral shore - vast sand banks, promenades, embankments and sand dunes. The area is heavily used as a recreational area but despite this still holds huge numbers of birds. The sand banks are renowned for their large flocks of waders, especially Knot and Bar-tailed Godwit whereas inland a good variety of habitat includes sand-dunes, ponds, streams, reed-beds and unspoiled meadows.
Hoylake and Red Rocks
Red Rocks
Red Rocks consist of two areas, south, towards West Kirby, are Red Rocks Marsh and sand dunes and to the north Hilbre Point overlooking Bird Rock, East Hoyle sand bank and Liverpool Bay. Hilbre Point (locally known as just "Red Rocks") can be good for sea watching, particularly in summer and autumn. Red Rocks Marsh is a nature reserve maintained by the Cheshire Wildlife Trust. It consists of brackish marsh, reed bed and sand dunes and attracts a considerable variety of migrants on passage in spring and autumn. The reed beds contain breeding Sedge and Reed Warblers in spring and summer whereas the sand dunes have breeding sky larks and grasshopper warblers with one or two overwintering Stonechat. The reserve is also home to over 50 species of flowering plants and the rare Natterjack Toad. There are good views across to Hilbre and the sand banks are a wader roost in late summer, autumn and winter and a Tern roost in the summer with Common, Little and Sandwich Terns.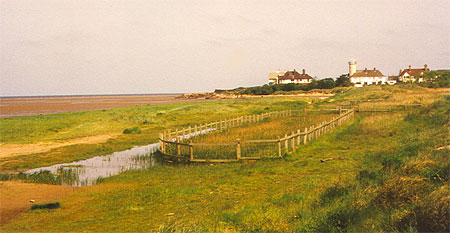 Red Rocks Marsh - Fenced off area is where the Natterjack toads breed,
the reed bed can be made out to the right and Liverpool Bay out to the left.
Hoylake
The shore at Hoylake at the end of King's Gap road is a high tide roost for waders during spring to medium high tides. Hundreds, if not thousands of Oystercatchers, Knot, Dunlin, Bar Tailed Godwit and Redshank should be seen, peak numbers occur in mid-winter but good numbers of waders can also be seen in late summer, particularly Dunlin and Ringed Plover with Curlew Sandpipers always a possibility. Flocks of Knot as big as 30,000 are sometimes seen in winter, a magnificent sight and the area is a roost site for large numbers of gulls. This spot is also good for sea watching at high tide, the new Lifeboat Station is a good view point and there is shelter there from westerly gales. Further down beyond the Lifeboat Station the flats become quite muddy and consequently are feeding areas for a good selection of waders, gulls and Shelduck.
On the inland side of Hoylake are a group of marshy fields called the Langfields. This area, often flooded in winter, is always worth checking out for a good selection of wildfowl and waders. Any marshland bird can turn up here.
Map and directions.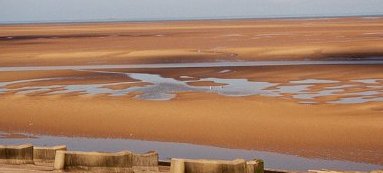 The photo shows the area of sand known as Mockbeggar Wharf,
stretching from Meols to New Brighton. The concrete blocks
in the foreground are part of the embankment.

Meols promenade, an extension of the promenade at Hoylake, is an excellent spot to observe waders at low tide. A channel runs close to the shore here and this attracts the usual Oystercatchers and Redshank along with a good variety of other species including Dunlin, Knot and Grey Plover. A particularly good spot for viewing these birds is at the end of Roman Road, there is a convenient shelter there. Stand here as the tide comes in during winter and the birds feeding on Mockbeggar wharf to the east move off in huge flocks, flying past on their way to high tide roosts at Hoylake and Point of Ayr.
From the east end of Meols to New Brighton promenade stretches a large concrete embankment protecting the low lying land behind. The embankment affords good view points both at low tide to see the waders and high tide for sea-watching. In September during the Autumn passage this is the best place in Britain to see Leach's Petrel, be there two hours either side of high water during a strong to gale force North West wind. Prime spots for sea watching are Dove Point (meols) and Leasowe Gunsite car park. These and other birds such as Manx Shearwaters get blown into Liverpool bay and the mouth of the River Mersey whence they make their way along the Wirral coast and back out into the Irish Sea past Hilbre Island.
The sand banks here are called Mockbeggar Wharf, named after Mockbeggar Hall - otherwise known as Leasowe Castle - the name Mockbeggar apparently being an old sailors' term for a lone house. Low tide Wetland Bird Survey counts show that some species feed almost exclusively here (rather than the Dee Estuary itself), namely Ringed Plovers, Grey Plovers, Sanderlings and Bar-tailed Godwits. In addition it is a major feeding area for Knot, counts of over 20,000 not being uncommon.
Inland of the embankement, particularly the area between Dove Point and Leasowe Lighthouse, is some superb bird habitat with sand dunes followed by a series of small horse paddocks many surrounded by overgrown hedges. This habitat seems particularly attractive to spring migrants and we get Ring Ouzels, Yellow Wagtails, White Wagtails, Wheatears, Whinchats, Redstarts and a whole range of warblers. Lingham Lane, inland of the lighthouse, with it's tall hedges and the nearby River Birkett is a particularly good place to look for migrants. A more detailed description of the Leasowe Lighthouse and Lingham Lane area is given in the November 2003 newsletter.
Note that a further description of the North Wirral shore can be seen in the October 1999 Newsletter.
Top of page
.
Wallasey and New Brighton
Map and directions.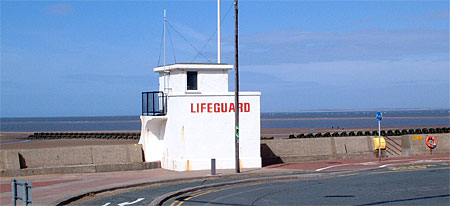 Wallasey Lifeguard Station, the breakwater and Wallasey shore are in the background
© Richard Smith.

At the west end of King's Parade (near Harrison Drive) is the well known landmark of Wallasey Lifeguard station. This is an excellent spot both for sea-watching and looking at roosting waders on the breakwater below at high tide. Turnstones and Purple Sandpipers are found in winter and over neap high tides the nearby beach is used as a roost for Knot, Sanderling and Bar-tailed Godwit. This beach sometimes has a few Snow Buntings in winter. At low tide there are always plenty of waders feeding on the mud-flats. Nearby you will see the Derby Pool Restaurant, between the access road to this establishment and Wallasey Golf Course is a thicket of gorse well worth checking out for Stonechats and passage land migrants.
The stretch of sea front all the way to Fort Perch Rock is excellent for sea-watching, particularly during gales in September and October. It can be difficult to predict the best sea-watching spot as sometimes birds can come very close to the North Wirral coast all the way between the Lifeguard Station at Wallasey to Red Rocks, other times the mouth of the River Mersey is best when birds are trapped there by the strong wind. The prime spot for observing the River Mersey is New Brighton close to Fort Perch Rock, a Victorian shelter close to the sea's edge affords some protection from the elements but can get very crowded when the birds are good.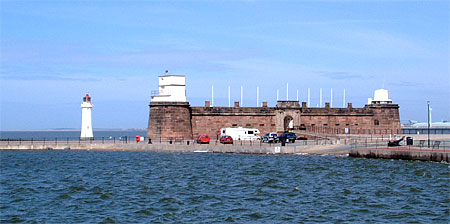 Perch Rock Lighthouse and Fort Perch Rock,
New Brighton Marine Lake is in the foreground, © Richard Smith

The sea-front in New Brighton itself was redeveloped in 2010 but the walkway along the embankment west of Fort Perch remains giving good sea-views and the new pontoon in the Marine Lake has proved particularly attractive to waders at high tide including a regular flock of between 10 and 20 Purple Sandpipers. Good numbers of gulls use the Marine Lake with Mediterranean Gulls seen most winters and it was here we had a Laughing Gull in 2015.