Back to English Shore

Map of West Kirby and Caldy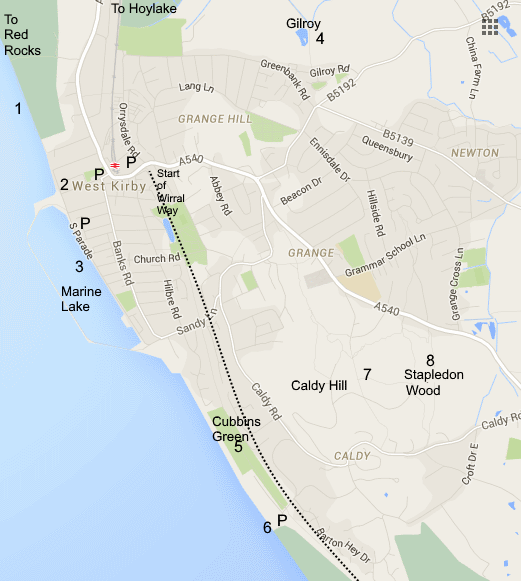 Directions: From Hoylake take the A540 (Meols Drive) to West Kirby. 200yds after entering the shopping centre turn right at Dee Lane. Carry straight on past Morrisons supermarket and beyond is a large car park, there is also parking along the promenade. At the end of Dee Lane a slipway (2) leads on to the shore where you can head for Hilbre Island. To the right you can walk to Red Rocks, and the adjacent sand bank (1) is an important wader roost in winter which also holds large numbers of terns, waders and gulls in July and August. Left is the Marine Lake (3).
The Wirral Way starts at West Kirby, opposite the Concourse (swimming pool / library) across the A540 by Elder Grove.
To get to Gilroy Nature Park (4) continue on the A540 out of West Kirby, at the top of the hill turn left down Black Horse Hill, at the bottom turn left down Greenbank Rd. then first right along Gilroy Rd. 200 yds. on the left is a lane which leads to the Nature Park, carry on down the lane for a pleasant walk through the Hoylake Langfields.
For Caldy turn right at the end of Dee Lane and proceed down West Kirby Promenade by the Marine Lake. The road turns right then follow Sandy Lane to the junction with Caldy Rd. Here turn right towards Caldy. After half a mile take a sharp right turn down Croft Drive West which leads down to the shore. To the right is a good size car park. 50 yds along the Wirral Way is Cubbins Green (5) with a path down to the beach. There are also steps down to the shore at the end of Croft Drive, locally known as Caldy Steps (6).
Caldy Hill. There is no obvious parking place for Caldy Hill (7) but there are numerous access points along the A540 and Caldy Road. Stapledon Wood (8) is at the most easterly side of the hill.
West Kirby has good rail and bus links with Birkenhead and Liverpool. There are also buses to Heswall and Chester. Map Refs: Dee Lane Slipway (West Kirby) SJ210869, Car Park at Cubbins Green Caldy SJ223850.