December 2023 Newsletter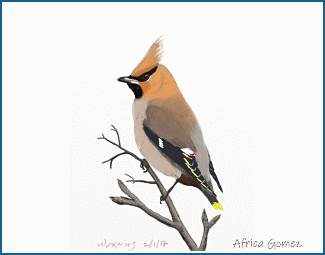 Barolo Shearwater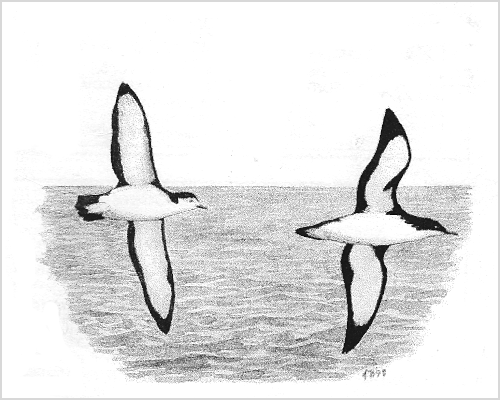 Tony Broome's sketch of a Little Shearwater (left) and Manx Shearwater (right) gives you a good idea of the difference between the two species, although in the field, and at some distance, these differences are unlikely to be so obvious.
(Sketch published on the cover of CAWOS Bird News October 1998)


I received October's edition of British Birds on the 16th and saw it was the one with the Report on Rare Birds 2022. So I quickly scanned through the article looking for any local records which had been accepted. First there was the Hoylake Pallid Swift, then the Wilson's Phalarope at Burton Mere Wetlands (seen in 2021 but submitted late) then - well, I got a shock as I saw my name. It was the Little Shearwater from 2010 - now called Barolo Shearwater.

I remember very well the day I saw it. It was the first day of strong north-west winds which lasted five days producing one of the best Leach's Petrel passages ever seen here with several hundred each day from the 15th to 17th September. I went down to Hoylake Lifeboat Station on the 14th on the falling tide hoping to see a few of the Petrels. I was thrilled to see ten, but I remember being surprised at also seeing a Shearwater. As 99.99% of Shearwaters coming past here are Manxies it didn't occur to me it might not be one of those, but what surprised me was that (a) it was late for a Manxie to still be here, (b) it was flying over the surf on the tide edge - every other Manxie I'd seen was always well out over the sea, (c) it's flight was quite fluttery, not fast and strong like a Manxie and (d) it's wings were noticeably white underneath and they seemed to be relatively stubbier and wider than a 'normal' Manxie. Did I immediately realise that I'd just seen my first Little Shearwater and start jumping for joy? Well, no, I'm ashamed to say my total inexperience with Shearwaters meant I just assumed it was just an odd looking Manxie.

However, others, who did know their Shearwaters, were jumping for joy just a short distance down the coast, as I was soon to find out. I met Chris Williams as I was walking back to the car and, after a brief chat about the Leach's Petrels, he says "Allan Conlin had a Little Shearwater off Dove Point". A quick phone call to Allan confirmed that the bird flew west from Meols (i.e. towards where I was) and he had seen it (with Al Orton) just a few minutes before I saw my 'odd looking Manxie'. So I take no credit whatsoever for identifying it, but at least I was aware that I had seen something different and the Cheshire Bird Recorder urged me to submit to BBRC what I had seen, and 13 years later it has been accepted! The first ever Barolo Shearwater (as Little Shearwaters are now called) to be accepted for the Dee Estuary/North Wirral coast. A great record, thanks to Allan and Al.

But why did it take 13 years? I quote from British Birds:
This Report finally sees the results of BBRC's review of 'Little Shearwaters'. The review stalled for several years but, with today's greater knowledge of the species' identification criteria and welcome input from acknowledged seabird experts, the Committee has now completed its work.

In total 14 Barolo Shearwaters were accepted in that British Birds report - some going back all the way to 2000.
To give you an idea how lucky we were to see our bird I quote Magnus Robb who writes in the excellent 'The Sound Approach' website:
Barolo Shearwater Puffinus baroli is easily the most elusive shearwater in the North Atlantic. Not that this species is incredibly rare, although with just 3000 to 4400 pairs (Brooke 2004), it could hardly be described as common. Its population is twice that of Balearic Shearwater P mauretanicus, and yet Barolo is far more difficult to see. A typical view is from the rear, a tiny shearwater flying away from your boat as fast as its little wings will carry it.

Although the 2010 bird was the first to be accepted for the Dee Estuary and North Wirral it was not the first to be seen there as one recorded from Seaforth on the River Mersey on September 5th 1992, and accepted by BBRC, was also seen from New Brighton but not submitted as views were poor and they couldn't rule out Manx Shearwater.

There have been several other possible/probable records plus two from inland Cheshire, and I finish by quoting from my Pelagic Seabirds in Liverpool Bay article (September 2021 Newsletter), you may be amused by the last paragraph!:

Barolo Shearwater (
Puffinus baroli

)

Most birders refer to these as Little Shearwaters, which is what they used to be officially called. These have now been split into three very similar species - Audubon's, Barolo and Boyd's which in the field are near impossible to tell apart. But where it has been possible to identify the species in the UK they have all proved to be Barolo and these breed in the Azores, Canaries and Madeira.


There have been several records of 'Little Shearwaters' off the Dee Estuary and north Wirral, but for one reason or another none have, so far, been accepted by BBRC. Strangely, there are two inland records for Cheshire which have been accepted - one was found moribund on May 10th 1958 at Stockport and a sick individual was present at Rostherne Mere from Jun 29th to Jul 3rd 1977 when it was picked up and later died.

Here are the other records:
1971 One off Meols on 20th October. Not proven.
1976 One off Hilbre on 1st September. Not proven.
1984 One off Hilbre on 2nd September. Accepted but later withdrawn.
1985 One off Hilbre on 21st September. Not proven.
1992 One in River Mersey mouth on 5th September. Recorded from Seaforth (Lancs) and accepted. Apparently seen from New Brighton but no record from there was submitted.
2000 One off Hilbre on 6th September. Not proven.
2010 One off Meols and Hoylake on 14th September. Record submitted but pending whilst under review.


So all a bit frustrating but this comment in the 1993 Report of Rare Birds in Great Britain caught my eye "This species continues to cause the BBRC severe headaches, since most descriptions just fail to provide that convincing element of proof. The Committee acknowledges, however, that this is a difficult species to prove on paper and one which, by its nature, seldom gives observers a second chance." Looking at BBRC's 'work in progress' spreadsheet no less than 67 records of Barolo/Boyd's/Audubon's Shearwater are currently under review, going as far back as 1967! But from 2018 BBRC now seem to be either accepting or rejecting records and there was one accepted in 2018 and two in 2019 - all as the species group of Barolo/Boyd's/Audubon's. It would certainly be nice if the 2010 bird seen off Meols and Hoylake was accepted as I was one of the birders who saw it.

Richard Smith

Colour Ring Report


Knots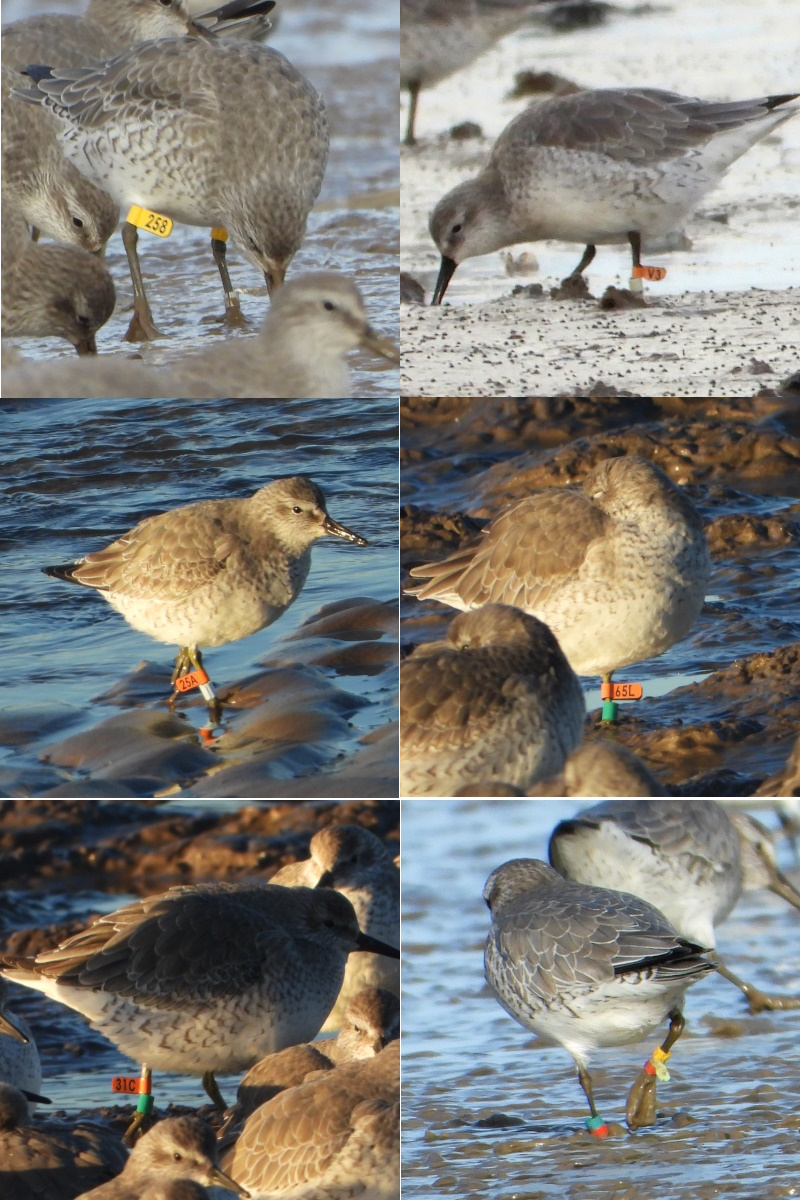 Flagged Knots all seen during November - all photos by Richard Smith
Top left - Yellow flag 258 ringed western Iceland in May 2023
Top right - Orange flag V3 ringed at Altcar in September 2017, note the bottom edge of the flag is quite worn
Middle left - Orange flag 25A ringed at Ynyslas (Cardigan Bay) in September 2023
Middle Right - Orange 65L ringed at Ainsdale in March 2022
Bottom left - Orange flag 31C ringed at Hoylake in August 2023
Bottom right - L6GRYR ringed at De Richel, Waddensea (Netherlands) in August 2010


As usual November saw a big influx of Knots coming in from moulting sites further east and we have been busy reading flags and rings. In total we logged 241 records, thus making a very significant contribution to the research into their movements, longevity, breeding success etc. Details as follows (number of records for November, but note some birds were recorded more than once):
Orange flags, ringed at Hoylake: 10
Orange flags, ringed at Altcar and Ainsdale: 183
Orange flags, ringed at Ynyslas, Cardigan Bay: 17
Orange flags, ringed in NE Scotland: 2

Yellow flags, ringed in Iceland: 9
Rings and flags, ringed in the Dutch Waddensea: 19
White flag, ringed at Alert, Northern Canada: 1

The Knots had a very good breeding season in 2023 and it's great that many of the juveniles have been ringed and that we've already recorded several. All 17 records from Ynyslas were of juveniles, as was one that had been ringed at Hoylake in August. As we continue to record these birds through the rest of their lives it's very useful to know exactly how old they are.
We saw several quite old birds during November including Orange Flag 14 ringed near Penmon Point, Anglesey, in January 2010 and known to have been been hatched in 2009, which makes it 14 years old. Another one is L6GRYR (Dutch scheme) which was ringed in August 2010 on the lonely island of De Richel in the Waddensea, since then it's been recorded a remarkable 72 times, either in the Liverpool Bay area or back in the Waddensea. A bird ringed at Alert in Arctic Canada was fitted with a white flag and rings back in 2008, it's only ever been seen since either at Thurstaston or Meols.
The plethora of flags and rings used by the different schemes can be confusing, but all is explained by Rose Maciewicz and Pere Knight in their excellent Photographic Guide to Colour-ringed Red Knot.
Colour Rings were recorded by Richard Smith, Stephen Hinde, Alan Hitchmough, Tony Ormond, Richard Ashford and Steve Williams

Richard Smith

November Bird News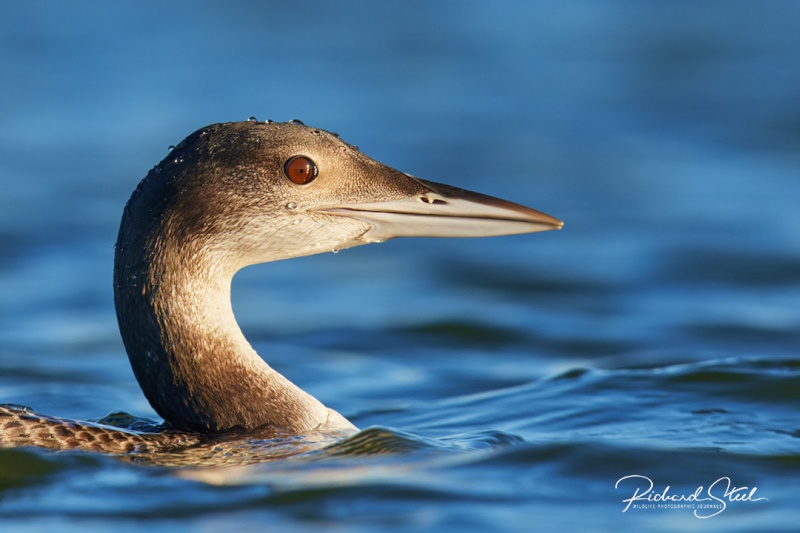 Great Northern Diver on West Kirby Marine Lake, November 30th © Richard Steel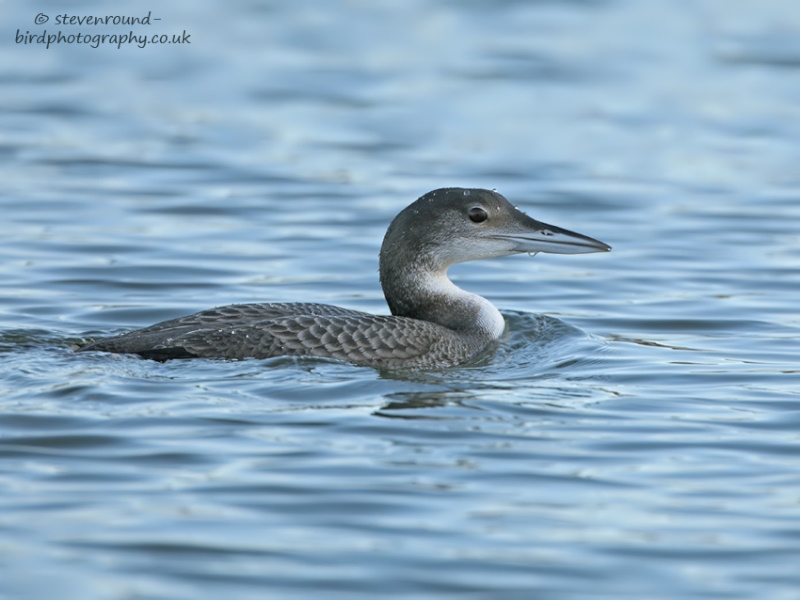 Great Northern Diver on West Kirby Marine Lake, November 29th © Steve Round

A Great Northern Diver flew over Hilbre on the 1st, to quote Steve Williams (Hilbre Bird Recorder) - "It had a look at West Kirby Marine Lake, good chance it will turn up there". He was spot on and it duly arrived there on the 4th and soon became the most photographed bird of the month!

A Pallas's Warbler was a great find on Hilbre on the 4th, the second record for Hilbre. Another great find was a Barred Warbler at Burton Mere Wetlands, photographed on the 10th and seen briefly the next two days.

There appears to have been at least three Snow Buntings around - mostly seen at Hoylake and on the shore east of Red Rocks, and nearby a Black Redstart was frequenting gardens on the north side of Stanley Road. During a period of mild southerly winds a late Swallow was recorded over Leasowe Gunsite and New Brighton on the 16th.
But the big story of the month was the arrival of Waxwings with three being spotted flying over Moreton and three in a sea-front garden at Hoylake. There's been a big irruption of Waxwings into the country so hopefully these will be the first of many. It has been over 10 years since we had good numbers in our area.
On the marshes there have been at least five Hen Harriers and six Short-eared Owls and the max count of Marsh Harriers so far has been 18 flying into the roost at Parkgate/Neston.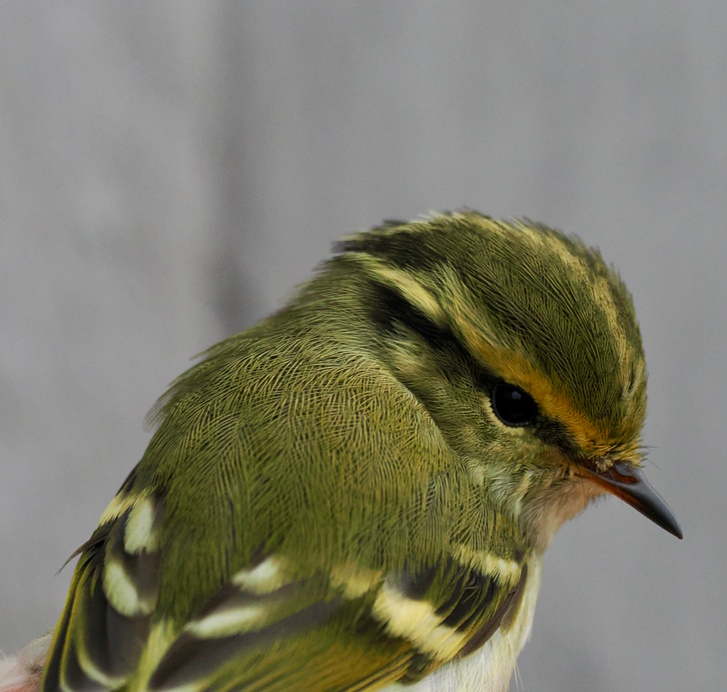 Pallas's Warbler being ringed on Hilbre, November 4th © Alan Hitchmough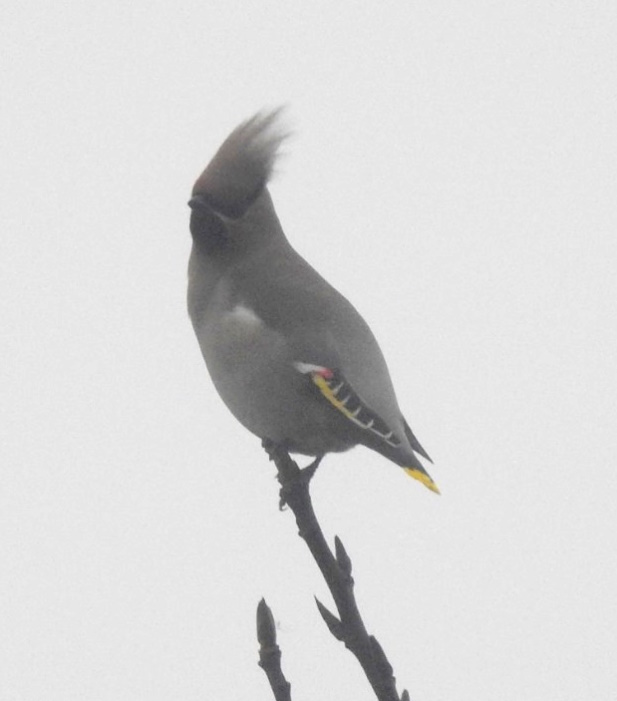 Waxwing in sea-front garden, Hoylake, November 26th © Jane Turner

Many thanks go to Steve Williams, Steve Hinde, Alan Hitchmough, Richard Speechley, Allan Conlin, Richard Whitby, Bruce Atherton, David Leeming, Matt Thomas, Steve Round, David Thompson, Les Hall, Sean O'Hara, Jane Turner, Jeremy Bradshaw, Charles Farnell, Mark Woodhead, Colin Schofield, Paul Vautrinot, David Small, Dave Harrington, Neil Newman, Mark Gibson, Tom Giles, Ed Wilson, Richard Steel, Eleanor Sutton, Paul Hill, David Lang, David Bradshaw, Peter Sutton, Elliot Montieth, Tony Ormond, Richard Ashford, Gaby Barnes, John Crook, Paul Mason, Derek Bates, Mark Garner, Steve Hart, Andrew Ingham, Stephen Burke, Chris Wilding, Richard Jones, Keith Scovell, Helen Jones, Mickey Schroder, J. Dodd, David Huntingford, Steve Senior, Andy Davis, Steve Lane, David Wilson, Steve Jennway, Richard Payne, Pete Roberts, Kelvin Britton, Chris Tynan, Nathan Fisher, John Bennett, Joey Higham, Nigel Barratt, Mike Wake, the Dee Estuary Wardens and the Hilbre Bird Observatory for their sightings during November. All sightings are gratefully received.

What to expect in December
We have had a sizable Waxwing irruption into the country, and a few have already turned up in our area. It would be great if we has some good sized flocks here, we'll have to wait and see - a reported lack of Rowan berries won't help. The last big influx here was the winter of 2012/13 when they were everywhere - see Species Spotlight - Waxwings.
Given a flat calm and bright conditions December can be surprisingly good for sea-watching with thousands of Common Scoters and hundreds of Great Crested Grebes out in Liverpool Bay, hopefully accompanied by some rarer species such as Red-throated Divers, Velvet Scoters and Long-tailed Ducks.
On the marshes we should see Short-eared Owls and Hen Harriers, and a late afternoon visit to Neston or Parkgate should see up to 20 or more Marsh Harriers flying into their roost.
It's always good to see Snow Buntings, and there will be at least one or two along north Wirral, Hilbre, Point of Ayr and Gronant. Flint marsh is probably the best place to see a flock of Twites.

Forthcoming Events
December Highest Spring Tides (Liverpool)
Also see Tides page.
14th December, 11.42hrs (GMT), 9.3m.
15th December, 12.26hrs (GMT), 9.4m.
16th December, 13.13hrs (GMT), 9.3m.
Forthcoming Events
Also see events at
https://events.rspb.org.uk/deeestuary