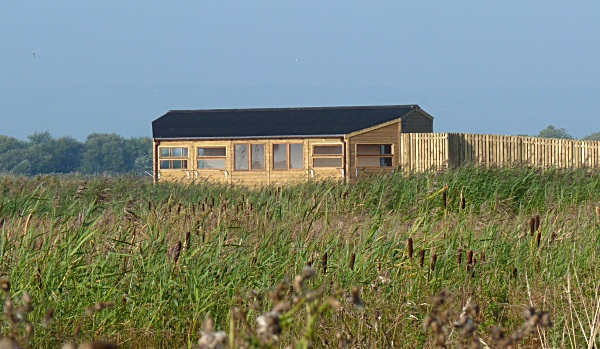 Looking over the new reed-bed towards Marsh Covert Hide © Richard Smith.
The new RSPB reserve - Burton Mere Wetlands - opened on September 24th. This new reserve incorporates what was Burton Mere Fisheries and land to the south-east of the original Inner Marsh Farm reserve, more than doubling it's size. Two new hides have been built which includes a Reception hide with glass windows and the more traditional 'Marsh Covert' hide. Opening times are seven days a week, 9.30am to 5pm. There are toilets next to the Reception Hide.
Inner Marsh Farm will remain open with access to the old hide and with the original car park at Burton Point Farm, opening times will remain the same (9am to 9pm, dusk if earlier) and closed on Tuesdays. Eventually there will be a path leading from the new Reception Hide to the old IMF hide at which point the Inner Marsh Farm reserve will be completely incorporated into Burton Mere Wetlands. But the old name will remain as the original hide will be called Inner Marsh Farm Hide.
I visited Burton Mere Wetlands a few days after it was first opened and was mightily impressed. In front of the Reception hide is a big lagoon, and two smaller ones. The area was full of birds including 13 Curlew Sandpipers and two Greenshanks, I dipped out on the Pectoral Sandpiper seen soon after I left! In the distance, towards Shotwick Boating Lake, is an area of fields, also part of the reserve, which should attract plenty of feeding swans and geese in the winter. There is an area of small lakes and mature woodland to walk round with a nature trail and picnic tables. The wood where Little Egrets and Grey Herons nest is also nearby.
Marsh Covert Hide is nice and roomy and a delight compared to the rather cramped IMF hide. On one side it overlooks a pool next to which is the new five hectare reed-bed, on the other side are good views of No.1 Pool, in the past the best views of this was from way up the hill towards Burton Point Farm. In addition there is a large grassy area next to the hide which was full of duck and feral geese when I was there.
This reserve really is an exciting development and I can't wait to spend many a happy hour birding here.
For a Map and directions to the new reserve - Click Here.
Richard Smith.
The RSPB Press Release - A Dee-lightful new place to go wild
There is now a fantastic new natural attraction to visit on the Wirral. RSPB Burton Mere Wetlands, at Burton near Neston, is opening to the public on Saturday 24 September.
Locals and tourists alike are invited to visit and take a relaxing walk to experience the sights and sounds of the wonderful wildlife on the Dee Estuary.
Thanks to generous funding from the Heritage Lottery Fund, The Rural Development Programme for England, Biffaward, WREN, SITA Trust, Natural England and English Heritage, and other trusts, legacies and corporate support, over the last three years the RSPB has been transforming the land to make this new nature reserve fantastic for both wildlife and people.
New visitor facilities have been built which include a reception building where RSPB staff will welcome visitors and point out the wildlife that can be seen in the newly created pools and wetlands. The impressive panoramic views stretch for miles over the Estuary with the Welsh hills as a backdrop.
Children from local Bishop Wilson C of E Primary School have already been given a sneak preview and came to do some pond dipping to see what creatures live beneath the water. They were joined by Iolo Williams, TV wildlife presenter of BBC Springwatch, who got stuck in and inspired the class about the wildlife they found.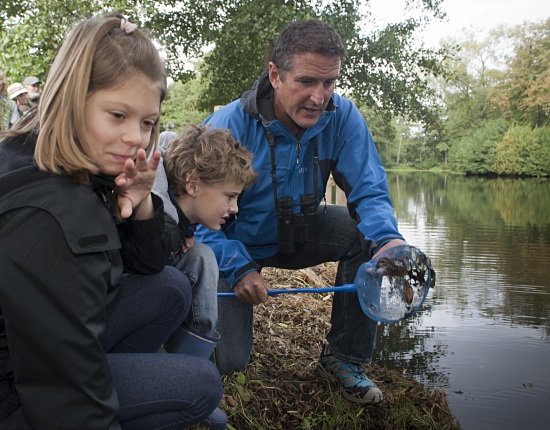 Iolo Williams and friends at Burton Mere Wetlands, photo by Ron Thomas.
Iolo Williams said "This nature reserve is a brilliant example of a place which is not only fantastic for wildlife but is now a great place for people to come and visit and get excited about nature".
Colin Wells, RSPB Site manager said "It's really satisfying to see the final results of all our hard work. We see more and more wildlife all the time and it's wonderful to be able to share it all with visitors now".
The nature trails which meander through the newly planted reedbeds are already alive with all sorts of birds and creatures and Burton pools have lily pads and colourful wild flowers all around.
The wildlife changes there throughout the seasons. At this time of year there are plenty of ducks and water birds as well as kingfishers and white herons called little egrets which can be seen fishing. Some of the wildlife is much more secretive, but there are brown hares, water voles, badgers and harvest mice living there too.
Together with Morecambe Bay, and the Ribble and Mersey estuaries, the Dee forms part of Europe's most important wetlands network for migrating birds, hosting almost a million every year.
As a special treat everyone can visit for free until Sunday 2 October and there will be regular guided walks and family wildlife challenges to enjoy throughout this time.
RSPB Burton Mere Wetlands nature reserve is open daily, with the reception building open from 9.30 am to 5 pm. The reserve is just 10 minutes from the M56. To get there turn off the A540 (Chester High Road), signposted 'The Craxton Wood Hotel' and the entrance is located down Puddington Lane, near Bishop Wilson Primary School.

To find out more about RSPB Burton Mere nature reserve please visit
www.rspb.org.uk/deeestuary, phone 0151 336 7681 or email: deeestuary@rspb.org.uk.
Top of Page
Wirral's Wonderful Waders
The Dee Estuary Voluntary Wardens (see September Newsletter) have produced a leaflet promoting the Waders of Wirral and also the work of the Wardens without which the High Tide roost at West Kirby would probably be just a distant memory. We are always on the look out for new Wardens so please help if you can. Full details are in the leaflet and for further details Click Here.
To download the leaflet please click on the links below, it is in two parts (PDF format).
Wirral's Wonderful Waders - PAGE 1 and PAGE 2.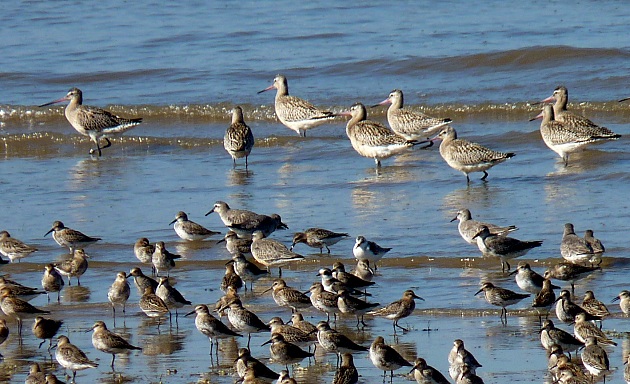 A mix of Waders at Hoylake, September 2011 © Richard Smith.
September Bird News
Another great September, but not without its frustrations, of which more below.
The influx of Curlew Sandpipers which started in Aug continued all through the month, although there was a definite peak in the first week, in particular at
Hoylake
shore where 24 were counted on the 5th.
Inner Marsh Farm
and the new
Burton Mere Wetlands
had the bulk of records with many counts in double figures through the month. They were also seen at Leasowe, Gilroy NP, West Kirby shore, Heswall shore, Parkgate and Hilbre. I'm writing an article about this influx which will be in the November Newsletter.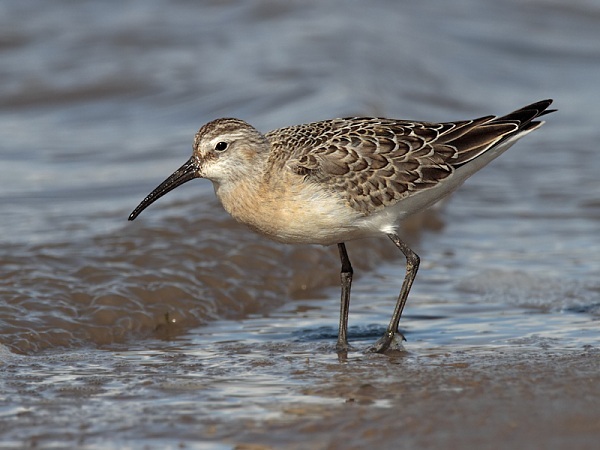 Curlew Sandpiper on Leasowe Shore, September 5th ©
SteveRound.
As is often the case when there are plenty of Curlew Sandpipers around there was also plenty of Little Stints, although in much smaller numbers. The newly dug Donkey Stand Flash at
Parkgate
attracted both Little Stints and Curlew Sandpipers, as well as a good selection of other waders. Another newly dug flash, opposite Bevyl Road in
Parkgate
, attracted the bulk of the Greenshank with a max count of 24 on 21st, and a total for Parkgate of 31 on the 25th. The
Connah's Quay Reserve
also held good numbers of Greenshank with 30 on the 20th with 10 Spotted Redshanks also there. A Pectoral Sandpiper at
Inner Marsh Farm
and
Burton Mere Wetlands
from the 25th was the icing on the cake as far as waders went. Another rarity at Inner Marsh Farm was a Spotted Crake present for the first two weeks of the month. A Great White Egret was also a great find. There had been a few probable sightings over the past couple of months, but on the 24th one showed well off Parkgate and was then recorded several times until the month-end, both at Parkgate and Burton Mere Wetlands.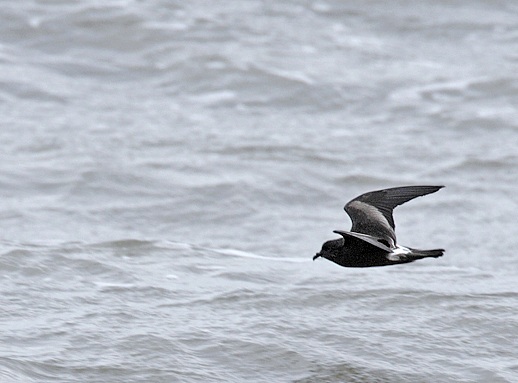 Leach's Petrel flying past Leasowe Lighthouse, September 14th ©
Steve Round.
Septembers are renowned for their good sea-watching, and this one was no exception. Gales on the 7th brought in three Leach's Petrels to Leasowe Gunsite, also seen were two Great Skuas, a Long-tailed Skua feeding on Hoylake shore and 150 Manx Shearwaters. The following day a Pomarine Skua was hanging around north Wirral, and briefly 17 Arctic Skuas were showing. The next set of gales came mid-month and again Leach's Petrels were seen with a max of 15 off Hilbre on the 13th and 23 of Leasowe Gunsite the following day. Also recorded was a Sooty Shearwater, at least two Sabine's Gulls, two Grey Phalaropes and 26 Arctic Skuas. At least three Grey Phalaropes were off Hoylake on the 22nd. But what was frustrating was that although the strength and timing of the gales was virtually ideal, the direction wasn't being almost wholly from the south-west instead of north-west. Most importantly there was never a time when the wind was blowing birds in from the Atlantic off the west of Scotland into the Irish Sea, if it had we would have seen hundreds of Leach's Petrels, as we did last year.

Two Hen Harriers returned to the marshes and a Marsh Harrier was reported on a few dates including one off Hilbre. The high tide on the 29th resulted in two Short-eared Owls off Gayton, but that was another frustration. The glorious weather at the end of the month with southerly winds was exactly what we didn't want for the tide to cover the marsh, and consequently it didn't come anywhere near Parkgate. Maybe in October!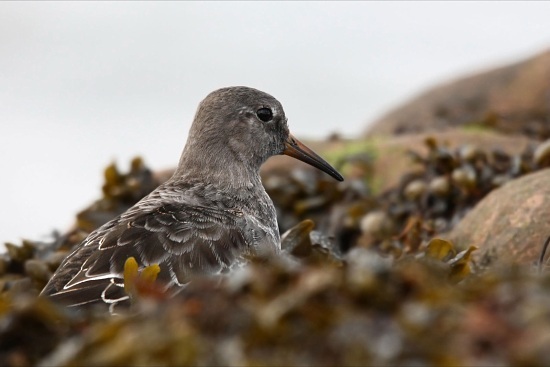 Purple Sandpiper on Hilbre, September 20th © Joe Wynn
Richard Smith.
Many thanks go to Mike Davenport, Keith Scovell, Richard Beckett, David Haigh, Steve Round, Stuart Bell, Ray Eades, Pauline Bell, Paul Mason, Bruce Atherton, Joe Wynn, Steve Williams, Colin Millington, David Esther, Greg Harker, John Jakeman, Jeff Stephens, Mark Evans, Charles Farnell, Dave Edwards, Gail Wilson, Dave Harrington, Paul Brady, Charles Farnell, Chris Butterworth, Mike Hart, David and Karen Leeming, Richard Steel, Dave Wild, Matt Thomas, Jeremy Bradshaw, Jane Turner, Paul Vautrinot, Andy Thomas, Graham Thompson, Ian Dyer, David Small, Sean O'Hara, Stan Skelton, Ian Cotterell, Leon Castell, Roy Lowry, Rob Bithell, Tom Smith, Colin Schofield, Ashley Cohen, John Coupe, Sid Ashton, Ian Fewtrell, Ian Fleming, Colin Jones, James Smith, Andy Newall, Paul Bateman, Sarfaz Hayat, John Boswell, Nick Isherwood, Colin Davies, the
Dee Estuary Wardens
and the
Hilbre Bird Observatory
for their sightings during September. All sightings are gratefully received.
What to expect in October
October is the month of Visible Migration when hundreds of Fieldfares, Redwings and finches fly south along our coastline, last year I wrote an article all about this - click here to see it.
October last year saw our first Waxwings in what turned out to be a fantastic winter for this species, as well as several Lapland buntings and the first Snow Bunting of the winter. Brent Geese numbers will build up quickly on Hilbre and expect to see flocks of Pink-footed Geese overhead.
If we get North-west gales for several days sea watching will be excellent with Leach's Petrels, Sabine's Gulls and hopefully all four species of skuas in view. In the estuary numbers of waders, particularly Knot and Dunlin, should increase rapidly, and Shelduck will be seen in their thousands off Thurstaston and Heswall.
There are another set of big high tides at the end of the month and given the right weather conditions the marshes should be covered by the sea bringing Hen Harriers, Marsh Harriers, Short-eared Owls and thousands of waders and wildfowl close in to the shore giving fabulous views.
October is also a month when some good rarities should turn up: over the past few years we have had Long-billed Dowitchers, White-winged Black Tern, Grey Phalaropes, Radde's Warbler, a probable Blyth's Reed Warbler, Red-breasted Flycatcher, Great Grey Shrike...........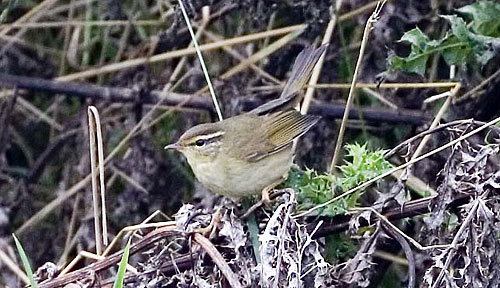 Radde's Warbler by Lingham Lane, Moreton , October 2007 © Neil McLaren
Forthcoming Events
October Highest Spring Tides (Liverpool)
Also see Tides page.
27th October, 11.51hrs (BST), 9.9m.
28th October, 12.36hrs (BST), 10.0m.
29th October, 13.20hrs (BST), 9.9m.
Forthcoming Events
Organised by the Wirral Ranger Service , Flintshire Countryside Service and/or the RSPB:
All these events and walks have bird interest, even those not advertised specifically for birdwatching. No need to book for these events unless specified - please check below.
Also see 2011 Events Diary.
Sunday 9th October, 10.45am start, Burton Marsh Walk from Ness Gardens.
Returning to Ness Gardens for a warming Scouse stew. Adults £12, Friends of Ness/Concessions £10. Phone 0151 353 0123 to book.
Saturday 22nd October 10:00 am until 3:30 pm. Low tide Birdwatch on Hilbre.
Join the Rangers and staff from the RSPB for a low tide visit to Hilbre Island. We should encounter a good variety of waders as they feed on the outgoing tide. Warm clothing and suitable footwear are essential. Sorry no dogs. Please book early as there are limited places available. For booking and further enquiries call: 0151 648 4371.
Thursday 27th October, 9:00am start (high tide 11.30am), 40 Years of Ramsar – Marsh-Cam.
NOTE - THIS EVENT MOVED TO THE CAR PARK END OF WEST KIRBY MARINE LAKE - Webcam will be on Little Eye.
Join the Rangers and members of the Wirral Country Park Recording Group for a high tide birdwatch at the Riverbank Road car park (Lower Heswall) looking out over the marshes.
As well as the telescopes we will be deploying our remote marsh cam to keep tabs on the birds as the tide pushes them around.
Binoculars/telescopes available.
For further enquiries telephone: 0151 648 4371.
Saturday 29th October Time: 10:00am – 2:00pm, RSPB Feed the Birds Day
Join the RSPB at the Thurstaston Visitor Centre and see what bird species can be seen from the bird hide and get some valuable tips on feeding birds in your garden. The Green Shop will have seed and a variety of bird feeders on sale throughout the day.
No need to book – just turn up.
For more info ring: 0151 648 4371.
Sunday 30th October, 3pm start, RSPB Raptor Watch at the Old Baths Car Park, Parkgate.
The Dee Estuary Nature Reserve is a vital wintering grounds for many birds of prey – Discover these impressive birds in their wild habitat, hunting and roosting on the saltmarsh.
Warm clothing and binoculars recommended. Ring 0151 336 7681 for further information.
Saturday 26th November 9:30 am until 12:00 noon. Birdwatch at Hoylake Shore.
(Please note – change of usual meeting place).
Join the Rangers, Dee Estuary Voluntary Wardens and staff from the RSPB to watch the waders as they roost and feed on the incoming tide. High tide at 11.05am. Dress warmly and bring binoculars if you have them. No need to book. Meet at the bottom of Trinity Road near the new Lifeboat Station, Hoylake Promenade. For further details please telephone Wirral Country Park on 0151 648 4371 or the RSPB on 0151 336 7681.
Sunday 27th November, 2.30pm start, RSPB Raptor Watch at the Old Baths Car Park, Parkgate.
The Dee Estuary Nature Reserve is a vital wintering grounds for many birds of prey – Discover these impressive birds in their wild habitat, hunting and roosting on the saltmarsh.
Warm clothing and binoculars recommended. Ring 0151 336 7681 for further information.
Birding North West is a monthly magazine for birders in the North West Region. Our aim is to bring you the news of rare and scarce birds in our region while it is still news. We consider that up-to-date news, photographs of regional birds, articles on the occurrence of birds in the North West and other articles relating to our region is what our readership want.