by the end of the month with similar numbers on Hilbre. There are single over-wintering Greenshanks at both
Marine Lake at the end of the month probably the latter bird. Up to two Spotted Redshanks were also at
.
Two male Hen Harriers continue to be seen flying over the marshes (adult and sub-adult) although ringtails seem to be a bit thin on the ground with may be as few as two present. Eight Short-eared Owls and a Marsh Harrier were at
during the high tide on the 16th. Three Snow Buntings were at the
early in the month.
Many thanks go to Damian Waters, David Haigh, Steve Hinde, Julie Rogers, Jeremy Bradshaw, Paul Brady, Alan Hitchmough, Kenny Dummigan, John Jakeman, Greg Harker, Steve Williams, Ray Eades, Bruce Atherton, Chris Butterworth, Jane Turner, Dave Wild, Matt Thomas, Roy Lowry, David Small, Dave Edwards, Colin Schofield, Bernard Machin, Richard Beckett, Paul Vautrinot, Gail Wilson, Michael Davenport, Richard Steel, Mike Short, Sheila Ryde, Tony Quinn, Mark Washington, Tanny Robinson, Brian Lingard, Dave Wilson, Brian Burnett, Peter Welch, Peter Forshaw, Nigel Jarratt, Peter Haslem, Dave Healey, Alan Brown, Will Jones, Graham Thompson, James Smith, Richard Payne, John Coupe, Alister Sclater, Stephen Simpson, Ian Palmer, Steve Hand, Mike Hart, Jenny Jones, Garry Ridsdale, Les Hall, Peter Dolley, Paul Grennard, Howard Williams, Colin Jones, Chris Smith, the
Dee Estuary Wardens
and the
Hilbre Bird Observatory
for their sightings during December. All sightings are gratefully received.
Sea watching can be excellent in January, which may come as a surprise to some! Last year alone we had a Sabine's Gull, a Glaucous Gull, several Little Gulls, Long-tailed Ducks, Velvet Scoters and hundreds of Common Scoters and Great Crested Grebes, and the two or three years prior to that we have had Black-necked, Red-necked and Slavonian Grebes, Great Northern Divers, good numbers of Red-throated Divers and over 1,000 Great Crested Grebes. Given prolonged southerly winds we can get Gannets and skuas, and even a Common Tern is not unknown.
If we get some cold weather with snow expect an influx of Pink-footed Geese onto the marshes, at least a couple of thousand, there will also be a couple of Great White Egrets, four or five Hen Harriers, perhaps a Marsh Harrier or two and several Short-eared Owls.
There are two 10 metre tides this month, exceptionally high for so early in the year, but make the most of them as there is only one other as high for the whole of 2013 - in August. Given a west wind and the presence of large number of birds on the estuary and marshes, they promise to be spectacular.
January is a particularly good month for seeing Purple Sandpipers and I would expect over 20 on the pontoon on
New Brighton Marine Lake
during the highest tides along with hundreds of Turnstones and Redshank, similar numbers of Purple Sandpipers will also be on
Hilbre
. Wader numbers generally should be high, particularly if the weather on the continent is freezing, and we should continue to get over 30,000 Knot on the estuary and along North Wirral. Other winter goodies should include Snow Buntings, with
Point of Ayr
being a prime spot, and there is always a possibility of a Shorelark or two. We would expect to see one or two Bitterns and sometimes they show really well at
Burton Mere Wetlands
.
Lastly, of course, there will still be plenty of Waxwings around although at the moment they seem very mobile and not sticking to one place. I couldn't resist putting this gorgeous photograph of one in this newsletter even though it is just outside the Dee Estuary area.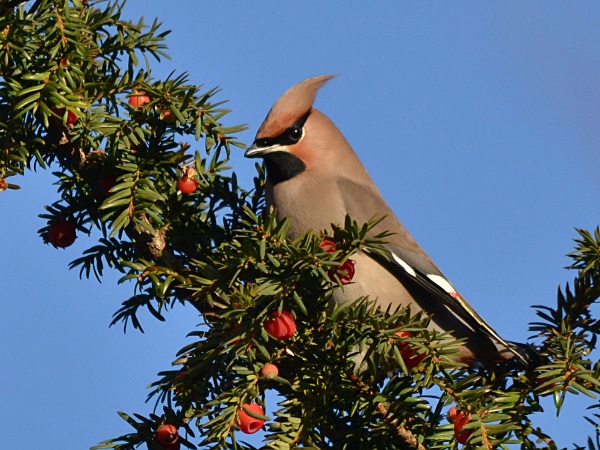 Waxwing in Yew tree in Bebington, December 11th © Mike Davenport.
Top of Page
Forthcoming Events
January Highest Spring Tides (Liverpool)
Also see Tides page.
12th January, 11.13hrs (GMT), 9.8m.
13th January, 12.00hrs (GMT), 10.0m.
14th January, 12.45hrs (GMT), 10.0m.
15th January, 13.28hrs (GMT), 9.8m.
Forthcoming Events
Organised by the Wirral Ranger Service , Flintshire Countryside Service and/or the RSPB:
All these events and walks have bird interest, even those not advertised specifically for birdwatching. No need to book for these events unless specified - please check below.
Also see 2012 Events Diary.
Sunday 6th January and 3rd February:
Skydancers at
Parkgate
- 12 noon until dusk.
Skydancer is an exciting new four-year project aimed at raising awareness and promoting the conservation of hen harriers in the north of England.
The Dee Estuary is a vital wintering ground for these amazing birds and is the best place to see them from October through to March.
Most people have never seen a hen harrier, but once seen it is rarely forgotten. This bird is a beautiful, agile hunter, and its aerobatic sky dances are among the most awesome spectacles in nature.
Unfortunately, with only a handful of pairs still breeding successfully in England, the hen harrier is currently a species on the brink.
Come along to Parkgate to find out more about the hen harrier story and what you can do to help save hen harriers before it's too late!
Look for the RSPB Love Nature marquee along the main promenade at Parkgate where friendly staff and volunteers will be with telescopes and binoculars plus family activities, free information and more:
http://www.rspb.org.uk/skydancer/
Directions: The "Donkey Stand" opposite Nicholls Ice-cream shop on The Parade (B5135), Parkgate, Cheshire.
Saturday 12th January, High tide Birdwatch,
Hoylake Shore
.
9:30 am start. High tide 1113 am, 9.8m.
You will discover why Wirral's foreshore is an internationally protected site when you join the Dee Estuary Voluntary Wardens, Coastal Rangers and the RSPB on this winter birdwatch at Hoylake. Dress warmly and bring binoculars if you have them.
No need to book.
Meet at King's Gap, Hoylake.
Please ring (0151) 648 4371 if you need more information.
DUE TO THE BAD WEATHER THE CHASING BLACKWITS TALK HAS BEEN REARRANGED FOR Jan 25th.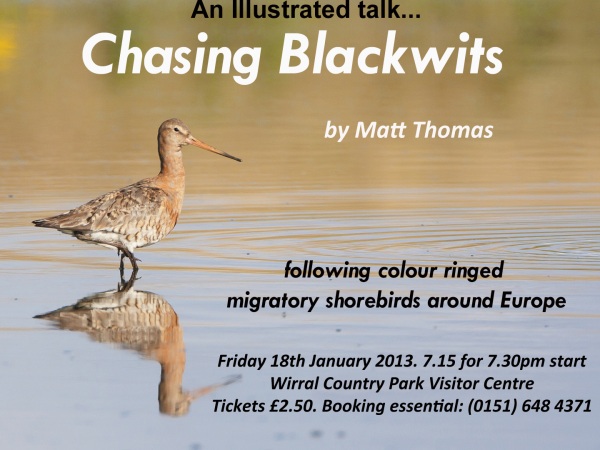 Saturday 19th January, Start 1pm, Wardens Wetland Welly Walk at
RSPB Burton Mere Wetlands
.
Price: £8 non-members, £4 members - Booking essential.
An exclusive chance to go behind the scenes at Burton Mere Wetlands and learn how we manage the landscape here to benefit wildlife.
Access to parts of the reserve which are normally off-limits will give a unique insight into the management of habitats for wintering wildfowl and breeding waders.
This 2+ hour walk will start in the main visitor reception and finish with a hot drink and biscuits.
Places are limited so booking is essential - Telephone 0151 353 8478.
NB This a a long walk over rough, boggy terrain so decent fitness and wellies are a must.
See
http://www.rspb.org.uk/events/details.aspx?id=tcm:9-337467
for further details and map.
Tuesday 29th January - 8:30am - 4:30pm, Digital Wildlife Photography on
Hilbre Island
.
Ron Thomas A.R.P.S. will be leading this course in digital wildlife photography focusing on wading birds, wildfowl and seals.
There will be practical instruction around the island and software tuition in the day room (with refreshments).
This is a full day course staying on the island over high tide.
Camera, batteries, packed lunch, warm waterproofs and strong footwear required.
Places are limited and booking is essential (a charge applies)
For further enquiries contact 0151 648 4371.
Saturday 2nd February - 10:00am - 3:00pm, World Wetlands Day -
Wirral Country Park
.
The Visitor Centre at Thurstaston overlooks the internationally important wetlands of the Dee Estuary.
We will be marking World Wetlands Day with a day of activities at the Centre including a slideshow at 11.00am and a guided walk at 12.30pm.
There will be experts on hand to answer bird watching questions and there will be stalls with information about local groups.
Warm waterproofs, strong boots and binoculars are recommended for the guided walk.
For further details telephone ring 0151 648 4371. No need to book.
Sunday 3rd February - 10:30am - 12:30pm, Winter Birds at
Royden Park
.
Join the Ranger and spend some time looking at our resident winter birds and gaining some hints on feeding and nest box locations.
Meet at Coach House/Court Yard at Royden Park.
Sorry no dogs.
For further enquiries ring 0151 677 7594.
Tuesday 12th February - 8:00am - 4:00pm,
Hilbre Island
- Purple Patch.
Each winter Hilbre Island plays host to a small troop of Paurple Sandpipers.
These small waders are a real highlight of Hilbre's winter avifauna and are the target species for this guided walk across to the islands.
We will also look for other Hilbre winter specials like Brent Geese, Divers and Grebes.
There will also be a short slideshow and talk in the day room.
This is a full day trip, staying on the island over high tide.
Places are limited so booking is essential, please ring 0151 648 4371.