Knot numbers have been very impressive with between 30,000 and 40,000 in the estuary. The count of 37,000 at the high tide roost at
on the 19th was the highest there since 50,000 counted in 2001. Similarly, 1,900 Sanderling at
in 2005. Black-tailed Godwits have been feeding in large numbers at Warren Farm,
, with 3,200 there on the 28th. The highest count of Purple Sandpipers were 20 on the pontoon at
on the 18th.
Many thanks go to David Haigh, Steve Hinde, Julie Rogers, William Boyce, Jeremy Bradshaw, David Galatas, Malcolm Sergeant, David Esther, Paul Brady, Alan Hitchmough, Kenny Dummigan, John Jakeman, Greg Harker, Steve Williams, Charles Farnell, Ray Eades, Bruce Atherton, Chris Butterworth, Jane Turner, Dave Wild, Matt Thomas, Mark Evans, Jeff Cohen, Roy Lowry, David Small, Dave Edwards, Colin Schofield, Bernard Machin, Paul Mason, Mark Gibson, Richard Beckett, Paul Vautrinot, Deborah Marwaha, Daniel Trotman, Graham Connolly, Scott Reid, Beverley Wilson, Gav Jones, Michael Davenport, Richard Steel, Mike Short, Keith Scovell, Tony Kendrick, Emily Forshaw, Stan Skelton, Chris Wilding, Steve Hasell, Gail Wilson, Sid Ashton, Graham Thompson, David Bell, David Farrel, David Leeming, Dave Hough, Bryan Joy, Andy Coxon, Ian Hutton, Tony Edwards, Ken Mullin, Paul Hopkins, Jon Grrep, Sheila Ryde, Nigel Grice, Hugh Pulsford, Greg Roebuck, Bil Wonderly, Tony Quinn, David Steer, Jeff Stephens, Austin Morley, Eleanor Suggett, Ian Cotterell, Janine Johnson, Alan Irving, Katie Corridor, Albert Jones, Stuart Feeley, Sidney Gough, David Thompson, Ian Fleming, Stephen Simpson, Mark Washington, the
Dee Estuary Wardens
and the
Hilbre Bird Observatory
for their sightings during November. All sightings are gratefully received.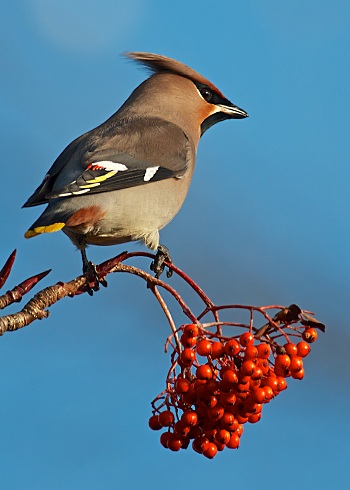 Judging by previous and recent large Waxwing invasions we can expect at least as many in December as in November, so something to look forward to!
They are forecasting a colder than normal winter but the begining of the month is often marked by southerly gales bringing such goodies as Gannets, skuas and maybe even some Leach's Petrels up from the Bay of Biscay. If we do get cold weather then expect large numbers of waders and a build up of Pink-footed Geese on the marshes and the fields around Burton, hopefully also some White-fronted Geese like last winter. Cold weather movements should include an influx of Woodcocks.
Last winter the highest Brent Geese count was on December 28th with 262 along
West Kirby Marsh
at high tide, I would be surprised if we didn't get more this year. Look out for a small Scaup flock which are usually somewhere off
Hilbre
or north Wirral, just off the groyne by
Dove Point
seems to be a favourite place. Above: Waxwing on Deeside Industrial Estate, Nov 16th © Jeff Cohen.
As well as the geese we should have at least one over-wintering Great White Egret on the marshes. There will also be good views of Short-eared Owls and Hen Harriers, especially during the high tides mid-month including a 10m on the 15th - given a strong west wind that could be spectacular! On the same set of high tides it will be well worth checking out the pontoon on
New Brighton Marine Lake
where there should be over 20 Purple Sandpipers as well as hundreds of Redshank and Turnstones.
Top of Page
Forthcoming Events
December Highest Spring Tides (Liverpool)
Also see Tides page.
14th December, 11.22hrs (GMT), 9.9m.
15th December, 12.11hrs (GMT), 10.0m.
16th December, 12.59hrs (GMT), 9.9m.
Forthcoming Events
Organised by the Wirral Ranger Service , Flintshire Countryside Service and/or the RSPB:
All these events and walks have bird interest, even those not advertised specifically for birdwatching. No need to book for these events unless specified - please check below.
Also see 2012 Events Diary.
Sunday December 2nd and January 6th:
Skydancers at
Parkgate
- 12 noon until dusk.
Skydancer is an exciting new four-year project aimed at raising awareness and promoting the conservation of hen harriers in the north of England.
The Dee Estuary is a vital wintering ground for these amazing birds and is the best place to see them from October through to March.
Most people have never seen a hen harrier, but once seen it is rarely forgotten. This bird is a beautiful, agile hunter, and its aerobatic sky dances are among the most awesome spectacles in nature.
Unfortunately, with only a handful of pairs still breeding successfully in England, the hen harrier is currently a species on the brink.
Come along to Parkgate to find out more about the hen harrier story and what you can do to help save hen harriers before it's too late!
Look for the RSPB Love Nature marquee along the main promenade at Parkgate where friendly staff and volunteers will be with telescopes and binoculars plus family activities, free information and more:
http://www.rspb.org.uk/skydancer/
Directions: The "Donkey Stand" opposite Nicholls Ice-cream shop on The Parade (B5135), Parkgate, Cheshire.
Monday December 3rd, 10th, 17th and 24th. Winter Dusk Walks at
Burton Mere Wetlands RSPB
.
3pm to 4pm.
The last hour of daylight is a good time to see some interesting wildlife ... hopefully owls, foxes and possibly badgers!
Afterwards we will warm ourselves up in front of the roaring fire of the reception building with a nice hot drink and mince pie.
In addition large roosts of egrets and jackdaws add to the spectacle.
£5 non-RSPB members, £3 RSPB members - 0151 353 8478 or
deeestuary@rspb.org.uk
.
Saturday December 15th, 9am start.
Estuary Watch: High tide from Heswall Fields.
Join the Rangers at the
Thurstaston Visitor Centre
for a walk down to the cliff top at Heswall Fields. Here we have a "birds-eye" view over the mudflats and into the creeks that make up the Dee estuary. As the tide rises many thousands of wading birds and ducks will be forced into the open where we can get great views of these special birds.
Warm waterproofs and strong footwear are recommended.
Bring binoculars if you have them. No need to book, meet at the Visitor Centre, Station Road, Thurstaston. CH61 0HN. For more information: (0151) 648 4371.
Saturday December 15th 2 - 3pm
2012 Year of Coast & Countryside in Review -
Thurstaston Visitor Centre
.
This is a slideshow and talk in the lecture theatre at Wirral Country Park to chart the wildlife seen during the events run by the Rangers as part of Wirral's Year of Coast & Countryside. It will also give you an idea of where and when to see some great wildlife in 2013.
Places are limited so book early! Call (0151) 648 4371 to reserve a place.
Saturday 12th January, High tide Birdwatch,
Hoylake Shore
.
9:30 am start. High tide 1113 am, 9.8m.
You will discover why Wirral's foreshore is an internationally protected site when you join the Dee Estuary Voluntary Wardens, Coastal Rangers and the RSPB on this winter birdwatch at Hoylake. Dress warmly and bring binoculars if you have them.
No need to book.
Meet at King's Gap, Hoylake.
Please ring (0151) 648 4371 if you need more information.