WeBS and Waders
Richard Smith
I originally wrote this article without having read 'Declines in midwinter counts of waders roosting on the Dee Estuary' by J.R. Mitchell, M.E. Moser and J.S. Kirby published in Bird Study in 1988, I hadn't realised how closely much of my article follows the same ground as theirs. Now having read their excellent and detailed paper I hope the authors forgive me in publishing the following less detailed account, if only to bring it up to date with recent data. I have handled the data slightly differently as they used peak counts December to February whereas I have used average counts November to February - with much the same conclusions. I have also gone in to some detail about the effect of tide heights on where the birds roosts, a topic they didn't cover. So here is my article, slightly amended from the original:
The Wetland Bird Survey (WeBS), originally called the Birds of Estuaries Enquiry (BoEE), is now in its 38th year. I always find looking back through the old data fascinating; seeing how numbers change over the years and wondering why. Changes can be due to variations in populations as a whole, perhaps due to a series of successful (or unsuccessful) breeding seasons. Others are clearly local and I thought I would highlight two species where large local changes in numbers have taken place on the Dee Estuary and North Wirral coast, how numbers of these same species have varied on the nearby Alt Estuary and why the two are linked.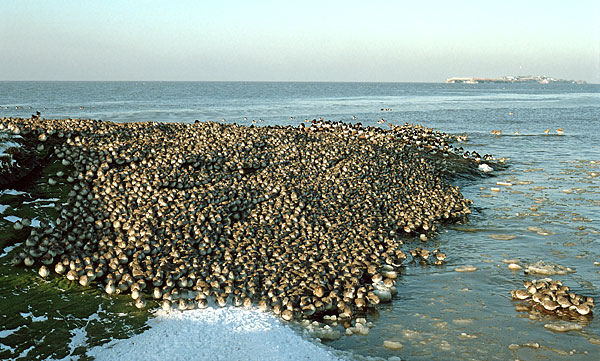 A snowy day on Little Eye with Knot numbers like they used to be pre 1980 (© Guy Huntington)

Background
The late 1960s and 1970s were a traumatic time for those with concern for the Dee Estuary. There were plans for barrages, reservoirs and road crossings across the inner estuary and increasing disturbance at the high tide roosts in the outer estuary. Luckily the development plans came to nothing, mainly due to their potential cost rather than any concern for the birds by those in power. The disturbance that took place mainly involved the wader high tide roosts at West Kirby, Hoylake and the Hilbre Islands and, as you will see below, has had a large and long lasting effect on the birds - even though the disturbance itself is now much reduced. These disturbances were caused by walkers, dogs, horses (including exercising race horses) and sea anglers. Two species which have been particularly effected are Bar-tailed Godwit and Knot, and I describe below how numbers have changed. But first a map of the area.
The map shows the main roost sites and feeding areas for Bar-tailed Godwit and Knot in relation to the Dee and Alt Estuaries.

Roost Sites:
1. Oakenholt Marsh RSPB.
An important roost for Redshank, Oystercatcher and Black-tailed Godwit. Usually no more than 1,000 Knot and infrequently a handful of Bar-tailed Godwits.

2. Point of Ayr RSPB.
An important roost for Oystercatcher and Curlew, also a few hundred Knot and an occasional small flock of Bar-tailed Godwit.

3. West Kirby (Little Eye and Hilbre Island are in the same area but now rarely used as roosts by Knot or Bar-tailed Godwit).
A major roost for nine species of waders including Knot and irregular numbers of Bar-tailed Godwits up to 1,000.

4. Hoylake.
A major roost for nine species of waders including Knot and irregular numbers of Bar-tailed Godwits up to 5,000.

5. Alt Estuary (includes beach/sand flats up to Formby Point).
A major roost site including Knot and Bar-tailed Godwits.
Feeding Areas:
A. Salisbury and Mostyn Banks.
B. Dawpool Bank.
C. Mockbeggar Wharf.
The latter two sites hold the majority of feeding Knot, split roughly 50:50, and Mockbeggar Wharf is the most important feeding area for Bar-tailed Godwit with no more than a few hundred using Dawpool Bank.
I was going to draw arrows on the map showing movements between the feeding areas and roosts, but it ended up with arrows everywhere! Lets just say that although on most tides waders will use the nearest high tide roost to where they are feeding, they can - dependent on tide height and amount of disturbance - use any of the roosts shown.
Note that Dee WeBS counts shown below include birds both in the Dee Estuary itself and along the North Wirral coast. WeBS high tide counts take place once a month with the majority on the highest, i.e. spring tides. Counts for the winters of 1977/78, 1978/79, 1992/93 and 1993/94 have been omitted from the graphs due to incomplete coverage on the Dee for the former two winters and on the Alt for the latter two winters. To make it easier to compare like with like I have taken the average high tide counts for each winter, November to February, rather than just single peak counts. Low tide counts, on the other hand, are one off counts. WeBS counts detailed below are all birds counted at the high tide roosts unless it is specifically stated that they are low tide counts.
Bar-tailed Godwit
Judging by comments made in the Cheshire Bird Reports Bar-tailed Godwits roosting on the Dee Estuary increased during the 1960's with 1,500 the max count in 1964 and 8,000 the max in 1967 - the latter the highest ever record at the time. Numbers continued to increase until the winter of 1976/77, the max count being 11,149 in Feb 1977 (76/77 average was 6,795). 7,365 were present in Jan 1980, then in the following winter came a crash with an average of only 391. On the Alt Estuary the reverse was happening with only a few hundred present for most of the 1970s then, just as numbers crashed on the Dee we get 4,510 in Jan 1981 (average 3,021 for 80/81) followed by a max of 8,620 for the winter of 83/84 (average 6,382).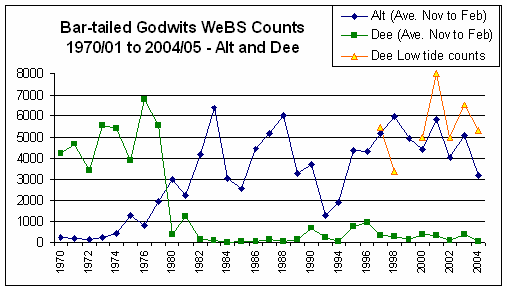 Was this reversal in fortune just a coincidence? Apparently not as it is evident from the data and observations of flock movements at the time that birds which were roosting on the Dee (mainly at West Kirby and Hoylake) started to roost on the Alt Estuary. However, it is not clear why the reversal was so sudden given the fact, well documented, that a large amount of disturbance had been going on for well over 10 years. Nevertheless, for whatever reason, both Bar-tailed Godwits and Knot largely deserted Dee Estuary roost sites (at least on spring tides) in the winter of 1980/81, the same winter that numbers shot up on the Alt. May be there was a combination of a large amount of disturbance together with some very high tides which covered the sand banks at West Kirby and Hoylake (there were high spring tides on count days on three out of the four winter months of 80/81).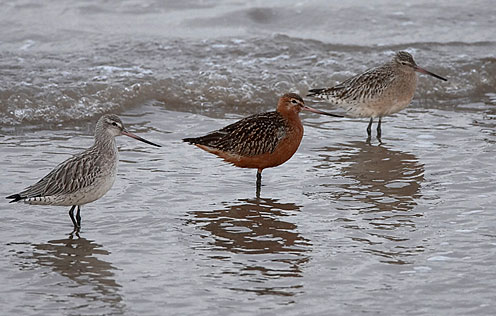 Bar-tailed Godwits on north Wirral Shore Feb 2007, left to right - winter plumage, breeding plumage
and just showing first signs of turning from winter to breeding plumage (© Richard Steel)

But Bar-tailed Godwits hadn't left the Dee altogether. The orange line on the graph shows some typical low tide counts, i.e. counts of birds using the Dee Estuary area (or to be more correct, the North Wirral coast) for feeding. The last five points on the graph are of particular interest as numbers increase and decrease in sequence with numbers on the Alt roost site**, which is very strong evidence that the birds which feed on the North Wirral coast at low tide are the same ones that roost on the Alt at high tide. Mitchell et al state that in the period 1979 to 1986 birds were clearly observed flying to and from the Alt over high tide. This isn't the whole story, however - although fairly unusual these days, quite large numbers of Bar-tailed Godwits do still sometimes roost in the Dee area, but usually only on neap to medium tides when much larger areas of sand banks are available for roosting on. For example 4,700 were recorded on a high tide in Jan 2002 at Hoylake, in the same year 1,900 were at West Kirby on Dec 23rd and on a neap tide on Nov 20th 2006 1,500 spent high tide on Wallasey Shore. Apart from these occasional flocks birds have shown little sign of returning to their old roost sites, even though there has been a big reduction in disturbance. For example the max high tide WeBS count for the Dee Estuary for the winter of 2004/05 was only 132.
** low tide counts on the graph are (mostly) higher as birds were counted during the winter peak, whereas the high tide counts are averages across four months.

Knot
| | |
| --- | --- |
| If the Cheshire Bird bird reports are to be believed the numbers of Knot present in the Dee Estuary in the 1960s were phenomenal. Typical comments are "100,000 at Red Rocks was considered a very conservative estimate" - Nov 1965, "The peak at Hilbre occurred on or about October 30th when several hundred thousands were present. The difficulties of estimating such a flock with any degree of accuracy are immense" - 1966. But then we get in 1970 - "Numbers.....were very much lower..., the largest counts were in the region of 20,000 as opposed to the more usual 60-100,000". There were no systematic counts undertaken in the 1960s, BoEE didn't start on the Dee Estuary until the winter of 1970/71, so perhaps some caution should be used when viewing these very high numbers. However, I understand from the accounts that experienced birdwatchers were undertaking these pre-BoEE counts, including members of the Hilbre Bird Observatory, and many were subsequently recruited to help with the BoEE, so we really do not have any reason to doubt them - huge though they are! I remember as a boy in the 1960s looking out of the West Kirby Sailing Club window and watching flock after flock after flock go past on their way from Dawpool Bank to West Kirby, an amazing sight. | Knot feeding on the north Wirral shore Dec 2006 (© Richard Smith) |
So taking these 1960s counts at face value it is ironic that the year the BoEE started we had a collapse in numbers. Even more ironic, perhaps, is that the numbers the Knot collapsed to - an average of around 30,000 through the winter - we would now only be too pleased to have this number with averages at high tide roost counts presently only around the 10,000 mark.
From the figures in the 1960s Bird Reports and the data in the above graph we have to conclude that there have been two collapses in numbers of Knot on the Dee Estuary, the first in 1970/71 and the second in 1980/81. Perhaps another dip into a Cheshire Bird Report will help to explain what was going on, this time 1969: "For some years past the huge numbers of Knot in the Dee estuary have taken to 'Flying Out' the peak of the very high tides. Formerly they roosted on the Hilbre islands or even on local golf courses when the sea covered the shore, now, no doubt due to human disturbance, the birds circle to a great height over the estuary and glide down to suitable places as they become uncovered" - no wonder the birds ended up using the much less disturbed Alt for a roost! But, as with the Bar-tailed Godwits, it is not clear why the switchover to the Alt was so sudden.
Since the collapse in 1980/81 on the Dee Estuary average roost counts have stabilised at around 10,000. That numbers haven't decreased any further is partly due to the Dee Estuary Voluntary Wardens as without them West Kirby shore would have become unusable as a roost - credit here to RSPB and Nature Conservancy (now Natural England) for helping to set up the Voluntary Wardening scheme. Also the accretion of West Hoyle Bank and adjacent beach at Hoylake has helped establish the roost site there, currently the most important roost for Knot on the Dee. Indeed, the proportion of the total Knot flock (Alt and Dee) now roosting on the Dee since 1990 has been, on average, just under 50%, whereas from 1985 to 1988 it was only about 25%, a big improvement. Despite virtually no disturbance now on Little Eye and Middle Hilbre the Knot haven't returned to these former huge roost sites. On the Alt large numbers occurred for just five years before coming down to an average of around 10,000, as on the Dee. This down turn in numbers is likely to be due to a series of mild winters which have kept Knot further east on North Sea coasts, rather than for any local cause.
Low tide counts on the Dee Estuary and North Wirral Shore are consistently higher than high tide counts, two typical examples are shown on the graph. This is because a portion of these feeding flocks, counted at low tide, fly over to the Alt Estuary to roost and are therefore 'lost' as far as Dee high tide WeBS is concerned. But unlike for Bar-tailed Godwits we still consistently get relatively good numbers roosting on the Dee, and sometimes large flocks as in Dec 1989 when 44,715 were recorded and in Dec 2001 the count of 52,792 is still the highest count since BoEE/WeBS started. The difference, of course, between now and the 1960s and 1970s is that then high numbers were present all winter, not just on a single count day.
With birds roosting on both the Dee and the Alt, how do they choose where to go? A look at WeBS data versus tide heights show that the tide height plays a large part in the Knot's choice of roost site, as the graph below demonstrates very nicely. As shown on the map above the nearest roost sites to the main feeding areas at Dawpool Bank and Mockbeggar Wharf are West Kirby and Hoylake, and birds roost here when the tide doesn't cover the sand banks, i.e. at medium tides. But when these roosts sites are covered by the tide they fly over to the Alt. The graph shows the correlation between tide height and numbers at the Dee and Alt roost sites for the winter of 2004/05. On the Alt, the higher the tide is the higher the count is, the reverse is true for the Dee.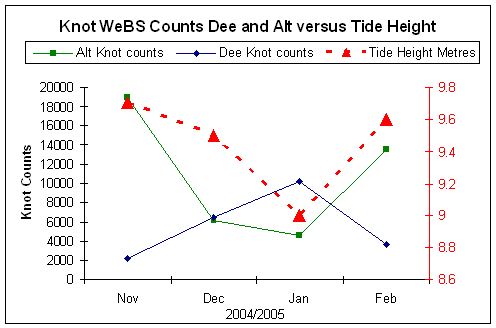 The table below further demonstrates this point for some previous winters:
| | | | |
| --- | --- | --- | --- |
| Month | Alt count | Dee count | Tide Height, Metre |
| Dec 2001 | 137 | 52,792 | 9.2 |
| Dec 2003 | 3,270 | 38,070 | 8.6 |
| Feb 2004 | 30,000 | 2,883 | 9.8 |
On the 9.2m and 8.6m tides a good amount of roosting area would have been available at Hoylake and West Kirby, whereas the Spring tide in February 2004 would have completely covered the sand banks and therefore the birds flew to the Alt. But just to demonstrate that this is a trend, rather than a rule - on the WeBS count of February 2002 there were 44,012 Knot on the Alt Estuary and just 141 on the Dee, on a high tide of only 8.6m!
Sources of information for this article:
1. J.R. Mitchell, M.E. Moser and J.S. Kirby, Declines in midwinter counts of waders roosting on the Dee Estuary, Bird Study (1988) 35, 191-198.
2. BoEE/Wetland Bird Survey data for the Dee Estuary and Alt Estuary kindly provided by BTO. Please note: Any WeBS (Wetland Bird Survey) data in this article should not be used in any way without permission of the WeBS Office. To access official WeBS data please contact the WeBS Office - BTO, The Nunnery, Thetford, Norfolk IP 24 2 PU http://www.bto.org .
3. Cheshire Bird Reports 1964 to 1972. In particular:
(a) A.J. Prater, The numbers and distribution of waders on the Dee between August 1970 and May 1971, Cheshire Bird Report 1971.
(b) R.A. Eades, The Dee Estuary - Past, Present and Future, Cheshire Bird Report 1971.
(c) R.A. Eades, The Dee Estuary Bird Counts - Results for 1972, Cheshire Bird Report 1972.
4. Cheshire and Wirral Bird Reports 2003, 2004 and 2005.
5. Lancashire Bird Reports 2003, 2004 and 2005.
6. Pers comm: R.A. Eades and C. Butterworth, thanks for their recollections of wader roosts in the '60s, '70s and '80s.
7. K. Leeming, Wardening Waders, CAWOS Bird News Oct 99.
8. WeBS Report 2003/04, BTO.
9. Neil Friswell and Colin Wells, Dee Estuary WeBS Annual Report 2004/2005.
10. J.S. Kirby, C. Clee and V. Seagar, Impact and extent of recreational disturbance to wader roosts on the Dee Estuary: some preliminary results, Wader Study Group Bulletin, 68: 53-58, 1993.
Richard Smith.