This article follows on from the one published in the April 2010 Newsletter which discussed the status of Teal, Pintail and Shelduck in the estuaries of the 'North-west'. Please read the first three paragraphs of that article for further information and caveats. In particular I repeat here that the analysis and treatment of the data is solely my own, and any mistakes are my own. The data used in the graphs is based on that from the Wetland Bird Survey (WeBS) but this article is just my own amateurish interpretation of this data. Note that in the graphs MBS stands for Morecambe Bay South, i.e. that part of the Bay which is in Lancashire.

Knot
As explained in the article last month - Colour-ringed Knots - the vast majority of Knot which winter in this country are comprised of the Calidris canutus islandica race, which breed in Greenland and Canada. Nationally, as well as locally, numbers can fluctuate greatly from winter to winter but on average numbers have not changed significantly from where they were 40 years ago when WeBS started - although there appears to have been an increase followed by a decrease over that period. Recently there seems to have been a shift of birds from the Wadden Sea to the Wash due to the industrialised shellfish industry at the former, and also a shift from Morecambe Bay to the Wash.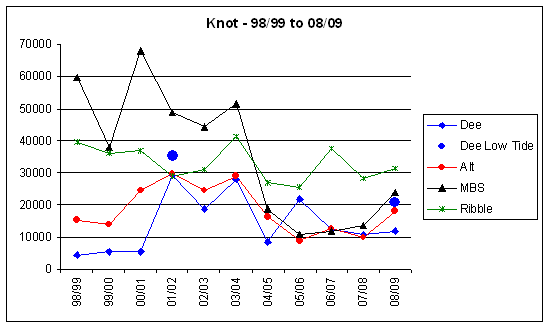 Between the winters of 1998/99 and 2003/04 max counts at Morecambe Bay and the Wash were very similar, but for the past five years numbers have dropped drastically at Morecambe whereas counts on the Wash have increased with a remarkable max of 162,724 during the winter of 2007/08. Over the same period counts on the Ribble Estuary have remained relatively steady.
Numbers on the Dee and Alt estuaries are somewhat more complicated as explained in my article WeBS and Waders. Complicated, as the Knot which feed at low tide in the Dee Estuary and North Wirral shore can roost at high tide (when WeBS is carried out) either on the Dee Estuary (mainly West Kirby and Hoylake) or on the Alt (between Crosby beach and Formby point), often splitting between the two - this can be dependent on tide height, disturbance and weather conditions. Low tide counts give a better idea of numbers present here on the Dee/North Wirral and two Low Tide WeBS counts are shown on the graph above, both of which are higher than the High Tide max for those winters on both the Dee and Alt. Knot are a mobile species and undoubtedly move around during the winter between the four estuaries, and beyond. The highest ever high tide WeBS count for the Dee Estuary was 52,792 during the winter of 2001/02, nearly ten times the max of the previous winter! No doubt these were birds either coming down from Morecambe Bay or across the country from the Wash. 40,000 knot observed from Hilbre flying north out of the Dee estuary on March 10th 2010 were probably on their way to the Ribble estuary to moult.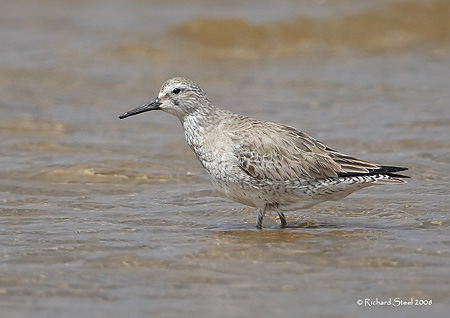 The graph below I find particularly interesting. Take a look at the large difference in the distribution between Morecambe Bay and the Ribble estuary, this shows that the Ribble estuary is preferred as a moulting site for birds on their way back from breeding in Greenland and eastern Canada in August and September, and before breeding in March and April. Morecambe Bay is a far more important wintering site, whereas numbers drop on the Ribble over the winter. One wonders what it is about the Ribble which is so attractive in autumn and spring, yet not in winter - as you can see below the same applies to Dunlin. Intriguingly, in the 1970s both the Dee estuary and Morecambe Bay were extensively used by Knot as pre- and post-breeding moulting areas with 30,000 present on the Dee estuary in August a typical count. It would seem that extensive disturbance subsequently stopped them coming to the Dee estuary, presumably this is much less of a problem on the Ribble. Note also the numbers present on the Ribble estuary in June with typically 4,000 to 5,000 present, as opposed to near zero on the other estuaries. These will be non-breeding immature birds, we do occasionally get flocks of several hundred, sometimes thousands, of Knot on the Dee estuary in June (5,500 in 2009), no doubt wanderers from the Ribble, but they never stay long and never seem to be counted at the usual winter high tide roosts for WeBS.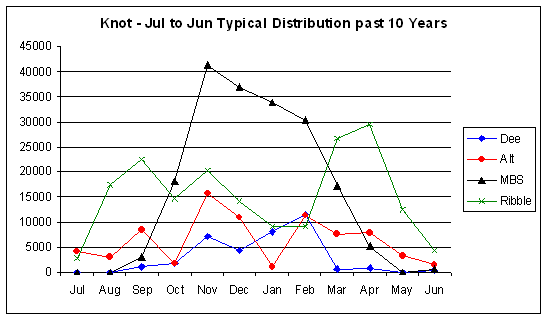 Note that the Mersey estuary is not included in the graphs for Knot as very few birds of that species are found there, typical max being less than 1,000.
Dunlin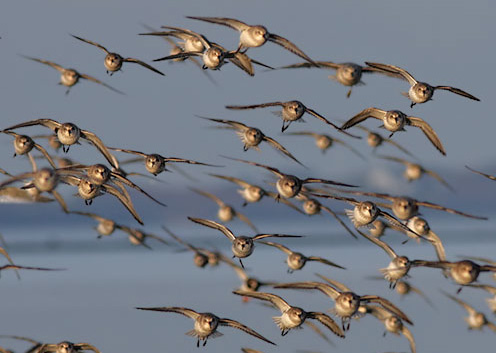 Dunlin flying over West Kirby Marine Lake, ©
Steve Round
.
Nationally, numbers have fallen steadily since the 1990s whereas those in the Netherlands have increased, indicating that mild winters mean that birds are 'short stopping'. Three sub-species occur here, alpina make up the bulk of the wintering birds whereas artica and schinzii are seen here mainly on passage.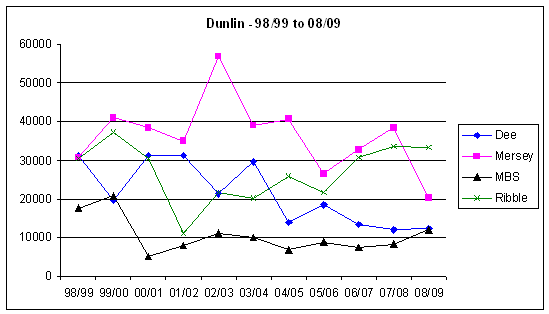 The Mersey estuary has had the highest overwintering numbers in the country over the past few years and most counts seemed to have held up reasonably well despite the national decline. The count for 2008/09 was very low but hopefully was just a one off poor winter. Numbers on the Dee estuary have declined somewhat over the past six years, roughly in line with the national trend. Although numbers on MBS have remained fairly steady since 2000/01 there was a steep decline over the previous four years - in 1997 max was 71,731 for the whole of Morecambe Bay. This was an exceptional count, but this site in the 1990s usually had more birds than the Mersey estuary.
In 2007/08 the Ribble estuary had the highest count in the country with 52,551. These were migrating birds counted in May and you can see from the graph above how the Ribble is much preferred by passage birds both in spring and late summer, but, like Knot, not so much by wintering birds. We also get passage Dunlin on the other three estuaries, but only in August and not May. August in both 2008 and 2009 were particularly good for Dunlin on the Dee estuary, I managed to catch the peak of the migration last year when I counted 10,400 on Hoylake Shore on Aug 26th - the beach was covered with them! Many of these passage birds will be on their way to spend the winter in West Africa. As can be seen from the graph above on most of the estuaries peak numbers occur between November and February and are overwintering birds mainly of the alpina race.
WeBS (Wetland Bird Survey) data in this article should not be used elsewhere in any way without permission of the WeBS Office. To access official WeBS data please contact the WeBS Secretariat - BTO, The Nunnery, Thetford, Norfolk IP 24 2 PU www.bto.org.
Sources of Information:
1. Cheshire and Wirral Bird Reports: 1998 to 2008.
2. Lancashire Bird Reports: 1998 to 2008.
3. Waterbirds in the UK (WeBS Report), reports from 1998/99 to 2007/08.
4. Neil Friswell and Colin Wells, Dee Estuary WeBS Annual Report, 2008/2009.
5. Simon Delany et al., An Atlas of Wader Populations in Africa and Western Eurasia, Wetlands International, 2009.
Richard Smith
June Bird News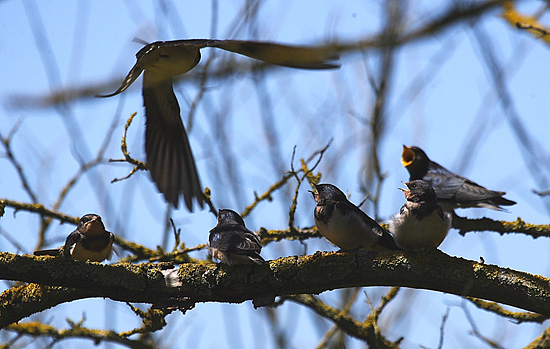 A quiet month even by the standards of June! For those who have an interest in wildlife generally, rather than just birds, the main story of the month was the record numbers of Grey Seals hauled up on West Hoyle Bank off Hilbre with 779 on the 12th and 825 on the 24th. However, despite contrary winds for most of the month there were a few days when sea watching was reasonable with seven Manx Shearwater (7th), two Arctic Skuas (9th), one Great Skua (10th) and 163 Gannets (14th) being the highlights off Hilbre and three Manx Shearwater and 48 Common Scoter off Gronant on the 23rd. There are always non-breeding Common Scoters off Gronant at this time of year but they are rarely seen from Hilbre, I would guess that they must cut across Liverpool Bay from and to Shell Flat off Blackpool out of sight.
Hilbre also had some other interesting birds including the second Cuckoo of the year, their first Cuckoos since 2003. A Cuckoo was also at Wepre Country Park. A Hobby flew over Hilbre on the 4th and an Osprey flew past on the 16th. Other Hobbies were recorded at Burton, Leasowe Lighthouse, New Brighton and West Kirby. Another scarce bird, now a county rarity, was a Turtle Dove seen briefly by a birder driving to West Kirby Tip, unfortunately it could not be relocated.
Both wader and gull numbers started to build up towards the end of the month including a Greenshank and four Spotted Redshank at Inner Marsh Farm and 5 Mediterranean Gulls at Heswall. Also off Heswall were loads of Carrion Crows feeding on the sand banks when the tide was out, this is normal for June but a count of 241 on the 12th was exceptional.
The Little Tern colony at Gronant is doing well in the fine weather, there are about 105 pairs breeding and already some chicks had fledged by the end of June.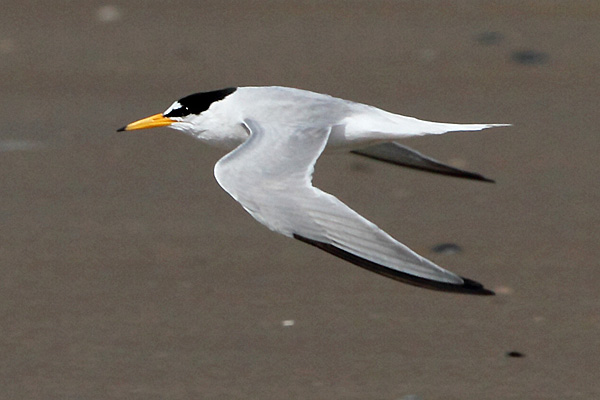 Little Tern at Groant, June 19th, © Keith Scovell.
Richard Smith.
Many thanks go to Chris Jones, Ashley Cohen, Alan Saunders, Chris Butterworth, Stephen Hinde, Steve Williams, Dave Harrington, Paul Brady, Charles Farnell, Jeremy Bradshaw, David Haigh, Ken Roberts, Keith Scovell, Bruce Atherton, Jon Greep, Dave Wild, Iain Douglas, Denzil Nicklin, Kenny Dummingham, Arthur Harrison, Tim Baldrock, Andrew Wallbank, David Small, Alan Graham, Paul Earley, the
Dee Estuary Wardens
and the
Hilbre Bird Observatory
for their sightings during June. All sightings are gratefully received.
What to expect in July
It may only be mid-summer but for many birds the breeding season has finished and it is definitely autumn! Numbers of the commoner waders such as Curlew and Redshank will rapidly build up, and Black-tailed godwits will return from Iceland with most preferring to use fresh water sites such as Gilroy Nature Park and Inner Marsh Farm at this time of year. Look out also for both Green and Common Sandpipers as well as Whimbrels and Greenshanks. We may get lucky and see a summer plumaged adult Curlew Sandpiper at least six weeks before we can expect the first of the juveniles to arrive.
Sandwich Terns are the first of the terns to finish breeding and the Dee Estuary is one of the most important areas in the country for them to stop over before heading south. Expect flocks of between 500 and 1,000 at Gronant, Point of Ayr, West Kirby and Hoylake at high tide, and around Hilbre at low tide - their raucous cries will be everywhere! Gull numbers will also build up, look out for Mediterranean Gulls among them. The Little Terns at Gronant won't finish breeding until late July/early August, but the fledgling terns will be leaving the nest area all through the month - leaving the wardens with the somewhat challenging, but pleasurable, task of trying to count them. Signs are good for another good season.
This summer so far has been poor for sea watching but July can be excellent, a strong west wind bringing in many Storm Petrels and both Great and Arctic Skuas. Scarcer birds should include a Spoonbill or two and maybe something a bit more rare, last year we had a Terek Sandpiper and the year before a Glossy Ibis.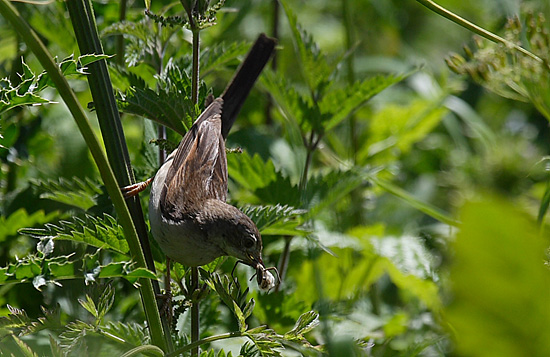 Forthcoming Events
July Highest Spring Tides (Liverpool)
Also see Tides page.
13th July, 13.02hrs (BST), 9.4m.
14th July, 13.48hrs (BST), 9.5m.
15th July, 14.36hrs (BST), 9.4m.
Forthcoming Events
Organised by the Wirral Ranger Service , Flintshire Countryside Service and/or the RSPB:
All these events and walks have bird interest, even those not advertised specifically for birdwatching. No need to book for these events unless specified - please check below.
Also see 'Wingspan', a Diary of Birdwatching Events for Wirral and the North Wales Coast.
Saturday 3rd July, 8:30pm - 11:30pm, Barn Owls at Night - Wirral Country Park.
Join the Rangers at Wirral Country Park for a short talk and slide show about Barn Owls. They will then take you on a walk looking for Barn Owls hunting. This event is suitable for all the family but children under 16 years must be accompanied by a parent. Sorry no dogs.
Wear suitable clothes and bring your binoculars! Meet at the Thurstaston Visitor Centre.
Booking essential. Please telephone 0151 648 4371.
Friday 9th July, 9:00pm - 11:00pm, Bat and Owl Night at Royden Park.
Listen to the calls of owls and watch bats feed within the woodlands of Royden Park. Sorry no dogs. Meet at Rangers Office.
Booking essential. Please telephone 0151 648 4371.

Wednesday 14th and 28th July, 6pm to 9.30pm, Sunset Walk to Hilbre.
Cross the sands to discover the Islandsí wildlife and history. A 4 mile walk of 3.5 hours, ideal for first time visitors. Please bring warm waterproof clothing and a snack. Wellies recommended. All children under 16 must be accompanied by an adult. Sorry no dogs. Booking essential. There is a £1 charge per person for this event.
Please telephone 0151 648 4371.
Friday 16th July, Photography Tuition Day at Wirral Country Park.
For Details See Poster Below.
Saturday 31st July,
Saturday 28th August and
Saturday 25th September
A free guided walk around the newly acquired grounds at the site of the Burton Mere Fishery. Find out about The RSPBís plans for the area and the creation of new habitat and visitor facilities on the Dee Estuary Nature Reserve. Booking is essential. To book and for further details please ring 0151 336 7681.
Wednesday 4th August, 8:30pm - 11:30pm, Barn Owls at Night - Wirral Country Park.
Join the Rangers at Wirral Country Park for a short talk and slide show about Barn Owls. They will then take you on a walk looking for Barn Owls hunting. This event is suitable for all the family but children under 16 years must be accompanied by a parent. Sorry no dogs.
Wear suitable clothes and bring your binoculars! Meet at the Thurstaston Visitor Centre.
Booking essential. Please telephone 0151 648 4371.

Wednesday 11th August, 9.30am (HT 12.30, 9.7m), Terns and Waders at Point of Ayr.
Join the RSPB at POA as many species of bird gather in the area to build up their energy reserves before making their long flights to far off wintering grounds. There is no need to book just bring your binoculars and dress for the weather. Further details phone 0151 336 7681. Meet at the Smuggler's Inn Car Park.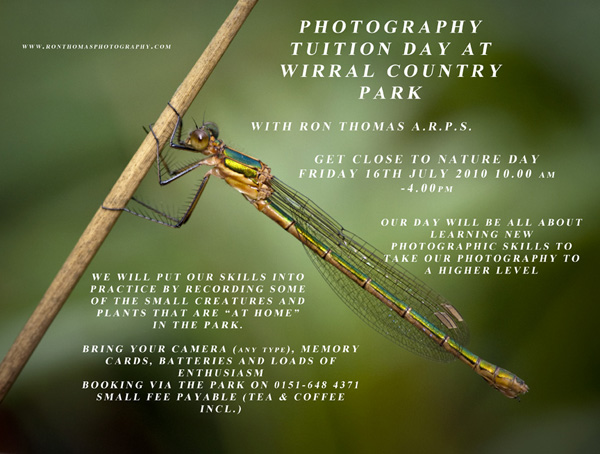 Birding North West is a monthly magazine for birders in the North West Region. Our aim is to bring you the news of rare and scarce birds in our region while it is still news. We consider that up-to-date news, photographs of regional birds, articles on the occurrence of birds in the North West and other articles relating to our region is what our readership want.