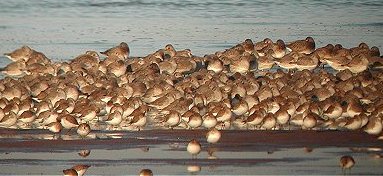 Jane Turner
The above photograph is just a very small portion of the high tide roost at Hoylake, off Kings Gap, showing Dunlin at the front, Knot in the middle and Bar-tailed Godwits at the back. On the 16th December Wetland Bird Survey a phenomenal 54,000 Knot were counted here, so on this single sand bank we had a quarter of the country's wintering Knot (based on typical December figures). On top of that we had large numbers of Dunlin, Bar-tailed Godwit and Grey Plover, a welcome improvement on the previous four years. Another wader doing well is the Black-tailed Godwit with up to two thousand seen at low tide busy feeding on the mud between Heswall and Caldy, sometimes just a few feet from the beach - with similar numbers on the welsh side at Flint and Point of Ayr.
Brent geese numbers have reached twenty seven so far, they seem to be all pale-bellied but with possibly one or two dark-bellied about too. Seventy five Bewick's Swan spent a lot of time on the salt-marsh at Shotton, and five Whooper Swan at Burton. The drake Smew returned to Inner Marsh Farm on cue, and for a time there was also another drake and red-head. Up to twenty one Goldeneye, twenty Red-breasted Merganser and two Scaup have been on West Kirby Marine Lake giving excellent viewing especially on a calm day. Two rare duck have been seen, a drake Green-winged Teal briefly at Inner Marsh Farm and a female Red-crested Pochard on one of the pools in Greenfield Valley most of the month.
| | |
| --- | --- |
| As well as the waders at Hoylake plenty of other birds have been seen along the north Wirral coast including a Mediterranean Gull (see photo), Short-eared Owls, a Slavonian Grebe, 4 Stonechat, 1 Snow bunting and 20 Common Scoter - all these from the Leasowe lighthouse area. | Thomas Giles |
The Greenfield Valley bird survey for 2001 is now complete. The total was 92 birds. Click here for the complete list.
What to expect in January: Both Mute and Bewick's Swan peak in January, see them on the marsh between Burton and Connah's Quay. Expect to see over a hundred of each together with a handful of Whoopers. Small flocks of between fifty and a hundred Pink-footed Geese are often seen feeding in fields at Burton or Shotwick.
This time last year we had an invasion of Waxwings into the country, some of which reached Wirral. These irruptions, as they are called, only occur every few years and are caused by a good breeding season followed by a shortage of food in their more normal wintering area, Scandinavia. It is probably too much to hope for to have another irruption this year, but you never know your luck!
Other than that expect to see much the same as December, although the exact numbers of waders is very much dependent on the weather - we can get large cold weather movements if there is a hard winter on the continent. Look out for huge clouds of Knot way out in the estuary at low tide, each one 10,000 strong. Lapwings can suddenly appear in their thousands if inland fields are snow covered.
Many thanks go to Colin Wells, Dave Wilde, Paul Swales, Alan Jupp, D Kilby, 'Ernie', John Baker, Colin Jones, Martin Walls, Mark Feltham, Thomas Giles, Randal Hughes, David Steer, John Clarke, Mike Hart, Frank Huband, John Kirkland, Eoin Jennings, Jeff Clarke, Chris Butterworth, Bill Owens, Cathy McGrath, David Esther, Dave Harrington, Martyn Jaimeson, Carl Clee, Jane Turner, Brian Roberts, Gareth Stamp and the Dee Estuary Voluntary Wardens for their sightings during December. I rely on the goodwill of people like this, unlike some commercial sites I cannot offer financial inducements!