Leach's Petrels, for which our Liverpool Bay coasts are famous, have been few and far between this autumn. But we did get some early on in the month with a max of 12 off Hilbre on the 7th, along with 14 Manx Shearwaters and 2,000 Common Scoter. Five Pomarine Skuas flying west along the North Wirral coast on the 4th was the the pick of this month's seawatching. There were also 100 Great Crested Grebes off Hoylake Shore on 22nd and, more unusually, five Goosanders flew past Leasowe Lighthouse on 1st.
Most of the month seemed to be dominated by southerly winds and mild weather which appeared to slow up any migration. There were plenty of Gannets around all month and a Sandwich Tern on Hoylake shore on 23rd was the latest record for 10 years. Two late swallows flew over West Kirby on 30th but we still await any significant visible migration with just a trickle of Redwings and Fieldfares so far.
The Richard's Pipit which first appeared at West Kirby at the end of last month reappeared on the 8th, but was very elusive and seen briefly just four more times, lastly on the 17th. There were three reports of single Snow buntings; at Heswall, Hilbre and Gronant. A Yellow-browed Warbler spent most of the 16th on Hilbre Island.
The drake Green-winged Teal at Inner Marsh Farm RSPB gave some great views from the hide on many days during the month. Three dark-bellied Brent geese were on Little Eye on 8th.
| | |
| --- | --- |
| Richard Steel ©, A Curlew near Leasowe Lighthouse. | The previous day 12 Barnacle Geese flew along the North Wirral coast and landed on the mud off the Connah's Quay reserve - looking somewhat nervous. As these arrived just after a strong gale and at a time when thousands of Barnacle Geese would have been heading for the Solway Firth from Svalbard it is quite possible that these were wild birds. However, the vast majority of Barnacle Geese seen in our area are feral. 8,200 was the max count of Shelduck off Heswall, wader numbers remained high at this site with 3,840 Redshank, 2,100 Curlew and 10,000 Knot. |
Two Green Sandpipers were observed along Shotwick Brook and one was at Decca Pools, Burton Marsh. Wader passage at Hoylake has been very light, 124 Sanderling on 24th the only significant count. An Avocet had a rather unexpected amount of media interest when it turned up at the Deeside Naturalists' Society's Open Day at Connah's Quay. The media seemed to think it was a 'mega rarity', one report had it that there were "queues of twitchers" waiting to see it. Funny, I must have missed them.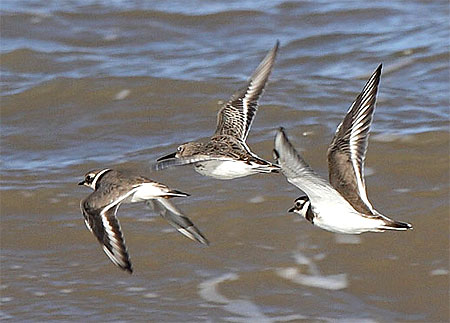 Steve Round ©, Two Ringed Plover and a Dunlin, Leasowe Shore, Oct 10th.
At least two Merlin and two Peregrine have been on the marshes, and a ringtail Hen Harrier has been seen several times hunting (I saw it take a Redshank in flight) and coming in to roost at Parkgate. There was also a full male Hen Harrier about but it was only seen twice coming in to the Parkgate roost site, I have a reliable report there were two males at Burton one day.
What to expect in November
Numbers of our over wintering birds should climb rapidly during the month. On Hilbre the pale-bellied Brent Geese will return, their numbers have increased dramatically over the past six years - we should get at least 50. The first of this winter's Bewick's Swans will return to Burton Marsh together with the usual small flock of Pink-footed Geese. Numbers of Teal, Pintail and Wigeon will be high, they often peak this month. Teal are easily seen at Heswall at any state of the tide, but many can be hiding in the channels; look out for the Hen Harriers quartering the marsh as they often flush hundreds. If the tide on the 5th and 6th is high enough to cover the marsh this will bring Pintail and Wigeon close to the shore, otherwise an excellent spot to see these is at low tide off Flint Point. Counts of Dunlin, Knot, Bar-tailed Godwit and Grey Plover will be considerably higher than in October, especially if we get a cold spell.

Left - Damian Waters ©, Oystercatchers at Thurstaston.
Heswall and Thurstaston Shore at half tide can be a superb place for Knot, together with Oystercatchers and Black-tailed Godwits. The high tide roosts at West Kirby, Hoylake and Point of Ayr will also make for a fantastic spectacle at this time of year.
We have had good numbers of both Hen Harriers and Short-eared Owls over the past few years. Hopefully this will continue, a full male Hen Harrier was seen a few times times in October, so lets hope it stays. Denhall Quay is an excellent place to see both species during the day, and of course Parkgate Old Baths car park is the place to be at dusk to see the Hen Harriers coming in to roost. Another species to look out for are Snow Buntings which may be seen almost anywhere but Wallasey (by lifeguard station), Hilbre, Point of Ayr and Gronant are favoured areas. Usually we just get one or two but in the winter of 98/99 there were 33 at Gronant for several weeks, so may be we are due for another big flock!
Many thanks go to Bill Owens, Ray Eades, Phil Woollen, Andrew Wallbank, Graeme Lowe, Antonius Plagge, Damian Waters, Michael Baron, Steve Menzie, Tanny Robinson, Dave Chandler, Kevin Hayes, Shaun Williams, Mark Turner, Paul Mason, Gilbert Bolton, Dave Harrington, Dave and Karen Leeming, Allan Conlin, Eric Robinson, Mike Hart, Mark Gibson, Andrew Jennings, Dave Wild, Bob Pilgrem, Colin Schofield, Steve Round, David Haigh, Graham Thompson, Steve Ainsworth, Steve Williams, Chris Butterworth, Jane Turner, John Kirkland, Charles Farnell, Ian Dyer, Iain Douglas, Peter Twist, Garry Cottrel, Richard Steel, Richard Sturman, John Wright, Laura Bimson, Steve Wrigley, James Walsh, Bryan Joy, Steve Roberts, Mark Evans, Nigel Grice, Michael Coe, the Dee Estuary Voluntary Wardens and the Hilbre Bird Observatory for their sightings during October. All sightings are gratefully received.