Five hundred Black-tailed Godwits have been over summering on the estuary, a magnificent sight in their summer plumage. These are non-breeding birds of the Icelandic race, it is believed that this is the largest over summering flock in the country. Six Spotted Redshank at Inner Marsh Farm heralded an early autumn passage for this species. Two Whimbrel were unexpected visitors to Leasowe shore. Perhaps the most obvious bird on Heswall/Thurstaston shore in June was the Carrion Crow with over 150 seen at low tide, this must be a sizeable portion of the west Wirral population.
| | |
| --- | --- |
| Our two tern colonies are doing very well. The Common Tern colony at Shotton, the largest tern colony in Wales, has yet another record number of pairs, 622, compared with 555 pairs last year. Five hundred and thirty chicks have been ringed so far by the Merseyside ringing group but they expect more to come. Unusually the colony has suffered from some predation with a very persistent, and brave, magpie taking several eggs. | Valerie McFarland |
The much smaller Little Tern colony at Gronant, the only one in Wales, is also on course for a record year. We have already beaten the record for number of pairs, with 93 compared with 1999's total of 86. It would certainly be nice if we could beat the 1996 total of 120 chicks fledged but to be honest I would regard anything over 90 as a bumper year. The average for the last ten years is 58. So far predation has been very low and the weather good, a Kestrel has recently become a nuisance taking a few chicks but we are very hopeful that the level of predation can be kept down to an acceptable level. Thanks to all the wardens for doing such an excellent job - it's not too late to volunteer, contact the RSPB on 0151 336 7681.
The distinctive call of a Golden Oriole was heard in Dungeon Wood (Heswall) at the beginning of the month but a possible fleeting glimpse of it a few days later in Heswall was the only reported sighting. A Tawny Pipit was seen for a couple of days at the Point of Ayr. June is an unusual date for this vagrant but may be it was blown by the same east wind that brought the Black Lark to South Stack! What was presumably the same Red-backed Shrike as last month returned briefly to Red Rocks.

It has not been a particularly good month for sea watching but 20 Manx Shearwaters were seen on the horizon from Gronant. Gronant was also a good place to see Common Scoters where 30 or so flew by most days.
What to expect in July.
July is a great month for birdwatching and it gets better as the month progresses. First come the Sandwich Terns, they are always the first species of tern to finish breeding and many gather on the sand banks of the Dee Estuary for a spot of R&R before making their way south to the wintering grounds off Africa. Expect to see a thousand or more at their favourite haunts of Gronant, Point of Ayr, Hilbre, West Kirby and Hoylake. Large flocks of gulls can also be seen at the same places, look out for the odd Roseate or Black Tern, rare visitors which can turn up in July. A few Arctic Skuas are usually seen following both the terns and gulls.
Wader numbers will rapidly build up during the month. Most of the Oystercatchers, Curlew and Redshank will have bred in this country, a second wave of birds from Iceland and Scandinavia will follow in August and September. We can also get quite large movements of Sanderling and Dunlin, these will be birds which have bred in the far north passing through on their way south. As soon as the chicks are old enough to feed themselves the adults leave, this avoids the adults and chicks competing for the same food.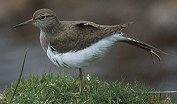 Common Sandpiper - Nigel Blake

July is also good for the passage of rarer waders - for example Greenshank, Common Sandpiper, Green Sandpiper and Wood Sandpiper. May be an early adult Curlew Sandpiper will make an appearance, and last year we even had a Marsh Sandpiper. Avocets have been breeding not too far away and we could see a family or two pausing on their way south.

Little Egrets will return to the estuary, last year we had 12 by the end of the month. It will be very interesting to see if they can carry on increasing at the same rate as the previous four years. Apart from the usual Gannets a fresh west wind might bring in Storm Petrels.

Many thanks go to David Harrington, Clive Ashton, Dave and Emma Kenyon, Phil Woolen, Stephen Williams, Chris Butterworth, Martyn Jaimeson, David Esther, John Harrison, Rodney Smyth, Tanny Robinson, Paul Rowlands, Neil Friswell, John Billington, Colin Jones, John Kirkland, the wardens at Gronant and the Hilbre Bird Observatory for their sightings during June. All sightings are gratefully received.