August was another good month for skuas with plenty of 'Arctics' around but the star bird must be the Pomarine Skua first seen on the 13th and still present at the end of the month. It spent most of the time on the edge of the sand banks along North Wirral so views were usually a bit distant. What was probably a second bird was off Point of Ayr on 29th.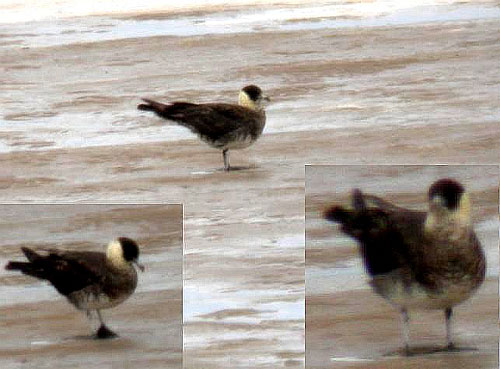 Somewhat distant views of the Pomarine Skua on Hoylake Shore, Jane Turner ©.
It was also a good month for seeing Manx Shearwaters with large numbers going past, particularly 15th to 17th. I was lucky enough to be seawatching on all three days and couldn't believe the numbers I was seeing, particularly on the 17th. Max count that day was 680 past Hoylake, but that was only a partial count over 45 minutes. I'm certain if there had been a count over the whole high tide period we would easily have broken the current max daily count for Wirral/Hilbre which is 720 on Jun 23rd 2000, and we would probably be approaching the 2,000 mark in total. But we did get a record count of Storm Petrels on the 16th with 42 recorded off Hilbre. This species has certainly increased off our coasts in recent years, probably just due to the vagaries of the weather. Other seabirds included the usual terns with max count of Sandwich Terns 1,200 on West Kirby Shore and Common Terns with 450 at Point of Ayr. The final count of successfully fledged Little Terns at Gronant this year was 100, a good deal higher than most of us were expecting given the horrible weather.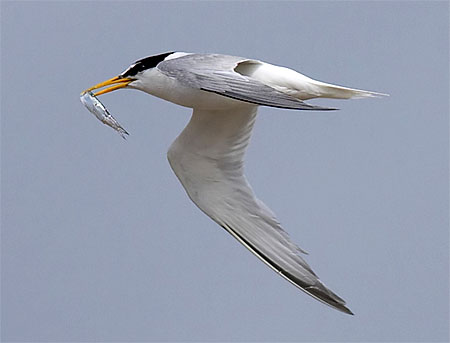 Little Tern at Gronant, Aug 17th, Richard Steel ©.
Little Egrets seemed to be everywhere this month including Hilbre and along North Wirral. They reached 204 coming in to roost at Burton on the 12th, a record high number for the estuary. I don't have figures for this year but in 2006 ten pairs bred at Burton producing 40 fledged young, a very good success rate. The two Spoonbill present for much of July were observed several times up until the 18th, they were often difficult to see way out on Burton Marsh.
There have been large numbers of Shelduck on the estuary all summer which probably means they are moulting here now as well as on the nearby Mersey. Max count which I know of was 8,000 off Heswall on the 18th, easily the highest ever August count for that site. Black-tailed Godwits numbers remained high with max count at Inner Marsh Farm RSPB of 2,300 on the 8th and on Oakenholt Marsh RSPB there were 3,000 on the 28th. The five colour ringed birds which people reported in July were all adults and were ringed as follows: GY-OW was ringed on the Wash in 2004; OO-WR was ringed in Iceland in 2005; OL-LGflag was ringed on the Tagus Estuary in Portugal in 2006; YG-WG was ringed in western France in 2001; LL-OL was ringed in Iceland in 2000. Ringing data of these and other birds indicates that many Black-tailed Godwits appear to use Inner Marsh Farm RSPB and the Dee Estuary as their first port of call after returning from Iceland, but many then move on south and east within a few days.

Steve Round ©, Green Sandpiper at Inner Marsh Farm Jul 30th.
Many people are often surprised that there are such good numbers of waders around in August, max numbers were: 2610 Curlew and 4910 Redshank at Heswall; 10,000 Oystercatcher on West Kirby Shore; 500 Turnstone on Hilbre; 1,300 Dunlin, 750 Ringed Plover and 230 Sanderling on Hoylake Shore. There have also been a few passage waders around with 25 Greenshank at Parkgate and 22 at Connah's Quay; 5 Little Stint on West Kirby Shore; 2 Curlew Sandpiper at Red Rocks; plus one or two Green Sandpiper and Spotted Redshank.
Marsh Harriers have been seen all month, at least two birds were involved and probably more. One or two Hobbys have also been observed busily hunting hirundines.
What to expect in September
There's always plenty going on in September with returning waders and wildfowl, scarce passage waders, gale blown seabirds and southerly migration. But the bird most birders look forward to seeing more than any other is the Leach's Petrel. Normally we only see them here during prolonged north-west gales when they get blown in through the North Channel of the Irish Sea and many end up in the mouth of the River Mersey, from there they make their way along the North Wirral coast, then past Hilbre and Point of Ayr. Last year was unusual, to say the least! We didn't see a single Leach's Petrel in September due to light winds so we all thought it was going to be a bad year for this species, then, totally unexpectedly, after prolonged south-west winds in December we had hundreds blown in to the Irish Sea from their wintering grounds, including c100 past here (see Leach's Petrel Wreck and Species Spotlight - Leach's Petrel).
If we do get those NW gales we can also expect to see all four species of skua and Sabine's Gull, as well as hundreds of Manx Shearwaters, Kittiwakes, Gannets and maybe some rarer Shearwaters as described in the above article.
Large numbers of waders, particularly Redshank, Oystercatcher and Curlew, will be returning to the estuary together with some scarcer and rare passage waders such as Greenshank, Curlew Sandpiper, Pectoral Sandpiper and Little Stint.
On the marshes there should be Marsh Harriers still passing through and we will get our first Hen Harriers and Short-eared Owls back for the coming winter. September is also a good month to spot a Spotted Crake at Inner Marsh Farm RSPB.
Many thanks go to Colin Schofield, Bryan Joy, James Armstrong, Richard Steel, John Ferguson, Paul Vautrinot, Lynne Greenstreet, Dave Edwards, Steve Oakes, David Esther, Steve Edwards, Andrew Wallbank, Stuart Taylor, Brian Dyke, David and Karen Leeming, Ian Emmitt, Tanny Robinson, David Haigh, David Harrington, Phil Woollen, Allan Conlin, Glyn Roberts, Dave Wild, Leon Castell, Steve Round, James Smith, Steve Williams, Chris Butterworth, Jane Turner, Charles Farnell, Paul Shenton, Gilbert Bolton, Geoff Robinson, John Tubb, Iain Douglas, Tom Morton, Andrew Duncalf, Jason Stannage, Damian Waters, Stephen Ainsworth, Mark O'Sullivan, Colin Jones, John Kirkland, Mark Turner, Paul Roberts, Pete Button, David Hinde and the Hilbre Bird Observatory for their sightings during August. All sightings are gratefully received.