Rarities this month included an overflying Great White Egret at Burton Marsh, may be it's still out there somewhere, and an unconfirmed report of a summer plumage Red-breasted Flycatcher at Leasowe Lighthouse. A Dipper was at Arrowe Park, a rare bird on Wirral although it breeds in streams on the Welsh side of the estuary. The Wheatear migration seems to have been very prolonged this spring with good numbers still coming through all month with 40 Wheatear at Leasowe Lighthouse early morning on the 19th being the peak count. Whimbrel have been passing through in good numbers including 20 at Hilbre on the 12th and 33 at Heswall the following day.
There has been plenty of activity at Inner Marsh Farm RSPB with at least one pair of Avocet successfully hatching chicks. Two Mediterranean Gulls were seen and the max count of Black-tailed Godwits was 282, quite a bit lower than the previous two years. Other waders included single Little Ringed Plover and Curlew Sandpiper. An Osprey passed over here on the 14th, Ospreys were also seen at West Kirby and Deeside. Wildfowl included a pair of Garganey and a Green-winged Teal.
At least three Hobby were seen, at Burton, West Kirby and Leasowe Lighthouse. A Ring Ouzel at the Lighthouse on the 21st was late for this species.
Sea watching has been quiet with just a few Gannets, Arctic Skuas, Manx Shearwaters and Scoters in sight, but there were at least 120 Little Terns back at Gronant by the end of the month.


Mediterranean Gulls at Inner Marsh Farm, © Ian McKinnon.
What to expect in June
Early in the month we can still get some late migrants hurrying through, in particular Sanderling, the tundra race of Ringed Plover and Dunlin, all on their way to the high Arctic. But already by the end of the month birds will be returning from breeding; expect to see a few hundred Curlew and Redshank off Heswall. We may also see Green, Wood and Common Sandpipers, all early breeders, plus a handful of early Spotted Redshanks and Greenshanks, the former in their glorious summer plumage. As well as late and early passage birds we get a good number of non-breeding waders on the estuary with several hundred Black-tailed Godwits at Inner Marsh Farm, may be with a few immature Knot. Over a thousand Oystercatchers spend the summer on the estuary and these usually roost at Point of Ayr, but look out also for the few breeding pairs we get around the estuary. The pair or two we get at Gronant within the Little Tern Colony are particularly effective at chasing away crows!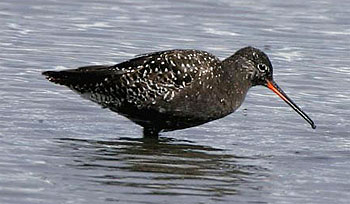 Spotted Redshank in summer plumage at Inner Marsh Farm, © Steve Round
If we get some fresh west or south-west winds these can blow in good numbers of sea-birds. Storm Petrels are fairly regular off our coast but usually only one or two a year are seen, partly as they are so difficult to see flying so low over the water; but the last three summers has been exceptional for this species with good numbers observed including a remarkable 30 in the Mersey mouth in June 2006 during strong winds. Also expect to see plenty of terns, Gannets and, hopefully, Manx Shearwaters and Arctic Skuas. By the end of the month we should have a good idea how successful a season our tern colonies are having and there will certainly be plenty of activity at both Shotton (Common Terns) and Gronant (Little Terns).
Many thanks go to Colin Davies, Paul Vautrinot, Karen Leeming, Mark Turner, Andrew Wallbank, David Esther, Ray Wilson, David Haigh, Geoff Harrop, Neil McLaren, Yvonne Taylor, Dorothy Jebb, Tanny Robinson, Iain Douglas, Pete Button, Phil Woollen, Damian Waters, Jason Stannage, Stuart Taylor, Steve Oakes, David Small, Ian McKinnon, David Harrington, Dave Edwards, Allan Conlin, Dave Wild, Colin Schofield, Steve Round, Steve Williams, Chris Butterworth, Jane Turner, Sheil Blamire, Charles Farnell, Jonathon Potter, Richard Steel, Richard Graham, Paul Shenton, Mark Kendall, Paul Rowlands, Kristian Rowe, Mark O'Sullivan, Keith Duckers, Paul Roberts, Mike Jones, John Fisher, Chris Davies, Andrew Wingham, Gilbert Bolton, Paul Mason, Andy Astbury, Philip Gabriel, Philip Barnes, Barbara Greenwood and the Hilbre Bird Observatory for their sightings during May. All sightings are gratefully received.