The Leach's Petrels which were blown here by the strong winds this month (as described in the above article) were not the only unusual winter visitors. As far as I can ascertain the Manx Shearwater which went past Hoylake on the 9th is the first ever December record for Wirral. Two Great Skuas seen on the same day also off Hoylake are very rare in December, I think there have only been two previous records. Great Skuas inside the estuary at any time of year is very unusual so to get one off Parkgate chasing gulls on 11th December was extraordinary! A juvenile Great Northern Diver arrived on West Kirby Marine Lake on 15th at the same time as an influx of this species in to the country. I believe this is only the second record for this site, it stayed until Christmas Day after giving great views to many visiting birders.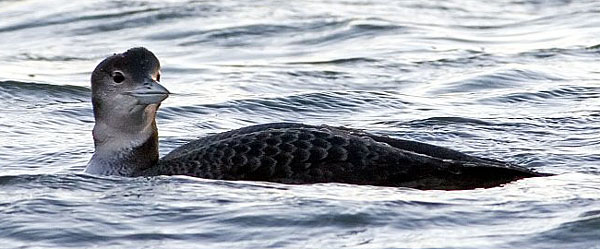 Great Northern Diver on West Kirby Marine Lake, Dec 2006, © Damian Waters.
Yet another unusual bird was the juvenile Curlew Sandpiper which appears to be spending the winter at Inner Marsh Farm RSPB, most birds of this species will be south of the Sahara by now. After the storms the weather went much colder and wader numbers built up; 14,000 Dunlin and 17,000 Knot at West Kirby on Christmas Day was an excellent count, similar numbers were seen at Hoylake with a max of 630 Sanderling there on 23rd. We also had good numbers of duck on West Kirby Marine Lake on Christmas Day with 22 Goldeneye and 11 Red-breasted Merganser. 101 Turnstones on the stones on the edge of the Marine Lake on 4th was a very good count for this species at this site.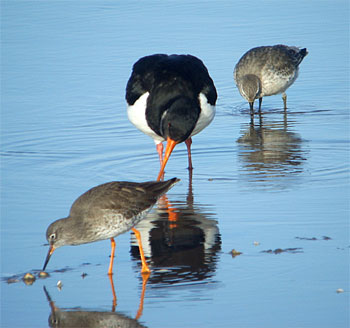 Redshank, Oystercatcher and Knot feeding on Meols Shore,
Dec 1st 2006, © Richard Smith.
Short-eared Owls have been very scarce this winter, presumably due to a shortage of voles, so I felt privileged to see my first for the winter at Parkgate on the 7th. Brent Geese reached a maximum of 94, a bit below last December, but still a very high number for the estuary. A few Snow Buntings have been about; three were at Point of Ayr on 9th, one on Hilbre on 16th with perhaps the same bird on West Kirby Shore the next day. 40 Twite were reported at Flint Castle. A Little Auk was off Hilbre Island on the 4th.
What to expect in January
The Brent Geese usually peak in numbers by the end of January, the record high number is 109 recorded late Jan 2006 on Hilbre. Perhaps surprisingly, this month can be good for sea-watching with Common Scoter, Little Gulls, Red-throated Divers and Great Crested Grebes all possible in relatively large numbers.
Flocks of Pink-footed Geese often pass north through the estuary, perhaps birds moving between Norfolk and Lancashire - always a welcome sight. A Smew or two could turn up at Inner Marsh Farm where both Whooper and Bewick's Swans should be seen in the nearby fields. A few Spotted Redshank often appear in January, best seen at Inner Marsh Farm but they sometimes appear on the Boathouse Flash, Parkgate RSPB. At Parkgate views of Hen Harriers coming in to roost should be excellent just before dusk. January can often be good for Water Rails with an influx from the continent as well as our own breeding birds. There are a couple of quite tides due on the 22nd and 23rd which might well cover the marsh next to the beach at Heswall and flush them, the end of Target Road (just north of the sewage works) is usually the best spot to see them.
If we are going to get any Waxwings this year then this is the month we will see them. A few Snow Buntings should be about - best seen Point of Ayr, Hilbre or along the north Wirral coast. One or two Water Pipits will be at Neston Old Quay RSPB, please send any descriptions in to CAWOS even if you are not 100% certain the birds you see are not the Scandinavian race of Rock Pipit which many people have difficulty telling apart - including myself! The marsh next to Flint Castle is a good spot to see the flock of over-wintering Twite, perhaps as many as 100.
Many thanks go to Andrew Wallbank, Vic Tyler Jones, Kevin Smith, Colin Davies, Paul Davidson, Mike Gough, David Esther, Andy Thomas, Geoff Robinson, Rob Bithell, Phil Woollen, Duncan Crockett, Damian Waters, Jeremy Bradshaw, Paul Mason, Stuart Taylor, Gilbert Bolton, Rob Crockett, Dave Harrington, Ron Plummer, Allan Conlin, Neil McLaren, Mike Hart, Dave Wild, Stephen Menzie, Colin Schofield, Jon Wainright, Steve Round, Steve Williams, Steve Roberts, Chris Butterworth, Steve Wrigley, Jane Turner, John Kirkland, Charles Farnell, Iain Douglas, Richard Steel, Laura Bimson, Nigel Grice, David Ritchie, Alan Warburton, Jean Morgan, Greg Harker, Elisabeth Rees, Colin Jones, Dave Kenyon, Bob Pilgrem, Keith Hopwood, the Dee Estuary Voluntary Wardens and the Hilbre Bird Observatory for their sightings during December. All sightings are gratefully received.