Three great days of high tides on the 19th, 20th and 21st, with the tide on 20th the highest with the sea coming well over Burton Marsh as well as the marsh at Parkgate. Highlight were nine Short-eared Owl (20th), 9 Water Rail (19th), 200+ Rock Pipit (most Scandinavian Race, 19th), 6 Jack Snipe (20th), 1 Water Pipit (20th), 2 Corn Bunting (20th) and 2 to 3 Hen Harriers, Peregrines and Merlins on all three days. Corn buntings are now quite a rarity on Wirral. Up to four Hen Harriers have been coming in to roost at Parkgate; two ringtail and two sub-adult males.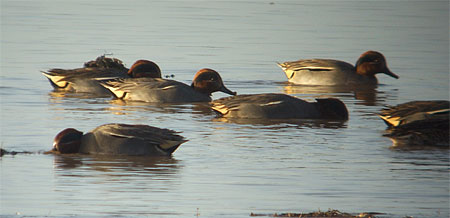 An excellent place to get good views of Teal and Pintail is in the gutter at Thurstaston and Heswall
These Teal were photographed at Thurstaston Dec 1st, 2006 © Richard Smith
Although average numbers of waders have been generally low this winter we have had some good peak numbers. This month's peaks were: 1,760 Bar-tailed Godwit at Leasowe (14th), 1,250 Grey Plover at Leasowe (14th), 10,000 Knot at Hoylake (4th), 18,400 Dunlin at Hoylake (16th) and 314 Sanderling at Hoylake (16th). There have been a few Spotted Redshank observed with four at Connah's Quay on 18th, singles at Parkgate and Point of Ayr on 20th and five at Inner Marsh Farm RSPB on 25th. A few unseasonable Greenshank included two at Connah's Quay and singles at Heswall and Parkgate. The Curlew Sandpiper is still at Inner Marsh Farm RSPB, as is the Green-winged Teal, although both proved elusive this month. 40 Grey Heron there on 26th was an unusually high number for this species.

Right, Spotted Redshank at Point of Ayr on Feb 20th, Steve Oakes © AEBS Ltd.
I have been undertaking voluntary wardening duties at Point of Ayr through the winter, the highlight was undoubtedly the Leach's Petrels in December but the sight of 3,000 Common Scoter in flight off there on 3rd Feb came a close second. But I had another huge seawatch count this month, a remarkable 458 Great Crested Grebes on a flat calm mirror like sea off Meols on 7th, a Cheshire & Wirral all time record high count! Numbers of these grebes have dropped markedly in both the Dee and Mersey Estuaries over the past few years so it is good to know there are still plenty in the area. One to two Snow buntings have been at Point of Ayr all month.
The new bunded pool area at Connah's Quay has certainly proved a huge success, they have had very good numbers of waders there over the past few months and this month they had 22 Gadwall, which is a probable record high count for this site.
What to expect in March
Four more very high spring tides are due this month, including two at 10.4m, the highest of the year (see Forthcoming Events). As usual these tides should result in some great birdwatching. Parkgate is a prime spot for these big tides, but Burton Marsh is also likely to be covered and should be well worth a visit. Don't forget that high tide at Burton may be as much as 30 minutes later than the official Liverpool high tide time.
Apart from the tides March is an exciting month with the first of the Spring migrants arriving. The table below gives the dates of the first arrivals of some of the more common species for the last three years. Don't forget to me with any sightings of early migrants and I'll put it on my latest sightings page.
| | | | | |
| --- | --- | --- | --- | --- |
| Species | 2006 | Location | 2005 | 2004 |
| White Wagtail | 19th March | Flint | 17th March | 14th March |
| Wheatear | 23rd March | Caldy | 16th March | 17th March |
| Swallow | 25th March | Red Rocks | 25th March | 18th March |
| Sand Martin | 26th March | Shotton | 17th March | 18th March |
| House Martin | 29th March | Leasowe | 2nd April | 28th March |
| Willow Warbler | 31st March | Leasowe | 25th March | 31st March |
| Swift | 16th April | Red Rocks | 17th April | 20th April |
| Whitethroat | 17th April | Leasowe | 18th April | 15th April |
| Cuckoo | 29th April | Leasowe | 1st May | 3rd May |
Early migrants may also include Ospreys, Marsh Harriers and Ring Ouzels. If we get a mild and slightly misty day with wind from the south-east we could get some strong visible migration, particularly early in the morning towards the end of the month - Meadow Pipits are usually the most numerous. Out to sea expect a good passage of Little Gulls, best seen from Hilbre Island. These birds, which spend the winter in the Irish Sea and off southern Europe, make their way to Crosby Marina and Seaforth before flying overland to the North Sea and then onwards to breed around the Baltic, see Migration - Ringed Plover, Little Gull and White Wagtail. The first Sandwich Terns and Gannets of the year should turn up by end of the month.
Many thanks go to Peter Newman, David Haigh, Stephen Ainsworth, Andrew Wallbank, Rob Bithell, Chris Davies, Iain Douglas, David Esther, Neil Atkinson, John Boswell, Geoff Robinson, Bill Owen, Colin Wells, Phil Woollen, Pam Green, Damian Waters, David Hinde, Paul Mason, David Lee, John Roberts, Graham Thompson, Stuart Taylor, Steve Oakes, Gilbert Bolton, David Harrington, Allan Conlin, Angus Clark, Mike Hart, Mark Feltham, Dave Wild, Mike Gough, Colin Schofield, Steve Round, Steve Williams, Chris Butterworth, Steve Wrigley, Jane Turner, Charles Farnell, Richard Steel, Paul Shenton, John Fisher, Gary Keating, Ian Dyer, Debbie Cameron, Nigel Jarratt, Stephen Menzie, Sylvia Lowe, Yvonne Taylor, Ian Williams, the Dee Estuary Voluntary Wardens and the Hilbre Bird Observatory for their sightings during February. All sightings are gratefully received.