Large numbers of waders were present during January. Maximum numbers included 29,000 Knot (Hoylake), 24,500 Dunlin (Hoylake), 1,500 Black-tailed Godwit (Inner Marsh Farm) and 8,000 Bar-tailed Godwit (Hilbre). Those Godwit counts could both be record high counts for their respective locations (although the IMF count was even higher on the 1st of Feb.).
A good place to get really close to roosting waders at high tide is West Kirby Marine Lake were the old swimming pool used to be, now filled with large boulders. If you stay on the road side of the railings the birds remain undisturbed, in January we had over 100 Turnstone and 10 Purple Sandpiper here, as well as a few hundred Redshank and Dunlin. See photo below of some of the Turnstone, Redshank and Dunlin.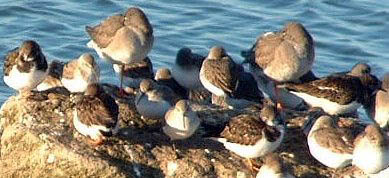 Twelve Spotted Redshank have been at Inner Marsh Farm with several Ruff. When I was there one Spotted Redshank was standing close to the hide in the middle of about forty Redshanks so its longer bill and legs together with the paler belly and breast were obvious and made identification easy, a bird which I've had difficulty with previously.
Brent geese numbers took a dip during January to 15, but increased again to 23 by the end of the month. One of these was of the dark-bellied race which has taken to spend high tide on the marsh at West Kirby eating the grass just a few yards from the dog walkers! Pink-footed Geese have only been seen in small numbers this year, just restricted to one flock of thirty and another of forty, both flying over.
| | |
| --- | --- |
| A drake Green-winged Teal spent several days at Inner Marsh Farm at the end of the month. This American duck is now regarded as a separate species to our own Eurasian Teal, which can be seen by the hundreds at Heswall and Inner Marsh Farm. | |
As for most of this winter Short-eared Owls have been much in evidence with two seen both at Leasowe Lighthouse and Point of Ayr, but the best sighting was undoubtedly at Parkgate at a big high tide on the 30th when twelve were seen.
Just two more bits of news. First the latest Hilbre Bird Observatory Report is about to be published, click on the link for details. Secondly - those wanting to visit the hide overlooking Talacre fields (Warren Farm) where there can be large numbers of waders present at high tide can get the keys at any time from the visitor centre at BHPBilliton during office hours and at the BHPBilliton security office all other times. The hide is on Station Road (on the way to the Point of Ayr) just next to the railway bridge.
What to expect in February: Spring is here! Well, maybe not quite yet but given a mild day or two and all the resident birds well be singing their heads off establishing their breeding territories
On the estuary there will still be large numbers of waders about. If we get a cold snap like we had this time last year and we should see Knot flocks 10,000 strong as well as plenty of Dunlin, Oystercatcher and both species of Godwit. Bewick's Swans peaked in February last winter with 118 birds, see them at Burton Marsh or Inner Marsh Farm. Several other species also peaked in February last winter (according to the Wetland Bird Survey Count(1) ) - Great Crested Grebe, Mute Swan, Wigeon, Teal, Oystercatcher, Black-tailed Godwit and Turnstone - so not a bad month!
An early spring passage might include Little Gulls and auks at sea, and there is usually a gathering of between 50 and 100 Great Crested Grebe on the estuary before they head inland to breed.
There are some big spring high tides due at the end of February and early March which should bring some great birdwatching, including Parkgate where there is an organised Birdwatch.
1. Neil Friswell and Colin Wells, Dee Estuary WeBS Annual Report 2000/2001.
Many thanks go to Dave Harrington, Neil Friswell, Adam King, Dave Wilde, Dave Cavanagh, S Menzie, Alan Jupp, Wendy Allen, Chris Tynan, Dorothy Jebb, David Steer, John Graham, John Cambell, Chris Williams, Mark Feltham, Thomas Giles, Geoff Harrop, Mike Hart, Paul Hurley, Michael Clarkson, Brian Grey, John Kirkland, Jeff Clarke, Chris Butterworth, Bill Owens, Cathy McGrath, Eoin Jennings, Gerry Lucas, David Esther, Iain Douglas, Martyn Jaimeson, Carl Clee, Jane Turner, Brian Roberts and the Dee Estuary Voluntary Wardens for their sightings during January. I rely on the goodwill of people like this, unlike some commercial sites I cannot offer financial inducements!