Feel free to come along and say hello, we will usually be halfway between the north end of the Marine Lake and Red Rocks but best to check what time we are on duty by ringing the above number.
Over the 26 years of wardening we have amassed a large volume of data, this includes recording the amount of actual disturbance versus potential disturbance - mainly caused by walkers and their dogs with problems also with horse riders and windsurfers, among others. We have been successful in bringing down actual disturbance to around 1% of the potential disturbances, despite a large increase in beach usage (see November 2000 Newsletter for more details).
Counting birds is also a way of measuring our effectiveness as wardens, and it is particularly pleasing to have seen numbers of Curlew and Oystercatchers steadily increasing over the past few years so that West Kirby is now one of the main roost sites in the estuary for these species with up to a third of the estuary's Curlew and up to half the Oystercatchers roosting here (see graphs below). It was particularly noticeable over the past couple of winters how these birds usually spend the whole of the high tide at West Kirby rather than moving on to other sites, they wouldn't do that unless they felt safe here - thanks to the wardens!

There are plenty of other birds to see at West Kirby including wildfowl of which there are a good selection, the most obvious being Shelduck and Brent Geese. 800 or more Shelduck on the sea at high tide make for a fantastic sight, and we have had as many as 2,500. The Brent Geese spend most of low tide around Hilbre Island but at high tide we see them fly to Little Eye where they usually settle on the sea but also they have started to increasingly come onto the marsh at West Kirby giving fabulous views. The wardens have counted records numbers of these geese over the years which are steadily increasing, the highest count so far being 262 on December 28th 2011 (my count!). Rarer birds include Great Northern Diver, Eider, Lapland Bunting, Snow Bunting, Richard's Pipit and Leach's Petrel.

NOTE: All data shown was obtained by, and belongs to, the Dee Estuary Voluntary Wardens, none of this data may be used without their permission.
Many thanks to all the many wardens who have collected this data over the years and, in particular, Roy Palmer who compiles it all onto spreadsheets and draws up various bar charts every year, two of which are shown here.
The RSPB is on the lookout for volunteers to ensure a brand new hide, due to open at RSPB Point of Ayr, remains in tip top condition after the previous hide was destroyed by vandals.
The hide, on the Dee Estuary, replaces the original which sadly had to be demolished in 2008 due to excessive and mindless vandalism. But nature lovers will once again be able to enjoy the sights and sounds the reserve has to offer, and the RSPB is inviting people to help celebrate its launch with a free open day on Saturday 3rd November.
Austin Morley, a volunteer at RSPB Dee Estuary said: "It was a huge shame when the old hide was damaged beyond repair. We really hope people will come forward to help us keep the new hide in prime condition and preserve it for future generations."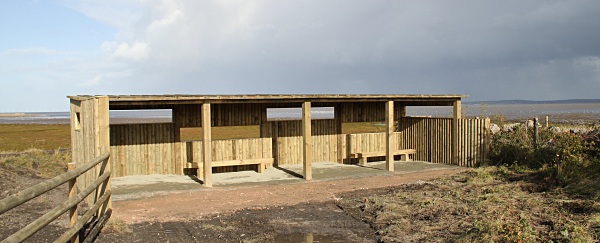 The new hide at Point of Ayr © Scott Reid/RSPB.
Also see video shot in and around the hide -
Click Here.
The newly constructed hide means nature lovers will be able to get up close to one of the best spectacles in the area, when the high tide pushes birds and wildlife closer to the shore. Austin added: "The Point of Ayr is a one of the best places on the estuary to see wildlife. It's home to a whole range of wildlife like natterjack toads and masses of oystercatchers, curlew and wigeon. Visitors coming to the site on Saturday may also be lucky enough to see merlin or a peregrine. Only recently, a short-eared owl was spotted."
During the celebration day there will be a free guided walk (starting at 10am), followed by an official opening ceremony. Geoffrey Robinson, RSPB Assistant Warden, said: "It's always really satisfying to see people of all ages getting close to nature and seeing wildlife they may never have come across before. This new facility will allow exactly that to happen."
Point of Ayr is accessed off Station Road, in Talacre, and is just 10 minutes from the A548.
For more details or to volunteer to help, email
deeestuary@rspb.org.uk
or visit
www.rspb.org.uk/pointofayr
.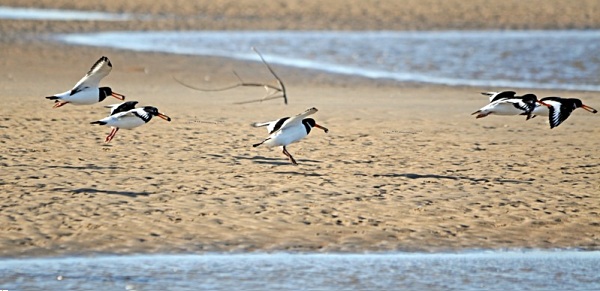 Oystercatchers at New Brighton, must have just visited a 'take-away'! October 27th © William Boyce.
May be it's just me but I thought it was a bit of a strange month - plenty of Visible Migration but not much of the species we would normally expect; good number of rarities but hardly any twitchable ones; no gales to speak of but still plenty of birds on the sea; conditions perfect for a huge tide at Parkgate yet it only just made it to the wall; Brent Geese in numbers about double the previous record for this month.......
According to BirdTrack there was a large influx of Jays into the country and we saw more than usual here at the usual Visible Migration sites, although these were likely to have been local dispersing birds rather than foreign immigrants. Four Jays at
Leasowe Lighthouse
on on the 7th doesn't sound like much but one is very unusual here. Larger numbers were at
Red Rocks
with 22 on the 6th and 17 on the 8th. Other corvids were on the move including 31 Magpies and 120 Jackdaws over
Red Rocks
on the 9th whilst 500 Jackdaws following a farmer's tractor at
Thurstaston
on the same day must have included many migrants. Three Ring Ouzels were at
Red Rocks
on the 19th with one at
Leasowe Lighthouse
on the 25th. The best day for winter thrushes was on the 26th when about 950 Redwings and 450 Fieldfares were the totals flying over
Leasowe Lighthouse
and 2,965 Fieldfares were over Red Rocks.. The climax came on the 29th at
Red Rocks
with an estimated 47,250 Starlings, 3,940 Chaffinches and 73 Bramblings over. One of the Starling flocks was 5km long!
Rarities included a Long-billed Dowitcher at
Burton Mere Wetlands
, three Common Cranes and a Temmink's Stint on
Burton Marsh
, a Red-throated Pipit overhead at
Leasowe Lighthouse
and a Spotted Crake at
Parkgate
. A 'probable' Pallid Hen Harrier probably wasn't although it caused some excitement for a few days.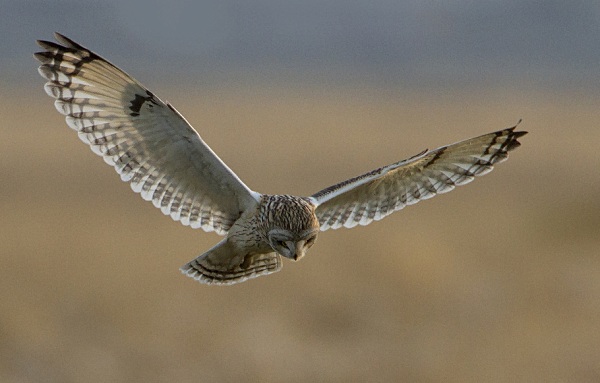 Short-eared Owl on Burton Marsh, October 29th © Charles Farnell.
92 Brent Geese on the sea by
Little Eye
on the 1st had increased to 200 by the 19th, breaking the previous October record of 105 last year. In Oct 2010 we only had 37! There were many reports of Pink-footed Geese with around 200 on the marsh at
Parkgate
and several similar size flocks flying over. 48 Whooper Swans on
Burton Marsh
was a good number for the end of October.
Up to two Marsh Harriers and three Hen Harriers have been on the marshes. The high tides mid-month saw five Short-eared Owls and a Water Rail at
Parkgate
, plus two Great White Egrets with a reliable report of three on the 16th. Still weather on the 21st brought out 10 Short-eared Owls over
Burton Marsh
with three very close to Denhall Quay giving wonderful views. A juvenile Hobby was at
Burton Mere Wetlands
throughout the month, very late for this species and the record for October 31st equals the latest ever for Cheshire and Wirral.
A flat calm during clear weather resulted in a count of 847 Great Crested Grebes, 750 Common Scoters and 25 Red-throated Divers off
Hoylake
on the 20th. There were good numbers of Black-tailed Godwits on the estuary with 3,000 on
Oakenholt Marsh
on the 14th the highest count.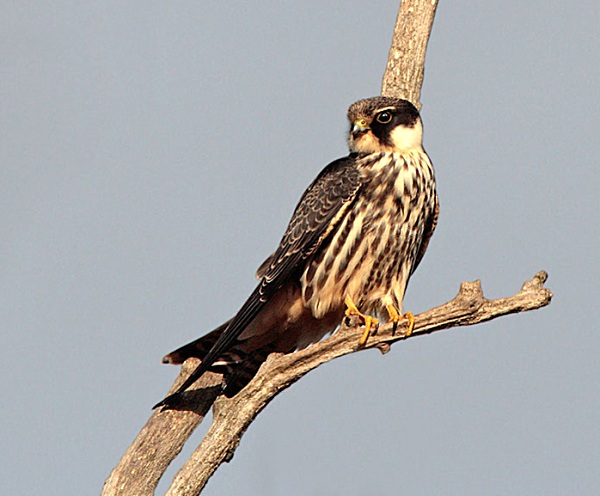 Richard Smith.
Many thanks go to William Boyce, Nicholas Glazebook, Jeremy Bradshaw, David Galatas, Malcolm Sergeant, David Esther, Paul Brady, Alan Hitchmough, Kenny Dummigan, John Jakeman, Greg Harker, Steve Williams, Les Hall, Charles Farnell, Andy Thomas, Ray Eades, Bruce Atherton, Chris Butterworth, Jane Turner, Peter Haslem, Dave Wild, Matt Thomas, Steve Hand, Mark Evans, David Wilson, Jeff Cohen, Roy Lowry, David Small, Dave Harrington, Dave Edwards, Charles Canning, Eddie Williams, Colin Schofield, Bernard Machin,Alan Hitchmough, Paul Mason, Mark Gibson, Richard Beckett, Kevin Roberts, Ian Emmitt, Paul Vautrinot, Deborah Marwaha, Ashley Cohen, Kate Clarke, Rosemary Cavanagh, Sean O'Hara, Daniel Trotman, Alan Patterson, Dave Fowler, Graham Connolly, Scott Reid, Elizabeth Shand, John Boswell, Beverley Wilson, the
Dee Estuary Wardens
and the
Hilbre Bird Observatory
for their sightings during October. All sightings are gratefully received.
What to expect in November
November marks the transition between autumn and winter and suitable weather at the beginning of the month can still bring large numbers of birds moving south on 'Visible Migration' normally associated with October, such as the 'winter thrushes' and finches, we can also see impressive numbers of Starlings and Wood Pigeons on the move. For more details of Visible Migration
Click here.
During the last three Novembers there have been prolonged periods of southerly winds and as a result we saw good numbers of Gannets and skuas - unusual for so late in the year. There should also be good numbers of divers and grebes, particularly Great Crested Grebes which can reach over 1,000 off north Wirral but you need a flat calm to see them. The Dee Estuary now has the second highest number of Cormorants in the UK (a statistic not welcomed by everyone!) and they peak around this month making for a spectacular sight either flying or sat on sand banks drying their wings, expect over 1,000.
Wader numbers, particularly Dunlin and Knot, will build up rapidly and we can get some spectacular high tide roosts at
Point of Ayr
,
West Kirby
and
Hoylake
. Purple Sandpipers will be back in good numbers, during the mid-month high tides take a look at the wader roost on
New Brighton Marine Lake
where there could be as many 20.
We may get a small flock of Snow Buntings, look on the beaches at
Gronant
,
Point of Ayr
and
Thurstaston
, and there are often one or two somewhere around the
Red Rocks
,
West Kirby
,
Little Eye and Hilbre
area. If we get really lucky we may get a Shorelark or two. A flock of Twites is usually to be seen around the
Flint Castle and Oakenholt
area, and more rarely elsewhere.
On the marshes Short-eared Owls will be viewable, best seen during still afternoons at
Burton Marsh
, or during the high spring tides at
Parkgate
. We should also get four or more Hen Harriers which can be seen coming in to the roost at
Parkgate
(see the RSPB Skydancers events below).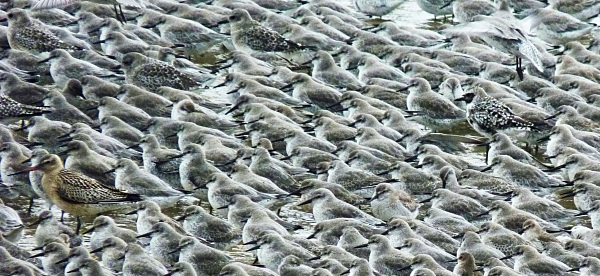 Wader Roost at Hoylake, October 16th © David Esther.
Forthcoming Events
November Highest Spring Tides (Liverpool)
Also see Tides page.
14th November, 10.48hrs (GMT), 9.9m.
15th November, 11.34hrs (GMT), 10.0m.
16th November, 12.21hrs (GMT), 9.9m.
Forthcoming Events
Organised by the Wirral Ranger Service , Flintshire Countryside Service and/or the RSPB:
All these events and walks have bird interest, even those not advertised specifically for birdwatching. No need to book for these events unless specified - please check below.
Also see 2012 Events Diary.

Saturday 3rd November, 10am start for guided walk,
Point of Ayr
Hide Opens!
Join us for the official opening of the new hide at Point of Ayr, Talacre and take part in a free guided walk.
The Point of Ayr affords great views over the Dee Estuary and beyond. Whilst the addition of the new hide gives up-close views of thousands of birds as they are pushed in by the rising tide.
Refreshments will be available.
Also see video shot in and around the hide -
Click Here.
Sunday 4th November and Sunday 2nd December:
Skydancers at
Parkgate
- 12 noon until dusk.
Skydancer is an exciting new four-year project aimed at raising awareness and promoting the conservation of hen harriers in the north of England.
The Dee Estuary is a vital wintering ground for these amazing birds and is the best place to see them from October through to March.
Most people have never seen a hen harrier, but once seen it is rarely forgotten. This bird is a beautiful, agile hunter, and its aerobatic sky dances are among the most awesome spectacles in nature.
Unfortunately, with only a handful of pairs still breeding successfully in England, the hen harrier is currently a species on the brink.
Come along to Parkgate to find out more about the hen harrier story and what you can do to help save hen harriers before it's too late!
Look for the RSPB Love Nature marquee along the main promenade at Parkgate where friendly staff and volunteers will be with telescopes and binoculars plus family activities, free information and more:
http://www.rspb.org.uk/skydancer/
Directions: The "Donkey Stand" opposite Nicholls Ice-cream shop on The Parade (B5135), Parkgate, Cheshire.
Thursday November 15th 9.30am start, Riverbank Road Raptor Roadshow,
Lower Heswall
.
Join the Rangers, the Friends of Wirral Country Park and other local groups at Riverbank Road car park in Lower Heswall. The highest tide of the month will flood the marshes flushing wading birds and small mammals from cover. This will alert raptors such as Hen Harriers and Short-eared Owls wintering on the marsh to the possibility of an easy meal. Warm waterproofs and binoculars are recommended.
No need to book, meet at Riverbank Road car park, Lower Heswall.
For more information: (0151) 648 4371.
NOTE: The two events below on Nov 17th could be easily combined.
Saturday November 17th 9.30am start, Pintails of the River Dee,
Thurstaston Shore
.
The Dee estuary is most important wintering site in the U.K. for these elegant ducks. Join the Rangers on a guided walk along beach from the Visitor Centre as the tide rises. We will see them feeding in the channels that criss-cross the mudflats then they will join with the other ducks and waders to roost in marsh at high tide.
Warm waterproofs and strong footwear are recommended. Bring binoculars if you have them. No need to book, meet at the Visitor Centre, Station Road, Thurstaston. CH61 0HN For more information: (0151) 648 4371.
Saturday 17th November, start at 11am, High tide Birdwatch at
King's Gap, Hoylake
.
You will discover why Wirral's foreshore is an internationally protected site when you join the Dee Estuary Voluntary Wardens, Coastal Rangers and the RSPB on this winter birdwatch at Hoylake. Dress warmly and bring binoculars if you have them.
No need to book. Organised as part of Wirral's Year of Coast and Countryside. High tide at 1.09pm, 9.7m.
No need to book. Ring 0151 648 4371 for more info.
Saturday December 15th, 9am start.
Estuary Watch: High tide from Heswall Fields.
Join the Rangers at the
Thurstaston Visitor Centre
for a walk down to the cliff top at Heswall Fields. Here we have a "birds-eye" view over the mudflats and into the creeks that make up the Dee estuary. As the tide rises many thousands of wading birds and ducks will be forced into the open where we can get great views of these special birds.
Warm waterproofs and strong footwear are recommended.
Bring binoculars if you have them. No need to book, meet at the Visitor Centre, Station Road, Thurstaston. CH61 0HN. For more information: (0151) 648 4371.
Saturday December 15th 2 - 3pm
2012 Year of Coast & Countryside in Review -
Thurstaston Visitor Centre
.
This is a slideshow and talk in the lecture theatre at Wirral Country Park to chart the wildlife seen during the events run by the Rangers as part of Wirral's Year of Coast & Countryside. It will also give you an idea of where and when to see some great wildlife in 2013.
Places are limited so book early! Call (0151) 648 4371 to reserve a place.