Site Guide - Red Rocks Marsh Nature Reserve
Editor: this article was originally written by Jane Turner for the Bird Forum website www.birdforum.net in 2004 and she has kindly agreed to let me reproduce it here. I have left it virtually untouched from the original so when Jane writes 'this year' or 'this autumn' she is referring to 2004, not 2007! September and, in particular, October 2007 have been spectacular at Red Rocks even by the standards of this superb site (with many records supplied by Jane) - see the October bird news below. Thanks Jane.
Click here for directions.
Jane Turner.
I've been birding here for just short of 30 years, here is some insider knowledge....

The reserve is a small phragmites marsh, brackish dune slack, bordered by the rather exclusive Royal Liverpool Golf Club and the Dee Estuary. It was established as an SSSI to protect a dwindling population of Natterjack Toads Bufo calamita*. There are a number of Alders, Hawthorns and Apple trees, which together with a small stand of Poplar in the NW corner of the golf course and the gardens of the Stanley Rd Houses, provide a small amount of cover for migrant birds.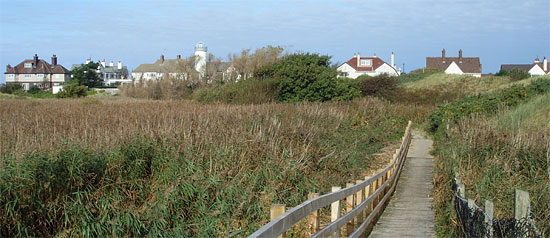 Looking towards Stanley Road from the boardwalk, reeds on the left, the Blyth's Reed Warbler
was just beyond the tree in the centre of the photo, © Richard Smith.
With 270 accepted species of bird, it has the biggest list of anywhere in Cheshire & Wirral. It is primarily a site for visible passage, being located at the NW corner of a peninsula. Regardless of season nearly all birds observed are moving south. The major paradox of the site is that the conditions that are most likely to produce a good bird are also most likely to mean it will be a fleeting visit. I know a lot of people who have never seen a good bird at Red Rocks. That is because they turn up mid afternoon after the news hits the local bird lines. Unless it's raining, foggy or the bird is an Acrocephalus warbler or perhaps a pipit, it is long gone. It's a great place to find your own birds though. Here is a summary of what you can see and when to go.

Winter. There is a healthy population of Water Rails in the marsh, averaging 20-30. The Spartina on the western margin and the area around the Natterjack scrapes holds Snow Buntings about 2 years in 5. More rarely Shorelarks and Lapland Buntings appear, though they seldom stay for long. There is a regular flock of 50-100 Linnet, which commute between the Golf Course and the foreshore and these are worth checking for Twite. Jack Snipe used to be a regular visitor, but since I am no longer crashing about in the reed bed ringing, I don't see them any more. Reed buntings, Stonechats and Wrens are the most conspicuous inhabitants of the reed bed.
When to visit: in very cold weather its easier to see the Water Rails and there is a good chance of seeing some spectacular weather movements (primarily Lapwing and Skylark). Sea-watching from the rocks themselves should produce Scoter, Divers, Auks and Grebes, though it needs to be a big tide (9m+). Perhaps the best reason to visit in winter is the huge numbers of shorebirds. 10-50,000 Knot, 3-40,000 Dunlin and good numbers of all the other common waders. As the feeding grounds on the East Hoyle sand bank flood, huge flocks of birds will fly over the point at Red Rocks and attempt to roost on the shore at West Kirby or Hilbre. It's an exhilarating sight and sound. Of course the local Peregrines know this and often try and pick out their lunch.
Early Spring. The first sign that spring is coming will be a movement of Meadow Pipits. 3-500 a day are not unusual. It usually a race between White Wagtail and Wheatear for the first "proper" spring migrant. The golf course and the garden of the last house on the north side of Stanley Rd are the best places to see an early Wheatear, while the Wagtails are invariably on the beach. It not unusual to get counts of more than 50 White Wagtails and the record is more than 200. All common migrants can be seen and the site is particularly good for Tree Pipit. The Ivy-filled hollow just south of the Poplar stand is a top spot for Ring Ouzel, though you will have to be early.
When to go: You have to be there early. Birds present at dawn move off within the first hour or two, and birds which have made landfall elsewhere on the Wirral coast will move through within three hours of dawn. On very rare occasions there can be huge falls (eg 600 Willow warblers, 250 Wheatear) and these are associated with a clear night, southerly winds and rain just before dawn.

Late Spring. The Sedge Warblers and Reed Warblers will be on territory. About 12 pairs of the former and 4 of the latter. On the golf-course there are Lesser Whitethroats, Whitethroats and more often than not Grasshopper Warbler. Although the bulk of passage is over, its now that Red Rocks comes into its own. With the right weather conditions, expect the unexpected: 5 Serins, Great-Reed warbler, Alpine Swift, Red-rumped Swallow, Savi's Warbler, Dartford Warbler, Red-throated pipit, 7 Tawny Pipits, 5 Melodious Warblers, Gull-billed Tern, Collared Pratincole etc. This year there were two Red-backed Shrikes and a suspiciously icterops-like Whitethoat. However the Black Lark went over too high for me to see it!
When to go: The weather conditions for a "goody" are very predictable. The wind needs to be in the SE, or better still ESE for at least three days. It needs to be hot and muggy, with clear skies but poor visibility. You want birds to be up and moving, but to not be able to see Wales when they reach the point of the Wirral. Then you have a chance of the birds landing or at least circling long enough to identify them! I remember pointing out a stratospheric male Black Redstart that was circling high over the point to a group of visitors and it took me 25 minutes to lay bins on a circling Bee-eater that was calling very loudly.

Summer. The breeding warblers provide the most interest, though towards the end of summer an impressive tern roost can build up. The Little and Sandwich Terns at Gronant, and the Common terns at Shotton all bring their fledged young out to the mouth of the Dee to feed them. This year's highlight was an adult summer White-winged Tern, with previous birds including Gull-billed tern, Caspian tern and Ring-billed Gull.
When to go: pick a tide in the 8.6 to 9.3m range to maximise the chances of a close but undisturbed tern roost in the vicinity of Bird Rock. If there has been a period of strong westerlies there can be good movements of Manx Shearwater.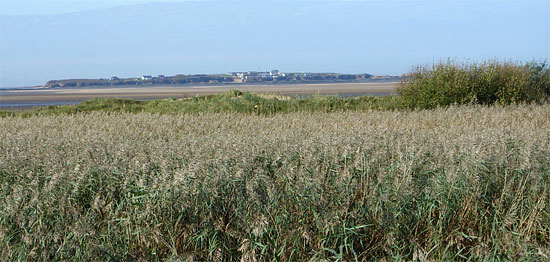 Beyond the reeds is Hilbre Island, the sand bank in between can hold thousands
of waders at high tide in the winter, © Richard Smith.
Autumn. Whereas the bulk of migrants move through in late August and early September, like in spring it is the later passage that can produce rarities. In general there are far fewer birds on autumn passage than in spring, presumably something to do with the local geography. Once again almost anything can turn up. Great-spotted and Black-billed Cuckoo, Greenish Warbler, Yellow-browed Warbler is almost regular (3-5 this year) Richard's pipit (7) Red-throated Pipit (3) and Red-rumped Swallow. The best birds ever to grace the site were both unfortunately not specifically identified. An Eastern or Western Wood Pewee and a Summer or Scarlet Tanager! This autumn was quiet, though there was a Richard's pipit and a Great Grey Shrike which confounded me by staying nearly 24 hours! Despite the rarities, the most impressive aspect of autumn birding at Red Rocks is the overhead passage at dawn. Counts of 1000+ finches are not unusual and occasionally there are enormous thrush movements. I remember dutifully completing a coordinated migration watch, clocking up 11,250 redwings and 8000 Fieldfares knowing full well that there was a Song Sparrow at Seaforth! A feature of Red Rocks is an extraordinary passage of tits. Counts of 300+ Blue and 200+ Coal tit have been made, with birds collecting on the point houses and making exploratory flights out to sea. These flocks are always worth checking out for Phylloscopus warblers. Sea-watching in autumn is good, though to be honest the point is terribly exposed in conditions conducive to big numbers of Skuas and petrels, and I'd recommend either Hilbre where the birds are closer or a warm car at Leasowe! I'd dearly love to have been sea-watching the day a Gyr Falcon came in off the sea.
When to go: You need East in the winds. SE seems to be the best for producing rarities, E-NE for big numbers of finches and thrushes. Overhead passage starts just before dawn and continues for about two hours. Clear skies with bad visibility are again best for numbers though it may be hard to locate flocks against the bright sky. This year I heard but failed to see a Red-throated Pipit. If there has been a large arrival of drift migrants on the east coast, between St Abbs and Flamborough, it seems to take 2 to 3 days for them to filter through the county. If the weather is good but there is ground fog on the east coast, sometimes the drift birds arrive first hand.

So that is it. Don't expect to twitch a bird at Red Rocks, unless it's in the reed bed. The Great-spotted Cuckoo would have been a fly though had it not hit a net and the Dartford Warbler only spent about 45 seconds on the deck.

Vagrants: Sooty Shearwater, Cory's Shearwater, Balearic Shearwater, White Stork, Little Egret, Bittern, Spoonbill, Montagu's Harrier, Gyr Falcon, Kentish Plover, Spotted Crake, Corn Crake, Dotterel, Collared Praticole, White-rumped Sandpiper, Pectoral Sandpiper, Grey Phalarope, Ring-billed Gull, Roseate Tern, Caspian Tern, Gull-billed tern White-winged Tern, Nightjar, Alpine Swift, Great Spotted Cuckoo, Black-billed Cuckoo, Bee-eater, Hoopoe, Wryneck, Wood Lark, Red-rumped Swallow, Richard's Pipit, Tawny Pipit, Red-throated Pipit, Bluethroat, Savi's Warbler, Aquatic Warbler, Great Reed Warbler, Icterine Warbler, Melodious Warbler, Dartford Warbler, Barred Warbler, Greenish Warbler, Yellow-browed Warbler, Red-breasted Flycatcher, Red-backed Shrike, Great-Grey Shrike, Chough, Serin, Cirl Bunting, Hawfinch.

Birds Include: Red-throated Diver (W), Great Crested Grebe (W) Fulmar (Su), Manx Shearwater (Su), Manx Shearwater (Su), European Storm-petrel (rare PM), Leach's Storm-petrel (PM), Northern Gannet (su) Great Cormorant, Brent Goose (w) Common Shelduck, Long-tailed Duck (scarce W) Velvet Scoter (scarce W) Eurasian Marsh Harrier (rare PM) Hen Harrier (rare PM) Osprey (scarce PM) Common Kestrel, Merlin (W,PM) Eurasian Hobby (rare PM), Peregrine Falcon, Water Rail (w) Common Moorhen, Eurasian Oystercatcher, Ringed Plover (PM,W), Grey Plover (PM,W) Red Knot (PM,W) Sanderling (PM,W), Little Stint (scarce PM), Curlew Sandpiper (PM) Dunlin (PM,W), Jack Snipe (scare W) Common Snipe (w) Black-tailed Godwit (Scarce PM,W) Bar-tailed Godwit (PM,W), Whimbrel (PM) Eurasian Curlew (PM,W), Spotted Redshank (scarce PM), Common Redshank (PM,W) Common Greenshank (PM) Pomarine Skua (rare PM) Arctic Skua (PM) Long-tailed Skua (rare PM) Great Skua (PM,W) Mediterranean Gull (scarce) Little Gull (scarce) Sabine's Gull (scarce PM), Common Tern (s), Arctic Tern (PM), Little Tern (s), Black Tern (scarce PM), Guillemot, Short-eared Owl (Scarce PM,W) Skylark, Black Redstart (scarce PM, W) Common Redstart (PM), Whinchat (PM) Stonechat, Northern Wheatear (PM), Ring Ouzel (PM) Grasshopper Warbler (Su), Sedge Warbler (Su), Reed Warbler (Su) Lesser Whitethroat (PM) Common Whitethroat (Su) Garden Warbler (PM) Blackcap (PM) Wood Warbler (Scarce PM) Common Chiffchaff (PM) Willow Warbler (PM), Goldcrest (PM) Firecrest (scarce PM) Spotted Flycatcher (PM) Pied Flycatcher (PM), Lesser Redpoll (PM).
PM - passage migrant, W - winter visitor, Su - summer visitor.
Jane Turner.
* since Jane wrote this the Natterjack Toads have made something of a recovery thanks to habitat management and protection by the Wirral Rangers and Cheshire Wildlife Trust.