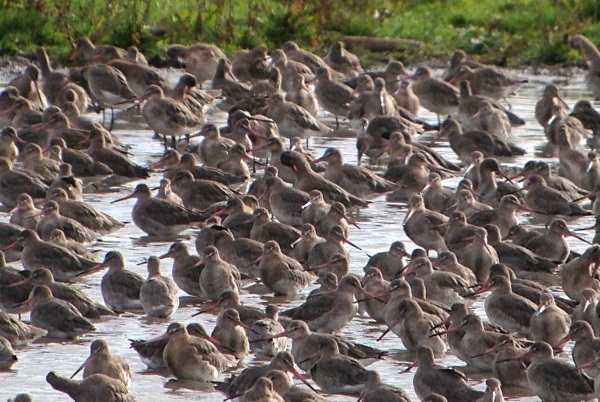 Black-tailed Godwits at Gilroy, West Kirby, September 2014 © Richard Smith


Both the National and local (Dee Estuary) Wetland Bird Survey (WeBS) reports have recently been published. I always look forward to these as it gives us a chance to see how our birds are doing by looking at trends and numbers, and I always find the movements of our estuary birds fascinating. Both reports cover the period from July 2012 to June 2013. As there is a lot of interest in both I have written two articles - this is the second article which is about Waders and Terns. I want to emphasise this is just a summary concentrating on just a few species as I don't want to just repeat what is written in the reports. As well as discussing Dee estuary and National trends I will also be referring to nearby sites such as the Alt, Mersey and Ribble Estuaries. The article discussing Grebes and Wildfowl was published in the September 2014 Newsletter.
Black-tailed Godwit
Since the 1980s there has been a steep rise in numbers of this species both on the Dee estuary and Nationally, and, in both cases, numbers plateaued out from 2004/05 to 2011/12. But the winter of 2012/13 saw a big increase across the country mainly due to huge numbers on the Thames Estuary with a count of 12,740 in Jan 2013. On the Dee Estuary 2012/13 saw the third highest number recorded here with 5,633 in December 2012, but the latest counts show the highest ever number with 6,484 in November 2013. The five year average has the Dee estuary as the third most important site in the country for this species, behind The Wash and Thames Estuary.
Both the nearby Mersey and Ribble estuaries are also important sites for 'Blackwits', and there is much interchange throughout the year between the three sites. Over the past few years the Mersey has become particularly important for migrating birds and both pre- and post-breeding moult gatherings; there was a record WeBS count of 3,304 there in March 2012. It was also notable in 2013 that a significant drop off in numbers on the Dee estuary in February and March was coincident with a big increase on the Mersey estuary. August 2013 saw large numbers at Carr Lane Pools, Hale, on the north shore of the Mersey with a max count of 2,650. There have also recently been record numbers on the Ribble estuary with a max WeBS count of 5,915 in December 2011. However, most of these birds weren't actually on the estuary but in the adjacent fresh water site of RSPB Marshside, and they had an incredible 7,000 there in January 2012 followed by a massive count of 8,000 in August 2012, both counted on non-WeBS days but both county record high counts.
Bar-tailed Godwit
Max counts on the Dee estuary increased for the third year running from 29 in 2009/10 to 1,101 in 2012/13. However, these high tide figures don't really reflect numbers present feeding at low tide and a count off North Wirral of 2,500 on February 22nd 2013 gives a more accurate assessment of birds present. But overall these low tide counts have shown a decrease over the past 10 years or more with over 9,000 counted in 2001/02 and 4,213 in 2008/09, with the 2,500 in 2013 continuing the decline. Most of 'our' birds spend high tide in the Alt estuary WeBS area, and numbers have remained high here with a five year average of 8,890. There was a record high count here of 12,412 in January 2011 with 11,560 there in Feb 2013, these are high tide counts and presumably the majority of these birds are now feeding locally in the Alt area rather than flying to North Wirral. Many birds use Seaforth Nature Reserve as a high tide roost where they are largely undisturbed. Nationally, numbers fluctuate quite widely but showed a significant decrease from 2005/06 to 2008/09 but have since recovered and the latest index number for 2012/13 is back at a level typical for the 20 years or more prior to 2005/06.
See
WeBS and Waders article
which include Bar-tailed Godwits.
Dunlin
Currently numbers on the Dee estuary are low with 11,420 in 2012/13 and a five year average of 13,557. This compares to 2003/04 when the peak count was 41,679 and the five year average was 31,748. Nationally, numbers dropped quite sharply from a peak during 1996/97 until 2008/09 since when there has been a small increase, probably due to the colder than normal winters. Counts in the Netherlands have increased whilst numbers in the UK dropped so it seems birds have been staying there during the run of mild winters. But it seems nobody told the Dunlin which over-winter on the Mersey estuary where there was a peak count of 55,430 in 1996/97, and even more in 2011/12 with 59,300! The Mersey estuary usually has the highest counts in the country during winter, but the nearby Ribble estuary has even higher numbers during spring migration and 62,080 were counted in April 2012, which is one of the highest ever counts there in recent years.
For more details on Dunlin numbers on North-west Estuaries see Article.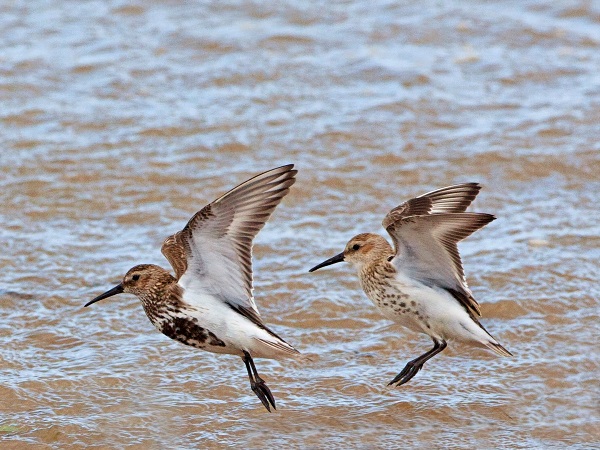 Sandwich Tern
The Dee estuary is the most important non-breeding site in the country for Sandwich Terns where they gather in July and August prior to heading south for the winter. The count of 2,203 in July 2012 was the highest ever recorded here and exceeded the 1,700 Internationally Important criterion. Only Pegwell Bay, in south-east Kent, comes anywhere near in importance for non-breeding birds and they had 1,410 in July 2011. Even including breeding areas the Dee estuary is second only to the North Norfolk coast where 5,450 were recorded in June 2011. Nationally, counts have remained fairy steady since the 1990s although WeBS doesn't really give an accurate count of total numbers as many nesting colonies aren't included.
References:
1. On-line WeBS Report 2012/13 - http://www.bto.org/volunteer-surveys/webs
2. Colin Wells and Neil Friswell, Dee Estuary and North Wirral Foreshore WeBS Annual Report 2012/2013.
Richard Smith
Top of Page
Colour Ring Report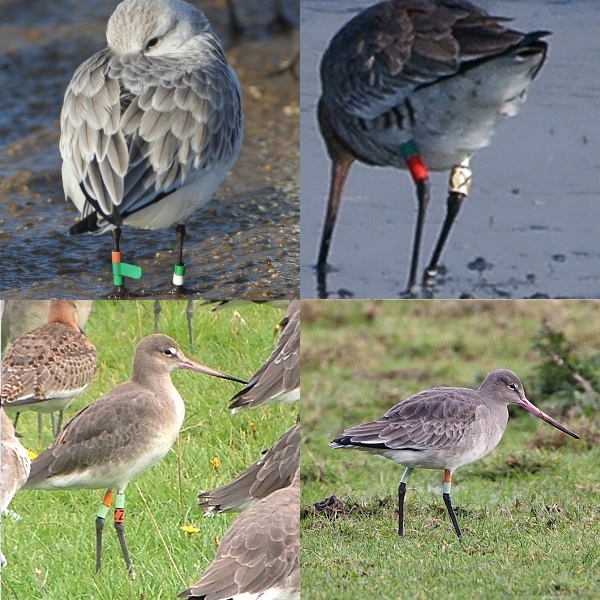 Starting top left and clockwise: 1. Sanderling G5RGGW (Matt Thomas) 2. Black-tailed Godwit GR-WX (Operation Godwit) 3. Black-tailed Godwit LL-OL (Matt Thomas) 4. Black-tailed Godwit OL-LZ (Richard Smith).

With so many Black-tailed Godwits at Gilroy Nature Park, West Kirby, in September the majority of the colour-ringed birds were of this species with a total of 21. As somebody has said in a previous article colour-ringing birds give them an identity and a personality. It is exciting when we see a bird we haven't recorded before, knowing that we will shortly be receiving it's life history, but we also enjoy seeing the same birds turning up again and again as it is like seeing old friends - such as LL-OL above. The same applies to Sanderlings and it was good to see two 'old friends' in September, hopefully we will see more of them in the coming winter.
Cormorant
'SLU' on green ring, ringed as a chick on Denny Island, Severn Estuary (close to the M4 bridge), on June 8th 2014.
Recorded at Connah's Quay Nature Reserve on August 27th 2014.
No other records.
An interesting dispersal giving a hint of where some of our ever increasing Cormorant population come from.

Sanderling
G5RGGW - note that the orange ring shown in the photograph above is in fact a badly faded red ring.
Ringed in Greenland in June 2012.
Recorded September 9th 2014 at Hoylake.
Previous records: recorded at Hoylake in January, March and October 2013.
G2GRRR -
ringed in Iceland in May 2012 (on Sandgeroi beach which is close to Reykjavik airport).
Recorded September 10th 2014 at Hoylake.
Previous records: recorded at Hoylake November 2012, January and March 2013. Seen in Iceland May 2013 and Hoylake in January 2014.
For those who want to understand the colour ring codes used for Sanderlings and Knot take a look at:
http://www.waderstudygroup.org/res/project/sand-colrings-en.php
Redshank
B//YW-BW/ Ringed at Rhymney Great Wharf (east of Cardiff on Severn Estuary) on March 15th 2009.
Recorded July 28th and 31st 2014 on Heswall Shore.
Previous records: Heswall shore July, August and September 2010 and August 2012.
Ringed as part of a BTO study - "The main aim of our original colour-ringing programme at Cardiff was to study the impact of the impoundment and flooding of Cardiff Bay on the Redshank that formerly wintered there. Following the bay's loss the majority of colour-ringed birds moved to the neighbouring Rhymney Estuary. Adult Redshank displaced from the bay had lower survival rates in the first three years post-barrage."

Black-tailed Godwits
Details of the four godwits shown in the photographs (photo of GR-LX below):
GR-WX
ringed in Iceland as an adult on July 11th 2009.
Recorded on Thurstaston shore in August and September 2014, and Gilroy NR, West Kirby, in September 2014.
This bird migrates post-breeding through the Dee estuary and Seaforth Nature reserve being seen here July 2011, October 2012, August and September 2013. It was recorded in Porto Alto, Portugal, in February 2011 and 2014. There are no records for early in the winter. It migrates in Spring through the Netherlands being seen there in March 2010 and 2012. Other records have seen it in Northumberland, Ouse Washes, Rutland Water and East Scotland.
LL-OL
ringed in Iceland as an adult on May 3rd 2000.
Recorded 12 times at Gilroy NP, West Kirby, in September 2014. Also recorded in August 2014 at Seaforth Nature Reserve.
Before this summer recorded a total of 104 times. December 2000 it was in Wexford, Ireland, then back in Iceland in April 2001. First record on the Dee estuary was at IMF in July 2003. April 2005 and 2006 it was on the Ribble Estuary. From July 2007 all records are from the Dee estuary including IMF and Gilroy, the majority of records are from Thurstaston shore and most years it is here from late summer/autumn until late winter/early spring.
OL-LZ
ringed in Iceland as an adult on June 14th 2014.
Recorded 11 times at Gilroy Nature Park, West Kirby, between September 11th and 23rd 2014.
No other records.
GR-LX
ringed in Iceland as an adult on April 24th 2004.
Recorded on July 26th 2014 at Gilroy Nature Park, West Kirby, and present almost every day since through August and September.
This bird is one of the few in our database which gets recorded back in Iceland on a regular basis being seen there in 2005, 2008, 2009, 2010, 2011, 2012 and nine times in 2014. It visited various sites in Lancashire in 2004, 2006 and 2008, and spent March 2009 at Seaforth Nature Reserve. It was first recorded on the Dee estuary in November 2007 and since February 2010 has been recorded 65 times here prior to this summer.
Richard Smith and Matt Thomas
.
Colour-ringed birds were also recorded by Steve Hinde, John Jakeman, Charles Farnell, Manu Santa Cruz, Sean O'Hara, Kevin Duncan and Glen Morris.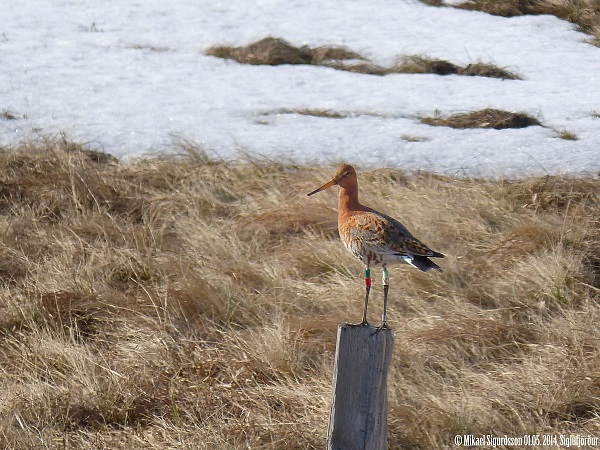 GR-LX on breeding territory in Iceland summer 2014 - Operation Godwit.
September Bird News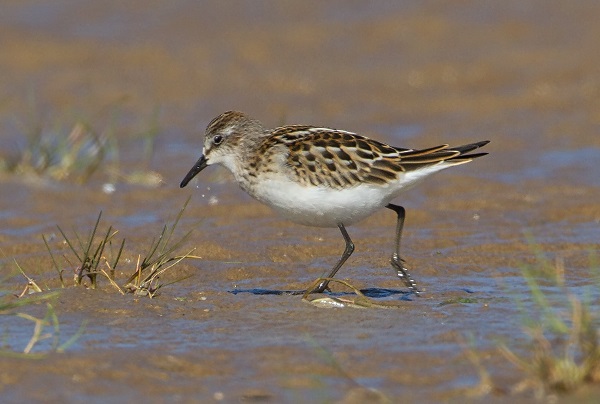 Little Stint at Hoylake, September 9th © Charles Farnell.
Well, I did say September could be unpredictable. We didn't get any of the desired gales yet birding was superb. I'll start with the rarities: a Dotterel flew over Red Rocks on the 2nd; a Cattle Egret turned up on the 3rd at Burton Mere Wetlands and stayed the rest of the month; a Red-necked Phalarope was at Burton Mere Wetlands on the 4th, last seen on the 21st; a Wryneck was at Leasowe Lighthouse on 5th; a Marsh Warbler was at Red Rocks on the 5th followed by a Barred Warbler there on the 16th; a White-rumped Sandpiper at Meols on the 13th. And that's not including such run of the mill rarities such as two Great White Egrets, a Pectoral Sandpiper and a Cetti's Warbler!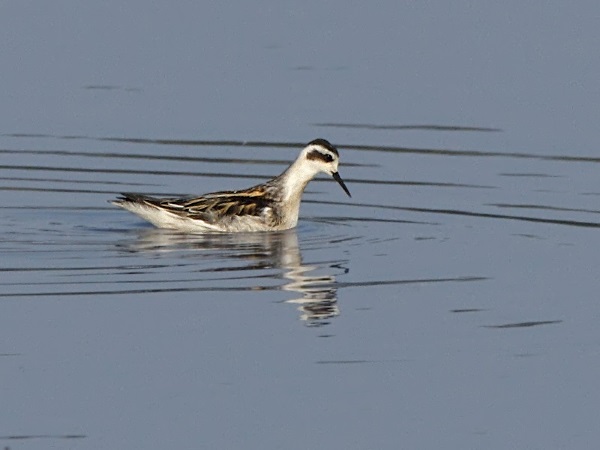 The Curlew Sandpiper passage had petered out by mid-month but it was good to see four at Hoylake on the 5th followed by seven at Heswall the next day, with a few also at Burton Mere Wetlands. Little Stints were coming through all month and ones and twos were seen at Hoylake, Meols and Heswall with seven at Burton Mere Wetlands on the 22nd. There were good numbers of Ruff at Burton Mere Wetlands with 20 present in the second half of the month, eight were at Gilroy Nature Park, West Kirby, on the 18th. The latter site continued to be a roosting place for over 2,000 Black-tailed Godwits with a massive 2,800 there on the 1st, 40 Knot on the 22nd was an excellent count for an inland site. 27 Greenshanks showed well at the Donkey Stand Flash, Parkgate, on the 21st and 660 Sanderling on Hoylake shore on the 22nd was a good September count.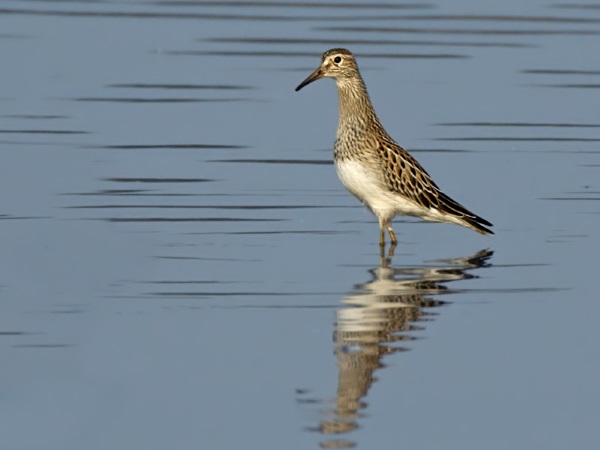 There were no gales but we did get a couple of days of fresh westerlies and as a result two Long-tailed Skuas were seen well off both Hilbre and New Brighton, and there was also 6 Arctic Skuas and a Great Skua recorded. In contrast, we had a couple of days at the end of the month when conditions were crystal clear and the sea was like milk with not a single ripple on the surface, this made for incredible viewing conditions and ideal for counting birds on the sea. The highest counts were 600+ Great Crested Grebes, 750 Common Scoter, 100 Guilemots and 25 Red-throated Divers. The grebe count will be submitted as part of the Wetland Bird Survey and should confirm the Dee estuary/North Wirral as the second most important site in the country for Great Crested Grebes.
Conditions were good for seeing migration the highlights being various Garden Warblers, good numbers of Chiffchaffs with 45 at Red Rocks and 35 at Leasowe Lighthouse, and four Whinchats also at Red Rocks. There was also a very noticeable passage of Grey Wagtails with max counts of 13 at Heswall, 20 at Leasowe Lighthouse and 26 at Red Rocks.
There were reports of two Ospreys with one giving excellent views on the 3rd off both Red Rocks and Hilbre, landing on Bird Rock to eat a fish at one point, and a second on the 12th which flew past Hilbre. A Spoonbill gave good views at Point of Ayr at the end of the month.
Red Rocks Update
October 1st was supposed to be the date when work re-started at Red Rocks. But there has been a long delay as the internal consultation at Cheshire Wildlife Trust has dragged on, lack of communication by CWT means we can only go on rumours and hearsay but we understand that, due to the insistence of a key member of Wirral Wildlife (CWT Wirral Branch), that the management plan has had to be completely re-written - which doesn't say much for the original plan. There has been no announcement by CWT that there will be a delay in starting work, consultation or no consultation, nor any communication regarding the delay of the management plan. But we have no reason to believe that there won't, eventually, be full consultation as promised - at the moment things are at least two months behind schedule. We sincerely hope that the consultation is a genuine one and not just a case of going through the motions. Being of an optimistic nature I take the delay as being a good sign.
For more info see
Madness at Red Rocks
and
Madness at Red Rocks - Part 2.
Richard Smith.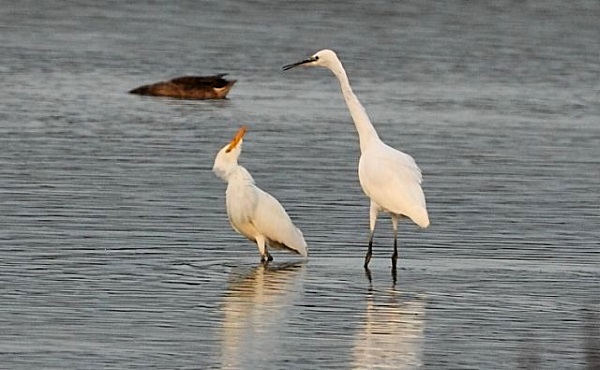 Cattle and Little Egret at Inner Marsh Farm, September 4th ©
Andy Ingham
Many thanks go to Steve Round, Derek Bates, John Jakeman, Jane Turner, Mal Seargant, Matt Thomas, Julie Rogers, Richard Beckett, Andrew Cross, Chris Butterworth, Andrew Ingham, David Peate, Matt Francis, Steve Hinde, Keith Scovell, Glen Morris, Roy Lowry, Allan Conlin, Andy Davis, Colin Schofield, David Haigh, Karen Leeming, Alan Irving, David Leeming, Jeremy Bradshaw, Peter Haslem, Alan Hitchmough, Steve Williams, Ray Eades, Dave Wild, Jeff Cohen, Charles Farnell, Shaun Hickey, Mark Gibson, Dave Edwards, Steve Hand, Kevin Smith, Chris Wilding, Steve Liston, Peter Hines, Colin Jones, Roger Baker, Paul Vautrinot, Sean O'Hara, Gail Gannon, James Smith, Kevin Duncan, Mike Buckley, David Small, Elizabeth Maddock, Norman Hallas, Jamie Dunning, Elliot Montieth, Steve Edwards, Paul Mason, Rob Morsley, the
Lighthouse and Wirral Birding Blog
, the
Dee Estuary Wardens
and the
Hilbre Bird Observatory
for their sightings during September. All sightings are gratefully received.
Top of Page
What to expect in October
Are we going to have a Leach's Petrel free autumn? It can happen, the last time was 1993, but in my experience it is rare indeed not to have gales in October, especially after a windless September. But after a month of largely contrary winds we will need several days of NW gales to blow them into Liverpool Bay. I'm certainly looking forward to seeing them - and I've still to see a single Skua of any species this year!
October is the month for visible migration when we get hundreds, maybe thousands, of Redwings, Fieldfares, Starlings, Chaffinches and much more passing south along our coast line. Conditions have to be right and you have to get to your site early in the morning - for more details see the
Visible Migration Article.
This month is also one of the best of the year to see rarities and here is a mouth watering list of some which have been seen over the past three or four years: Blyth's Reed Warbler, Yellow-browed Warbler, Turtle Dove, Pectoral Sandpiper, Long-billed Dowitcher, Red-flanked Bluetail, Red-throated Pipit, Sooty Shearwater, Balearic Shearwater, Barred Warbler, White-winged Black Tern...........
There are some good high tides early in the month, we will need a change in the weather to bring the sea over the marsh but if it does we should expect to see the first of the over-wintering Short-eared Owls along with both Hen and Marsh Harriers. It will be interesting to see how quickly Pink-footed Geese numbers build up and we often get high counts of duck, especially Pintail, this month. Low tide is the time to see Shelduck off Thurstaston with Dawpool Bank carpeted in thousands, numbers were relatively low last winter but hopefully they will return.
The main wader migration is now over although Greenshank should continue to come through, but most of the waders now coming into the estuary will be ones spending the winter in this country - so we should see an increase in both Dunlin and Knot numbers in particular. Black-tailed Godwit counts should remain high and it will be interesting to see if they continue to roost at Gilroy Nature Rerve in West Kirby or will, as has happenned in the past, start staying in the estuary.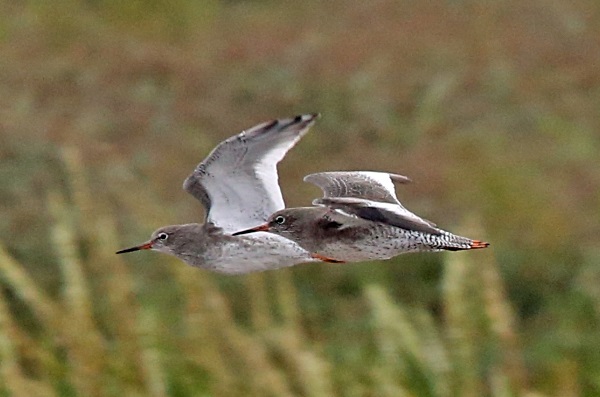 Redshank flying along the gutter at Heswall, September 8th © Roy Lowry.
Top of Page
Forthcoming Events
October Highest Spring Tides (Liverpool)
Also see Tides page.

8th October, 11.37hrs (BST), 9.7m.
9th October, 12.19hrs (BST), 9.9m.
10th October, 13.00hrs (BST), 9.8m.
11th October 13.39hrs (BST), 9.6m.
Forthcoming Events
Organised by the Wirral Ranger Service , Flintshire Countryside Service and the RSPB (Dee Estuary):
All these events and walks have bird interest, even those not advertised specifically for birdwatching. No need to book for these events unless specified - please check below.
Also see 2014 Events Diary.
Thursday 9th October and Friday 10th October,
Parkgate
High Tide Birdwatch with RSPB.
From 10.30 am
Parkgate Marsh is one of the best wetland habitats in the northwest, but only gets flooded by a high tide a few times each year. When this happens, the wildlife which lives here is pushed closer, potentially delivering an awe-inspiring spectacle. Join us at the Donkey Stand on Parkgate promenade near Nicholl's ice cream shop, where we'll be set up with a marquee and telescopes hoping for a good wind to really push the tide in.
You can expect great views of the large numbers of geese, ducks and wading birds which are building in number as they return for the winter. In addition, the small mammals living on the marsh can be flushed from cover, potentially attracting the kestrels, harriers and short-eared owls who spend the winter months here.
Car parking is limited on Parkgate promenade, but there is free public parking at the Old Baths car park (CH64 6RN) at the north end of The Parade, and the Wirral Country Park car park on Station Road (CH64 6QJ). There are public toilets at Mostyn Square in the middle of The Parade, and a number of pubs and cafes for refreshments.
High tide times:
Thursday 9 October; 12.19 pm (9.9 m)
Friday 10 October; 1.00 pm (9.8 m)
Saturday 11th October, Autumn arrivals at
Point of Ayr
with the RSPB.
12 pm-2.30 pm
Price: Free, but donations welcome
Booking essential
, please telephone 0151 353 8478.
As the number of wintering birds grows on the Dee Estuary, the Point of Ayr becomes an increasingly good spot for an exciting showcase of the numbers and variety of waders in the area. Thousands of godwits, redshank, oystercatchers and curlews gather on the saltmarsh here at high tide, which is what we hope to show you if you join us on this gentle walk from Talacre to our hide.
There'll also be plenty of wintering ducks pushed close on the incoming tide, and there's always the chance that something unexpected will show its face! Peregrine and merlin are the two raptors most likely to take advantage of this high tide buffet, so there's a chance of seeing these hunting at close range.
High tide is at 13:39hrs.
Meet at the Smuggler's Inn car park at the end of Station Road, Talacre.
Saturday 18th October 11:30am – 3:00pm
Take Tea with the RSPB:
Walk across the sands to
Hilbre Island
where the RSPB will be serving tea and biscuits during the above date and time. They will be on hand to show you some of the island's unique wildlife and will tell you about the work that the RSPB are doing at their fantastic reserve at Burton Mere Wetlands. There is no need to book, just turn up. Suitable clothing and footwear are essential for the walk out and please note – this is not a guided walk. Remember to bring money for the tea!
For further information, please telephone Wirral Country Park on (0151) 648 4371.
Saturday 8th November – 10:00 am start, High tide Birdwatch -
King's Gap, Hoylake
.
Join the Coastal Rangers, the Dee Estuary Voluntary Wardens and the RSPB on this high tide birdwatch at Hoylake to see large numbers of waders as they gather and roost on the shore.
With a rising tide, we should see the birds at close quarters as they roost and feed. Beginners welcome. Dress warmly and bring binoculars if you have them.
There is no need to book. High tide is at 11.21 am and height 9.6m.
Meet at King's Gap, King's Parade, Hoylake.
For further information please telephone Wirral Country Park on (0151) 648 4371