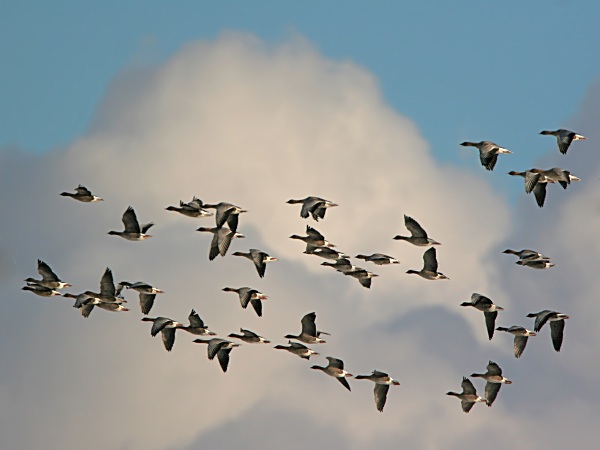 Both the National and local (Dee Estuary) Wetland Bird Survey (WeBS) reports have recently been published. I always look forward to these as it gives us a chance to see how our birds are doing by looking at trends and numbers, and I always find the movements of our estuary birds fascinating. Both reports cover the period from July 2012 to June 2013. As there is a lot of interest in both I will write two articles - this one is for Grebes and Wildfowl - but I want to emphasise this is just a summary concentrating on just a few species as I don't want to just repeat what is written in the reports. As well as discussing Dee estuary and National trends I will also be referring to nearby sites such as the Alt, Mersey and Ribble Estuaries.
Great Crested Grebe
Apart from a short period in the mid-1990s, when they reached the heady heights of 246, WeBS counts for the Dee Estuary have always been around the 50 mark. That is until the large flock off North Wirral was discovered in 2006; quite how many are out there is open to question because counts depend very much on conditions during counting - the better the conditions (i.e. flat calm and clear) the more you see. But since 2006 max numbers have ranged from 378 to 1,195, in the winter of 2012/13 the max count was 976. With the five year mean at 773 this means the Dee Estuary/North Wirral is now the second most important site in the UK. The most important site is Dungeness and Rye Bay and they had a whopping 3,000 in the winter of 2012/13, which is a record count for that site and, I believe, is the highest ever single site count for the whole of the UK. Just across the Irish Sea in Northern Island the five year average for Belfast Lough is 869 and for Loughs Neagh and Beg it is 726, it would seem likely that there is much inter-change of birds between these sites and North Wirral.
Read more about Great Crested Grebes on the Dee Estuary/North Wirral by clicking here.
Pink-footed Goose
One of the most pleasing aspects of birdwatching on the Dee Estuary over the past few years has been the big increase in Pink-footed Geese numbers. From just 340 in the winter of 2008/09 the max WeBS count for 2012/13 had risen to 4,020, with at least two counts of 5,000 made on non-WeBS count days. These counts are almost certainly the highest ever made of Pink-footed Geese actually on the estuary (not counting fly-overs), nevertheless these numbers are small compared with sites nearby with 59,135 being the five year average for south-west Lancashire and a max count of 11,667 made on the Alt Estuary in the winter of 2011/12. Nationally, numbers showed quite a steep decline in 2010/11 and 2011/12 reaching a minimum of 260,325 (a decrease of about 25%), but bounced back in the autumn of 2012 to a high of 359,175. The dip in numbers in the previous two winters were thought to be a combination of a real, but small, decrease in numbers plus under-counting due to the late arrival of several thousand geese from Iceland (see WWT Waterbird monitoring).
Read more about
Pink-footed Geese on the Dee Estuary by clicking here
.
Shelduck
The max Dee estuary count for 2011/12 was very low with 5,245 - the lowest since 1988/90. Numbers recovered somewhat in 2012/13 to 9,166 in September, just below the five year average of 9,560. 5,128 were on the estuary in August 2012 indicating that they were probably moulting on the Dee. Shelduck have been known to have moulted in large numbers on the Mersey estuary since 1997 and it is the most important moulting site for this species in the country with a peak in late summer of between 10,000 and 20,000. In 2006/07 the five year average for the Mersey was 16,676 and easily the highest count in the country for any time of year. However, since 2009 much lower numbers have been present although this is partly due to the estuary having incomplete coverage during the summer WeBS counts so the true figure was unknown. Pleasingly, there was a count of 12,601 in August 2013 indicating that this moulting flock does still exist.
At the present time the Dee estuary is the most important site in the country for this species.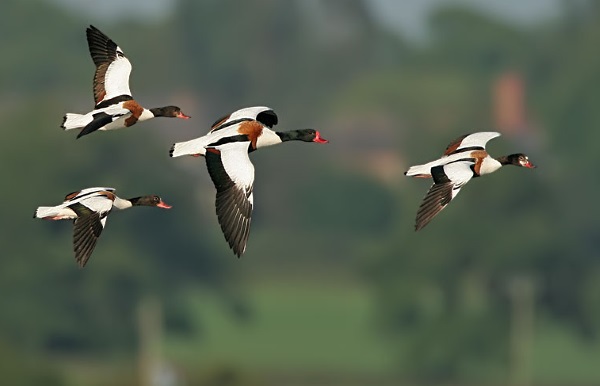 Wigeon
A big drop in numbers on the Dee estuary in 2011/12, to 1,177, was followed by a rebound in 2012/13 with a max of 4,759 which is above average for the past 20 years. Nationally, counts have shown a small decrease since reaching a peak in 2005/06, the same winter when counts here on the Dee estuary had reached their highest level (6,695) since 1994/95. The nearby Ribble estuary has the highest counts in the country and reached a remarkable 101,594 in the winter of 2008/09, although since then numbers have dropped quite substantially reaching a peak of only (!) 46,519 in 2012/13.
References:
1. On-line WeBS Report 2012/13 - http://www.bto.org/volunteer-surveys/webs
2. Colin Wells and Neil Friswell, Dee Estuary and North Wirral Foreshore WeBS Annual Report 2012/2013.
Richard Smith
Top of Page
Colour Ring Report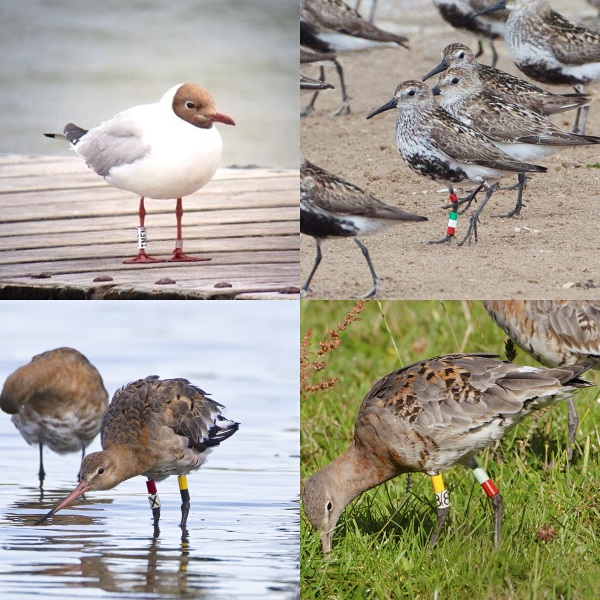 Starting top left and clockwise: 1. Black-headed Gull TMEN (Steve Williams) 2. Dunlin R/GWR (Matt Thomas) 3. Black-tailed Godwit Y8-LR (Matt Thomas) 4.Black-tailed Godwit YN-RX (Charles Farnell).

The small group of us on the Dee estuary who regularly look for and log colour-ringed birds (mainly waders and gulls) have now amassed a large database of fascinating data which has also contributed to the various long-term studies of the relevant species. In the past I've shared some of this with you in various articles, I will continue to do that but I thought a better way to pass this information on more promptly is to have a monthly summary/highlights. So here is the first one covering July and August 2014:
Gulls
Black-headed Gull 'TMEN', ringed near Lodz, Poland, in April 2013.
Recorded July 7th and 9th 2014 at West Kirby. A very early return if it bred in Poland in 2014.
Previous records: Six records between September 2013 and January 2014, all at West Kirby.
Herring Gull 'Z37:M'
, ringed in Isle of Man on Nov 30th 2012.
Recorded August 1st 2014 at New Brighton.
Previous record: Nov 3rd 2013 at New Brighton.
Mediterranean Gull '3AAH', ringed in Copenhagen as a chick in June 2013.
Recorded August 12th 2014 at West Kirby.
Previous records: July 27th 2013 at Utoxeter, Sep 6th and 10th 2013 at West Kirby.

Sanderlings
W5WRWR (the first letter denotes the flag colour - in this case White - and the number it's position on the legs), ringed in the Banc d'Arguin, Mauritania, West Africa, on Dec 12th 2009.
Recorded August 12th 2014 at Hoylake. Our first colour-ringed Sanderling either ringed or observed in Africa.
Previous records: recorded every winter at Banc d'Arguin since Dec 2009, but never before seen outside Africa.
On Aug 12th we saw
B6RYBB
at Hoylake, ringed on Hayling Island, Hampshire, on September 18th 2013.
On Aug 13th we saw
B3YYRY
at Hoylake, ringed in Greenland on June 29th 2012.
Dunlins
R/GWR ringed in the north-west corner of Spain on May 17th 2011 whilst on spring passage. Recorded on Aug 11th and 12th at Hoylake.
L/LRO ringed in the north-west corner of Spain on May 4th 2013 whilst on spring passage. Recorded on Aug 11th at Hilbre.
R/WRL ringed in the north-west corner of Spain on March 11th 2011.
Recorded on Aug 11th at Hoylake.
Black-tailed Godwits
16 different colour-ringed black-tailed Godwits were recorded at West Kirby (Gilroy NP) in July and August 2014. These include:
Y8-LR
ringed in Iceland as an adult on July 10th 2012.
Recorded eight times at West Kirby in August 2014.
Previously recorded at RSPB Marshside (Southport), RSPB Leighton Moss and Thurstaston Shore.
YN-RX
ringed in Iceland as an adult on July 11th 2009.
Recorded 22 times at West Kirby during July and August 2014.
Regularly seen at RSPB Leighton Moss and various sites on the Dee estuary.
WY-GRflag
ringed in Iceland as a chick on June 15th 2010.
Recorded three times at West Kirby in early August 2014.
Prevously recorded in Portugal outside the breeding season in 2012, 2013 and early 2014 - in 2013 it was back in Portugal as early as Aug 23rd where it probably is now.
Most of the birds we see on the Dee estuary which end up in Portugal or Spain pass through here in August and stay just a day or two before heading south and WY-GRflag was typical of this.
Richard Smith and Matt Thomas
.
Colour-ringed birds were also recorded by Steve Hinde, John Jakeman, Charles Farnell, Peter Haslem, Chris Butterworth, Allan Conlin, Manu Santa Cruz, Colin Schofield and Steve Williams.
Underground Coal Gasification Part 2
It is a great pity that the debate about UCG on the Dee Estuary has got politicised and as, obviously, this website is strictly non-political it is difficult for me to say anything about it without seeming to take sides. But a mail drop today has made me so angry that I feel I have to say something, in my opinion exploiting people's genuine fears for political purposes is appalling.
So here goes - everything I said in my original article still holds true - see Underground Coal Gasification on the Dee Estuary - including the bit about my saying I'll eat my telescope "If we see UCG rigs on the Dee Estuary in the next ten years!". I was hedging my bets there a bit so I'll now say I'll eat my Telescope if we see UCG rigs on the Dee Estuary in my lifetime.
Why am I so confident? I have been interested in Conservation all my life and have been a member of the Dee Estuary Conservation Group for around 12 years and was their Secretary for six years so I have a good knowledge of the legislation - Local, National, European and Global - which protects the Dee Estuary. I know just how strong it is and describe it in my article. I was also involved in the Chemical and Oil Industry all my working life so have a good knowledge of just how impractical working UCG rigs and their pipework/infrastructure would be on a site like the Dee Estuary with it's shifting sand banks, strong currents and huge tidal range. There is nothing that Algy Cluff (CEO of Cluff Resources) has said over the past year to make me believe he doesn't fully agree with that and I think it is highly likely that he has already written off the Dee estuary as a possible UCG site.
The stupid thing is is that the sitting MP in the Wirral West constituency, the candidate for the main opposition party (and almost certainly all the other candidates) and, most importantly as they will be the ones who will need to approve any planning application, all parties in Wirral Borough Council - every single one opposes UCG. So you may wonder, I certainly do, what the fuss is all about?
UCG will not happen on the Dee Estuary.
Richard Smith.
Top of Page
August Bird News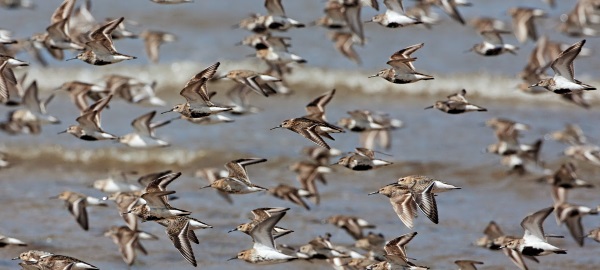 It is always exciting to see waders on passage knowing that many have flown all the way from thehigh Arctic and are on their way to spend the winter in Africa. This year we had very good numbers of Dunlin and the count on Hoylake and West Kirby shore of 12,700 on the 10th makes it the highest Wetland Bird Survey count in August since the 1970s, and that's without adding the birds which will have been at Point of Ayr, Gronant and elsewhere. Numbers of Ringed Plover didn't quite reach last year's max of 1,600 but 1,400 at Hoylake on August 26th was still one of the highest of recent years. The Black-tailed Godwit flock at Gilroy Nature Park kept on increasing and reached 2,400 by the end of the month and I feel privileged to have been able to spend many hours in close proximity to these wonderful birds. Rarer passage waders included a couple of Curlew Sandpipers and Little Stints at Hoylake, two Wood Sandpipers at Burton Mere Wetlands, several Green and Common Sandpipers, Spotted Redshanks and Greenshanks at various sites.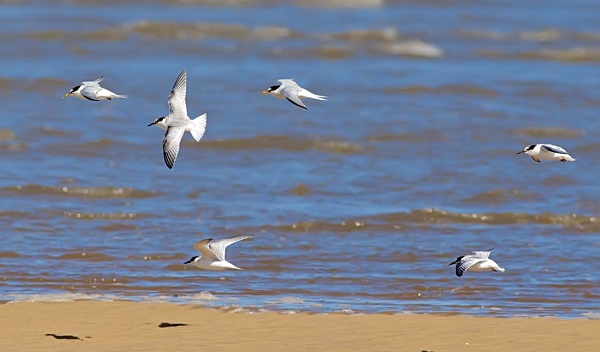 Little Terns at Point Of Ayr, Aug 31st © Jeff Cohen
The remains of Hurricane Bertha pushed many Manx Shearwaters close to the shore with 1,258 counted from Hilbre on the 10th with five Arctic Skuas there a few days later. Otherwise sea-watching was quite quiet but we did see a Black Tern and max counts of 250 Little Terns, 245 Common Terns and 1,057 Sandwich Terns.
There were three single Ospreys seen plus several reports of both Marsh and Hen Harriers through the month.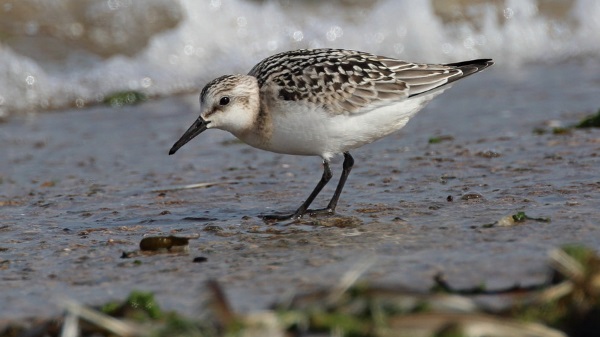 Many thanks go to Eddie Williams, Andy Thomas, Derek Bates, Ian Fleming, Jane Turner, Matt Thomas, Joe Wynne, Richard Beckett, Stan Skelton, Frank Burns, Chris Butterworth,David Peate, Steve Hinde, Glen Morris, Dan Trotman, David Bradshaw, Allan Conlin, Colin Wells, Colin Schofield, David Haigh, Keith Duckers, Karen Leeming, Alan Irving, David Leeming, Jeremy Bradshaw, Peter Haslem, Alan Hitchmough, Steve Williams, Ray Eades, Dave Wild, Jeff Cohen, Charles Farnell, Lynn Leslie, Elliot Montieth, Steve Edwards, Paul Mason, Dave Galatas, Greg Harker, Les Hall, Mark Evans, Ian Cotterell, Ashley Cohen, Rob Morsley, the
Lighthouse and Wirral Birding Blog
, the
Dee Estuary Wardens
and the
Hilbre Bird Observatory
for their sightings during August. All sightings are gratefully received.
Top of Page
What to expect in September
September is a bit of an unpredictable month and it can sometimes be a non-event, but when it's good it has to be the best month of the year.
First on the agenda are scarce and rare waders. We always look forward to seeing the lovely Curlew Sandpipers and as we have already seen a couple by the end of August it might indicate another good year for them, the usual pattern is for the first ones to turn up on the coast at Hoylake, West Kirby and Point of Ayr, then later in the month the majority end up at Burton Mere Wetlands and Connah's Quay, although Heswall Shore has had very good numbers in past years (see
October 2013 Newsletter
and
Curlew Sandpiper Article
). Little Stints can show a similar pattern although in smaller numbers. We've had some stunning September rarities over the past three years including a Semi-palmated Sandpiper in 2013 and a Western Sandpiper in 2012, both at Hoylake. Other rare waders include American Golden Plover (Hilbre 2013), Long-billed Dowitcher (Connah's Quay 2010), Pectoral Sandpiper (Burton Mere Wetlands/Inner Marsh Farm 2011, 2012 and 2013) and White-rumpred Sandpiper (Hoylake 2013).
But there is one species among all others for which our Liverpool Bay coastline is nationally renowned - Leach's Petrel. To get large numbers we need a prolonged north-westerly gale in the middle of the month, although if we get any strong west wind we should see some. The last couple of years has been good but it was 2010 when we last had a really good passage with hundreds coming through -
see Leach's Petrel article
. Conditions which are good for seeing Leach's Petrels will also be good for a lot of other sea birds including all four species of Skuas, Sabine's Gulls and Grey Phalarope and we've had great views of all these over the past couple of years. There are some big tides in the second week of the month which should make it interesting, specially if we get those hoped for gales.
A real sign of the forthcoming winter will be the arrival of the first returning Brent Geese, usually at Hilbre. Both Marsh and Hen Harriers will be about as well as an Osprey or two quickly moving south. Look out also for 'kettling' Common Buzzards when several family groups join together to circle overhead and you can see as many as 20 or more together.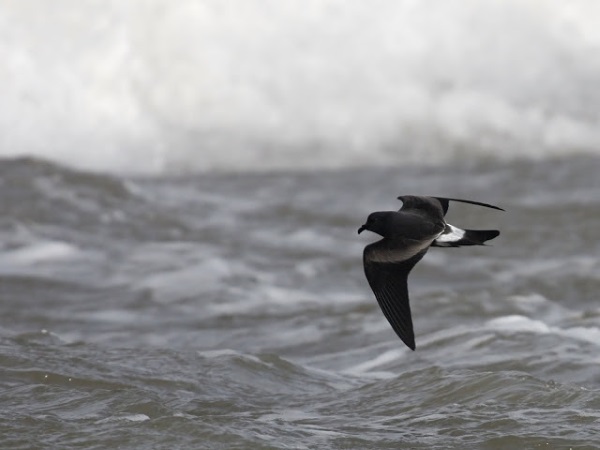 Top of Page
Forthcoming Events
September Highest Spring Tides (Liverpool)
Also see Tides page.

9th September, 11.57hrs (BST), 9.8m.
10th September, 12.42hrs (BST), 9.9m.
11th September, 13.24hrs (BST), 9.9m.
12th September 14.05hrs (BST), 9.6m.
Forthcoming Events
Organised by the Wirral Ranger Service , Flintshire Countryside Service and the RSPB (Dee Estuary):
All these events and walks have bird interest, even those not advertised specifically for birdwatching. No need to book for these events unless specified - please check below.
Also see 2014 Events Diary.
Saturday 6th September 12:00 noon – 3:00pm
Take Tea with the RSPB:
Walk across the sands to
Hilbre Island
where the RSPB will be serving tea and biscuits during the above date and time. They will be on hand to show you some of the island's unique wildlife and will tell you about the work that the RSPB are doing at their fantastic reserve at Burton Mere Wetlands. There is no need to book, just turn up. Suitable clothing and footwear are essential for the walk out and please note – this is not a guided walk. Remember to bring money for the tea!
For further information, please telephone Wirral Country Park on (0151) 648 4371.
Wednesday 10th September and Thursday 11th September,
Parkgate
High Tide Birdwatch with RSPB.
10.30 am-3.30 pm. High tides are at 1242hrs on the 10th and 1324hrs on 11th, best to get to Parkgate at least an hour before then.
Parkgate Marsh is one of the best wetland habitats in the northwest, but only gets flooded by a high tide a few times each year. When this happens, the wildlife which lives here is pushed closer, potentially delivering an awe-inspiring spectacle. Join us at the Donkey Stand on Parkgate promenade near Nicholl's ice cream shop, where we'll be set up with a marquee and telescopes hoping for a good wind to really push the tide in.
You can expect great views of the large numbers of geese, ducks and wading birds which are building in number as they return for the winter. In addition, the small mammals living on the marsh are flushed from cover, offering a feeding frenzy for the kestrels, harriers and short-eared owls.
Car parking is limited on Parkgate promenade, but there is free public parking at the Old Baths car park (CH64 6RN) at the north end of The Parade, and the Wirral Country Park car park on Station Road (CH64 6QJ). There are public toilets at Mostyn Square in the middle of The Parade, and a number of pubs and cafes for refreshments.
Saturday 27th September, starts 12:00 noon, high tide is at 1320hrs with height 9.2m .
High tide Birdwatch at
Hoylake
:
Join the Coastal Rangers, Dee Estuary Voluntary Wardens and the RSPB on this high tide birdwatch at Hoylake to see large numbers of waders as they gather and roost on the shore. We hope to see dunlin, knot etc, as they begin to return from their breeding grounds. No need to book. Meet at the bottom of Trinity Road, King's Parade, Hoylake.
For further information please telephone Wirral Country Park on (0151) 648 4371 .
Saturday 18th October 11:30am – 3:00pm
Take Tea with the RSPB:
Walk across the sands to Hilbre Island where the RSPB will be serving tea and biscuits during the above date and time. They will be on hand to show you some of the island's unique wildlife and will tell you about the work that the RSPB are doing at their fantastic reserve at Burton Mere Wetlands. There is no need to book, just turn up. Suitable clothing and footwear are essential for the walk out and please note – this is not a guided walk. Remember to bring money for the tea!
For further information, please telephone Wirral Country Park on (0151) 648 4371