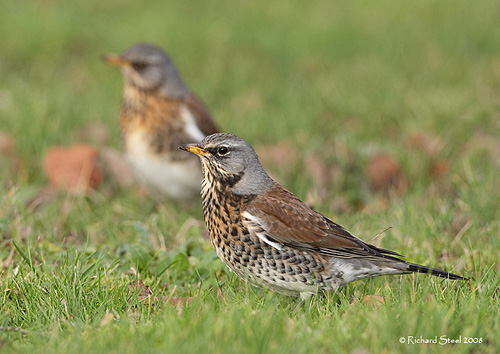 We all know what bird migration is, but we don't often see it actually happening. Wheatears in the spring are definitely on migration, but one minute they are hopping around in a field, the next minute they are gone. We don't see waders on migration as they move mostly at night and the various duck species of the estuary just seem to arrive without any visible overland movement. Undoubtedly spring movements of Meadow Pipits can be spectacular, particularly on Hilbre, but the best views of migration are those involving large numbers of thrushes, starling and finches moving south along the coast from September to November - on what is known as Visible Migration (usually shortened by birders to 'Vis Mis'!).
When
The autumn migration (often know as the 'return migration') can be quite prolonged - including as it does September, October and November - but the largest numbers normally occur during the last three weeks of October. For good numbers to be visible the weather has to be right - a light to moderate south easterly wind, cloud cover and preferably with some slight morning mist. The SE wind means the birds drift towards the coast on their way south, once there the birds will fly along the coastline and thus numbers are concentrated. If the weather is clear many birds fly high and out of sight, thus cloudy conditions are desired. Most migration takes place in the first couple of hours after dawn, this is particularly the case for finches although thrushes can sometimes keep flying over for most of the day. So keep an eye on the weather and get down to the coast as early as possible.
Where
The map shows the typical migration routes for the autumn Visible Migration through our area. Birds fly southwards along the north Merseyside coast past Formby Point and Crosby beach before flying across the River Mersey channel, typically making landfall to the east of Leasowe Lighthouse. The migrating birds then split with some heading along the coast to Red Rocks, whereas others cut the corner of Wirral flying behind Hoylake and West Kirby and between Grange and Thurstaston Hills, which form a valley at this point. Recent observations suggest that most finches take the route to Red Rocks, whereas the thrushes tend to fly over Hoylake Langfields and along this valley - large numbers of Redwings and Fieldfares I saw on October 28th 2009 were certainly doing that. But birds are always unpredictable, on Oct 17th 2009 a total of well over 4,000 Redwings and Fieldfares came in from the south-east over Red Rocks and flew west past Hilbre and on to Wales!
The sites with names in green on the map are the migration 'hot-spots', although surprisingly few birds actually cross the estuary to pass over Hilbre and on to the Point of Ayr, probably at most 20% of the total. Most fly south along the Wirral coast of the estuary. But each day is different, sometimes Red Rocks can be outstanding, other days it can be quiet there whereas there is continuous movement at Thurstaston. Decca Pools at Burton Marsh can be very good but occasionally the birds fly virtually out of sight on the edge of the marsh. So to a great extent it is a matter of luck, but I would particularly recommend either Red Rocks or Thurstaston by the Visitor Centre.
What Species, and How Many?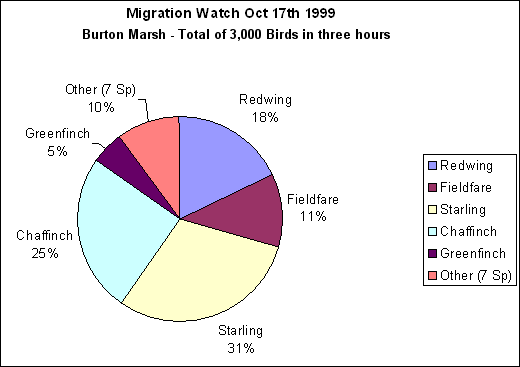 There is not really a typical visible migration day, as each day can be so different. Sometimes there is a good mix of species as shown in the pie chart above which shows the percentage of species recorded during a migration watch a few years ago. Other days a particular species overwhelms everything else, particularly Chaffinches. One such day was on Oct 20th 2004 when at least 10,000 flew over Heswall Fields in just two and a half hours. 7,360 were counted flying over Red Rocks on Oct 15th 2007, although the total for the whole morning was probably well over 10,000. Good migrations of thrushes include 5,000 Fieldfare past Dungeon Wood on Oct 28th 2001 and 2,500 Redwing were observed flying in off the sea at Hoylake on Oct 14th 2003. In 2009 mixed flocks of Redwings and Fieldfares at Thurstaston totalled at least 4,000 in four hours on Oct 28th. On Oct 29th 2009 a remarkable 10,669 Fieldfares and 11,303 Redwings flew south in two hours over the Mersey Estuary at Hale, unfortunately they must have flown SE from there as there were no reports of any over the Dee Estuary on that day.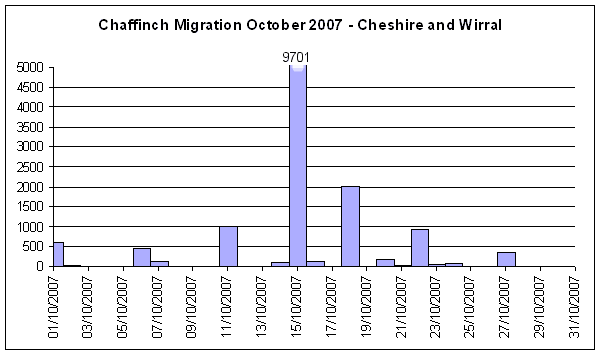 Even with the wind and weather indicating the possibility of a good Visible Migration days when thousands of birds fly over are the exception rather than the rule. The more usual pattern is to see a flock of 30 or so birds fly over heading south, followed by other flocks every five to ten minutes. It will be only after at least half and hour that it is obvious migration is taking place - but try and count each flock as they fly by, it is amazing how the numbers add up over a couple of hours.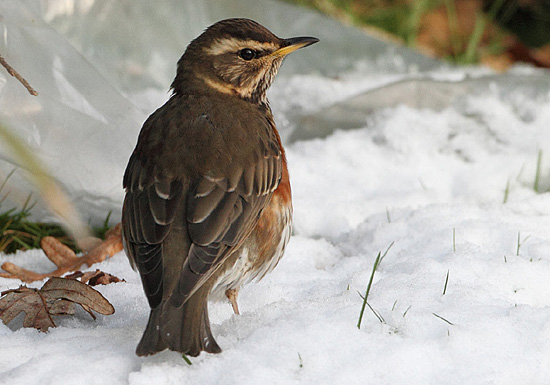 Redwing at West Kirby © Keith Scovell.
Where do they come from?
Although there is undoubtedly some autumn movement of birds which breed in this country many of these migrants come from further north and east. Numbers of Chaffinches in the UK double in the winter with virtually all the incoming migrants coming from Scandinavia. Apart from a very small breeding Scottish population all our Fieldfares also come from Scandinavia, and ringing has shown that the birds on the western side of the UK predominately breed in Norway. There are two races of Redwings which migrate into the UK, one that breeds in Iceland and the other in Scandinavia. Both races probably reach here although there have been no ringing records in England and Wales of the Icelandic race. Starlings migrate here from North and Central continental Europe in huge numbers, and sometimes we see good numbers migrating south along the coast here although it is likely that most reach the east coast of England on a broad front rather than migrating from north to south.
There are days when Visible Migration can be exceptional on the Dee Estuary but it is nothing compared with some sites in Europe. Take Falsterbo on the southern tip of Sweden, for example. On Oct 13th 2007 they recorded 71,360 Wood Pigeons and 3,660 Common Buzzards flying south, the following year on Oct 12th 73,710 Chaffinches! Remarkable numbers and what a fantastic sight it must be.
Before finishing this article I should point out that visible migration is somewhat unpredictable - in terms of how visible it actually is, when it takes place, the number of birds involved and the species observed! But that is the same with most bird watching and what makes it both challenging and enjoyable.
Sources of Information for this Article.
1. Cheshire and Wirral Bird Reports 2000 to 2008.
2. David Norman, Birds in Cheshire and Wirral (Atlas), 2008.
3. BTO Migration Atlas, 2002.
4. Falsterbo Bird observatory - http://www.skof.se/fbo/index_e.html.
4. Latest Sightings and Newsletters from www.deeestuary.co.uk.
Richard Smith.
Leach's Petrels 2010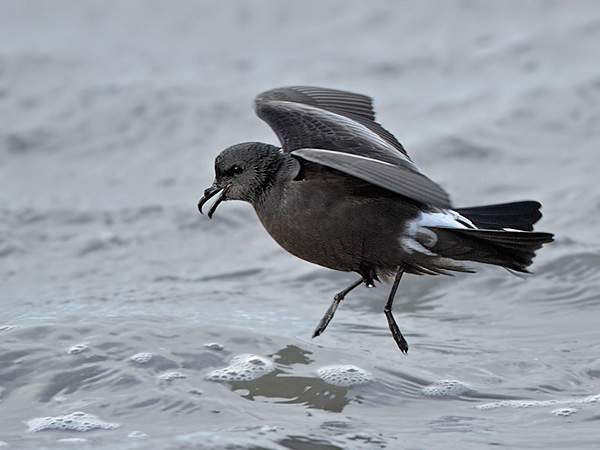 A great month climaxed with a fantastic five days from the 14th to the 18th when several hundred Leach's Petrels were blown in during prolonged west/north-west strong to gale force winds. The table summarises nicely what happened although counts should be used with some caution - some are all day counts, including the Tues, Weds and Fri counts from Hilbre, others are part day counts or counts during quick 30 minute visits. I spent over five hours on Hilbre on the Thursday but I'm sure if I had been able to stay beyond 3.15pm that day's count would have been at least double, particularly as the 341 recorded at Leasowe were all counted after 3pm with most headed for Hilbre!
Date
Sep14th
Tues
Sep 15th
Weds
Sep 16th
Thurs
Sep 17th
Fri
Sep 18th
Sat

Hilbre

140
335
172
524
7
New Brighton
2

306

47
23
3
Leasowe
7
120
341
75
-
Hoylake
53
49
150
205
26
The most accurate counts will have come from Hilbre as birds passed there steadily heading west with most close to the north end of the island. Along north Wirral quite a lot of birds were seen to move east, as well as west, particularly during Thursday - so the count from Hoylake is only an estimate for that day, although by late afternoon most birds were headed west again when passing Leasowe. Wednesday's high count of 306 at New Brighton was greeted with some scepticism in some quarters! Understandably, as birds are often milling around the mouth here and it is sometimes impossible to count them accurately. But the winds the previous night had reached Force 9 so it was not surprising large numbers had blown into the Mersey. The comments made by the counter was that the birds were steadily flying out of the river through the day (he was there for eight hours!) and none were seen to be going back up river, I was at New Brighton for almost three hours that day and can confirm what the counter said.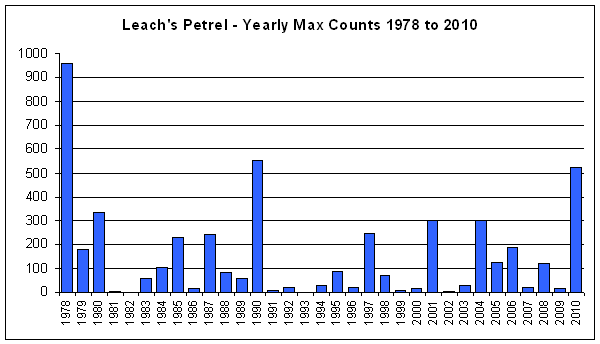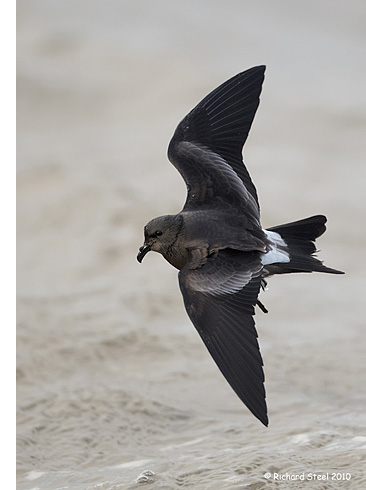 How does this year compare to previous good years? A look at the bar chart above tells you it was one of the best, certainly the best one I've seen having missed out on the 1978 and 1990 passages. I arbitrarily call a year a good one if we have at least one daily count of 100 or more, and we have had 14 of those from 1978 to 2010 (inclusive), just under half which isn't bad. 1978 is the year by which all other years are judged, the max count past Hilbre that year was 959 on Sep 27th. But it was Sep 30th 1978 when huge numbers were in the Mersey - they were impossible to count accurately but at the very least there were 800, double that is probably a more realistic figure with birds penetrating right up the estuary. Interestingly, nowhere near that number were counted off Hilbre that day, as was the case in 1990 when 550 were in the Mersey channel. The worst year was 1993 when just one was seen - and that was during a gale in January!
Photo - Leach's Petrel at Leasowe Sep 16th © Richard Steel.
Why are some years better than others? Three things are crucial - the wind strength, the wind direction and the date. We need at least Force 5 wind strength combined with the wind blowing from north-west to west, the more days it blows the more birds we will see. We've always had the highest numbers in the last three weeks in September as that coincides with the peak of the Leach's Petrel's southern movement. As far as the wind is concerned what is happening out in the North Channel and the adjacent Atlantic is as crucial as what is happening in Liverpool Bay. This year it was blowing a north-west gale out there even when it was only a Force 5 westerly here.
Just out of interest here is a summary of the weather for Sep 12th to 18th, which was dominated by a low pressure system sitting to the north-east of us, winds circulating anti-clockwise.
Sunday 12th Sept: Wind direction W, Force 5.
Monday 13th Sept: Wind direction SW, Force 4 increasing to Force 7.
Tuesday 14th Sept: Wind direction SW early morning then W, Force 5 increasing to Force 8.
Wednesday 15th Sept: Wind direction W, Force 8 gusting to Force 9 early morning slowly dropping to Force 6.
Thursday 16th Sept: Wind direction WNW at first then NW, Force 6.
Friday 17th Sept: Wind direction NW, Force 6 dropping to Force 5 through the day.
Saturday 18th Sept: Wind direction WNW changing to SW through the day, Force 4 dropping to Force 3.
Weather details kindly provided by the National Oceanography Centre (Hilbre data) - http://www.pol.ac.uk/. Interpretation of their data is entirely my own, as are any errors!
Richard Smith.
September Bird News
I did say in last month's newsletter that we were due a good Leach's Petrel - see above!!! But there was so much more to see during those fabulous four days - and the rest of the month wasn't exactly bad.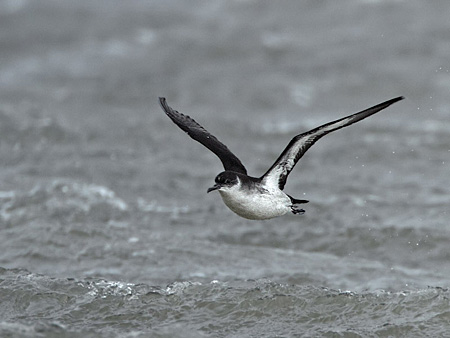 Manx Shearwater at New Brighton, Sept
15th © Steve Round.
The star bird has to be the Little Shearwater (more properly known as the North Atlantic Little Shearwater or alternatively the Macronesian Shearwater), I was one of three lucky people to see this bird as it flew west along the shore line at Meols and Hoylake on the 14th. This species seems to be particularly difficult to get accepted by BBRC but if it is it will be the first accepted coastal record for Cheshire and Wirral, the other two records being inland. But this wasn't the only rare Shearwater to be seen that day as single Sooty Shearwaters were observed from both Hilbre and Hoylake, and also the following day at Leasowe and Hoylake. Skuas were very much a feature during this windy weather with 70 'small Skuas' reported from Hoylake on the 14th, presumably mostly Arctic but just too far out to be sure. The highest definite count of Arctic Skuas came from Hilbre on the 15th with 45. Great Skuas were seen every day during the strong winds, max 15 at Hilbre on the 15th; towards the end of the week one or two were permanently on East Hoyle Bank feeding on dead auks, almost too full to fly! There were at least two Long-tailed Skuas hanging around Hilbre and Hoylake, an adult and a juvenile. Among the many Leach's a Storm Petrel was off Hoylake on the 15th. Several Sabine's Gulls were seen, both adults and juveniles; three were in the mouth of the Mersey at New Brighton on the 15th with two at Leasowe and a single at Hoylake. On the 16th single birds were at New Brighton, Hoylake and Hilbre and four was the total for Hilbre the following day. There was just one Grey Phalarope reported during the gales, one off New Brighton on the 15th.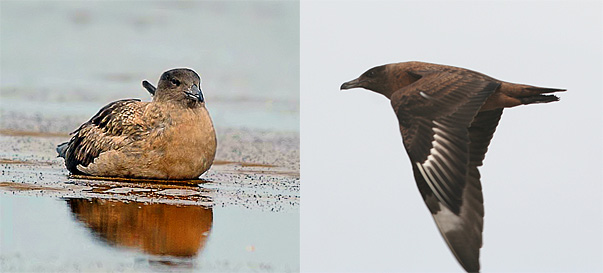 Left - a rotund looking Great Skua after feasting on washed-up auks, East Hoyle Bank on Sep 22nd
©
John Dempsey
.
Right - Great Skua flying along north Wirral, Sep 18th
©
Mark Gibson
.
The month started off quite quietly weather-wise with light winds mostly from the east or south. Consequently it was good for migration with a Common Rosefinch at Hilbre on the 8th being the star migrant, if accepted it will be the second for Cheshire and Wirral. Almost as rare was a Barred Warbler at Hoylake on the 3rd, I think this is only the fourth record for Cheshire and Wirral. During the gales a Wryneck was discovered in scrub near Meols, it was present on the 14th and 15th.
It was also a good month for Curlew Sandpipers with a total of 14 reports, mostly of one to three birds but six were on Hoylake Shore on the 7th and on Burton Marsh on both the 12th and 26th. Two rare American waders made an appearance, a Buff-breasted Sandpiper was briefly on the marsh at West Kirby Shore on the 19th and a Long-tailed Dowitcher at Connah's Quay on the 25th. A Stone Curlew was an unexpected visitor to Hilbre on the 6th, it flew off towards Wales, a first for Hilbre. Just as the winds were decreasing a juvenile Whiskered Tern turned up at Inner Marsh Farm on the 18th, it spent much time commuting between there and Burton Marsh and stayed until the 24th. This bird was often seen flying with a couple of Black Terns of which there were a total of 20 reports, many will have been of the same two or three birds which frequented Burton Marsh and Inner Marsh Farm but they were also reported along the coast during the strong winds.
This has got to be the best month for birds since this website started over 12 years ago! It has certainly made for a long newsletter, even so I've had to leave out many interesting reports of our commoner birds.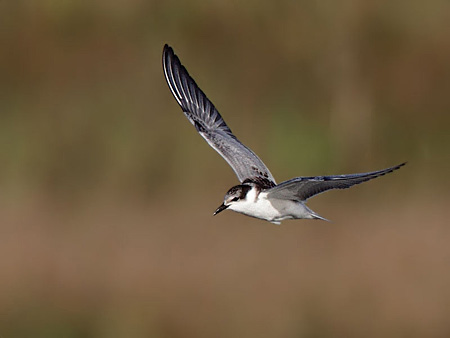 Whiskered Tern at Inner Marsh Farm, Sept
20th © Steve Round.
Richard Smith.
Many thanks go to Steve Williams, Simon Smith, Steve Hinde, Richard Steel, Dave Edwards, Steve Round, Dave Harrington, Peter Welch, Bill Wonderley, John Dempsey, Paul Brady, Mark Gibson, Charles Farnell, Keith Scovell, Jeremy Bradshaw, Gail Wilson, Bruce Atherton, David Small, Paul Vautrionot, Jeff Stpehens, Greg Harker, Martin Kelly, Matt Thomas, Eddie Williams, Kenny Dunningham, Alan Saunders, Peter Haslem, John Morris, Andy Coxon, Andy Thomas, Denzil Nicklin, Colin Schofield, Toni Plagge, Dave Bancroft, Ray Eades, Rob Bithell, Tom Smith, Sean O'Hara, Mike Davenport, Chris Butterworth, Iain Douglas, Leon Castell, Tony Craven, Tony Cumberlidge, Steve Barber, Mike Ward, David Almond, Andrew Wallbank, Julie Rogers, Jon Greep, Mark Murphy, Chris Pritchard, Tony Parker, the
Dee Estuary Wardens
and the Hilbre Obs Blog -
www.hilbrebirdobs.blogspot.com
- for their sightings during September. All sightings are gratefully received.
What to expect in October
October is not too late for another Leach's Petrel 'event', especially if we get strong north-west winds early in the month - along with skuas, Sabine's Gulls etc. But perhaps two in one year is too much to ask for!
As discussed in the article above October is usually a very good month to see visible migration, that migration can also include some good rarities; Oct 2007 was particularly good when we had a Raade's Warbler, a Common Rosefinch, a Blyth's Reed Warbler, a Red-breasted Flycatcher, Firecrests and Yellow Browed Warblers.
On the marshes numbers of Hen Harriers and Short-eared Owls will increase, we often get a Spoonbill or two and usually there are some good movements of Pink-footed Geese through the estuary. Numbers of Brent Geese should reach well over 50 by the end of the month and wader numbers will noticeably increase. The first Snow Bunting of the winter is often seen this month.
Forthcoming Events
October Highest Spring Tides (Liverpool)
Also see Tides page.
8th October, 11.59hrs (BST), 9.9m.
9th October, 12.40hrs (BST), 9.9m.
Forthcoming Events
Organised by the Wirral Ranger Service , Flintshire Countryside Service and/or the RSPB:
All these events and walks have bird interest, even those not advertised specifically for birdwatching. No need to book for these events unless specified - please check below.
Friday 8th October - 9:30am start, Estuary Watch: Riverbank Road for Raptors.
Join the Rangers & WCP Recording Group at Riverbank Road car park in Lower Heswall for the first in a winter long series of bird watching events on the internationally important Dee Estuary. As the mudflats & marsh floods we hope to see many waders, ducks & raptors.
Please bring binoculars & warm waterproofs. No need to book.
For further enquiries telephone: 0151 648 4371.

Saturday 9th October - 9:30am start, Birdwatch at King's Gap, Hoylake.
Come along to Hoylake Foreshore and join members of the Coastal Rangers, the Dee Estuary Voluntary Wardens and the RSPB and see what birds can be seen feeding on the outgoing tide. This event is suitable for all the family to enjoy. All children under 8 must be accompanied by an adult. Dress warmly and bring binoculars if you have them.
Meet at King's Gap on Hoylake Promenade.
For further enquiries call: 0151 678 5488 or 0151 336 7681.
Monday 11th October, 11am start, Godwit Spectacular.
The Oakenholt saltmarsh is perhaps one of the most important areas on the Dee Estuary – come along and witness the high tide roost and see for yourself why it is so important. High tide @ 14.04, 9.4m. Meet at the Flint Lifeboat Car Park. Wellies are a must.
Binoculars and warm clothing recommended! Phone 0151 336 7681 for further details.
Friday 22nd October – 9:30 am till 12:30 pm, Waders at West Kirby.
Come and join the Rangers, the Dee Estuary Voluntary Wardens and staff from the RSPB at the Marine Lake Car Park, West Kirby and watch the birds as they feed and roost on the tide-line. This event is suitable for all the family to enjoy. All children under 8 must be accompanied by an adult. Dress warmly and bring binoculars if you have them.
Meet at the Marine Lake Car Park, Dee Lane, West Kirby.
For further enquiries call: 0151 678 5488 or 0151 336 7681.
Saturday 23rd October, 2pm start..
A free guided walk around the newly acquired grounds at the site of the Burton Mere Fishery. Find out about The RSPB's plans for the area and the creation of new habitat and visitor facilities on the Dee Estuary Nature Reserve. Booking is essential. To book and for further details please ring 0151 336 7681.
Wednesday 27th October 2010 - 9:30am start, Estuary Watch: Thurstaston Shore.
Wader watching at low tide on Thurstaston Shore is a real treat for the birdwatcher. Black-tailed Godwit, Knot, Oystercatcher, Curlew & Redshank are all on the menu at this special site.
Please bring binoculars & warm waterproofs. No need to book.
For further enquiries:- Telephone: 0151 648 4371.
Saturday 30th October, Feed the Birds Day at Ness Botanic Gardens.
On 30 October, we'll be celebrating Feed the Birds Day... This special day reminds us about all the things we can do to help birds and other garden wildlife through the winter. Join the RSPB at Ness Botanic Gardens to find out how to pamper your garden birds whilst relaxing with a nice cuppa as the local birds visit the feeders outside the Hulme Room.
Keep the kids entertained with the various free activities on offer.
Visits to the gardens are subject to entry fees. For further details please ring 0151 336 7681.
Sunday 31st October, Feed the Birds Day at Thurstaston Visitor Centre.
On 31st October, we'll be celebrating Feed the Birds Day... This special day reminds us about all the things we can do to help birds and other garden wildlife through the winter. Join the RSPB at Thurstaton Country Park to find out how to pamper your garden birds whilst relaxing as the local birds visit the feeders outside the Visitor Centre.
Keep the kids entertained with the various free activities on offer. For further details please ring 0151 336 7681.

Saturday 6th November - 9:30am start, Birdwatch at King's Gap, Hoylake.
Come along to Hoylake Foreshore and join members of the Coastal Rangers, the Dee Estuary Voluntary Wardens and the RSPB and see what birds can be seen feeding on the outgoing tide. This event is suitable for all the family to enjoy. All children under 8 must be accompanied by an adult. Dress warmly and bring binoculars if you have them.
Meet at King's Gap on Hoylake Promenade.
For further enquiries call: 0151 678 5488 or 0151 336 7681.
Birding North West is a monthly magazine for birders in the North West Region. Our aim is to bring you the news of rare and scarce birds in our region while it is still news. We consider that up-to-date news, photographs of regional birds, articles on the occurrence of birds in the North West and other articles relating to our region is what our readership want.