| | |
| --- | --- |
| by Chris Butterworth | |
Flocks of Brent Geese feeding on the tideline sitting in rafts just offshore, or flighting into roost are one of the many great birdwatching sights, and sounds, of a British winter. These tiny, dark geese, scarcely bigger than a Mallard, are a common sight for anyone who goes to the east or south coast between October and March, but almost need to be "twitched" in the west, as the only regular sites are around Hilbre, the Inland Sea, Anglesey and Freckleton, Lancs. The winter of 2000/2001 saw a dramatic rise in the numbers of Brent Geese recorded from the mouth of the Dee. Normally numbers hover around 5 - 10 birds, but this winter's flock peaked, and remained at 39, a 520% rise on the average figures. In anyone's book this is phenomenal, but what was the cause of it? No scientific analysis can be produced from just one winter's figures but we can speculate on the possible reason why.

The majority of birds in Britain are Dark-bellied Brents, which are found wintering mainly between the Humber estuary and the Gower peninsula in South Wales (but not in most of the West Country and the Severn Estuary.) The only regular haunt of Pale-bellied birds in England is Lindisfarne, in the North-east, which holds between 50% and 100% of the Spitzbergen/Franz Joseph Land population. Traditionally, the only birds to winter on the coasts of the Irish Sea were pale-bellied eastern Canadian/ Greenland breeders and were concentrated in a few sites on the east coast of Ireland, mainly Strangford Lough and North Bull, Dublin, and it is from this population that our birds have probably come.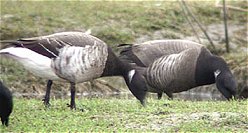 Tom Shevlin
Pale-bellied and dark bellied Brent geese feeding together (photo not taken on the Dee).
There have always been records of small numbers of birds in the area around the mouth of the Dee, but nothing on the scale of the winter of 2000/2001. In the Hilbre book (ed. Craggs, J.D. 1982) around 300 birds (in total) are recorded as occurring in the 20 years between 1957 and 1977, the vast majority being dark-bellied, with about 10% pale-bellied amongst them. There has been a total reversal in taxonomic flock composition since then, with pale-bellied birds now dominating and 1-5 dark-bellied occurring spasmodically throughout the winter. (The same change in flock composition appears to have occurred at Lindisfarne in the early years of the. 20th. C. but information about this seems to be mainly anecdotal or apocryphal.)
Brent Geese breed in a continuous band around the Arctic in 3 separate populations, Dark-bellied Brent, Branta b. bernicla mainly on the Tamyr Peninsula, West-Central Siberia, Black Brent, B. b. nigricans from the Tamyr to the Perry River region of Canada and Pale-bellied Brent, B. b. hrota through to Spitzbergen and Franz Joseph Land. Like all High Arctic species of bird they move south for the winter, and it is possible in most winters to see all three taxa in Britain. At present all three are regarded as Brent Goose, B. bernicla, in Britain, but the Dutch, and some British birdwatchers, regard them as being three separate species. The B.O.U. is looking into the problem, but reports of limited hybridisation and a paucity of distributional field work on the breeding grounds in Siberia is hampering a final decision.
Brent Geese were, at one time, thought to feed exclusively on the rhizomes of a species of Eel-grass, Zostera marina and when these were exhausted they moved onto the more delicate green marine algae such as Ulva spp. and Enteromorpha spp., with limited grazing occurring on saltmarshes. In the 1930's "wasting disease" decimated the population of Z. marina which was blamed for the subsequent collapse in goose numbers. Later evidence suggests that Brent Geese feed on another species of Eel-grass Z. noltii, which was not affected, and that hunting pressure, both on their breeding and wintering grounds, was the primary factor in the decline. Since the low point in the 1940's and 1950's numbers have dramatically increased. This is partly through protection of their breeding and wintering areas, and partly through the birds change in foraging behaviour, feeding more on saltmarsh and learning to exploit winter cereal crops.
The number of birds, wintering in Britain and Ireland has risen from 16,500 in 1955/57 to 203,000 in 1983, the year of the Winter Atlas (ed. Lack, P. 1986), the last time the entire Eire population was surveyed in conjunction with the U.K. At present numbers are declining, with a maximum of 102,923 recorded in the winter of 1998/1999.
Dark-bellied Brents appear to be the worst affected, probably due to a succession of poor breeding seasons that may be linked to the results of over-exploitative oil exploration and extraction in western Siberia. Both populations of Pale-bellied Brent seem to be holding steady or even increasing. Surprisingly, the Siberian population of Black Brent has become annual in single figures in Britain during the last decade or two, and flocks of up to 10 birds are now regularly recorded each winter from either Denmark or Holland even though this population is considered to be decreasing.
Although the events of 2000/2001 may have been seen as a "one off" numbers recorded in the first part of the winter of 2001/2002 seem to indicate that the increase may be real as up to 27 birds were present compared to 8 during the same period last winter (ed. up to 41 birds were present during February 2002).
Further reading:-
Hilbre -The Cheshire Island, Craggs, J.D. ( ed. ), L.U.P., Liverpool, 1982.
Atlas of Wintering Birds, Lack. P. ( ed. ), Poyser, Calton, 1986.
Wildfowl, Madge, S., Burn, H., Christopher Helm, Bromley, 1988.
Wetland + Estuary Bird Survey Reports, 1982-83 to date.
Report on Rare Birds in Britain and Ireland, British Birds, 1971 to date
European News, British Birds, 1977 to date.
Estuary birds - before the counting began, Tubbs, C.R., in British Wildlife 7 : 4: 226 - 235.
Changing perceptions of the Dark-bellied Brent Goose, Vickery, J., Sutherland, W.J. in British Wildlife 7: 6 : 341–347.
This article was first published in the Dee Estuary Voluntary Wardens Report 2001 (this is a comprehensive, and very readable, report on the wildlife of West Kirby Shore which includes Red Rocks, West Kirby Marine Lake, Little Eye as well as the shore itself). For information about joining the wardens or obtaining the report ring the Coastal Ranger on 0151 678 5488.