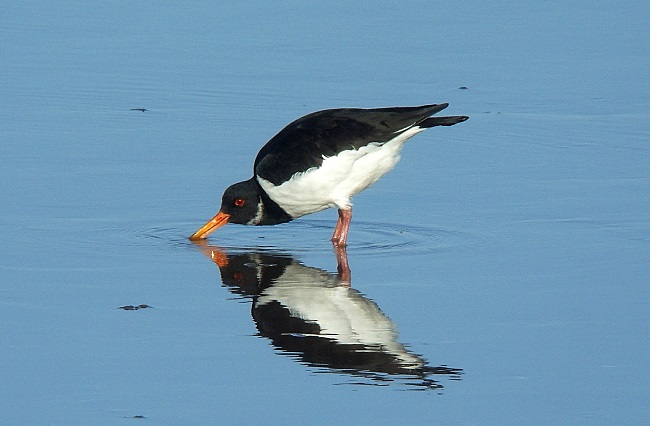 Oystercatcher feeding at low tide at Meols © Richard Smith

Oystercatchers - flamboyant, colourful and noisy - they are everywhere on the estuary and, together with Knot, are our most numerous wader.
The Dee Estuary is the second most important site in the United Kingdom for this species and the max count in 2014/15 was 26,151 compared to Morecambe Bay, in first place, with 35,728, and the Solway Estuary, in third place, with 21,647. Interestingly, the peak counts at these three estuaries were all on different months which suggests there is considerable inter-change between the sites.
On the Dee Estuary the peak count can occur in any month from October to January, in 2014/15 it was October. Numbers quickly decline from late winter as birds disperse to their breeding grounds but even in June there can be several thousand non-breeding birds present, plus a few local breeding birds.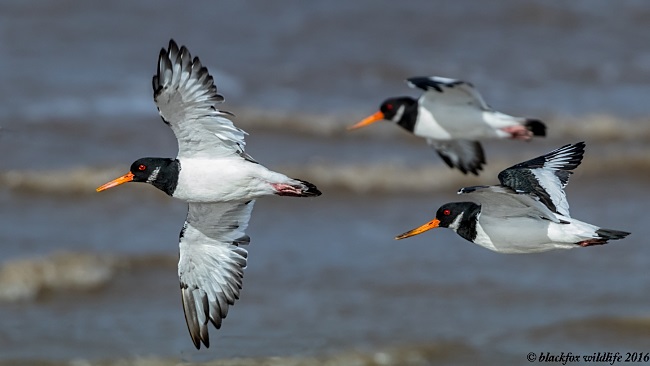 Oystercatchers at Hoylake © Jeff Cohen
Where do our Oystercatchers breed?
Oystercatchers are one of five species of waders which breed around the estuary (the others being Avocet, Lapwing, Ringed Plover and Redshank), although only in small numbers with pairs probably just about getting into double figures - the large majority breed elsewhere.
The two main breeding areas for Dee Estuary birds are the northern half of the United Kingdom and Iceland. Some also go to Norway but the majority of the Norwegian breeding birds tend to winter on North Sea coasts. In addition small numbers of our wintering birds breed elsewhere including the Netherlands, as you will see below.
Colour Ringing.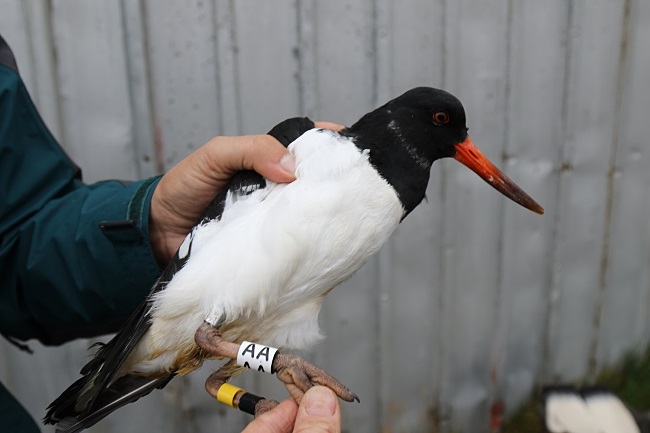 Oystercatcher being ringed in Iceland © Tómas Gunnarsson

The Eurasian Oystercatcher (sub-species Haematopus ostralegus ostralegus which breed and mostly winter in north-west Europe including Iceland, some winter further south in West Africa) is one of the most studied waders in the world. But there's still a lot we don't know - such as the reasons for the recent decline in numbers after years of increase last century, or how global warming is effecting migration. So studies continue and colour ringing birds play a big part in this and by recording these colour rings we, on the Dee Estuary, are contributing, indeed are a vital part, of these studies - very much a case of Citizen Science. One such colour ringing project is taking place on Iceland and I quote from Graham Appleton's fascinating Wadertales Blog:
Most waders leave Iceland in the autumn, with vast numbers heading for the British Isles, coastal Europe and even Africa. Amongst the exceptions are hundreds of Oystercatchers which 'tough it out' in wintry conditions, thereby saving themselves two long trans-Atlantic flights and potentially ensuring that they are able to make a prompt start to the next breeding season. Why do some Oystercatchers migrate when others don't? Is it the same birds each year? Do resident birds have a competitive advantage when it comes to choosing a territory and raising chicks, and do these chicks follow the same migratory strategy as their parents? In an era of changing weather patterns, can birds change their migratory preferences and how does this happen? These are some of the questions that are being tackled by Verónica Méndez, as she monitors the movements of colour-ringed individuals in a joint University of East Anglia (UK) / University of Iceland / University of Aveiro (Portugal) project.
My friend and colleague, Steve Hinde, recorded two colour ringed Oystercatchers from this project at Thurstaston this last winter and here are the details:
NG-GflagG (all rings on tarsus - left black over green/right green flag over green).
This was ringed as a chick in NW Iceland on June 30th 2013 and seen there a month later feeding.
Recorded at Thurstaston on January 24th 2017.
RG-W(AA) (all rings on tarsus - left red over green/right white ring inscribed with AA).
This was an incubating adult when ringed in SW Iceland on May 17th 2016 and the bird was still rearing it's chicks in the same location into early July.
Recorded at Thurstaston on February 3rd 2017.
One of the chicks it successfully reared was recorded in W Iceland on February 4th 2017. So parent and chick wintered in different countries and one of the questions above is answered, at least for one parent and chick.
Large numbers of Oystercatchers winter on the Waddensee with around 170,000 in the Netherlands alone, and large numbers also breed there. These have been studied even more extensively than the Icelandic birds and many have been colour ringed (see References 2, 3 and 4 for details). Some of these Dutch breeding birds do fly across the North Sea to the east coast of England in the winter, but very few find their way to the west coast so we were surprised to see two Dutch ringed birds at Thurstaston this winter (recorded by myself and Steve Hinde), details as follows:
m/G(A) - N/L(T)
(left tarsus metal ring, left tibia green ring inscribed with A, right tarsus black ring, right tibia light green inscribed with T).
Ringed as a breeding bird in Franeker, NW Netherlands, on June 2nd 2009.
Recorded in northern Netherlands in August 2013.
Recorded at Thurstaston on February 6th, 7th and 9th 2017.
We believe we saw a second Dutch ringed bird, this time with a 'bar code' on one of the rings (see photo). Unfortunately we were unable to confirm all the rings so couldn't identify which bird it was but we have been told all these with a bar code are ringed on the island of Schiermonnikoog in the Waddensee.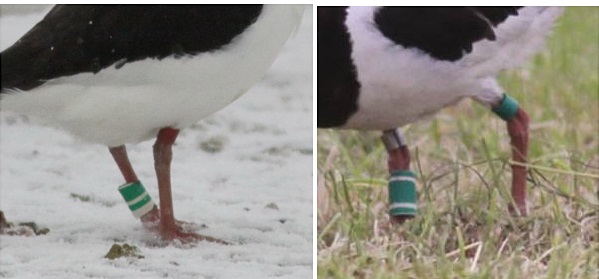 Oystercatchers with bar code rings, Netherlands - Photos thanks to Kees Oosterbeek and Bruno Ens

Cockling
I couldn't finish an article about Oystercatchers without mentioning cockling. The Dee Estuary Cockling Order came into force in 2008 and put a stop to the industrial scale cockling and free for all which had taken place previously. It was particularly bad in the 1990s and consequently Oystercatcher counts reached a low of just 14,889 in the winter of 1999/2000. Since 2008 the numbers have recovered and currently the five year average is 25,828. What the Order does is restrict the number of people cockling, the amount they take and controls how and when they carry out cockling. All this means that the fishery is sustainable, there are always cockles of varying ages on the mud banks available to birds, the birds suffer little disturbance and the mud banks themselves are not damaged.
There have been huge problems elsewhere not least the most important site for wetland birds in the whole of Europe: the Waddensee. It beggars belief that the shell-fishery industry can just ride roughshod over the strong legislation that protects these sites - such as Special Protection Areas, Special Areas of Conservation and Ramsar. But such is the case although the Dee Estuary Cockling Order is a shining example of what can be done, and I read that the shell-fishery in the Netherlands is now strongly restricted so that is indeed good news and we can now hope that recent declines can be reversed.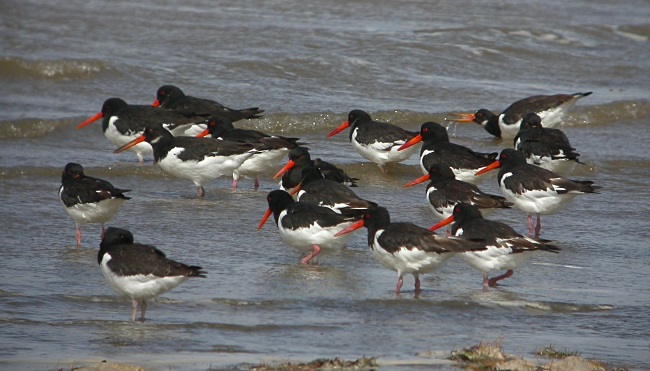 Small part of a large roost, Hoylake © Richard Smith

References and Further Reading
1. Graham Appleton, Migratory decisions for Icelandic Oystercatchers, WADERTALES, October 2015 (
Click here to read article
).
2. Kees Oosterbrook, Reporting colour-ringed Oystercatchers, Dutch Field Centre for Ornithology (
see Website
).
3. Bruno Ens, WADERTRACK.NL.
4. Martijn van de Pol et al., A global assessment of the conservation status of the nominate subspecies of Eurasian Oystercatcher Haematopus ostralegus ostralegus, International Wader Studies 20:47, August 2014 - see http://www.waderstudygroup.org/article/1617/.
5. Wetland Bird Survey on-line data (BTO), see https://www.bto.org/volunteer-surveys/webs.
6. CAWOS, Cheshire and Wirral Bird Reports 1990 to 2014.
7. Neil Friswell and Colin Wells, Dee Estuary WeBS Annual Report 2014/15.
8. Delany et al., An Atlas of Wader Populations in Africa and Western Eurasia, Wetland International, 2009.
Richard Smith
Deeside Naturalists Society Bird Report 2016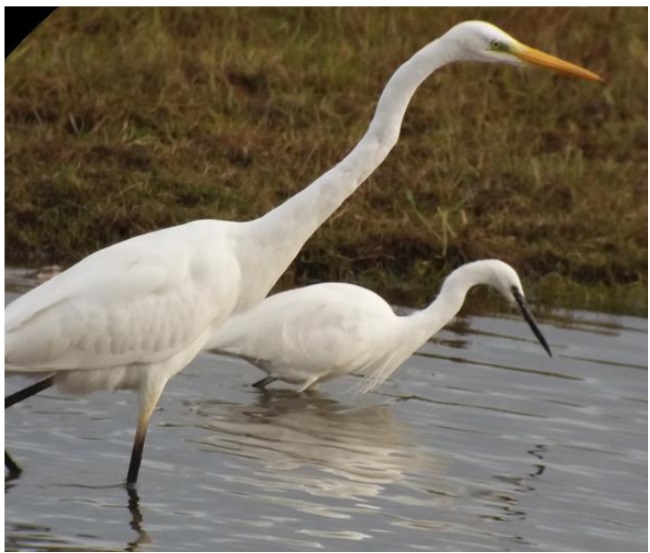 Great White Egret and Little Egret on the bunded pool, Connah's Quay Nature Reserve
© Glenn Morris
The Deeside Naturalists Society Bird Report for 2016 has been published and can be downloaded by
clicking here
.
Those who are members of the Deeside Naturalists, or have visited on open days, know just what a great little reserve the Connah's Quay Nature Reserve is. The Report also covers the adjacent Oakenholt Marsh RSPB Reserve, the River Dee channel in front of both reserves and White Sands which is the salt marsh on the far side of the channel - these sites are some of the most important on the estuary. As well as a systematic list of all the birds seen, including intriguing records of a Great Skua, a Little Auk and a White-winged Black Tern, there is also a list of Mammals and a Butterfly Report.

Top of Page
March Bird News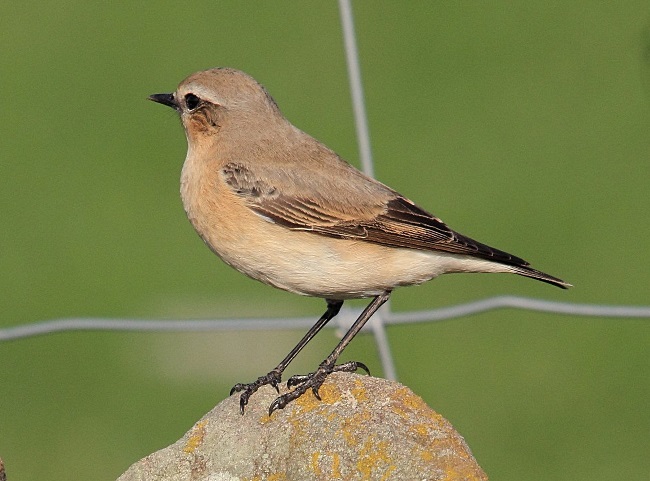 Wheatear by Burton Point, March 25th © Carole Killikelly
Thanks to some mild southerly winds the main news in March was the early arrival of migrants with the first of each species tabulated all earlier than last year - and they were also earlier than their five year averages (2012 to 2016). Some non-tabulated species also arrived early including the first Ring Ouzel and the 11th (2nd April in 2016) and Sandwich Tern on the 27th (13th April in 2016).

Species
2017
Location
2016
2015
White Wagtail
4th March
Hilbre
15th March
10th March
Sand Martin
11th March
Hilbre
16th March
7th March
Wheatear
11th March
Burton
23rd March
11th March
Swallow
14th March
Meols
24th March
20th March
Willow Warbler
17th March
Shotton
29th March
22nd March
House Martin
27th March
Leasowe
Lighthouse
7th April
31st March
Whitethroat


13th April
12th April
Cuckoo
21st April
20th April
Swift


22nd April
19th April
Other migrants included Stonechats with several on Hilbre and 12 both at Leasowe Lighthouse and Hoylake Langfields mid-month. Waxwings continued to trickle through with the largest being a flock of 10 in Pensby (Heswall).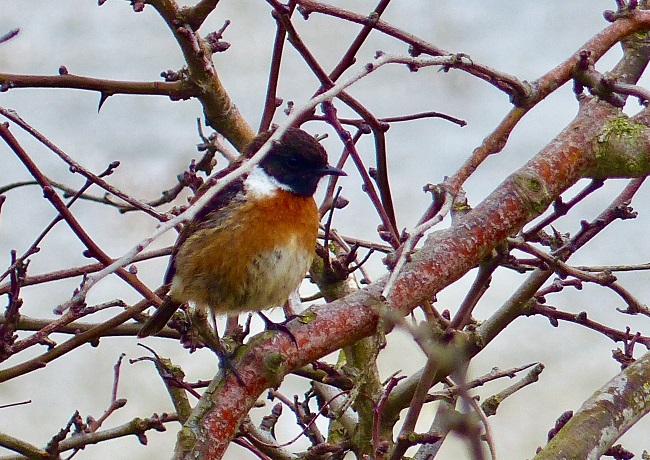 Stonechat on Hilbre, March 12th © Alan Hitchmough

There was plenty of activity on the marshes and Short-eared Owls returned after largely being absent through mid-winter with four at Parkgate during a big tide on the 30th. The Marsh Harrier roost held around 10 birds and towards the end of the month a Cattle Egret was recorded at Burton. Also at Burton Mere Wetlands a young Little Gull spent several days and out to sea spring migration of this species was observed with the largest count of 31 at Hilbre on the 25th. Other gulls included an Iceland Gull at Burton Mere Wetlands and a Glaucous Gull at Leasowe Lighthouse.
The 12th was a windless and clear day making for a mirror like sea - from West Kirby were counted 328 Brent Geese and a massive 20,000 Common Scoter from Point of Ayr, although, unlike the previous three years, there were only small numbers of the latter off north Wirral. Other wildfowl included a very high count of Pink-footed Geese with 7,000 on Neston Marsh.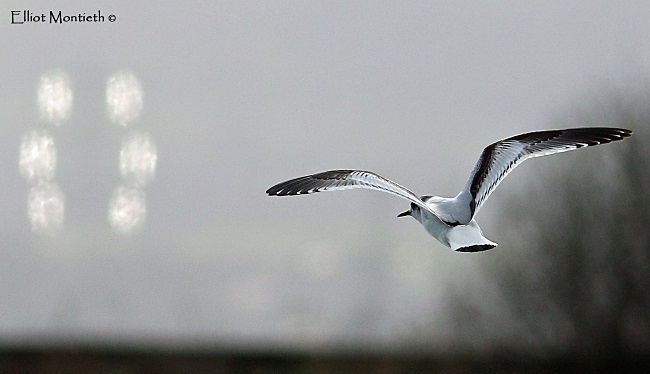 Many thanks go to Mal Sergeant, Eddie Williams, Derek Bates, Richard Steel, Jane Turner, Steve Hinde, Mark Turner, Matt Thomas, Geoff Robinson, Chris Butterworth, Keith Scovell, David Leeming, Leon Castell, David Haigh, Keren O'Rourke, Jeremy Bradshaw, Mark Washington, Alan Hitchmough, Carole Killikelly, Les Hall, Roy Wilson, Steve Williams, Tony Kobus, Dave Edwards, Jan Cohen, Bruce Atherton, Gail Wilson, Richard Beckett, Steve Ashton, Alan Irving, Mike Hart, Paul Mason, Alister Sclater, Elliot Monteith, Martin Kalaher, Frank Burns, Bob Perkin, Karen Leeming, Janine Johnson, Paul Lee, Jeff Cohen, Roy Lowry, Phill Roden, Julie Rogers, Paul Vautrinot, George Knight, Neil Mack, Malcolm Guy, Linda Platt, Stephen Lane, David Poole. Jack Miller, Nick Monteith, Ian Mansell, Brian Lingard, Richard Whitby, John Watson, John Rowlands, Ann Coupe, Ian Macadam, Jeff Stephens, Lillian Hunt, David Bradford, Chris Wilding, Jonathan Thornton, David Peate, Larraine Roberts, Mike Coupe, William Owens, G Jones, Peter Dent, Gordon Crapper, Kenneth Fullard, John Wootton, Matt Evans, Keith Ackerley, Nick Carr, Andy Livermore, Linda Platt, Carole Killikelly, Neil Mcmorran, Denise, the
Lighthouse and Wirral Birding Blog
, the
Dee Estuary Wardens
and the
Hilbre Bird Observatory
for their sightings during March. All sightings are gratefully received.
Top of Page
What to expect in April
One of the delights of April is that we get species we only see during spring migration, or only rarely at other times of year. So expect Ring Ouzels, Whinchats, Yellow Wagtails, White Wagtails and Redstarts. For many species coastal fields are the best sites but, if there's a good crop of sand flies, there can be hundreds of White Wagtails spread across the beaches of Gronant, West Kirby and Hoylake. Some mornings we can wake up to a real fall of birds and I remember in previous years hundreds of Willow Warblers on Hilbre and every field filled with a dozen Wheatears.
But it's not just passerines on the move, Whimbrels will be coming through with Heswall usually the best site, we can get up to a hundred there. Black-tailed Godwits will be in their stunning breeding plumage by the last week in April and we should get a few hundred of them pausing on their way to Iceland.
Although strong westerlies aren't ideal for seeing land based migrants they will give good views of migrating sea birds - Little Gulls are of particular interest as they funnel into Liverpool Bay before flying overland and across the country on their way to spend the summer in Scandinavia. The summer visitors Common and and Sandwich Terns will be a most welcome sight and further out to sea should be Gannets, Manx Shearwaters and various auks.
We always get more Ospreys over in spring than in autumn, keep a sharp eye out as to see them you just have to be in the right place at the right time as they fly overhead, sometimes they can pause for a few hours to catch a few fish before moving on.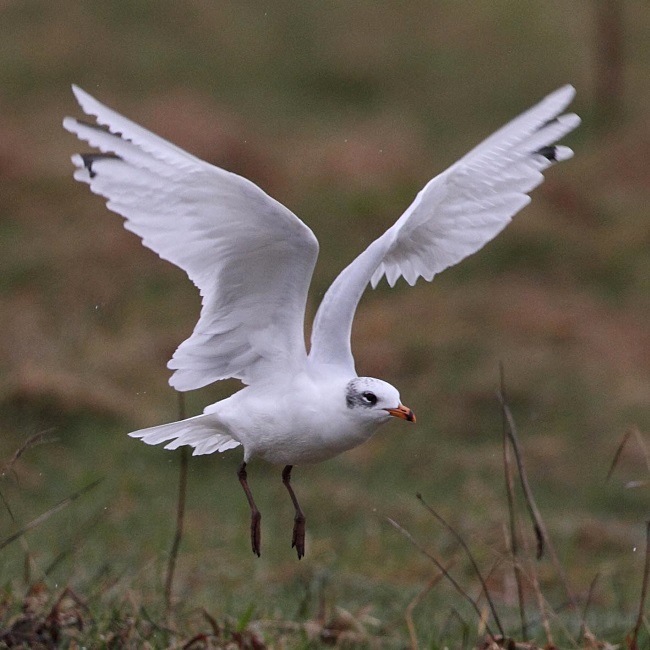 Top of Page
Forthcoming Events
April Highest Spring Tides (Liverpool)
Also see Tides page.

26th April, 11.45hrs (BST), 9.8m.
27th April, 12.29hrs (BST), 10.0m.
28th April, 13.14hrs (BST), 10.0m.
29th April, 14.00hrs (BST), 9.8m.
Forthcoming Events
Organised by the Wirral Ranger Service , Flintshire Countryside Service and the RSPB (Dee Estuary):
All these events and walks have bird interest, even those not advertised specifically for birdwatching. No need to book for these events unless specified - please check below.
Tuesday 11th April
, Wildlife Wander at
Burton Mere Wetlands.
1 pm start. Price: Free (normal reserve entry charges apply to non-members).
Join one of our friendly, knowledgeable volunteers for a leisurely amble around much of Burton Mere Wetlands, including the unmissable viewpoint at the end of the Hillfort Trail on Burton Point. Take in the sights and sounds, learn more about the wildlife that thrives here, the work we do to give nature a home and the remarkable history of the estuary.
Great for first time visitors or those looking to brush up on their identification skills; with constant changes as we move through the seasons, it's impossible to predict what might be seen. Spring is a wonderful time as we wave farewell to our winter visitors and welcome back our summer migrants returning from the south. The heron and egret colony becomes active as they rebuild their treetop nests and this is a great time to watch them before the trees come into full leaf.
No booking required, just turn up on the day. A reasonable level of fitness and sturdy footwear are required. Walks typically last up to 3 hours, weather permitting.
Email
deeestuary@rspb.org.uk
or ring 0151 353 8478 for more details.
Sunday 30th April
, Bluebells and Birdsong at
Burton Mere Wetlands.
10 am-12 pm. Price: Adult £6.50 (RSPB members £5), children half adult prices.
Booking essential
. Ring 0151 353 8478 to book.
Join us for this guided walk through Gorse Covert, a semi-natural ancient woodland at Burton Mere Wetlands which happens to be one of the best bluebell woodlands in the area. Admire the beautiful spring spectacle, and learn about other woodland plants, whilst being serenaded by the array of birds noisily defending territories for nesting.
For those who are up for a longer walk, we will venture up to Burton Point where there is another impressive stand of bluebells beneath the small copse, along with stunning panoramic views over Burton Mere Wetlands and across the estuary to the Welsh hills. This part of the walk will take in some trails including sloped grass paths.
Stick around afterwards to enjoy the rest of the reserve, and a hot drink in the Reception Hide.
Sturdy footwear is essential.
Tuesday 2nd May, Wednesday 3rd May, Thursday 4th May.
Meet 10am to spend each day installing the fencing at the
Gronant
Little Tern Colony.
VOLUNTEERS NEEDED!
On Tuesday 2nd May, the hard work begins at Gronant Dunes, near Prestatyn. There is over a kilometre of electric fencing to construct to protect one of the largest Little Tern colonies in Britain and Ireland. If you are available, we are meeting at 10am in the car park opposite the Crofter's Cafe on Shore Road, Gronant. This task is impossible to finish in a day so you can also join us on Wednesday 3rd, Thursday 4th and Friday 5th May.
For further details ring 01352 810614 or 01745 356197.
Sunday 7th May, Dawn Chorus at Burton Mere Wetlands.
5 am-7 am. Price: £6.50 per person (RSPB members £5).
Booking essential. Ring 0151 353 8478 to book.
It's International Dawn Chorus Day, so join us at Burton Mere Wetlands to experience the magic of the reserve waking up as the sun rises. With a wonderful mix of woodland and wetlands, there's no better place to experience the early morning birdsong.
An expert guide will help identify the bird calls and songs around you, plus all the other kinds of wildlife that makes its home here. Enjoy a croissant and a hot drink afterwards in the Reception Hide, then a chance to explore the rest of the reserve on your own before it opens at 9 am.
Advanced booking and payment essential. Price includes the light breakfast afterwards.
Friday 12th May, 3 reserves, dunes, reed beds and woodland - starting at Gronant.
10am to 2pm,
Booking essential. ring 01352 810614 to book or email
loggerheads.countrypark@denbighshire.gov.uk.
Explore sand dunes, reed beds and woodland on this 7 mile circular walk as we visit three local nature reserves at an exciting time of year with Denbighshire Countryside Service and the North Wales Wildlife Trust.
Sturdy walking shoes or boots strongly recommended.
Meet at Gronant car park opposite Greenacres Caravan Park on Shore Road.

Sunday 14th May
,
Burton Marsh
Birdsong and Breakfast.
7 am-10 am. Price: £8 per person, includes cooked breakfast at Nets Cafe afterwards.
Booking essential. Ring 0151 353 8478 to book.
Join us for this exclusive event as part of Wirral Walking Festival; a gentle walk along the Burton Marsh Greenway as far as Burton Point before retracing our steps to Denhall Lane as far as Nets Cafe for a full English breakfast.
A variety of warblers are busy establishing breeding territories here at this time of year, whilst the marsh is peppered with other summer migrants such as wheatears and alive with the songs of skylarks and meadow pipits. This early morning walk will offer chance to see and hear the marsh coming to life for the day in this busy time for nesting and migrating birds.
The route is along a fully accessible paved track. Booking and payment in advance essential. Price includes breakfast at Nets Cafe.
Meet at the junction of Station Road and Denhall Lane, west of Burton village.