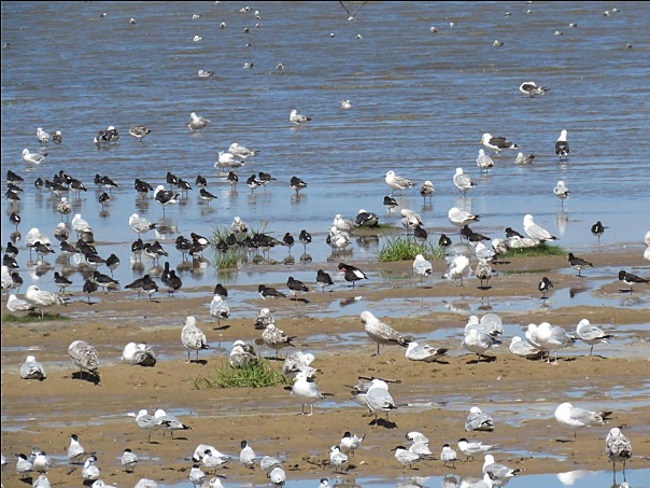 Hoylake shore with terns in the foreground, Oystercatchers in the background and a nice selection of gulls.
© Dee Estuary Voluntary Wardens
The third Wirral Wader Festival will take place this September to celebrate the tens of thousands of wading birds that visit Wirral's unique coastline every year. Wading birds such as knots, dunlins, curlews and bar-tailed godwits feast on the rich mudflats of the Dee estuary and North Wirral shores and can be easily seen from places such as Hoylake promenade. To showcase this natural spectacle, Wirral Coast Partnership has organised a busy programme of events for Wirral Wader Festival on the 8th, 9th and 10th September.
Karen Leeming, Chair of the Wirral Coast Partnership commented that: "Since the Wirral Wader Festival Partnership held the first UK Wader Festival in 2015, it has encouraged a number of other UK coastal areas to follow suit and we think that this is a fantastic achievement.
"The entire Wirral coastline has protection as a Site of Special Scientific Interest for the internationally important numbers of wading birds that live here through autumn and winter. As a result, it is the focus of conservation efforts from a number of environmental organisations, local authority departments and private sector organisations who all contribute to the event.
"The Festival starts with a talk by the naturalist and environmentalist Iolo Williams, also a renowned presenter on the BBC's Springwatch and Autumnwatch, on Friday evening and then a full weekend of events held at Hoylake and West Kirby.
"Everyone is welcome from keen bird watchers to people who have never looked through a telescope but who would like to learn a bit more about local wildlife – we have lots of people to help identify what you are looking at, and we have a lot of activities for children and the young at heart."
Wirral was approached to hold the first event of its kind in the UK in 2015 by Rick and Elis Simpson of Wader Quest. They came on a visit to view the remarkable efforts of the Dee Estuary Voluntary Wardens (DEVW) who protect the thousands of birds roosting on West Kirby and Hoylake beaches at high tide.
Wirral Wader Festival was created by DEVW with Wirral Council's Coastal Rangers, Cheshire Wildlife Trust, the RSPB and Wader Quest.
There will be high tide watches to marvel at the knot and dunlin roosts on Hoylake beach and at Cheshire Wildlife Trust's Red Rocks nature reserve. At West Kirby there will be live footage beamed direct from Little Eye, showing off the oystercatchers and curlews up close.
Cheshire Wildlife Trust will be holding guided walks around the Red Rocks SSSI nature reserve and hosting the children's activities. Wirral Rangers will be guiding a walk to Hilbre Island.
For full details of the events and activities during the festival, visit
www.facebook.com/wirralwaderfest, or wirralwaderfestival.blogspot.co.uk. Most activities on Saturday and Sunday are free but some have a small charge. Seats for the Iolo Williams talk cost £15 and must be pre-booked on: www.cheshirewildlifetrust.org.uk/whats-on.
A full program of events is given below -
click here
or on the image to download this events leaflet as a PDF file: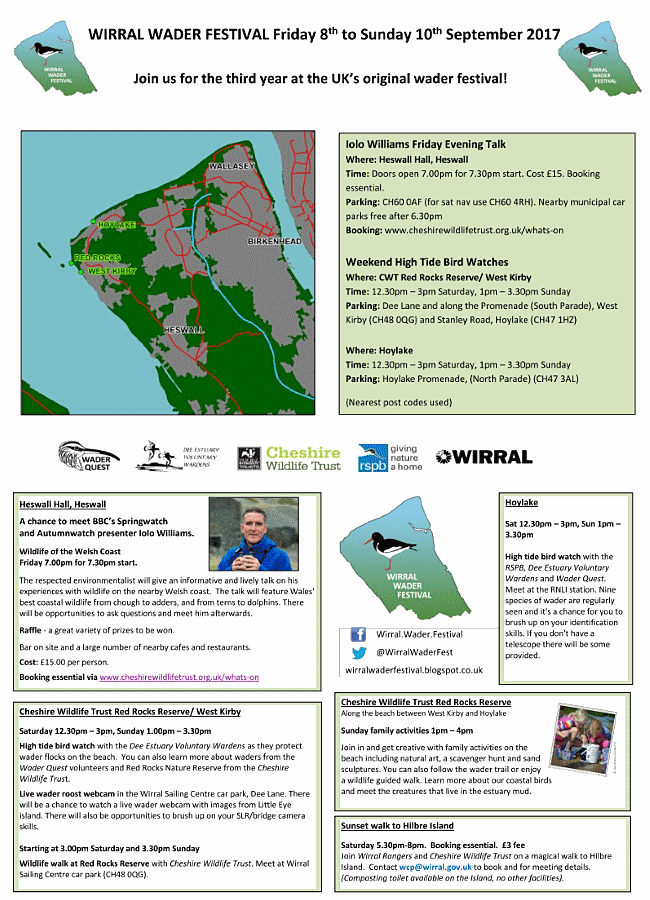 Part of a large Knot roost on Hoylake Shore © Matt Thomas.
Top of Page
Colour Ring Report

An interesting month, particularly with colour-ringed terns of which more below. With so many gulls turning up after breeding it was no surprise to see a ringed Black-headed Gull, another one ringed in Essex but where do these breed? Given the large number of Oystercatchers on the estuary we see surprisingly few ringed ones, so it was nice to spot one at Hoylake. Large numbers of Black-tailed Godwits were returning from Iceland through July reaching over 2,000 at Caldy by the month-end - in total we saw 14 different colour-ringed birds and I give details of three of these below.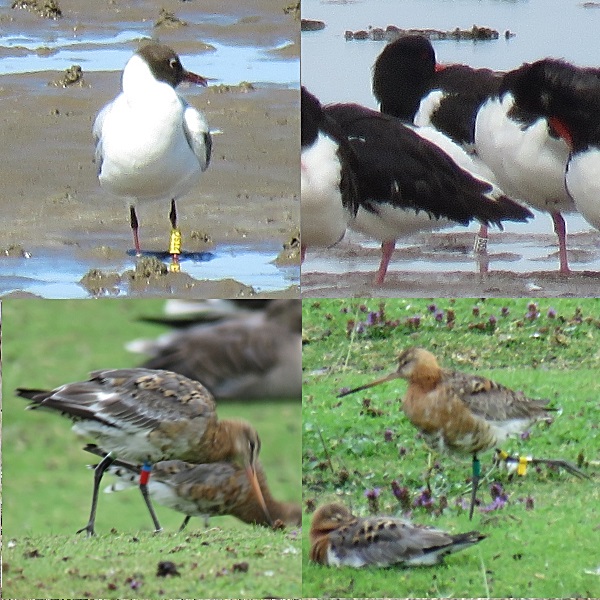 Top left and clockwise: Black-headed Gull 2TSC, Oystercatcher S59, Black-tailed Godwit GG-YYflag, Black-tailed Godwit LN-BR - all by Richard Smith.
Black-headed Gull
2TSC
- black on yellow ring.
Ringed at Pitsea Landfill Site, Essex on March 11th 2017.
Recorded at West Kirby Shore on July 8th and 22nd.
This is the third black-headed Gull in the past three years which has been ringed by the North Thames Gull Group at Pitsea Landfill, and all in March.
Oystercatcher
S59
- Black on white ring.
Ringed as a chick on the roof of Aberdeen University Library on June 22nd 2010.
Recorded at Hoylake Shore on July 22nd 2017.
Also recorded at Seaforth Nature Reserve on May 6th and July 6th 2011.
This is what Alistair Duncan of the Grampian Ringing Group said:
"We have been monitoring Aberdeen's roof-nesting/urban nesting Oystercatchers since 1986 and putting on Darvics since 1997. In winter the majority of our birds go south and west to north west England, Ireland and Wales. Smaller numbers winter in other estuaries and some stay here.
S59 is now seven years old and will winter every year in your area, as they are very site faithful. If only we knew where it is breeding!"
Black-tailed Godwits
LN-BR
- ringed as a chick in northern Iceland on July 15th 2013.
Recorded on Thurstaston Shore on July 5th 2017, then subsequently at Caldy on several dates in the same month.
First record after ringing was at Marshside (RSPB) in October 2013 since when it has been seen many times at Gilroy (West Kirby) during late summer and autumn in both 2015 and 2016, and on Thurstaston Shore in the winters of 2014/15 and 2016/17. It was at Slimbridge Wetlands and Wildfowl centre in July and August 2016 before moving north to Gilroy.
GG-YYflag
- ringed as a chick in southern Iceland on June 23rd 2013.
Recorded at Caldy on many dates through July 2017.
This bird has been mainly recorded at Gilroy (West Kirby) in late summer and autumn, with occasional sightings on Thurstaston Shore. The only winter records came in 2016/17 when it was seen on many dates on Thurstaston Shore.
As you may be able to tell from the photograph this bird has a badly damaged leg and somehow the Yellow Flag has been pulled down from the tibia to the tarsus.

LO-OR
- ringed as a chick in northern Iceland on July 14th 2004.
Recorded on Heswall Shore on July 4th 2017 and subsequently at Marshside RSPB (Southport) on July 13th.
This bird spent it's first autumn and winter in SW Ireland before turning up in the Netherlands in April 2006. April 2007 saw it on Frodsham Marsh and the following winter it was seen just once, at Marshside in January 2008. There was another record in the Netherlands in March 2008. In 2010 it must have taken a year off from breeding as it was in north Norfolk throughout that summer but it must have been breeding again in 2013 as it was spotted in Iceland. Very few records then until it turned up at Marshside again from July to November 2016, the next sighting being at Heswall in 2017.
Terns
In the Irish Sea colonies colour-ringing of terns only started over the past three to four years, they will undoubtedly transform our knowledge of these birds. With their short legs the rings are very difficult to read, especially on the estuary, but we were lucky enough to be able to use a Land Rover as a hide to get close to two juvenile Sandwich Terns in July. It is slightly easier to get close to the birds in their breeding colonies as they are used to the wardens being there, and you will see that there have been a good number of colour-ringed Little Terns seen at Gronant this summer.
Sandwich Terns
The Dee Estuary is one of the most important post-breeding sites in the country for this species. The colony at Cemlyn Bay (Anglesey) is the nearest breeding colony but strangely there is no evidence that any come from there, however there is evidence from ringing returns that birds come from Ireland including the two colour-ringed juveniles below together with one from the same colony last year.
KHT - black on yellow ring.
Ringed as a chick on Ladys Island Lake, County Wexford, Ireland, on June 21st 2017.
Recorded close to Little Eye on July 20th 2017.
KLD - black on yellow ring.
Ringed as a chick on Ladys Island Lake, County Wexford, Ireland, on July 3rd 2017.
Recorded close to Little Eye on July 20th 2017.
Little Terns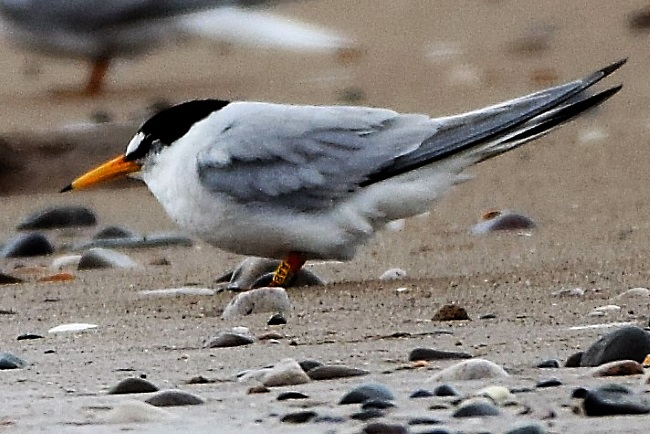 Little Tern AAB photographed at Gronant in 2017, ringed on the Isle of Man
© Jack Slattery and the Gronant Wardens
There were record numbers of colour-ringed Little Terns observed at Gronant in 2017 with a total of 31 birds recorded a total of 65 times. 11 were ringed at Gronant, eight from the Isle of Man, 11 from Kilcoole in Ireland and one ringed in both Kilcoole and Isle of Man, more of which below. Kilcoole is just north of Wexford, so not far from where the Sandwich Tern colony is (see above); the colony there is a bit bigger than at Gronant whilst the Isle of Man colony at Point of Ayre typically has 30 to 60 pairs. I'm told that the Irish Sea colonies all had a good breeding season, which is certainly good news.
Here are details of two Colour-ringed Little Terns of particular interest:
AAD - black on yellow ring.
Recorded at Gronant on June 9th 2017.
Ringed as a chick at Kilcoole, Ireland, on June 25th 2004 when it was given a metal ring. It was then caught at Rue Point, Isle of Man, 10 years later (May 2014) and given a colour ring. This bird is now 13 years old.
XCJ - black on yellow ring
.
Recorded at East Chevington, Northumberland, on July 3rd 2017.
Ringed as a chick at Gronant on July 10th 2016.
Notable for two reasons, that it came back to the UK in it's first summer, perhaps more common than previously thought, and the first Gronant colour-ringed bird to be seen away from the Irish Sea.
Richard Smith.
Colour-rings were also reported by Matt Thomas, Steve Hinde, Alan Hitchmough, Jack Slatterly, Henry Cook and the Gronant Wardens.
New Publication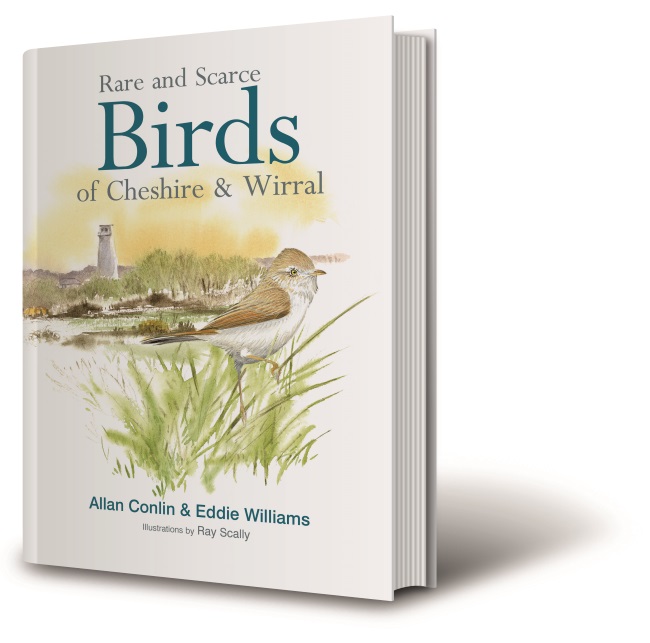 This eagerly awaited book is soon to be published and there will be a full review in this newsletter within the next month or two. The cost will be £19.99 + PP. For further details and to order please email
rarebirdingwirral@gmail.com
.
Top of Page
August Bird News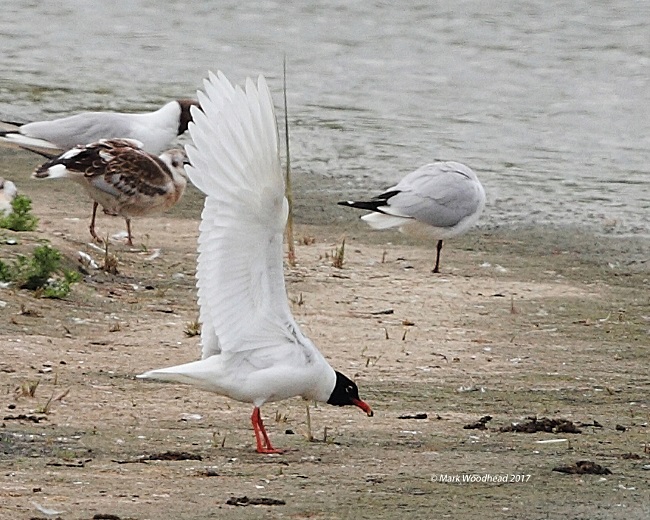 Mediterranean Gull at Burton Mere Wetlands, July 16th © Mark Woodhead
The month started with the news of two Mediterranean Gull chicks hatched at Burton Mere Wetlands, the first for that site and the first successful breeding of this species in Cheshire outside of Delamere Forest. Elsewhere, Mediterranean Gulls were seen right across North Wirral shore, West Kirby, Heswall and Gronant with highest count of four at West Kirby on the 8th.
There were the usual Sandwich Terns using the estuary as a staging post including 700 at Hilbre on the 18th and 559 at Hoylake on the 23rd, plenty of juveniles were observed. It has been a bit of a strange season at the Gronant Little Tern colony with breeding starting very early in May, these produced over 100 fledglings by early June but because a lot of nests were lost many re-layed - as a result the season was now unusually late as the chicks from these late nests were becoming fledglings through the second half of July. The total number of fledglings will probably end up around 200, more than last year's 171 and the second highest ever produced at Gronant.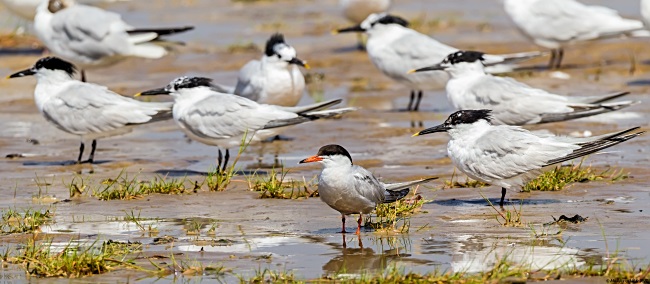 Common Tern with Sandwich Terns, Hoylake Shore, July 27th © Jeff Cohen

Waders returned in good numbers and there was a good passage of Whimbrels around the third week of the month with 36 at Gronant on the 19th, and 42 at Heswall and 21 at Hilbre both on the 21st. Black-tailed Godwits had reached over 2,000 at Caldy by the month end, a very good count for July, they roosted at high tide in a private Wildfowl collection and fed on the estuary between Thurstaston and West Kirby at low tide. The first juveniles were arriving by the month-end, the earliest we've ever seen them. Other notable counts of waders included six Common Sandpipers at Heswall on the 4th and 212 Sanderling at Gronant on the 19th.
Two or three Great White Egrets were recorded all month at Burton and across to Shotton and Connah's Quay, peaking at the Connah's Quay Reserve with four on the 31st. Another notable record at Connah's Quay was of three Red Kites flying behind the reserve on the 25th.
There was a report of a 'probable' Lesser Yellowlegs below the Dee Bridge by Connah's Quay on the 14th (but news was only released three days later), with a claimed 'confirmed' sighting on the 21st on Outer Burton Marsh. I don't know the full circumstances of the first record but was contacted directly by somebody on the 21st who said a 'Verifier' who wished to remain anonymous had confirmed the ID, but no details of the exact location or circumstances were forthcoming. I regard the record on the 21st suspicious, indeed highly improbable, which in turn must put the initial record in doubt.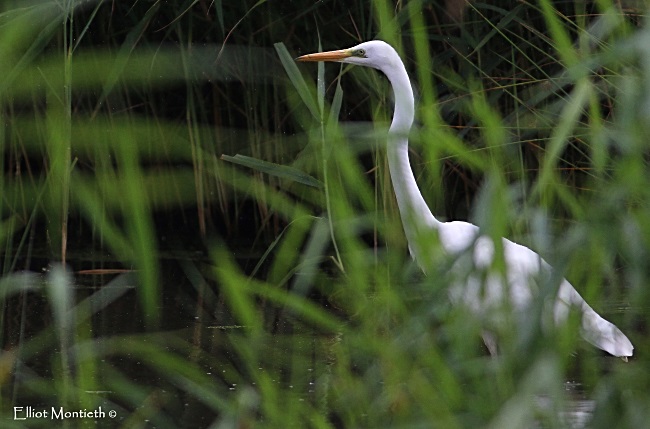 I've had computer problems this month and may have mislaid some emails, apologies if I've left your name out of this list.
Many thanks go to David Haigh, Mal Sergeant, Ellliot Montieth, Steve Hinde, Jeremy Bradshaw, Mark Turner, Mark Gibson, Matt Thomas, Mark Woodhead, Chris Butterworth, Roy Lowry, Paul Shenton, David Leeming, Jeff Cohen, Alan Hitchmough, Richard Whitby, Les Hall, Chris smith, Steve Williams, Richard Speechley, Dave Edwards, Paul Mason, Richard Beckett, Peter Haslem, Karen Leeming, Geoff Robinson, Linda Platt, Ian Douglas, Colin Schofield, Gavin Butler, Allan Conlin, George Knight, Ian Fleming, Hugh Stewart, Frank Burns, Alec Thomasson, Jack Slatterly, Henry Cook, Steve Dewsnap, Charles Farnell, Pete and Marjo Lewis, Brian Tollitt, David Thompson, Neil Mcmorran, the
Lighthouse and Wirral Birding Blog
, the
Dee Estuary Wardens
and the
Hilbre Bird Observatory
for their sightings during July. All sightings are gratefully received.
Top of Page
What to expect in September
North Wirral, Hilbre and Point of Ayr are the best places in the country to see Leach's Petrels. The month they are normally seen is September but they aren't guaranteed, we need a north-westerly gale to blow them towards the coast. We have not had a really good passage of these birds since 2010, the ideal conditions to get one is for a prolonged and strong north-westerly gale to blow for at least two days and the nearer the middle of the month the better. In these conditions they get blown through the north channel of the Irish Sea straight towards the mouth of the River Mersey, they then fly westwards close to the shore past Leasowe, Red Rocks, Hilbre and Point of Ayr. Prime viewing points are New Brighton, Leasowe Gunsite and Hilbre. Such conditions are also right for a whole lot of other species such as Grey Phalaropes, Sabine's Gulls and Long-tailed Skuas whilst Arctic Skuas will be in double-figures.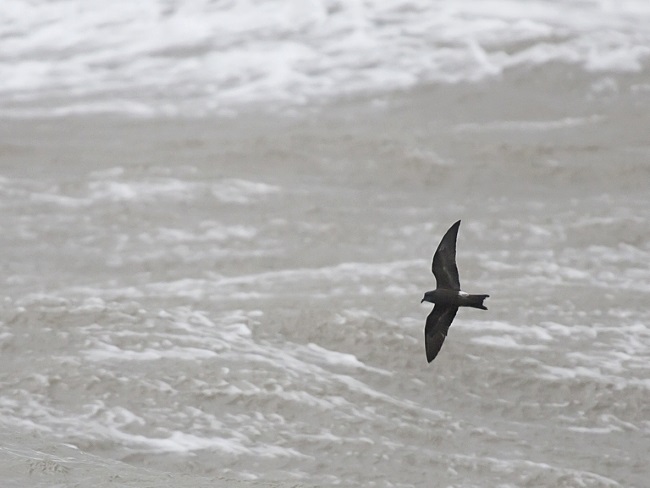 Curlew Sandpiper is another species associated with September. For more info about Curlew Sandpipers see
The Curlew Sandpiper Influx (2011)
and
Curlew Sandpiper Influx 2016.
We will also get plenty of other waders passing through including Little Stints, Greenshanks and Ruffs.
September is always good for rarities and in the past few years we've had Dottrel, Hoopoe, Little Shearwater, Sooty Shearwater, Red-backed Shrike, Semi-palmated Sandpiper......
Top of Page
Forthcoming Events
August Highest Spring Tides (Liverpool)
Also see Tides page.

22nd August, 12.21hrs (BST), 9.5m.
23rd August, 13.03hrs (BST), 9.6m.
24th August, 13.42hrs (BST), 9.5m.
Forthcoming Events
Organised by the Wirral Ranger Service , Flintshire Countryside Service and the RSPB (Dee Estuary):
All these events and walks have bird interest, even those not advertised specifically for birdwatching. No need to book for these events unless specified - please check below.
Tuesday 1st August
and Tuesday 22nd August
, Wildlife Wander at
RSPB Burton Mere Wetlands.
1 pm start.
Price: Free (normal reserve entry charges apply to non-members).

Join one of our friendly, knowledgeable volunteers for a leisurely amble around much of Burton Mere Wetlands, including the unmissable viewpoint at the end of the Hillfort Trail on Burton Point. Take in the sights and sounds, learn more about the wildlife that thrives here, the work we do to give nature a home and the remarkable history of the estuary.
Great for first time visitors or those looking to brush up on their identification skills; with constant changes as we move through the seasons, it's impossible to predict what might be seen. Summer may be a quieter time for birds since they finish defending territories as breeding season ends, but the growing avocet chicks and fledged little egrets and herons loafing close to the hides are great to watch. Warm sunny days will bring out the various dragon and damselflies that make their home on the reserve, along with butterflies and basking common lizards! Some birds begin their return migration just as we are getting settled into summer so sometimes unexpected birds may be found.
No booking required, just turn up on the day. A reasonable level of fitness and sturdy footwear are required. Walks typically last up to 3 hours, weather permitting.
Ring 0151 353 8478 for further details.
WIRRAL WADER FESTIVAL September 8th to 10th 2017 - Further details will be published in September Newsletter on this website but here are a few highlights:
Friday September 8th: Iolo Williams Friday Evening Talk - Wildlife of the Welsh Coast.
Where: Heswall Hall, Heswall
Time: Doors open 7.00pm for 7.30pm start. Cost £15. Booking
essential.
Parking: CH60 0AF (for sat nav use CH60 4RH). Nearby municipal car
parks free after 6.30pm
Booking: www.cheshirewildlifetrust.org.uk/whats-on

Saturday September 9th: Sunset walk to Hilbre Island.
Saturday 5.30pm-8pm. Booking essential. £3 fee
Jo in Wirral Rangers and Cheshire Wildlife Trust o n a magical w alk to Hilbre
Island. Contact wcp@wirral.gov.uk to book and for meet ing details.
(Composting toilet available on the Island, no other facilities).