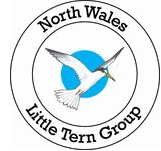 The North Wales Little Tern Group (hereafter referred to as the NWLTG) was formed as a community group in late 2015, with the twin aims of increasing volunteer participation at Gronant, the last colony in Wales, and to raise funds to support the project run by Denbighshire Countryside Services and other partners. Further goals include raising awareness of the species and it's conservation status, encouraging research and protecting other sites where the birds could colonise in the future.

To help achieve these aims the group launched a membership which costs just £5 per year for adults and £3 for children. In return members get access to the monitoring hide at Gronant, a Little Tern pin badge, newsletters during the season, end of season report, and invites to a series of events culminating in the end of season event; an evening of talks.

In the short time the NWLTG has existed, a lot has been achieved with the support of the members. Funds have been used to purchase new optics, a new 'visitor centre', along with the monitoring hide further down the dunes and a diversionary feeding station for Kestrels, one of the chief predators of tern chicks. For anyone who has visited the site in previous years they may remember the little green wardens shack, which more closely resembled an air raid shelter. The new facilities offer a much more airy space to take cover from the weather, engaging with visitors and for monitoring the birds more effectively.


New visitor centre with members of the NWLTG and the hide being installed.
Little Terns are not particularly site faithful and although the largest extent of habitat and most significant protections are installed at Gronant, the birds can up and leave if there is too much disturbance from predators or tides flood out the site (as happened here in 2015). Consequently the NWLTG helps put up fencing at the RSPB's Point of Ayr and Rhyl Harbour, both sites where Little Tern has bred in recent years. These sites could potentially hold viable colonies in the future and offer a backup should anything happen at Gronant.

Going forward, there are plans to conduct a tracking project to find out where the Little Terns from Gronant migrate to and spend the winter, plus this season there will be cameras installed by a couple of nests beaming live images back to the visitor centre for visitors to enjoy, showing a new aspect on the breeding season.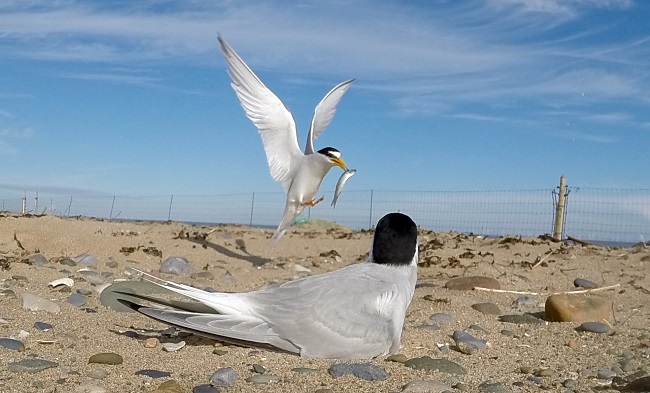 A still from nest camera trial in 2017.
With so much happening since the formation of the group it is easy to forget one of the core reasons for it's formation; to increase the number of volunteers to help look after the terns during the summer. The tasks include predator watches, site maintenance, monitoring and visitor engagement. To that end, if you like the sound of getting involved with the group then please consider becoming a member and/or heading down to the beach at Gronant where the wardens are always welcoming of any help you can give (map of how to get to the colony below). Membership can be obtained by e-mailing nwlittletern@gmail.com.

For updates during the season please visit the NWLTG facebook and twitter pages.
Further info on the group can be found at www.northwaleslittleterns.weebly.com.

Annotated map showing route out to the Gronant Little Tern colony.

Henry Cook (Life+ Little Tern officer)
Top of Page
Colour Ring Report
Black-tailed Godwits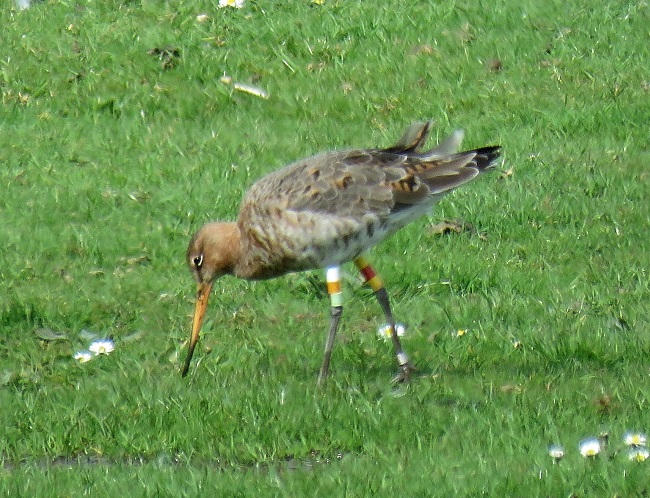 Black-tailed Godwit WOL-YRY - Richard Smith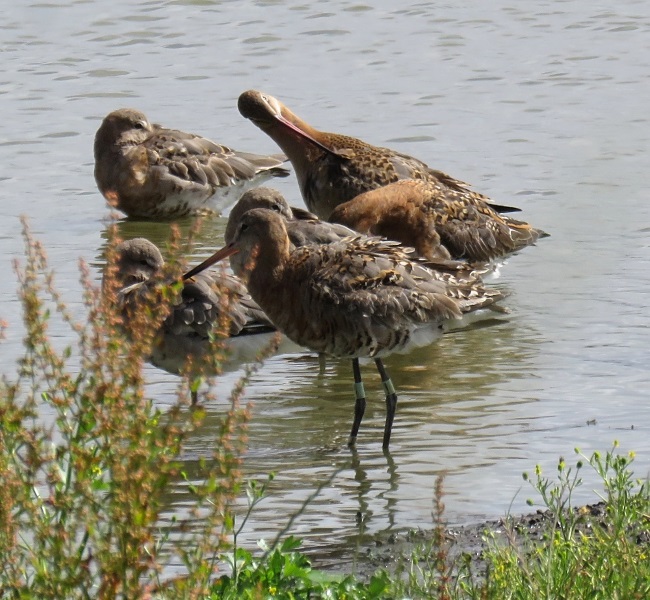 Black-tailed Godwit L//L-L - Richard Smith
A lot fewer colour-ringed birds this spring compared with 2017 when northerly winds delayed the migration. The godwits were already in full breeding plumage by the second week of April and we had a couple of interesting ringed ones, as described below.
WOL-YRY
Ringed on Seaton Marshes, Devon, on 9th February 2013.
Between 6th April and 14th April recorded five times at Caldy Wildfowl Collection and twice on Thurstaston Shore. This is the first bird recorded on the Dee estuary which has been ringed in Devon.
Apart from a trip to Dorset in early June, this bird spent the whole of 2013, including the breeding season, in Devon suggesting it was an immature (i.e. non-breeding) bird when caught. All records for 2014 to 2016 were also in Devon. This bird wasn't seen anywhere between July 16th 2016 and April 2018 until it turned up at Caldy.
L//L-L
Ringed in southern Iceland in June 2003, as a chick.
August 2003 saw this bird in Yorkshire and in December 2005 it was in France.
The first Dee estuary record was in September 2005 and since November 2006 it has been recorded here almost 200 times, but nowhere else.
It was on Thurstaston shore November and December 2017 but hadn't been seen since until it arrived at Caldy Wildfowl Collection in early April 2018 where it stayed for the rest of the month.
Grey Plover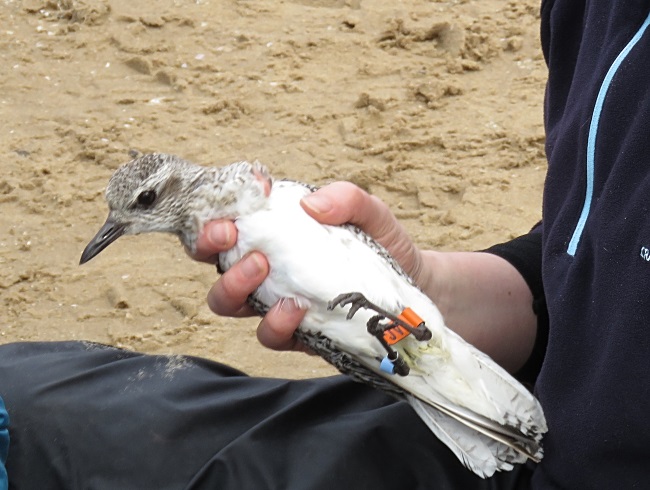 One of the 78 Grey Plovers ringed on March 30th - Richard Smith
Oflag(EM) - P
Ringed at Altcar (Alt Estuary) on 30th March 2018.
Recorded on Meols Shore on 7th April 2018 and at Southport on 14th April 2018.
On Good Friday 2018 78 Grey Plovers (along with a large catch of Knot) were caught and ringed at Altcar and fitted with Orange flags, this was the largest catch of Grey Plovers in the UK for 20 years.
There have been several sightings of these Orange flagged Grey Plovers on the Dee estuary/North Wirral but 'EM' has been the only one, so far, that was close enough to read the letters on the flag.
Oystercatchers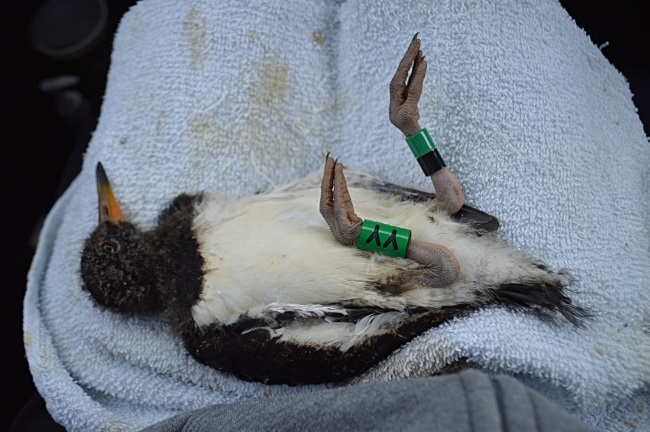 Oystercatcher NG-G(YY) - Veronica Mendez Aragan
Just after it was ringed in Iceland in May 2016
Two Oystercatchers ringed in Iceland were seen in March and April, to read about this colour-ringing scheme see:
http://www.deeestuary.co.uk/news0417.htm
.

NG-GG(YY).
Metal ringed as a small nestling on 25th May 2016 in southern Iceland, then colour ringed on 16th June 2016 as a large chick just before it fledged.
Only record since June 2016 was on Hoylake Shore on 29th March 2018.
WL-W(CA).
Ringed as a chick on 28th May 2017 in southern Iceland, and recorded at the same site in June 2017.
Recorded at Thurstaston Shore on 19th April 2018.
Richard Smith.
Colour-rings were also recorded by Steve Hinde, Eddie Williams, Matt Thomas, Steve Williams, Derek Bates, Allan Hitchmough and Tim Kinch.
Top of Page
May Bird News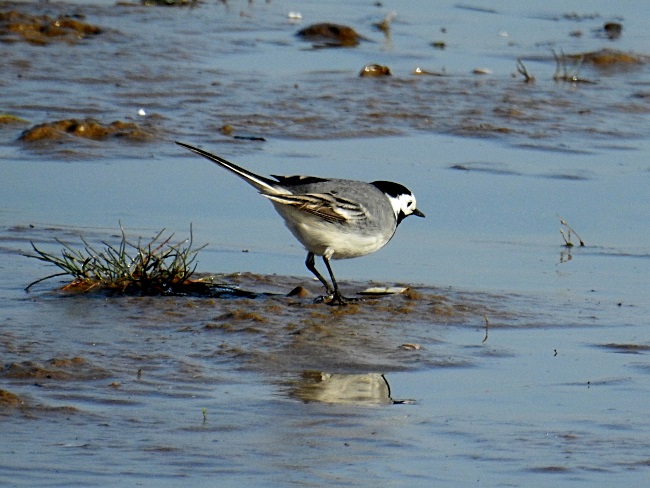 One of the many White Wagtails on Hoylake Shore, April 9th © Jane Turner.

The spring migration was steady without being spectacular, although there were big numbers of White Wagtails moving through Hoylake Shore with three figure counts on four dates, max 300+ on the 16th. There were also 40 on Hilbre on the 16th, over 20 at Leasowe Lighthouse on the 19th and 30 at Gronant on the 29th.
The table below shows the first arrival of some of our commoner migrants (plus Cuckoo which is now scarce), apart from the early Wheatear arrival dates were not untypical for recent years.
Species
2018
Location
2017
2016
Wheatear
9th March
Leasowe
Lighthouse
11th March
23rd March
White Wagtail
14th March
Hilbre
4th March
15th March
Sand Martin
15th March
West Kirby
11th March
16th March
Willow Warbler
27th March
Greasby
17th March
29th March
Swallow
29th March
West Kirby
14th March
24th March
House Martin
6th April
Burton
27th March
7th April
Whitethroat
7th April

Leasowe
Lighthouse
17th April
13th April
Swift
22nd April
Burton
19th April
22nd April
Cuckoo
23rd April

Decca Pools
24th April
21st April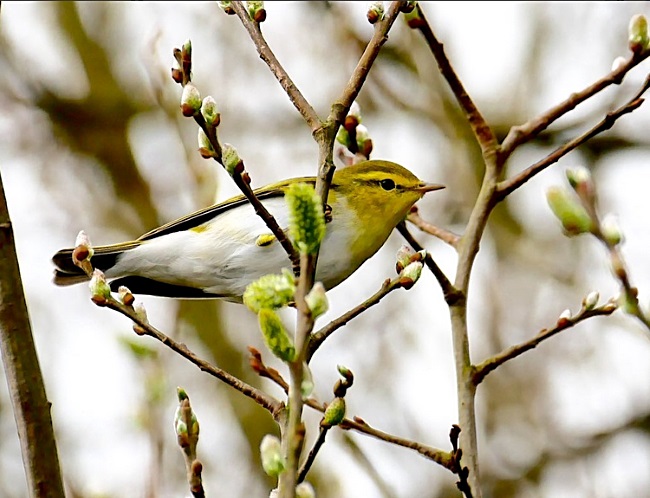 Wood Warbler at Leasowe Lighthouse, April 15th © Allan Conlin
Wood Warblers are getting quite rare these days so it was good to see a nice showy one at Leasowe Lighthouse on the 15th as the photo shows, first one there for many years. One singing male (there were some reports of two?) was in the wood by the Reception Hide at Burton Mere Wetlands from 20th to 25th. It is always good to see Ring Ouzels and Common Redstarts and we had plenty of both with the first of the former on the 3rd and the latter on the 9th, a lovely male Ring Ouzel stayed at least a week at Leasowe Lighthouse see photo below. The first Whinchats were early arriving on April 9th, Yellow Wagtails were a bit thin on the ground, the first one was seen on the 14th with just one or two since.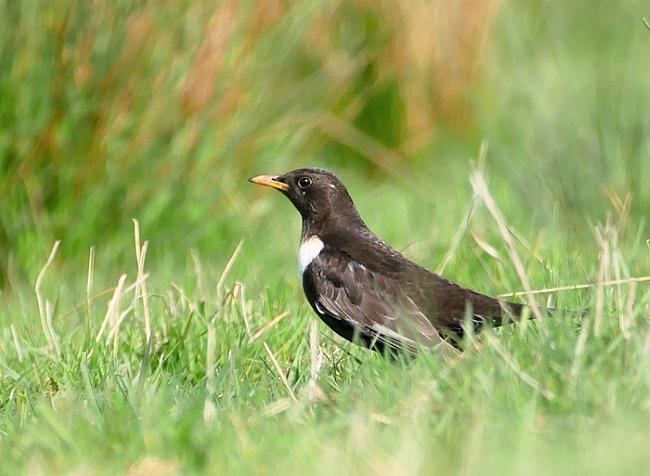 Osprey off north Wirral, April 14th © Allan Conlin

A Green-winged Teal was on Heswall Shore from the 19th to 24th giving good views, we think a first for that part of the estuary. A white-morph Snow Goose was on Burton Marsh on the 24th and 25th, with several hundred Pink-footed Geese. Pink-footed Geese are known as 'carriers' for this species so it is a possible wild bird, although it's origin as a feral or escaped bird is probably more likely. Over 8,000 Pink-footed Geese were recorded heading north through the month, mainly at dawn, a spectacular sight. Having been present all winter two or three Eiders were present off Hilbre all month and it was presumably two of these which were seen off Heswall on the 28th. A Long-tailed Duck was spotted off the north end of Hilbre on the 18th.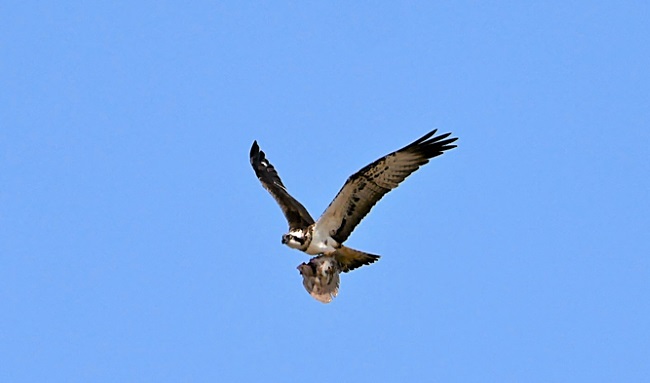 Osprey off north Wirral, April 14th © Allan Conlin
There were several reports of a single Red Kite over Wirral, both early in the month and in the third week. I'm told they are breeding on Halkyn Mountain (inland of Holywell) so perhaps they are coming over from there. Ospreys were recorded on four dates, including excellent views on two consecutive days at Leasowe Lighthouse including one landing on the shore and eating a fish.
Whimbrels peaked on the 27th with 49 at Heswall and there was a record 155 Avocets at Burton Mere Wetlands right at the end of the month. Out to sea there were three Great Northern Divers and 42 Red-throated Divers off north Wirral/Hilbre on the 17th. The most unusual record of the month was of a White Stork over Burton Mere Wetlands on the 9th.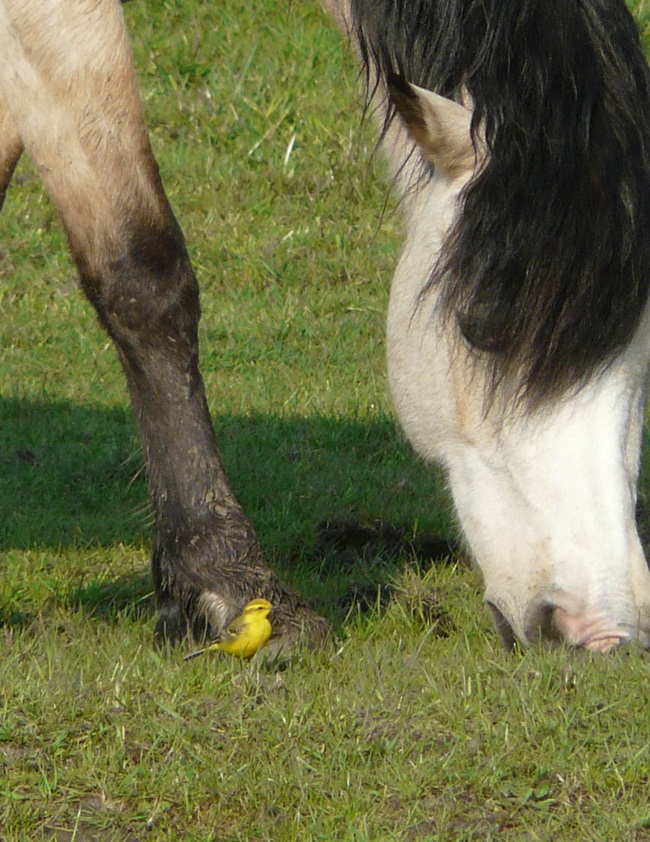 Yellow Wagtail and friend by Leasowe Lighthouse April21st © Graham Connolly
Many thanks go to Dan Trotman, Mark Garner, Jeremy Bradshaw, Jane Turner, Barry Barnacal, Timothy Kinch, Chalres Farnell, Mark Woodhead, David Haigh, Steve Hinde, Matt Thomas, Chris Butterworth, Roy Lowry, Elliot Montieth, David Leeming, Alan Hitchmough, Steve Williams, Dave Edwards, Derek Bates, Eddie Williams, Allan Conlin, Karen Leeming, Geoff Robinson, Julie Rogers, Colin Schofield, David Peate, Sheila Ryde, Frank Burns, David Thompson, Mark Gibson, Mark Turner, Graham Connolly, Paul Mason, Linda Platt, Richard Beckett, Richard Whitby, David Small, William Keig, Simon Dowell, Geoff Hawkins, Graham Thompson, Richard Speechley, Sean O'Hara, Stephen Burke, Ian Goldstraw, Jeff Stephens, Rod Bell, Clive Part, Gill Jakeman, John Jakeman, John Watson, Chris Wilding, Henry Cook, Jason King, Steve Liston, Gill Walker, Janine Johnson, Hugh Stewart, Neil Mcmoran, Roger Jacobs, John Kirkland, Pam Stackhouse, Loren Miller, Jenny Duff, David Wilson, Andrew Dean, Barry Darby, Mike Coupe, Susan Schofield, the
Lighthouse and Wirral Birding Blog
, the
Dee Estuary Wardens
and the
Hilbre Bird Observatory
for their sightings during April. All sightings are gratefully received.
Top of Page
What to expect in June
Early in the month we can expect to see waders such as Sanderlings and Whimbrels still on their way north to breed, whereas as early as mid-month some, such as Spotted Redshanks and Common and Green Sandpipers, have already started their return migration. In fact we can get a handful of Whimbrels all month, presumably non-breeders as well as a few hundred non-breeding Oystercatchers, Knot and Black-tailed Godwits. By the end of the month we will also see a build up of Black-headed Gulls on the sand banks with a few splendid looking Mediterranean Gulls in full summer plumage amongst them, and the start of the usual summer influx of post breeding Sandwich Terns.
Breeding will be well underway in our tern colonies, and Burton Mere Wetlands should be full of fledged Avocets. Last year we also had breeding Mediterranean Gulls and Cattle Egrets at Burton. We often get a small influx of Spoonbills this month, seven is the max count so far, seen in June 2016.
In the past two or three years rarities have included Broad-billed Sandpiper, Red-necked Phalarope, Stone Curlew and White-winged Black Tern.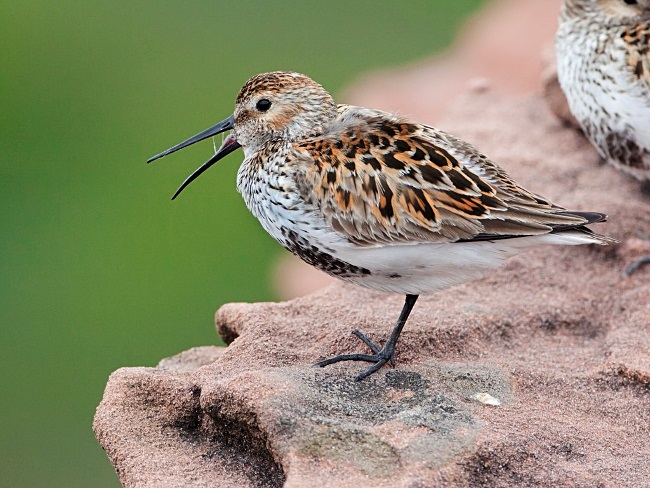 Top of Page
Forthcoming Events
June Highest Spring Tides (Liverpool)
Also see Tides page.

14th June, 12.09hrs (BST), 9.6m.
15th June, 12.58hrs (BST), 9.7m.
16th June, 13.48hrs (BST), 9.6m.
Forthcoming Events
Organised by the Wirral Ranger Service , Flintshire Countryside Service and the RSPB (Dee Estuary):
All these events and walks have bird interest, even those not advertised specifically for birdwatching. No need to book for these events unless specified - please check below.
Little Tern Events.
Feel free to just turn up at these events but if you need further details please email nwlittletern@gmail.com or ring Denbighshire Countryside Services 01745 356197. For the events actually at the Little Tern colony in Gronant Sand Dunes please park at the car park opposite Crofters Pantry Cafe on Shore Road, Gronant (Shore Road is sign posted 'Lower Gronant/Presthavens' from A548). Walk over the railway bridge and turn left through the five bar gate opposite Presthavens Sands Holiday Park, to the right you will see a footbridge over the river which you walk over to reach the dunes. Also see Gronant Site Guide which includes a map.
Anybody can help with the preparations for the new season at the only Little Tern Colony in Wales, and one of the most productive in the country thanks mainly to the volunteers and wardens doing such a fantastic and important job. I would recommend bringing refreshments, sturdy footwear and warm clothing.
1st - 5th May: 10 am start - Electric fence construction at the Little Tern Colony in Gronant Dunes.
---
Sunday 6th May
, Dawn Chorus at
RSPB Burton Mere Wetlands
.
5-7am
Price: £12 per person (£9.50 RSPB members)
Booking essential - ring 0151 353 2720.

It's International Dawn Chorus Day, so join us at Burton Mere Wetlands to experience the magic of the reserve waking up as the sun rises. With a wonderful mix of woodland and wetlands, there's no better place to experience the early morning birdsong.
An expert guide will help identify the bird calls and songs around you, plus all the other kinds of wildlife that makes its home here. Enjoy a hot drink afterwards in the Reception Hide, then a chance to explore the rest of the reserve on your own before it opens at 9am.
Advanced booking and payment essential.
Sunday 13th May, Burton Marsh (RSPB) Birdsong and Breakfast.
7am-10am
Price: £15 per person / £12 RSPB members (includes full breakfast)
Booking essential - ring 0151 353 2720.
Meet at the junction of Station Road and Denhall Lane, west of Burton village.

Join us for this exclusive event as part of Wirral Walking Festival; a gentle walk along the Burton Marsh Greenway as far as Burton Point before retracing our steps to Denhall Lane as far as Nets Cafe for a full English breakfast.
A variety of warblers are busy establishing breeding territories here at this time of year, whilst the marsh is peppered with other summer migrants such as wheatears and alive with the songs of skylarks and meadow pipits. This early morning walk will offer chance to see and hear the marsh coming to life for the day in this busy time for nesting and migrating birds.
The route is along a fully accessible paved track. Booking and payment in advance essential. Price includes breakfast at Nets Cafe.