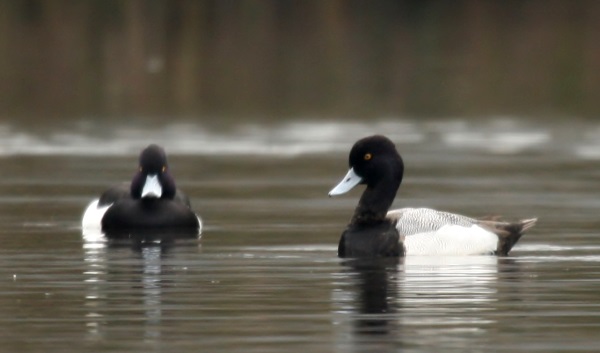 One of the joys of local patch birding is that you can see just how each year is different, and the past 12 months have certainly been different! We had the coldest spring for 50 years, June gales brought in a record count of Manx Shearwaters, a very wet and windy winter resulted in a huge tidal surge in December which might well have equalled the highest ever recorded here and record numbers of Common Scoters were recorded in January.
Rarities
Spring brought in some nice wildfowl with American Wigeon (also present last winter), Blue-winged Teal and a Lesser Scaup, as well as a Bee Eater, Hoopoe, a Sabine's Gull and a Temminck's Stint. Autumn gales saw the arival of at least three Long-tailed Skuas and there was a very confiding Grey Phalarope at Gronant. A Semi-palmated Sandpiper was a great find at Hoylake in September and a Blyth's Reed Warbler was at Red Rocks in October. BBRC have now accepted the Buff-bellied Pipit present at Burton from December to February (the first for north-west England), a Northern Wheatear (possibly two?) was also at Burton in the middle of winter and this is a real mega for the area at that time of year.
Waders
The good wader winter of 2012/13 continued into March and we had some high counts early in the month, the most notable being 28,000 Knot on the 1st and 4,000 Grey Plover on the 2nd, both at Hoylake. The very cold spring continued right through April and migration was held up all through the country, including Black-tailed Godwits with up to 1,600 in glorious full summer plumage in a field in Caldy for two weeks. It was a surprise to see over 500 non-breeding Black-tailed Godwits over-summering in the estuary with birds regularly being seen off West Kirby and numbers increased up to 1,000 here as birds returned from breeding in August.
Highlights of the return migration were a Wood Sandpiper and eight Green Sandpipers at Burton Mere Wetlands in July, 10 Spotted Redhanks at Connah's Quay and 1,600 Ringed Plover at Hoylake in August and 23 Greenshank at Parkgate in October. In addition we had a very good Curlew Sandpiper passage in September including a total of 17 at West Kirby, Red Rocks and Hoylake on the 6th with six at Burton on the 24th.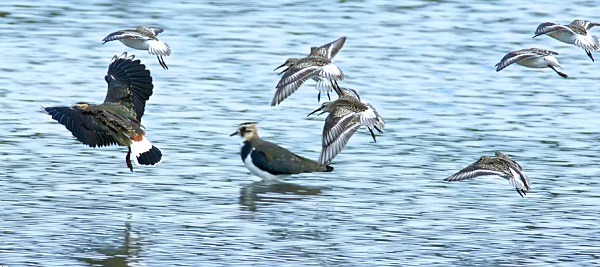 Seven Curlew Sandpipers with Lapwings and a Dunlin, Inner Marsh Farm, October 5th © Jeff Cohen
Wildfowl
Pink-footed Geese numbers continue to increase and a whopping 5,000 were on Burton Marsh on both March 17th and November 29th. I don't have any counts for Pintail for the whole estuary but 1,300 at Thurstaston on December 21st was the highest ever recorded at that site, but in the New Year they all left presumably to feed on inland floods.
Large numbers of Common Scoter winter off North Wales but usualy we only see relativley small numbers off the Dee Estuary, but this last winter we had 12,000 on February 10th and 7,000 on February 19th, both flocks observed from Hilbre out towards the North Hoyle Wind Farm, on the same dates many hundreds were also recorded from North Wirral.
Sea Birds
Despite the cold spring we did actually have some westerly gales in April and we had some great sea watching including 590 Gannets, a Great Skua, a Pomarine Skua, 85 Red-throated Divers and 490 Razorbills on the 18th. Spring and early summer was also exceptional for Manx Shearwaters including a massive 5,000 counted from Hilbre on June 22nd.
It's not many years that we get both a good Curlew Sandpiper and Leach's Petrel passage, but that is what happened in September, max count of Leach's Petrel was 109 past Hilbre on the 17th. We also had a 'friendly' Great Skua which hung around the estuary from Heswall to Red Rocks for several days in September, at one time it flew within about 10 feet of myself at Thurstaston! It was also a good month for Mediterrean Gulls with a total of 19 records. January saw a Great Northern Diver, a Slavonian Grebe and 84 Red-throated Divers off Hilbre and 553 Great Crested Grebes off North Wirral.
Big Tides and the Marshes
The huge tide on December 5th caught everyone by surprise, both here and across the country. On the day the weather was so bad that birdwatching was difficult to say the least, but we did see 12 Water Rails at Parkgate although the total number will have been much higher than that and I'm thinking of a total of 50+ between the south end of Parkgate, past the Old Baths and to Cottage Lane - but that's just a guess! But it did result in a huge amount of tidewrack right around the shore of the estuary including at Burton, as already mentioned. This attracted not only the rarities already mentioned but many other small birds including Linnets, Stonechats, Meadow Pipits, Water Pipits, Pied Wagtails and a nice flock of over-wintering Chiffchaffs with at least one Siberian Chiffchaff at Burton, with another at Neston.
There was another very big tide on January 3rd and in total I reckon we've seen seven tides high enough to completely cover the marsh at Parkgate, with at least of those two high enough to reach the end of Station Road at Burton Marsh - an exceptional winter. As usual the highlight is seeing close views the Short-eared Owls the highest number being a total of 12 on Jan 3rd.
Also on the marshes have been a total of at least four ringtail and one grey male Hen Harriers. A Marsh Harrier was at Burton Mere Wetlands at the end of the month. A large flock of up to 90 Twite has been resident at Connah's Quay all winter, sometimes also flying to Flint Castle and across the river to Outer Burton Marsh.
Top of Page
Underground Coal Gasification on the Dee Estuary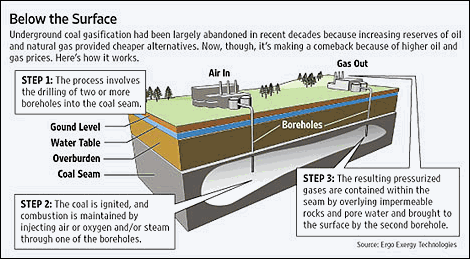 Those living locally will no doubt be aware of the possibility that Underground Coal Gasification (UCG) may be carried out on the Dee Estuary as there has been a lot of recent media coverage. This has caused a lot of concern among people, meetings have been held and there has been much discussion on various blogs and forums. So what exactly is UCG, what threat does it pose for the estuary and how likely is it to be given the go ahead?
On Jan 14th 2013 it was announced that Cluff Natural Resources had been given a Conditional Licence for UCG on the Dee Estuary - click here to download a PDF file of the press announcement, which includes a map of the proposed area. It should be said here that granting of a licence is just the first stage and by no means is it a licence to actually go ahead and carry out any work. The PDF file does go into some detail about the UCG process and some more details can be found in WikiPedia - see the WikiPedia UCG section. Currently, worldwide, there is only one commercial operation, in Uzbekistan. However, in the past few years there have been various trials across the world, with more planned. Many of these have hit problems with those in Australia shut down because of contamination of groundwater with the carcinogenic chemical Benzene as well as Toluene, with similar problems in the USA. Some operations have been shut down as the companies have failed to demonstrate that they can carry out decommissioning safely, as the process involves igniting coal underground this could be a big problem to overcome. Another problem to overcome, particularly here on the Dee Estuary, is the location of the necessary infra-structure. The gas will have to be brought ashore by pipe, and, as it is a mixture of gases, will need a sizeable plant to separate and store the carbon dioxide, carbon monoxide, hydrogen and methane. UCG is often compared to Fracking, but the latter is comparatively benign in terms of potential environmental damage, and one certainly gets the impression that once this is widely known that the the anti-fracking protests will seem small beer compared to what will happen if UCG ever gets the go ahead.
The current situation on the Dee Estuary is that no firm proposal for any work has been made as of February 2014, and therefore no planning application has been made. Given the problematical nature of this process, and the fact that no other trial has yet been given the go ahead in the UK, I would guess any application is a long way off. But it should be noted that "Cluff has four years remaining on its licence to gain the necessary planning rights and present a credible business plan".
But there are two other big problems looming for Cluff Natural Resources. The first is the sheer physical difficulty of operating drilling rigs and laying pipework safely in the estuary - given the huge rise and fall of the tides, shifting sand banks and changing channels. The second, and perhaps most important, is that the Dee Estuary is one of the most heavily protected sites in the country under National, European and Global regulations, which I describe below.
Site of Special Scientific Interest (SSSI). This is the designation most well known to the general public but is arguably the least strong of the four. But this is what Natural England say on their website "SSSIs are the country's very best wildlife and geological sites. They include some of our most spectacular and beautiful habitats - large wetlands teeming with waders and waterfowl, winding chalk rivers, gorse and heather-clad heathlands, flower-rich meadows, windswept shingle beaches and remote uplands moorland and peat bog" and "Section 28 of the Wildlife and Countryside Act 1981 as replaced by Schedule 9 to the Countryside and Rights of Way Act 2000 and inserted by the Natural Environment and Rural Communities Act 2006 ('the Wild life and Countryside Act') gives us the power to make sure SSSIs are protected and managed effectively now and in the future. As part of our work, we are responsible for enforcing this section of the law and can take appropriate enforcement action when the law is broken and when the habitat and features of SSSIs are damaged, disturbed or destroyed."
Special Protection Area (SPA). SPAs are strictly protected sites classified in accordance with Article 4 of the EC Birds Directive, which came into force in April 1979. This designation means that no development or operation can take place which significantly disturbs the bird life of the estuary. Any body which proposes to carry out any development or operation will have to produce a detailed Environmental Assessment to prove that no such disturbance or any loss of habitat would take place. In some cases a Public Inquiry would be held, and in the rare case that a project is given the go ahead there would have to be mitigation against any potential disturbance or loss of habitat. To show how strong the SPA designation is remember what happened at Southampton in 2004 when a proposal to build a large container port at Dibden Bay was turned down because it was an SPA. This was despite the port claiming the expansion was essential for the prosperity of the Port and that it would result in thousands of jobs.
Special Area of Conservation (SAC). SACs are strictly protected sites designated under the EC Habitats Directive, so the designation is similar to SPAs but concentrating on the general habitats of the estuary rather than particular bird species. So the the remarks made above for SPAs equally apply, particularly for the protection of habitats.
Ramsar site. The Convention on Wetlands of International Importance, called the Ramsar Convention, is an intergovernmental treaty that provides the framework for national action and international cooperation for the conservation and wise use of wetlands and their resources. The UK is a contracted party to this treaty and therefore is obliged to Work towards the wise use of all their wetlands through national land-use planning, appropriate policies and legislation, management actions, and public education; Designate suitable wetlands for the List of Wetlands of International Importance ("Ramsar List") and ensure their effective management; and Cooperate internationally concerning transboundary wetlands, shared wetland systems, shared species, and development projects that may affect wetlands.



Additionally the Hilbre Islands are a Local Nature Reserve, the benefits of which include "protect wildlife and natural features" and "offer a positive use of land which they would prefer was left undeveloped". The main aim must be to care for the natural features which make the site special.
If the forthcoming proposal for UCG on the Dee Estuary does indeed mean that there will be several rigs (I understand there has to be a minimum of two boreholes), associated pipework plus a processing plant and gas storage facilities then it is difficult to conceive that this can all take place without a large amount of disturbance to the birds protected by the SPA and a large amount of damage to habitat protected by the SAC. In addition there will be a very negative visual impact. The CEO of Cluff Natural Resources has stated that any UCG here will be 'offshore'. To my mind 'offshore' means permanent deep water, which means most of the Dee Estuary would be ruled out, and, as most of the the remaining deep channels are used by shipping going to Mostyn Dock and by Airbus up to Broughton, it doesn't leave much scope to work in. Perhaps it is intended to put the rigs out in Liverpool Bay and drill sideways, but Liverpool Bay is also an SPA...........
All this means that even if the UCG operators iron out their practical and environmental problems, and even if the UK starts running out of Natural Gas and if UCG then gains public approval, the Dee Estuary would still be a wholly inappropiate place for UCG to take place.

If we see UCG rigs on the Dee Estuary in the next ten years I'll eat my telescope!
Sources of Information:
NEW: Reuters article -
http://www.reuters.com/article/2013/10/01/coal-britain-syngas-idUSL5N0HL2PT20131001

1. Fred Pearce, Beyond Fracking, New Scientist 15 February 2014.
2. Wikipedia - http://en.wikipedia.org/wiki/Underground_coal_gasification.
3. BBC Radio Merseyside, Tony Snell interview with Algy Cluff (CEO, Executive Chair and founder of Cluff Natural Resources) on Feb 3rd 2014.
4. Liverpool Echo -
http://www.liverpoolecho.co.uk/news/liverpool-news/residents-meet-over-wirral-coal-6657597
5. Joint Nature Conservation Committee (JNCC) website -
http://jncc.defra.gov.uk/.
6. Ramsar Convention -
http://www.ramsar.org
.
7. Ergo Exergy -
http://www.ergoexergy.com/
(a pro-UCG website giving the industry's view point).
8. Natural England -
SSSI's
and
Local Nature Reserves.
Richard Smith.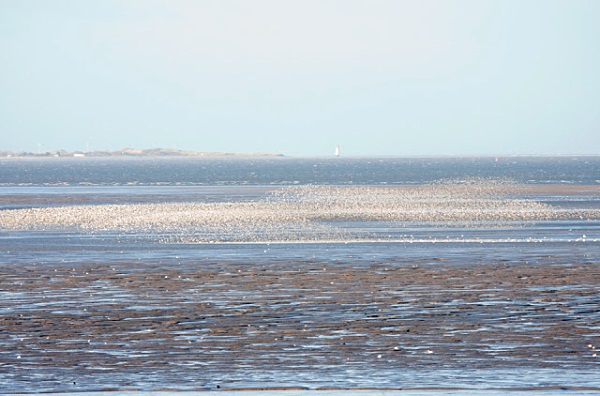 Top of Page
Connah's Quay Nature Reserve Bird Report 2013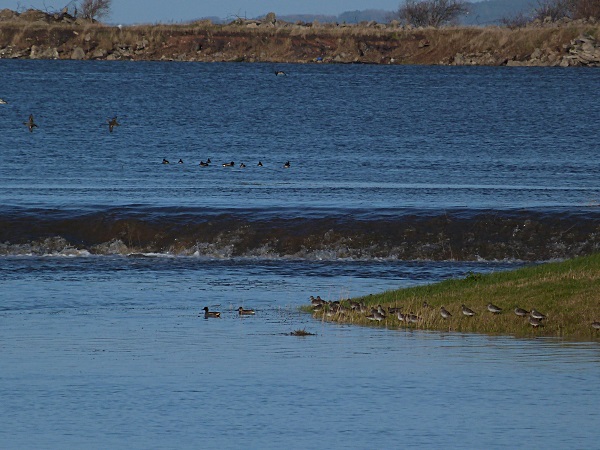 A big tide at the Connah's Quay Nature Reserve © Julie Rogers
.
The 2013 Bird Report for the Connah's Quay Nature Reserve is now available. It covers the reserve itself as well as RSPB Oakenholt Marsh, the River Dee in front of the reserve and the birds observed from the West Hide on White Sands (Outer Burton Marsh), there is also a Butterfly Report.
Click here to download it.
Top of Page
February Bird News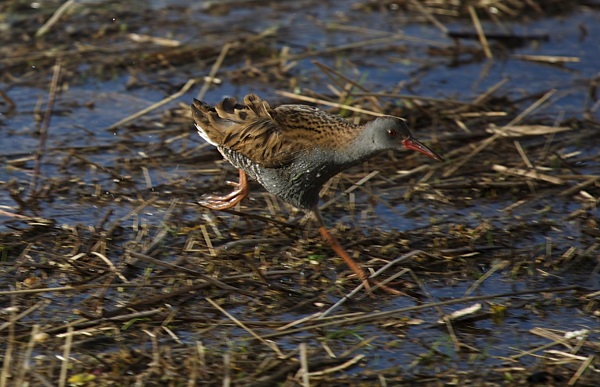 Water Rail at Donkey Stand Flash, Parkgate, Feb 1st © Gail Wilson
.
There was an excellent series of high tides at the beginning of the month with the highlight being eight Short-eared Owls at
Gayton/Parkgate
. We also saw Water Rails, Hen Harriers (including a Grey male), Merlins, Peregrines, a Water Pipit and a Great White Egret. 18 Purple Sandpipers at
New Brighton Marine Lake
on the 2nd is the highest count this winter so far, more unusual was a Spotted Redshank there on the 14th and 15th.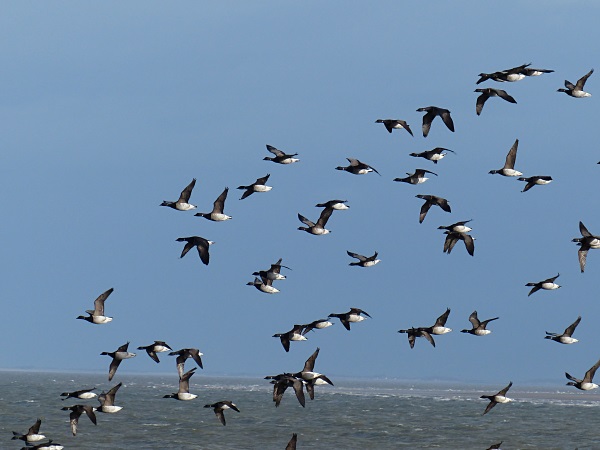 Brent Geese at Hilbre, February 23rd © Alan Hitchmough
Brent Geese reached 235 on the 20th, max numbers seemed to have plateaued out at around that level in recent winters after the steep rise of the past 15 years. Pink-footed Geese numbers, however, seem to be still increasing and the max count this month was 4,000 with good views of them feeding close to the prom at
Parkgate
. There was another huge flock of Common Scoters seen from
Hilbre
with 7,000 on the 19th. On the same date there were a total of 313 Great Crested Grebes counted on a flat calm sea between
Hilbre
and
Leasowe Lighthouse
.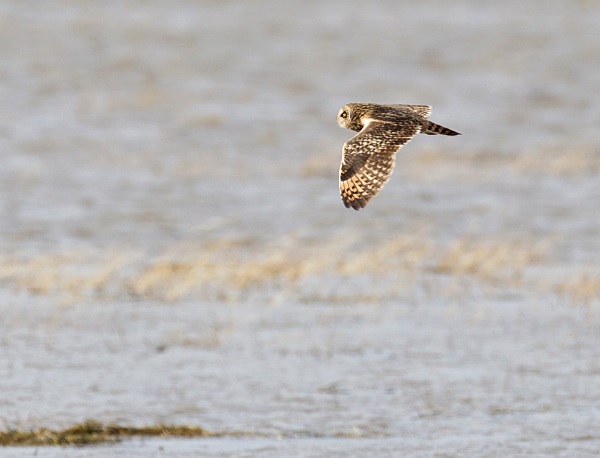 Short-eared Owl off Gayton, Febraury 1st © Andy Davis.
Two Avocets arrived back at
Burton Mere Wetlands
on the 26th, and a Little Stint was recorded a few times, but otherwise it was a poor month for waders with 430 Bar-tailed Godwits at
Hoylake
on the 13th the highlight. Also at
Hoylake
were 6,000 Herring Gulls but they only stayed for a day or two, on the 14th two Mediterranean Gulls and four Little Gulls were on the beach.
The Buff-bellied Pipit was present at
Burton
from the 7th to the 15th. A confiding Black Redstart was on the wall of Flint Castle for a few days. The numbers of Twite remained high at Connah's Quay with a max count of 67 early in the month.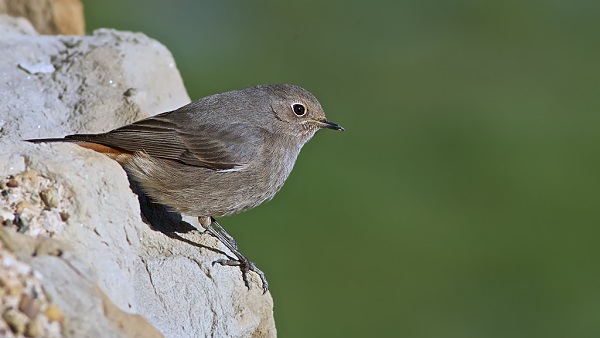 Black Redstart at Flint Castle, February 7th © Jeff Cohen
Richard Smith.
Many thanks go to Peter Welch, Derek Bates, Ashley Cohen, Steve Hinde, Ian Fleming, Frank Burns, Paul Mason, Tanny Robinson, Roy Wilson, Mark Gibson, Mark Palin, Chris Tynan, David Leeming, Dan Trotman, Jayne Taylor, Les Hall, George Hill, Allan Conlin, Jean Newall, Duncan Crockett, Malcolm White, David Haigh, Robert Alcock, Andy Davis, Alan Irving, Sheila Ryde, Mike Buckley, Jeremy Bradshaw, Henry Cook, Alan Hitchmough, Chris Smith, John Jakeman, Kevin Smith, Peter Newman, George Knight, Steve Williams, Tony Quinn, Andy Thomas, Ian Hughes, Ray Eades, William Haworth, Greg Harker, Colin Jones, Bruce Atherton, Gail Wilson, John Foxall, Chris Butterworth, Eric Robinson, Dave Wild, Paul Whitehead, Matt Thomas, Jeff Cohen, Colin Schofield, Bernard Machin, Roy Lowry, Mark Evans, Elliot Montieth, Alan Irving, Richard Beckett, Chris Hancock, Paul Vautrinot, Nick Hill, Lisa Shaw, David Dixon, the
Lighthouse and Wirral Birding Blog
, the
Dee Estuary Wardens
and the
Hilbre Bird Observatory
for their sightings during February. All sightings are gratefully received.
Top of Page
What to expect in March
The table shows date of first arrival of Spring migrants for the past three years, and it is immediately obvious just how big an impact on arrival times the very cold spring of 2013 had. If you see or hear what you think is an early migrant please email me at

- if it is the first of the year I'll put it in the 2014 table.
| Species | 2013 | Location (2013) | 2012 | 2011 |
| --- | --- | --- | --- | --- |
| White Wagtail | 14th March | Leasowe Lighthouse | 8th March | 11th March |
| Wheatear | 17th March | Leasowe Lighthouse | 9th March | 13th March |
| Sand Martin | 28th March | West Kirby | 28th Feb | 12th March |
| Willow Warbler | 6th April | Red Rocks | 20th March | 16th March |
| Swallow | 10th April | Red Rocks | 17th March | 20th March |
| House Martin | 12th April | Hilbre | 4th April | 25th March |
| Cuckoo | 13th April | Caldy | 14th April | 20th April |
| Whitethroat | 15th April | West Kirby | 1st April | 8th April |
| Swift | 17th April | Sealand | 26th April | 17th April |
Other migrants will include Avocets and numbers at Burton Mere Wetlands should increase through the month. We can get quite large movmemnts of Meadow Pipits and Little Gulls as well as the first Gannets, Ring Ouzels, Ospreys and Sandwich Tern, and maybe a Garganey or two.
Some more big tides are due early in the month and we would expect the marsh at Heswall and Parkgate to be covered giving good views of Short-eared Owls, it should also flush the Pink-footed Geese and it will be interesting to see just how many there are out here - any bets on at least 6,000??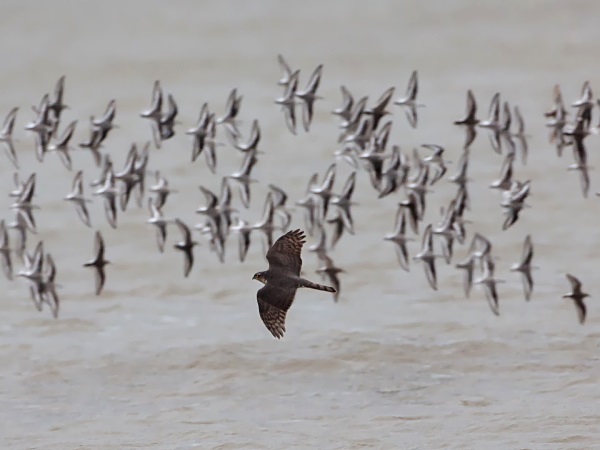 Although wader numbers have been relatively low this winter March is often a month when we can get huge flocks of Knots passing through, these will be birds which have wintered further West or South, many moult on the Ribble Estuary before making their way to their breeding grounds in May.
Top of Page
Forthcoming Events
March/April Highest Spring Tides (Liverpool)
Also see Tides page.

1st March, 10.57hrs (GMT), 9.9m.
2nd March, 11.42hrs (GMT), 10.1m.
3rd March, 12.24hrs (GMT), 10.1m.
4th March, 13.06hrs (GMT), 9.9m.
31st March, 12.21hrs (BST), 9.9m.
1st April, 13.02hrs (BST), 9.9m.
Forthcoming Events
Organised by the Wirral Ranger Service , Flintshire Countryside Service, the RSPB (Dee Estuary) and the Cheshire Wildlife Trust:
All these events and walks have bird interest, even those not advertised specifically for birdwatching. No need to book for these events unless specified - please check below.
Also see 2014 Events Diary.
Saturday 1st March, Sunday 2nd March, Monday 3rd March, Tuesday 4th March, RSPB
Parkgate
High Tide Watch.
Parkgate Marsh is one of the best wetland habitats in the northwest, and when it is flooded by an incoming Spring high tide, the wildlife which lives here is pushed closer, potentially delivering an awe-inspiring spectacle. Join us at the Donkey Stand on The Parade, where we'll be set up with our marquee and telescopes hoping for the right weather conditions to really push the tide in.
You can expect great views of the large numbers of wintering wildfowl and waders shifting around to avoid the rising water, whilst the small mammals living on the marsh are flushed from cover, offering a feeding frenzy for the kestrels, harriers and short-eared owls.
It is recommended to arrive at least one hour before high tide.
High tide details: 1st Mar, 9.9m at 10.57am; 2nd Mar, 10.1m at 11.42am; 3rd Mar, 10.1m at 12.24pm; 4th Mar, 9.9m at 1.06pm.
Saturday 1st March – 9:00am start - high tide 10.41am.
High Tide Birdwatch at
Hoylake
:
Join the Coastal Rangers, the Dee Estuary Voluntary Wardens and the RSPB to see the large numbers of wading birds on Hoylake beach. With a rising tide, we should see the birds at close quarters as they roost and feed. Beginners welcome. Dress warmly and bring binoculars if you have them.
Meet on the promenade at King's Gap, Hoylake.
For further information, contact the Coastal Rangers on 0151 648 4371.
Wednesday 5th March, 11am to 2pm, Waders on the Dee - a guided walk along
Heswall and Thurstaston shore
.
This is a Guided Walk led by Ecologist and well know local birder Jeff Clarke, and organised by the Cheshire Wildlife Trust
www.cheshirewildlifetrust.org.uk
.
This event is
FREE
but
Booking is essential
- ring 01948820728 to book your place.
Banks Road is where the marsh meets the mud and as consequence it has a great variety of waders to enjoy. Lapwings and Golden Plovers roost on the edge of the marsh, Common Redshanks fill the gutters and muddy banks, and Dunlins and Knots stitch the muddy areas along deep probing specialists like the Black Tailed Godwit. In addition the area is good for wildfowl and we may see Common Snipe flushed from cover.
Meet at Banks Road car park (near Sheldrakes Restaurant)
.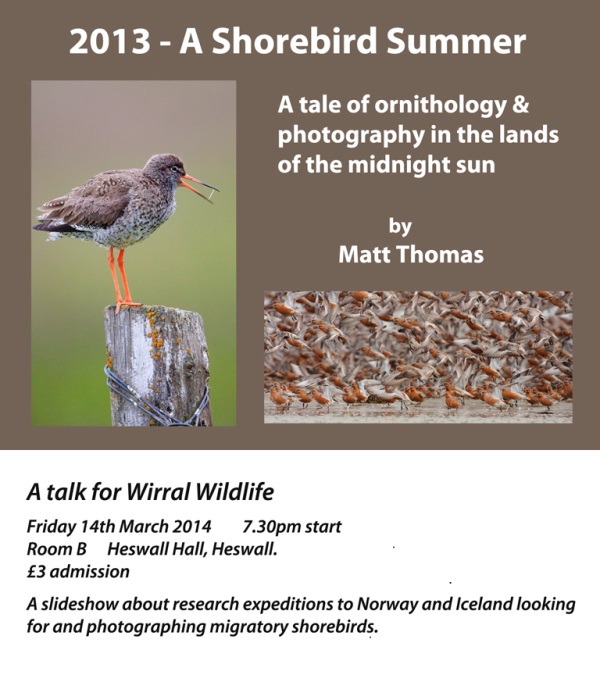 Saturday March 22nd and Sundy March 23rd
- Skydancers on the Dee
.
Most people have never seen a Hen Harrier, but once seen it is rarely forgotten. The RSPB are pleased to bring you a series of events to showcase these enigmatic birds of prey which use the marshes of the Dee Estuary as their home for the winter months.
The name "Skydancer" comes from the aerobatic displays that the male birds perform in their courtship ritual on the moors in the spring. Sadly, this is becoming an increasingly rare sight; they are close to becoming extinct as a breeding species in England, with not a single successful nest this year.
Come along to
Parkgate
to find out more about the hen harrier story and what you can do to help save them before it's too late! Look for the RSPB marquee along the main promenade at Parkgate, where friendly staff and volunteers will be on hand with telescopes and binoculars to show you these beautiful, agile birds hunting over the marsh, and coming in to roost there at dusk. Plenty of family activities and other RSPB information will be available.
Click here
for more details, or ring 0151 353 8478.
Saturday 29th March 1:00pm – 3:30pm
Take Tea on
Hilbre
with the RSPB
Walk across the sands to Hilbre Island where the RSPB will be serving tea and biscuits during the above date and time. They will be on hand to show you the island's unique wildlife and will tell you about the work that the RSPB are doing at their fantastic reserve at Burton Mere Wetlands. There is no need to book, just turn up. Suitable clothing and footwear are essential for the walk out and please note – this is not a guided walk. Remember to bring money for the tea!
For further information, please telephone (0151) 648 4371.
Note:
The Cheshire Wildlife Trust
have a series of events throughout Cheshire and Wirral, in March 2014 this includes a talk by Springwatch presenter and Welsh wildlife expert
Iolo Williams
. See
www.cheshirewildlifetrust.org.uk
for details.