I've often said on this website that the cold weather brings in the waders, and, of course, the reverse is also true. This was well demonstrated during the eight days between 11th and 18th Feb as shown in the graph below.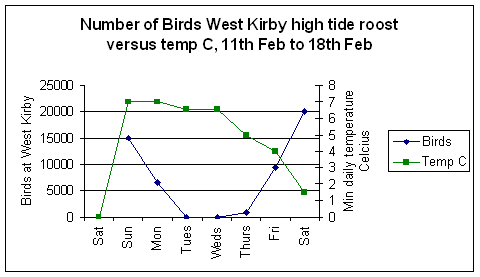 After weeks of cold weather we suddenly saw a mild spell brought in by a westerly wind blowing in from the Atlantic. As the temperature increased the birds just disappeared, on West Kirby beach numbers dropped from 15,000 to just two in two days! Even more remarkably, perhaps, was the increase back up to 20,000 birds as soon as the temperature dropped again. It seems to have been mainly Knot and Dunlin which left and came back, these are by far the most numerous waders at West Kirby. It could well be that the warmer weather means birds are more inclined to fly as they don't need so much energy just to stay alive. The most likely destination at this time of year for birds leaving the Dee are the coasts of the North Sea, probably the Wash and the Waddenzee. But of course, the further east they go the colder it gets, and when the temperature drops they move west again to our comparatively milder climate. Alternatively birds may have used the opportunity to move north to (say) Morecambe Bay, to be replaced by birds coming up from further south. Counts of waders at West Kirby have been high all winter, max in Feb were 15,000 Knot and 9,400 Dunlin. Numbers of Knot at Leasowe have been relatively low this winter but I managed to count a large number there at low tide on Feb 3rd, 22,400. There were 1,830 Bar-tailed Godwit at the same location on the 10th. 440 Sanderling at Hoylake was a good number for this time of year.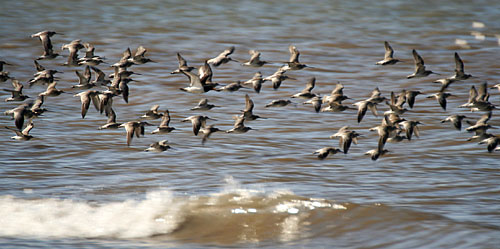 Bar-tailed Godwits and one Oystercatcher flying past Wallasey Shore, Feb 19th, © Sean Fortune
The Richard's Pipit which first arrived in November was last seen on West Kirby marsh on Feb 12th. The Marine Lake at West Kirby held a max of 18 Goldeneye and 11 Red-breasted Mergansers, also a Shag and 3 Great Crested Grebes.
Due to high atm pressure and an adverse wind direction the high spring tides didn't reach the height predicted and consequently didn't cover the marsh at Parkgate. However, those who made it to Riverbank Road, Heswall, had great views of up to five Short-eared Owls, two Hen Harriers, one Water Rail, 1,000 Pintail, 25 Brent Geese, three Peregrine and two Merlin, as well as close views of many other duck and waders. The tide covers the marsh here when it still seems to be miles away at Parkgate!
What to expect in March
I always look forward to the first Wheatear arriving, certainly here on the coast they are a far more an obvious harbinger of spring than the Swallow and once the first one comes through they can be found just about anywhere along the shore. The table below shows the first arrivals of each species over the past three years, don't forget to me with any sightings of early migrants and I'll put it on my latest sightings page.
| | | | | |
| --- | --- | --- | --- | --- |
| Species | 2005 | Location | 2004 | 2003 |
| Wheatear | 16th March | Caldy | 17th March | 9th March |
| White Wagtail | 17th March | West Kirby | 14th March | 6th March |
| Sand Martin | 17th March | Hilbre | 18th March | 8th March |
| Willow Warbler | 25th March | Hilbre | 31st March | 24th March |
| Swallow | 25th March | Hoylake | 18th March | 12th March |
| House Martin | 2nd April | Thurstaston | 28th March | 15th March |
| Swift | 17th April | Willaston | 20th April | 24th April |
| Whitethroat | 18th April | Leasowe | 15th April | 17th April |
| Cuckoo | 1st May | Point of Ayr | 3rd May | 4th May |
As well as these land migrants we should also get our first Gannets and Sandwich Terns out to sea, and a passage of Little Gulls past Hilbre Island. These come up the Irish Sea and migrant overland from Crosby to Northumberland, from which they continue on to their breeding grounds on the Baltic. A good selections of grebes and divers are usually to be seen in the mouth of the estuary in March.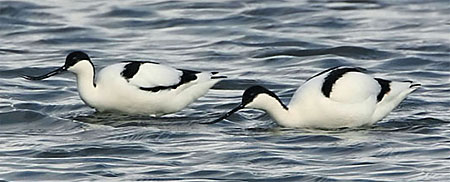 © Matt Thomas, Avocets at Inner Marsh Farm, April 2005.
Numbers of Knot and Dunlin will drop right by the end of the month, but others will be gathering prior to moving to their breeding grounds - so expect to see plenty of Redshank and Black-tailed Godwits. A few spotted Redshanks should be passing through Inner Marsh Farm, and may be an Avocet or two towards the end of the month.
There are some very high spring tides due, including three 10.4m tides (see next section for details). Even under less than ideal conditions (ideal being a strong W to SW wind) at this height the marsh should be covered giving good views of Short-eared Owls, Hen Harriers, Water Rails and the usual duck and waders.
Many thanks go to Rosemary Hannay, David Haigh, Nigel Young, Dave Harrington, Alister Sclater, Damian Waters, Alistair Townsend, Allan Conlin, Mike Hart, John Boswell, Dave Wild, Ian and Joan Pickavance, Iain Douglas, Dave Leeming, Colin Wells, Gilbert Bolton, Steve Ainsworth, Paul Vautrinot, Bernard Machin, David Esther, Colin Schofield, Clive Ashton, Neil Friswell, Colin Jones, Charles Farnell, Steve Williams, Phil Woolen, Chris Butterworth, Mal Smerdon, Jeremy Bradshaw, Susan Jenkins, Heather White, Stephen Menzie, Dave and Emma Kenyon, Jane Turner, Wayne Dutton, Derek Gifford, Paul Rutter, Sean Fortune, John and Andrew Morris, Mark Turner, Dorothy Jebb, Laura Bimson, the Dee Estuary Voluntary Wardens and the Hilbre Bird Observatory for their sightings during February. All sightings are gratefully received.