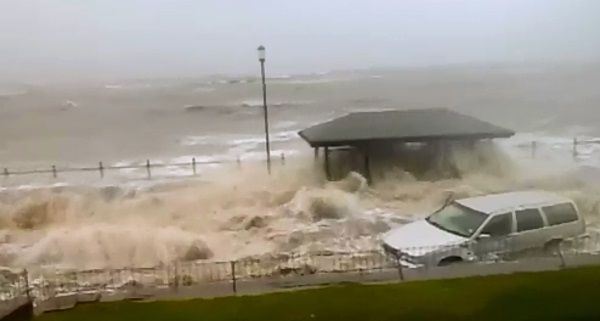 I awoke on December 5th hoping the marsh at Parkgate would be covered by the high tide that day, but the atmospheric pressure was high locally and, although there was an intense low pressure system around, it was, I thought, the wrong side of the country to have a large effect on the tide height in the Irish Sea. Well, I certainly got that wrong!
First, a few facts and figures. High tide was at 1224hrs (Gladstone Dock, Liverpool) and the predicted height was 9.9m. The atmospheric pressure at midnight on the 4th was a very high 1030 mbar, on my barometer that's between set Fair and Very Dry. But crucially the pressure then plummeted and dropped 18 mbar in just twelve hours, reaching it's lowest point of 1012 mbar at mid-day on the 5th, i.e. at high tide. That sudden drop in pressure resulted in the wind increasing from Force 5 (20 knots, a fresh breeze and gusting to 25 knots), to Force 9 (45 knots, a strong gale and gusting to Force 10 / 55 knots, a full blown Storm). The wind reached it's peak at 0800hrs and continued to blow at that force all morning, i.e. as the tide was coming in. The wind direction was from the West throughout this period.
All this resulted in a storm surge, I've not seen any official figures for Liverpool Bay but my own estimate, judging from the height it reached at Parkgate, is that the storm surge put an extra 1.2m on the tide, i.e. it reached a height of 11.1m compared to the expected 9.9m. So this was a BIG surge, the highest since February 1990 in the Dee Estuary/North Wirral area, and on top of that was the force of the waves which did much of the damage.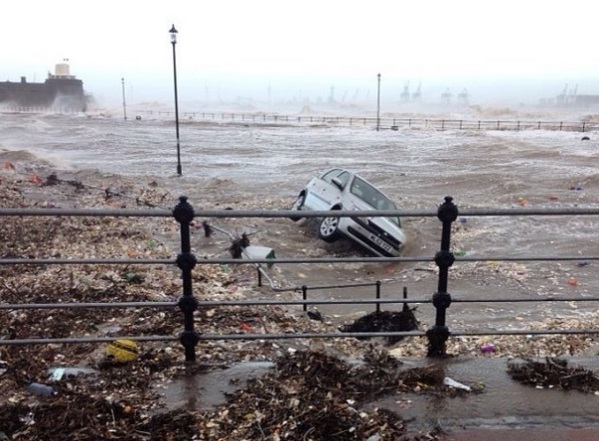 This, believe it or not, is the Fort Perch car park at New Brighton. We normally stand here to look for Purple Sandpipers or Mediterranean Gulls on the Marine Lake, but on Dec 5th the whole area just became part of the stormy sea. Photo from
www.liverpoolecho.co.uk
(andyhamill85).
The photos really sum up the effect of the storm at Burton, New Brighton and West Kirby; Burton Marsh must have been a spectacular sight completely covered by the sea. Elsewhere, the rocks on Hilbre, Little Eye and Red Rocks suffered from much erosion. The Old Baths car park at Parkgate had to be swiftly evacuated as the tide started to pour over the sea wall and the sand dunes at the Point of Ayr were badly eroded. I've not heard anything about Gronant but the shingle ridges and sand dunes there must have been right in the path of the tide and waves and it will be interesting to see just how much it has changed on my next visit.
But what effect has all this had on the birds and other wildlife? At Parkgate we had great views of about 12 Water Rails and it would have been a great opportunity to do a coordinated count of this secretive species along the length of the marshes as they were flushed - but I wasn't the only one to be surprised by the height of the tide and the heavy rain squalls meant few birders were about. The rodents on the marshes will have been wiped out which means little food for Short-eared Owls in particular, but no doubt they are able to recolonise the area quickly and by next winter things should be back to normal. A surprise was the lack of a sea bird wreck with not a single dead bird reported from the shore, presumably this was due to the fact that the storm was short-lived and that the wind was from the west and north-west rather than from the south where most sea birds spend the winter. Wader numbers were already relatively low this winter due to the mild weather and the storm appears to have had little effect on these.
As you can see from the photo below the storm surge left a large amount of tidewrack right along the English side of the estuary, this attracted a large number of small birds which have been feeding on it including Meadow, Rock and Water Pipits, Chiffchaffs, Stonechats, Linnets, Pied Wagtails, a very late Wheatear and a certain mega rarity............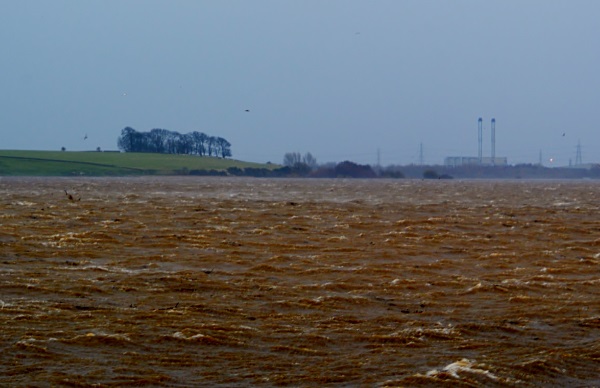 December 5th, the scene from Denhall Quay looking across Burton Marsh towards Burton Point
© Shaun Hickey.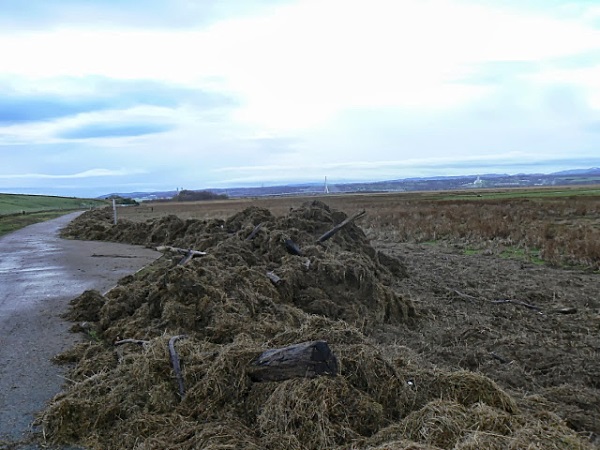 Buff-bellied Pipit at Burton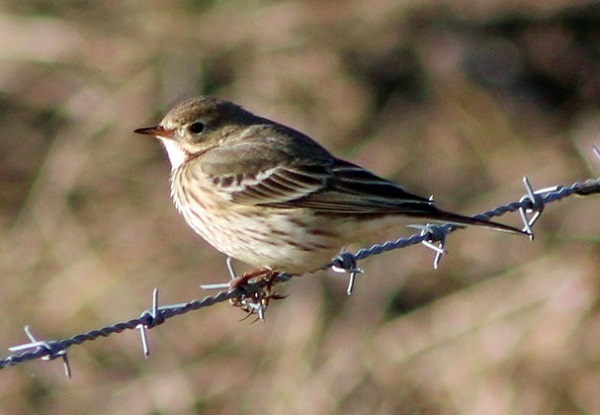 Buff-bellied Pipit at Burton, Dec 21st © Elliot Montieth.
This Buff-bellied Pipit, the first ever recorded for North-west England, was found by local birder Eddie Williams on Dec 20th. Eddie was looking through the birds feeding on the tidewrack on Burton Marsh, left by the afore-mentioned storm, searching in particular for a Water Pipit seen the previous day. He did see an unusual looking pipit but views were poor and intermittent, it took him three hours to eventually identify it as a Buff-bellied Pipit - a MEGA rarity - by which time it was getting near dusk. He had managed to get a few record shots and that evening he circulated these photographs around some local birders and they were all on site at the bottom of Denhall Lane the following morning to confirm it was a Buff-bellied Pipit - what a fantastic find and congratulations to Eddie for his great identification skills! It was still there the next day (22nd) until around 9.30am when it was flushed by a Sparrowhawk, it was not seen again until St Helens birder Colin Davies found it on Christmas Day morning and it was then well seen by a large number of twitchers over the holiday period and was still present at the end of the month.
Up to the end of 2012 there were a total of 37 British records (plus five, as yet, unchecked reports in 2013 which includes two birds in Berkshire which had been present at the end of 2012). Remarkably all but four of these have been recorded over the past nine years, the reason for this sudden increase is not yet fully understood.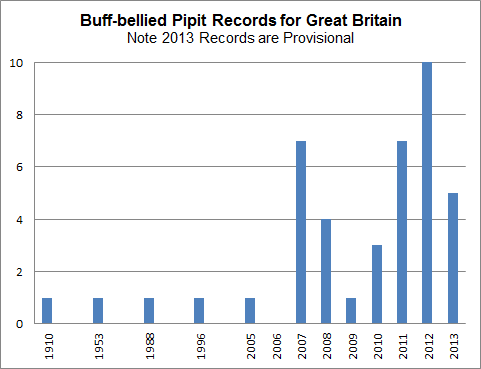 All the British Buff-bellied Pipit records are of the North American race Anthus rubescens rubescens, the nearest breeding area is Greenland and it may well be increasing here although greater observer awareness is also probably having a part to play in the increase of records. Birds migrating south from the southern tip of Greenland are at the same latitude as Shetland, so autumn storms may well drive them east on the same migration route used by Northern Wheatears and Common Redpolls.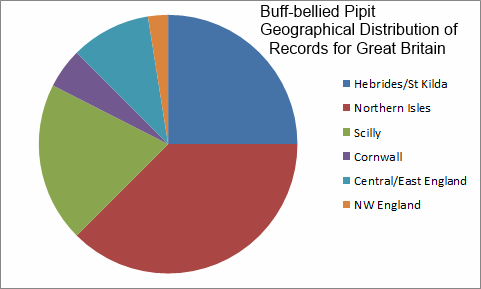 The western origin of these birds is obvious from the above pie diagram with the large majority of records coming from the Northern Isles, the Hebrides and the Scilly Isles. The first British record came from St Kilda in 1910, since then there have been three more records from there and you wonder just how many have been missed at these remote group of islands. The first mainland birds weren't recorded until 2007 with singles in Cornwall and Oxfordshire, as already mentioned two were in Berkshire last winter and there was one in Cornwall in October 2013 - making the Burton bird only the sixth mainland record.
Richard Smith.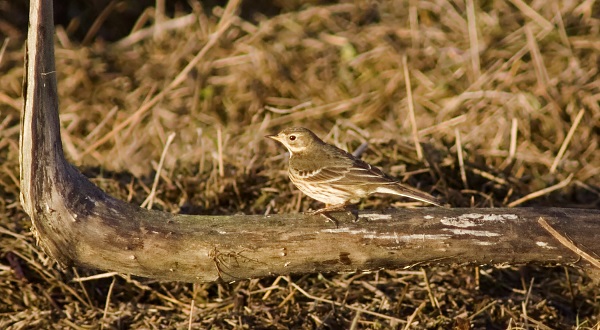 Buff-bellied Pipit at Burton, Dec 21st © Jeremy Bradshaw.
References/Acknowledgements:
1. Eddie Williams, Finders report: 'American Buff-bellied Pipit, Burton Marsh, Cheshire', Rare Bird Alert Website - www.rarebirdalert.co.uk.
2. Lighthouse and Wirral Birding Blog - lighthousebirding.blogspot.co.uk.
3. Report on rare birds in Great Britain in 2012, British Birds 106, October 2013, and previous Reports on rare birds in Great Britain 2007 to 2011 as published by British Birds.
4. British Birds Interactive (BBi), 2007, and British Birds archives 1907 to 2007 obtained from
www.birdguides.com
.
5. BirdGuides records for 2013,
www.birdguides.com
.
Top of Page
Dee Estuary Video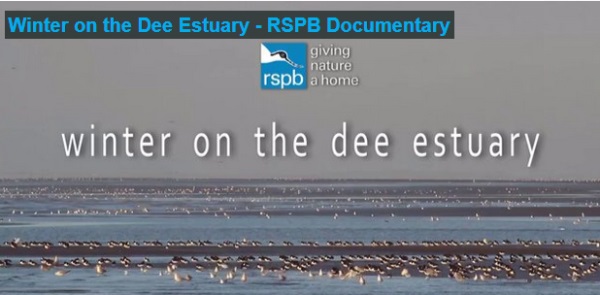 Winter on the Dee Estuary - RSPB Documentary
A film by Scott Reid:
"Winter is without a doubt the most spectacular season on the estuary of the river Dee. This wonderful RSPB site in Cheshire welcomes thousands of visitors from across the UK and beyond every year, who come to experience the outstanding wildlife that it has to offer. In just under 20 minutes, I have tried to captured the true magic of this great estuary and the memorable extravaganza put on by it's wintering birds. The RSPB and the Dee Estuary are both very close to my heart and it was a pleasure to spend a nine month placement working with the RSPB team whilst producing my first wildlife documentary".

Top of Page
December Bird News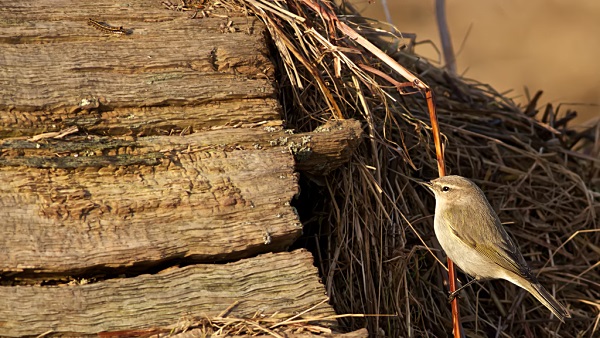 Siberian Chiffchaff with it's eye on a juicy moth caterpillar (top left), Burton on Dec 29th © Jeff Cohen
There is no doubting where the rarity hot spot was this month -
Burton Marsh
between Burton Point and Denhall Quay. As well as the Buff-bellied Pipit mentioned above we had an American Wigeon at Decca Pools from the 13th to 19th, a Glossy Ibis flying over on the 14th and a Siberian Chiffchaff present from the 13th. This 'Sibe' was with five other Chiffchaffs, a good sized flock for December, and were first seen feeding by the path going towards Denhall Quay, they later moved to the end of Station Road and close to where the Buff-bellied Pipit was. Although two Siberian Chiffchaffs were reported from time to time there was only one definite one with the other bird being subject to much discussion with even the most expert of birders unable to assign it's race. There is an interesting article about this bird on the
Lighthouse and Wirral Birding Blog
for December 27th. Then there was the Northern Wheatear, first reported on the 22nd and present to the year-end; the previous latest record for Cheshire and Wirral was Nov 26th 1982 at Poulton. A Great White Egret was also seen, and two flew over on the 20th, with a further two records of two birds at Parkgate through the month.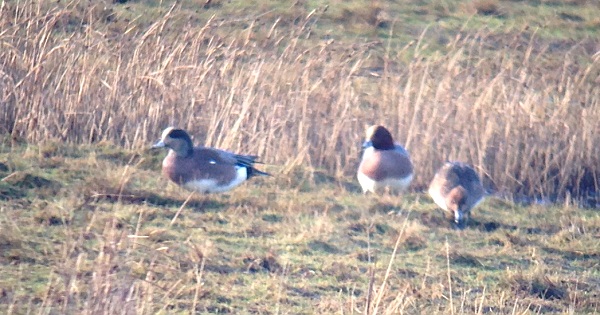 American Wigeon (left) by Decca Pools, December 17th © Steve Williams.
Elsewhere, good numbers of Twite were in the
Flint and Connah's Quay Reserve
area, with the highest single count being 86 although there is probably a total of at least 100 birds. Four Hen Harriers appear to be over-wintering, although the grey male (thought to be a sub-adult) was only reported (and photographed) once, on the 26th.
Brent Geese reached at least 198 on
Hilbre
and the maximum count of Pink-footed Geese was 3,500 on Burton Marsh on the 6th. A female Snow Bunting was on Little Eye early in the month and a male on
Hilbre
on Christmas Day.
With the wet and windy weather and mild temperatures wader numbers have been on the low side, but 3,100 Black-tailed Godwits flying past
Neston reedbed
on the day of the storm was an impressive number, at least half that number have been regular on
Thurstaston shore
. 680 Bar-tailed Godwit on
Hoylake Shore
on Dec 22nd was a good count. Five Greenshank at the
Connah's Quay Reserve
was a high count for December. The highest number of Purple Sandpiper was 17 at
New Brighton Marine Lake
on the 8th. The highest Knot count was 16,000 at
Hoylake
on the 3rd.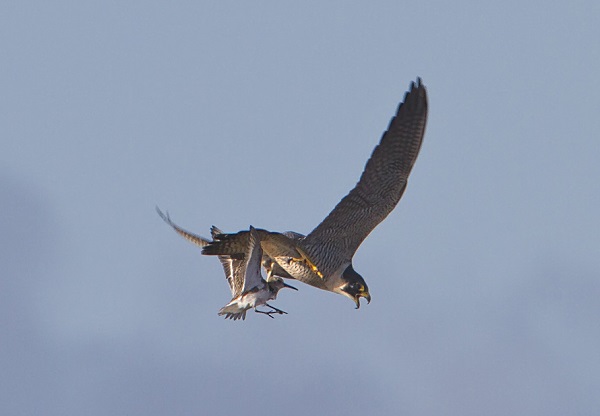 A Peregrine with an unlucky Dunlin, Hoylake Shore on December 4th © Charles Farnell
Richard Smith.
Many thanks go to Eddie Williams, Rich Mearns, Derek Bates, Charles Farnell, Steve Hinde, Frank Burns, Dan Trotman, Mike Buckley, Kenny Dummigan, Paul Brady, Colin Davies, Allan Conlin, Keith Scovell, David Haigh, Richard Steel, Andy Davis, Denzil Nicklin, Sheila Ryde, Hannah Meulman, Elizabeth Maddock, Jeremy Bradshaw, Alan Hitchmough, John Jakeman, Steve Williams, Ray Eades, Greg Harker, Bruce Atherton, Gail Wilson, Chris Butterworth, Dave Wild, Matt Thomas, Jeff Cohen, Colin Schofield, Bernard Machin, Roy Lowry, Mark Evans, Dave Edwards, Elliot Montieth, Alan Irving, Richard Beckett, David Small, Chris Hancock, Rob Bodels, Steve Hand, Deborah Marwaha, John Rowlnds, Mark Johnson, Paul Vautrinot, Ken Mullins, the
Lighthouse and Wirral Birding Blog
, the
Dee Estuary Wardens
and the
Hilbre Bird Observatory
for their sightings during December. All sightings are gratefully received.
Top of Page
What to expect in January
There are some high spring tides forecast for both early and late January, unusual for this time of year. As I write this on the last day of 2013 I see the forecast for Friday Jan 3rd is for strong SW winds and a nearby low pressure system, this is on a day when the predicted tide height is 10.1m so we can certainly expect the sea to cover the marsh at Parkgate with good views of Water Rails and Short-eared Owls, as well as thousands of raptors, wildfowl and waders etc. The strong southerly air flow is predicted to remain for a few days and we could well get some good sea-watching from Hilbre, Point of Ayr and north Wirral including Gannets (a January rarity) as well as a good selection of divers and grebes.
The high tides will also be a good opportunity to see the waders on Hoylake beach, this time last year numbers of Knot and Sanderling were really spectacular. As yet there are not as many this winter but they still make for a fantastic sight. It is also worth having a look at the pontoon on New Brighton Marine Lake at high tide as we would expect numbers of Purple Sandpipers to be approaching 20, with a similar count on Hilbre.
Brent Geese usually peak this month with 250+ around the Hilbre, Little Eye and West Kirby shore area. On a big high tide they are often just off the marsh at West Kirby.
So far this winter gull numbers have been relatively low but they are likely to build up rapidly this month and we can easily have a total of 20,000 along north Wirral, the majority of which will be Herring Gulls but expect to see a few rarities among them - if you have the patience!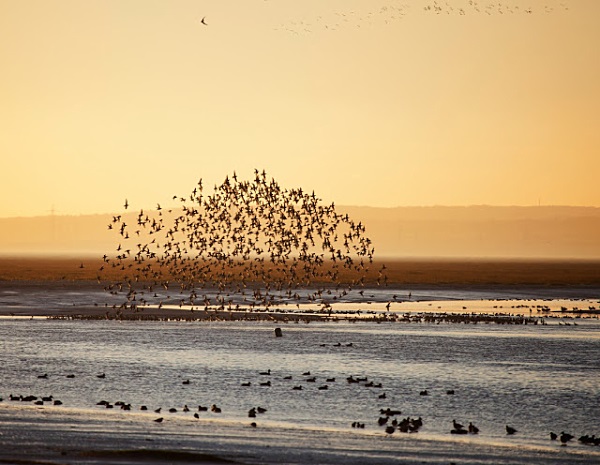 Top of Page
Forthcoming Events
January and February Highest Spring Tides (Liverpool)
Also see Tides page.

2nd January, 11.25hrs (GMT), 9.9m.
3rd January, 12.13hrs (GMT), 10.1m.
4th January, 13.01hrs (GMT), 10.1m.
5th January, 13.49hrs (GMT), 9.9m.
31st January, 11.13hrs (GMT), 10.0m.
1st February, 12.00hrs (GMT), 10.2m.
2nd February, 12.45hrs (GMT), 10.2m.
3rd February, 13.29hrs (GMT), 10.0m.
Forthcoming Events
Organised by the Wirral Ranger Service , Flintshire Countryside Service and/or the RSPB (Dee Estuary):
All these events and walks have bird interest, even those not advertised specifically for birdwatching. No need to book for these events unless specified - please check below.
Also see 2014 Events Diary.
Saturday 4th January - 11:00am start, 1250pm high tide.
High Tide Birdwatch at
Hoylake
:
Join the Dee Estuary Voluntary Wardens and the RSPB to see the large numbers of wading birds on Hoylake beach. With a rising tide, we should see the birds at close quarters as they roost and feed. Beginners welcome. Dress warmly and bring binoculars if you have them.
Meet on the promenade at King's Gap, Hoylake.
For further information, contact the Coastal Rangers on 0151 648 4371.
Saturday 11th January 11:00am – 2:30pm
Take Tea on
Hilbre
with the RSPB
Walk across the sands to Hilbre Island where the RSPB will be serving tea and biscuits during the above date and time. They will be on hand to show you the island's unique wildlife and will tell you about the work that the RSPB are doing at their fantastic reserve at Burton Mere Wetlands. There is no need to book, just turn up. Suitable clothing and footwear are essential for the walk out and please note – this is not a guided walk. Remember to bring money for the tea!
For further information, please telephone (0151) 648 4371.
Friday 31st January, Saturday 1st February, Sunday 2nd February, Monday 3rd February.
RSPB
Parkgate
High Tide Watch.
Parkgate Marsh is one of the best wetland habitats in the northwest, and when it is flooded by an incoming Spring high tide, the wildlife which lives here is pushed closer, potentially delivering an awe-inspiring spectacle. Join us at Parkgate's Old Baths car park and the Donkey Stand near Nicholl's ice cream shop, where we'll be set up with marquees and telescopes hoping for the right weather conditions to really push the tide in.
You can expect great views of the large numbers of wintering wildfowl and wading birds shifting around to avoid the rising water, whilst the small mammals living on the marsh are flushed from cover, offering a feeding frenzy for the kestrels, harriers and short-eared owls.
Car parking is limited on Parkgate promenade and at the Old Baths car park, but the RSPB has arranged for extra free parking to be available for visitors at Marsh Nurseries on Boathouse Lane (CH64 6RD) and the Wirral Country Park car park on Station Road (CH64 6QJ).
It is recommended to arrive at least one hour before high tide.
High tide details: 31st Jan, 10.0m at 11.13am; 1st Feb, 10.2m at noon; 2nd Feb, 10.2m at 12.45pm; 3rd Feb, 10.0m at 1.29pm.
Sunday 2nd February, 10.30am to 2pm.
Parkgate
High Tide Bird Watch.
This is a Guided Walk led by Ecologist and well know local birder Jeff Clarke, and organised by the Cheshire Wildlife Trust
www.cheshirewildlifetrust.org.uk
.
This event is
FREE
but
Booking is essential
- ring 01948820728 to book your place.
We will concentrate on raptors, waders and wildfowl; with it being a 10.2m tide we may see a Water Rail or two and possibly some small mammals swimming for shore. In the nearby vicinity there will be many other birds to see including Skylarks, Rock Pipits, finches and possibly a few Scandinavian Thrushes. Once it reaches high tide we will walk down to the Donkey stand Flash and look for roosting waders.
Waterproof clothing and suitable walking footwear is recommended.
Meet at the Old Baths Car Park.
Saturday 8th February 11:00am – 2:30pm
Take Tea on
Hilbre
with the RSPB
Walk across the sands to Hilbre Island where the RSPB will be serving tea and biscuits during the above date and time. They will be on hand to show you the island's unique wildlife and will tell you about the work that the RSPB are doing at their fantastic reserve at Burton Mere Wetlands. There is no need to book, just turn up. Suitable clothing and footwear are essential for the walk out and please note – this is not a guided walk. Remember to bring money for the tea!
For further information, please telephone (0151) 648 4371.