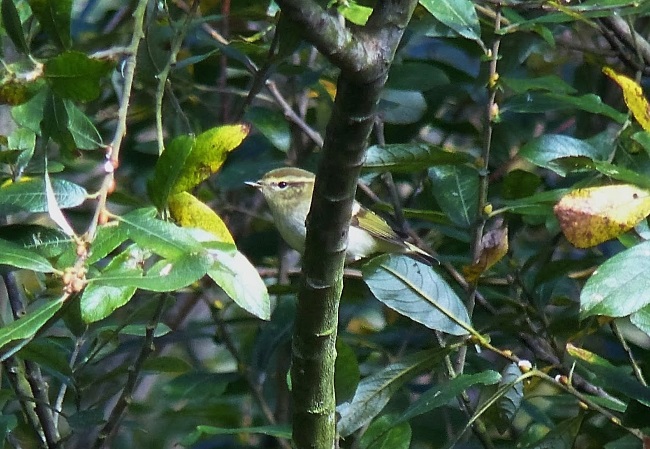 Yellow-browed Warbler near Leasowe Lighthouse, Oct 11th © Eddie Williams

The sub-title 'The Even More Mysterious Yellow-browed Warbler' refers to my article in the February 2016 Newsletter - The Mysterious Pallas's Warbler. All the mystery surrounding the arrival into the UK of Pallas's Warblers also applies to Yellow-browed Warblers - but even more so as there are more of them and they are increasing in number. But before explaining what the mystery is let us concentrate on the remarkable 2016 influx, and how it compares to previous years.
Dee estuary and North Wirral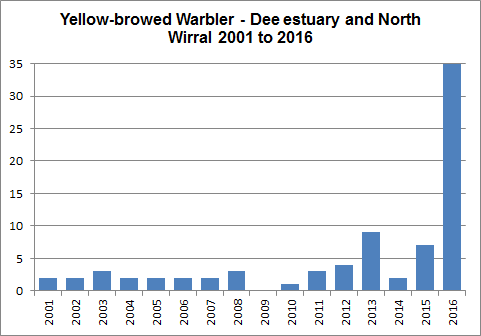 We had heard about the large numbers arriving on the east coast so we were expecting them - but we have never had more than a handful of records here on our part of the west coast, even in a good year such as 2013, so weren't expecting anything too special. The first ones arrived at Point of Ayr and West Kirby on Sep 30th, two in one day was unusual. But it was Oct 3rd, when we had six birds including three on Hilbre and two at Leasowe Lighthouse, that we realised it was going to be an exceptional year. At Hilbre they couldn't believe it, the first one turned up early morning on the 3rd - only the eleventh record for the island. It was caught and ringed. Only once has Hilbre had more than one record in a year, that was two in 1987, so they were astounded when on the same day a second bird was caught and ringed, quickly followed by a third! Elsewhere, birds were turning up in birders gardens and on Oct 4th two were in a garden in Meols. Think about this - Yellow-browed Warblers are turning up in gardens where there happens to be someone knowledgeable enough to identify them. How many were in gardens where they went completely unnoticed? Many hundreds, I suspect! Other multiple records included three at Leasowe Lighthouse on the Oct 4th with at least three at Red Rocks on the 8th. A total of 35 records compared with the previous highest total of nine in 2013.


Yellow-browed Warbler caught and ringed on Hilbre, October 3rd © Allan Hitchmough

United Kingdom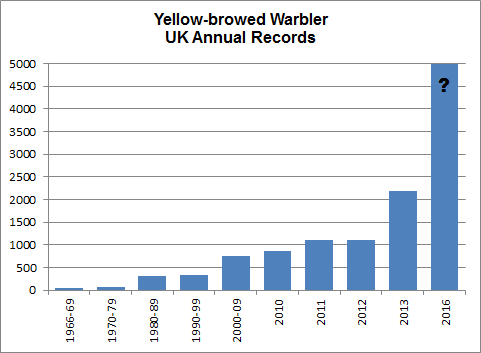 This autumn a high pressure system over the British Isles and low pressure over the Balkans created ideal conditions for birds from Asia to be blown from the east and westwards across Europe to the United Kingdom. These conditions brought in mega rarities such as Siberian Accentors, and record numbers of Yellow-browed Warblers. Records were broken at site after site including peak day counts of 139 at Flamborough Head and 72 on Fair Isle, even on the west coast there were 14 on Bardsey Island in one day. The graph shows published data from British Birds which goes up to 2013. The 2016 figure of 5,000 is from BirdTrack so is probably not comparable with BB records but, given the exceptional numbers at some individual sites, is probably not too far off the figure BB will eventually come up with. That's not taking into account the unknown number of birds which must have gone through the country un-observed which surely must be in the several thousands.
Mystery
The Yellow-browed Warbler is an Asian leaf warbler which breeds from the Urals right across Siberia going as far as the Sea of Okhotsk to the east. Although there is much overlap with Pallas's Warbler the breeding range reaches further north and west. It winters in the Burma, Thailand, Vietnam, south China area and as far south as the Malayan Peninsula. Nobody knows how many there are but it is likely to be several million.
So that's the main mystery, what exactly are thousands of Yellow-browed Warblers doing in north-west Europe in autumn when they should be in the lush jungles of south-east Asia? Any theory which can explain that will also have to explain the second mystery, why have numbers of Yellow-browed Warblers increased so much over the past 20 years or so?
The following is an extract from British Birds (White & Kehoe), published in February 2016 so is the latest thinking on the subject, and they sum up the situation very nicely:
There remains two great unanswered questions. First, what has caused this remarkable upsurge? As far as we know there is no documented evidence for either a population increase or a westward shift in breeding distribution that might explain this scale of increase. Second, where do they go next? Looking at the paucity of records in northwest Iberia, de Iuana & Garcia (2015) suggested that many birds eventually reorientate to their normal wintering grounds. Alternatively, many more than are reported may be wintering in the Western Palearctic or West Africa; yet the great rarity of this species in spring, either in Britain or anywhere else in Europe, suggests that really rather few do overwinter successfully. The fact that ageing birds in the field in autumn is not possible makes it difficult to establish whether many return as adults in subsequent years, although there is no evidence of this from ringing data. Sadly, the most likely scenario is that most simply continue on a westward trajectory and perish in the North Atlantic. Records from the Azores in 2001 and 2014 demonstrate that some at least continue heading southwest.
Theories
White & Kehoe are saying that there is really no evidence that a new migration route ending up at a new wintering range somewhere in western Europe or West Africa has been established - despite that being the favourite theory of many. On the reasonable assumption that the birds we see here come from the western end of their breeding range, and with records from Scandinavia strongly suggesting that they arrive there first from an easterly direction before heading south west through the UK, then the evidence is that Yellow-browed Warblers are flying on a great circle route starting exactly 180º in the wrong direction, the right direction being south-east - this is classic Reverse Migration. We don't know what causes this Reverse Migration (genetic defect? environmental effect?) and we certainly don't know by what mechanism Reverse Migration is causing more and more birds to fly the 'wrong way' each year. So the mystery remains but I have to agree with White & Kehoe that it is difficult to avoid the sad conclusion about their fate.
The map above, supplied by Rare Bird Alert, shows Yellow-browed Warbler records across the UK for the week of Sep 28th to Oct 4th 2016. The first thing to note is that the timing of the records showed that the birds arrived in the Shetlands and the North-East first and they then moved south west across the UK - thus continuing on their great circle route from Siberia. In that week most had just arrived across the North Sea and were resting and feeding-up on the east coast. But they didn't stay there for long, so the second thing to note are the birds lined up on the south-west coast of Ireland, the western end of Cornwall and the Scilly Isles. Surely, like Thelma and Louise, they just kept going!
References and Sources of Information:
1. The Mysterious Pallas's Warbler, http://www.deeestuary.co.uk/news0216.htm, Richard Smith (Reverse Migration is explained in more detail in this article).
2. Sightings sent to Dee Estuary Birding for inclusion in the Latest Sightings page, 2001 to 2016 (for which many thanks).
3. BirdGuides - www.birdguides.com.
4. BirdTrack (BTO) - www.birdtrack.net.
5. White & Kehoe, Scarce Migrants 2013: passerines, British Birds: Vol 109, 69-134 (Feb 2016).
6. Rare Bird Alert, https://www.rarebirdalert.co.uk/, weekly round up Sep 28 to Oct 4 2016.
7. J. Robol, Reversed migration as the cause of westward vagrancy by four Phylloscopus warblers, British Birds 62, March 1969.
8. K. Thorup, Vagrancy of Yellow-browed Warbler and Pallas's Warbler in north-west Europe: Misorientation on great circles?, Ringing & Migration 19: 7-12, 1998.
9. Tony Broome, Bird News Editorial, No. 103, CAWOS, Nov 2016.
Richard Smith.
Colour Ring Report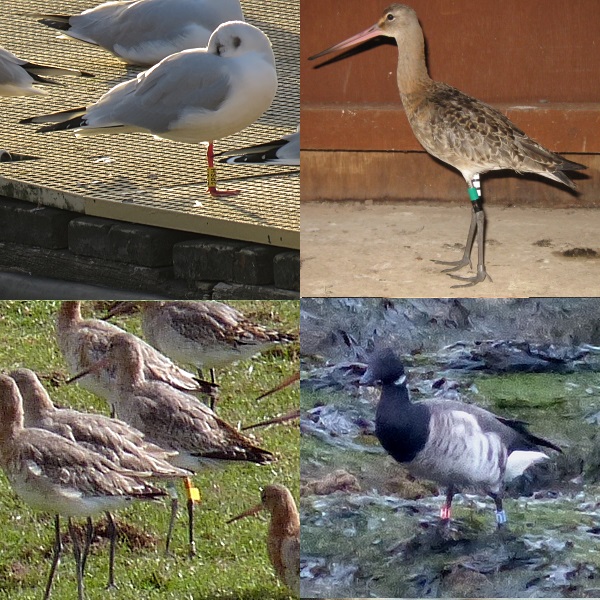 Top left and clockwise: Black-headed Gull 2PSH (Richard Smith), Black-tailed Godwit GN-W= (Barry O'Mahony, photo at ringing site), Brent Goose HDRB (Alan Hitchmough), Black-tailed Godwit GW-OYflag (Richard Smith).
A good month for colour-ringed birds. As always Black-tailed Godwit records predominate and there was a definite movement of birds from the Wash to the Dee estuary, perhaps due to the storm Angus which brought gales and rain to the east coast. As you will see below, one godwit was not seen for 13 years before turning up again last year - where was it for all those years? Perhaps spending each winter in some obscure creek in southern Ireland. As well as an east west movement over the past few weeks we've also noticed several other birds turning up on the Dee estuary which were completely absent last winter - but that may have been due to last winter's appalling weather and the lovely still crisp weather this last November has been a very welcome change, I'm sure it is no coincidence that we have had lots of Black-tailed Godwits here.
Black-headed Gull
2PSH -
black letters on yellow ring.
Ringed at Pitsea Landfill Site, Essex on March 12th 2016.
Recorded on the pontoon on West Kirby Marine Lake on November 7th 2016 and on West Kirby Shore on November 11th 2016.
Knot
Y flag with letters TAH - R.
Ringed at Brenna in Porsanger Fjord, northern Norway, on May 26th 2013, during spring migration.
Recorded at Thurstaston on November 3rd 2016.
It was seen back at Porsanger, northern Norway, on May 21st and 26th 2015.
It was spotted at the remote island of Griend whilst moulting on the Waddensee, Netherlands, in September 2015 and was recorded a further seven times at the same location from August to October 2016.
Black-tailed Godwits
GN-W=
, ringed at Ringaskiddy, Cork Harbour, Ireland, on September 29th 2014.
Recorded on Thurstaston Shore from November 14th to 28th 2016.
First record after ringing was at the Slob, Youghal, County Cork, in May 2015.
It was in west Iceland in late April 2016.
After breeding it moulted at Carr Lane Pools, Mersey Estuary, in July and August 2016.
Of the birds ringed in Cork Harbour (58 in total) this is the fourth to be recorded in England and the third in Iceland, but the first to be seen in both.
GW-OYflag
, ringed as a chick in northern Iceland on July 13th 2012.
Recorded on Thurstaston shore on October 31st 2016.
The first record after ringing was on Frodsham Marsh on August 20th 2012 and it stayed in the Mersey estuary area until mid-September. October to December 2012 saw it at the Point of Ayr area with four records at Warren Farm, Talacre. During the cold April of 2013 it was at Gilroy, West Kirby, and Caldy. It was at Marshside, Southport, in September 2013.
Through July to October 2014 it was on the Wash and next record was again at Warren Farm in February 2015. In April 2015 it was in Lancashire during July and August 2016 it was on Frampton Marsh, the Wash.
L-YN//W
, ringed on the Wash on September 9th 2002.
Recorded on Thurstaston Shore on November 22nd to 28th 2016.
This bird spends every March and April on the famous Cley Nature Reserve in Norfolk from which there must be around 100 records. It is also recorded regularly during the return migration (July to October) at Cley, other Norfolk sites and the Wash - although seen far less than in spring. It was at Cley all July 2016.
It was seen in Iceland during the breeding season in 2008 and 2009.
Winter records are very sparse with four sightings from Ballmacoda in County Cork, Ireland, in December 2005 and January 2006 being the only records - apart from one intriguing record from Frodsham Marsh on February 27th 2009. It is certainly possible that it spends every winter in some obscure creek in southern Ireland, unseen by birders, and that the Frodsham Marsh record was when it was making it's way back to Cley for the spring moult, and that it's visit to Thurstaston this late November was when it was on it's way back to Ireland.
L-GW//W
, ringed on the Wash on September 9th 2002 (in the same catch as L-YN//W above).
Recorded on Thurstaston Shore on November 24th 2016.
This bird was ringed in 2002 and not seen again until it was spotted in County Galway, west Ireland, on October 25th 2015. It was back on the Wash from late July and through August 2016. Is this another bird which disappears into some backwater of Ireland?
OB-OflagN
, ringed in Moeze near La Rochelle, France, on February 26th 2009.
From September 2016 Newsletter "It has been recorded in the same area of France every year since being ringed. Some years it arrives back there as early as July so it must have been late this year being at Gilroy from August 18th to 22nd."
It safely made it back to France and seen at Fouras near La Rochelle at the end of October, see photo below.
Brent Goose
HDRB
(H on red ring, D on blue ring - see photo) - ringed on Axel Heiburg Island (Arctic Canada) on August 2nd 2007.
Arrived back at Hilbre on October 17th 2016 with it's partner and two young birds.
First recorded on Hilbre on December 24th 2008 and recorded every winter since.
Richard Smith and Matt Thomas.
Colour-rings were also reported by Steve Hinde, Colin Schofield, Tanny Robinson, Hugh Stewart, John Jakeman, Alan Hitchmough, Derek Bates, Steve Williams and the Hilbre Bird Observatory.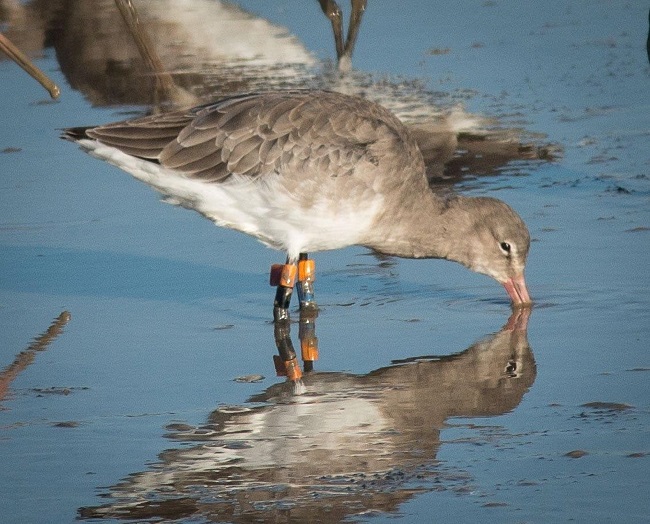 Black-tailed Godwit in Fouras, France, October 2016 © Vincent Lelong.
Top of Page
November Bird News
Some lovely sunny weather during the month meant superb conditions for watching birds, and photographing them. Short-eared Owls were no doubt the favourite species and I show several pics below, topped by Jeff Cohen's superb photograph below. Up to six were regular off Denhall Quay and we had four flushed by high tides mid-month at Parkgate.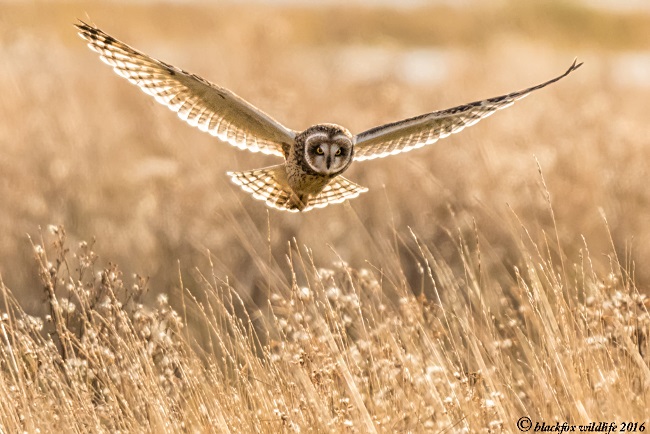 Short-eared Owl at Denhall Quay, November 23rd © Jeff Cohen
It was good to see two grey male Hen Harriers as well as at least three ringtails. There were also several Marsh Harriers around, max four on the 30th. We still had remarkable numbers of egrets max 12 Great White Egrets early in the month and six Cattle Egrets at Burton Mere Wetlands.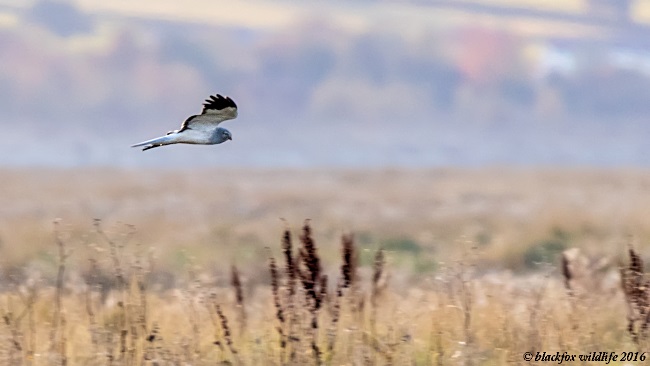 Male Hen Harrier at Denhall Quay, November 1st © Jeff Cohen
We've now got used to large numbers of Pink-footed Geese on the estuary and they are a fantastic sight. 4,000 were feeding in a field at Puddington on the 19th. After a steep increase of Brent Geese over the past 20 years numbers peaked at 262 in 2012, and this number was equalled last winter so counts have plateaued out over the past five years. But that record of 262 was smashed on the 13th with 402 distributed between West Kirby shore, Bird Rock and Little Eye. Many were floating on a flat calm sea making for ideal counting conditions.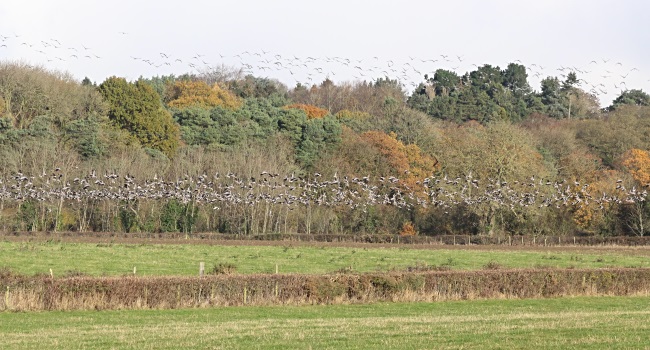 Pink-footed Geese taking off from a field in Puddington, November 19th© Paul Ralston
The colder weather brought an increase in Knot numbers with around 8,000 at Caldy and Hoylake. Black-tailed Godwits have remained at the 2,000+ level at Thurstaston and they were a great sight with many feeding close to the beach on the rising tide. A Curlew Sandpiper was also recorded there on several dates.
It was a very good month for Water Pipits with up to five at Neston Old Quay and at least three at Burton Mere Wetlands. Out to sea the massive Common Scoter flocks dispersed through the month with at least 6,000 early on but probably no more than 2,000 at the end - but they are so far out it's almost impossible to do an accurate count. 318 Great Crested Grebes off North Wirral was the highest count of the autumn/winter so far.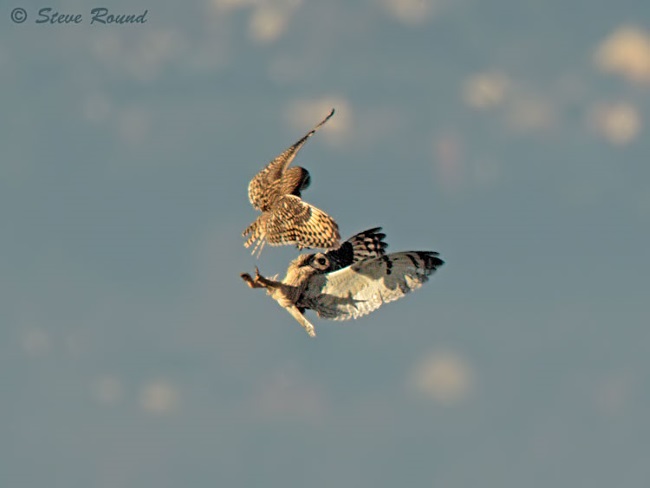 Richard Smith.

Many thanks go to Jeff Cohen, Eddie Williams, Richard Steel, Tanny Robinson, Barry Barnacal, Mark Turner, Julie Rogers, Steve Hinde, Tim Rowley, Matt Thomas, Steve Round, Mal Sergeant, Chris Butterworth, David Leeming, David Peate, Roy Lowry, Marcus Dean, David Haigh, Kenneth Fullard, Allan Conlin, Carl Traill, Mike Hart, Jeremy Bradshaw, Kevin Smith, Alan Hitchmough, Les Hall, Steve Williams, David Taylor, Gail Wilson, Anne Williamson, Dan Trotman, Paul Brady, Dave Edwards, Alister Sclater, Bruce Atherton, John Hilton, Jane Turner, Richard Beckett, Alan Irving, Paul Ralston, Derek Bates, Paul Mason, Damian Waters, Elliot Monteith, David Small, Colin Wells, Colin Schofield, Mark Gibson, William Boyce, Frank Burns, Hugh Stewart, Edward Murphy, Chris Wilding, George Knight, Richard Whitby, Neil Mcmorran, Nick Moss, Tony Quinn, Manu Santa Cruz, Chris Hancock, Karen Leeming, the
Lighthouse and Wirral Birding Blog
, the
Dee Estuary Wardens
and the
Hilbre Bird Observatory
for their sightings during November. All sightings are gratefully received.
Top of Page
What to expect in December
There are indications we could get a colder than average winter - something we haven't seen since 2010. If that is the case we can expect plenty of birds on the estuary as they flee freezing weather on the North Sea coasts - I'm particularly looking forward to seeing large numbers of Knot and counts like we had in the 2012/13 winter would be vey nice (see
Knots on the Dee Estuary 2012/13
).
I like nice crisp sunny days with no wind and that is ideal weather to see birds on the sea. Common Scoters should be present in their thousands in Liverpool Bay, also Velvet Scoters and may be a Surf Scoter or two. We could see Long-tailed Ducks, Goldeneye, Red-breasted Mergansers and both Red-throated Divers and Great Northern Divers. We've been used to seeing hundreds of Great Crested Grebes off north Wirral in recent years, they were largely absent this autumn but hopefully they will return for the winter.
It will be interesting to see what effect cold weather will have on Pink-footed Geese numbers which have rocketed in recent years, if snow covers their normal feeding areas further north, while our marshes remain snow free, then it is certainly possible that we will get 10,000 or more here. It's been a reasonably good year so far for Short-eared Owls and both Hen and Marsh Harriers, so there should be good views this month particularly during the high tides mid-month.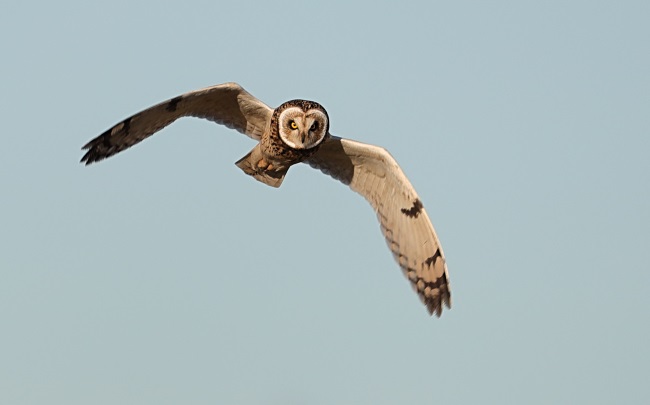 Short-eared Owl seen from Denhall Quay, November 30th © Roy Wilson.
Top of Page
Forthcoming Events
December Highest Spring Tides (Liverpool)
Also see Tides page.

14th December, 10.55hrs (GMT), 9.8m.
15th December, 11.43hrs (GMT), 9.9m.
16th December, 12.30hrs (GMT), 9.9m.
Forthcoming Events
Organised by the Wirral Ranger Service , Flintshire Countryside Service and the RSPB (Dee Estuary):
All these events and walks have bird interest, even those not advertised specifically for birdwatching. No need to book for these events unless specified - please check below.
Saturday 17th December, 1130am to 2pm, High Tide Birdwatch at Hoylake.
Join the Coastal Rangers, the Dee Estuary Voluntary Wardens and the RSPB on this high tide birdwatch at Hoylake to see large numbers of waders as they gather and roost on the shore.
With a rising tide, we should see the birds at close quarters as they roost and feed. Beginners welcome. Dress warmly and bring binoculars if you have them.
There is no need to book. High tide is at 13.05hrs and height 9.6m.
Meet at King's Gap, King's Parade, Hoylake.
For further information please telephone Wirral Country Park on (0151) 648 4371.
Saturday 7th January, 9am to 1pm, Birdwatching Walk to Hilbre.
Join the Wirral Rangers and the RSPB on a guided walk to Hilbre Island at low tide.
We will walk to the islands to look for the birds that make Hilbre their home during the winter months. Hopefully we will connect with Brent Geese and Purple Sandpipers as well as the usual variety of waders and wildfowl present on the islands.
Booking essential: places limited, email deeestuary@rspb.org.uk or ring 0151 353 8478. £5 per person. Bring binoculars and wear warm waterproofs.
Saturday 14th January, 1030am to 1pm, High Tide Birdwatch at Hoylake.
Join the Coastal Rangers, the Dee Estuary Voluntary Wardens and the RSPB on this high tide birdwatch at Hoylake to see large numbers of waders as they gather and roost on the shore.
With a rising tide, we should see the birds at close quarters as they roost and feed. Beginners welcome. Dress warmly and bring binoculars if you have them.
There is no need to book. High tide is at 12.08hrs and height 9.8m.
Meet at King's Gap, King's Parade, Hoylake.
For further information please telephone Wirral Country Park on (0151) 648 4371.