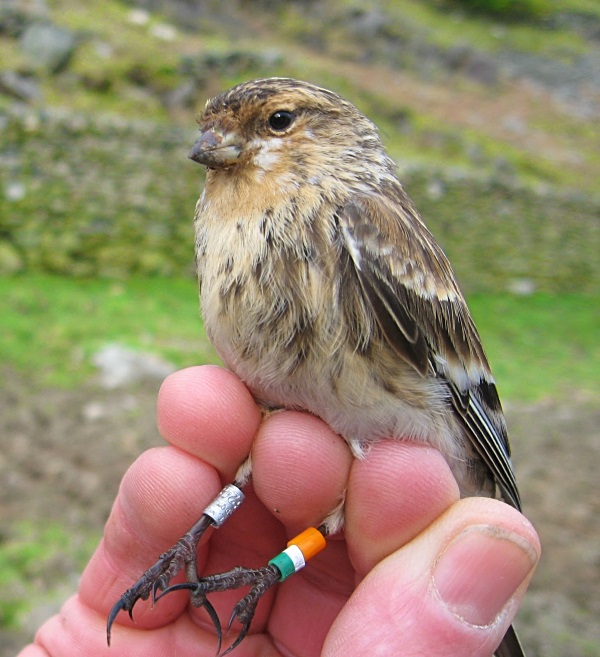 North Wales Twite Project

The project has for some years been colour ringing Twite in the Snowdonia breeding grounds and at the wintering grounds on the Dee estuary and various other localities along the North Wales coast.

The results are beginning to indicate that our small relic breeding population (in Nant Ffrancon, Snowdonia) migrate eastwards during the autumn and winter on the Dee estuary. Larger numbers of birds join them, from the Pennine breeding population and further afield. Some of the Pennine birds continue east and winter on the Norfolk coast. In the second year of the project it was suspected that a Nant Ffrancon bird has been seen in the company of some Pennines birds at Titchwell, however the ring combination seen was not sufficient for a 100% identification. This last winter (2014/15) a bird ringed in Nant Ffrancon in April was seen in a Twite flock on the Norfolk coast.

In 2010 a small flock of Twite were present on Pensarn beach one of which had a BTO metal ring. This flock was caught and the ringed bird was found to be from near Lochinver in north-western Scotland. In December 2014 another one of this flock was recaught at Askham, Cumbria. The small flock which appeared at Cemlyn last autumn also contained a ringed bird. When she was eventually caught she was found to be from the 15 miles south of the original Pensarn Scottish bird.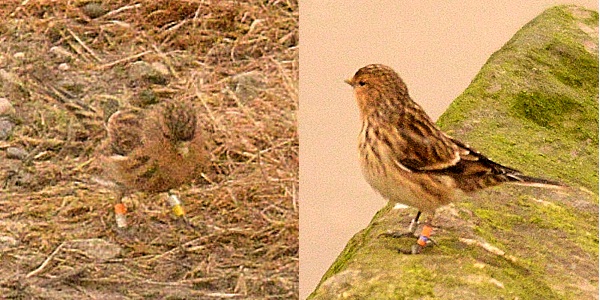 Colour-ringed Twite at Connah's Quay© Richard Beckett
For the past two winters we have been very lucky to have Richard Beckett join the Twite team, and Richard has spent many hours recording ring combinations and the comings and goings of the Dee estuary birds. This winter a reasonable number of Twite have been feeding regularly at Deeside Naturalist Society reserve at Connah's Quay, and with their continued permission a further 68 have been colour ringed. Also caught have been a number of birds originally ringed at the Mull of Kintyre. The Mull of Kintyre have a small breeding population but also has a marked passage of autumn birds passing south and reasonable numbers have been ringed there.

We are initially proposing that the coastal wintering birds here in North Wales may well be birds from the north west of Scotland, with our Welsh birds from Snowdonia venturing eastwards and mixing with Pennine birds on the Dee estuary, some of which will continue eastwards with their new mates.

Due to Richards's diligence last year we knew when the Dee estuary birds began their spring dispersal and a few weeks later the first of the Nant Ffrancon birds were back in the Ogwen valley. From Richards's recent observations the flock at Connah's Quay has now begun to disperse (April 2015). Over the next few weeks the critically low Welsh breeding population will be making their way along the North Wales coast back to Ogwen. Can I ask all North Wales Birders to be aware of this and keep an eye and an ear open for them on passage? We have about two and a half weeks and it would be very interesting if we could plot some of their traditional staging points along the coast.

Thanks and happy hunting.

Please report any sightings to kelvin.jones@bto.org.

The North Wales Twite Project is a collaborative project between, Kelvin Jones, Ian Spence, Richard Beckett, RSPB Cymru, BTO Cymru, National Trust, Snowdonia National Park, Deeside Naturalists Society, North Wales Wildlife Trust, and Flintshire Council.
This article first published in April 2015 on the BTO Cymru Blog (btocymru.blogspot.co.uk) and reproduced here with kind permission of the author.
Kelvin Jones
Twite - Status on the Dee Estuary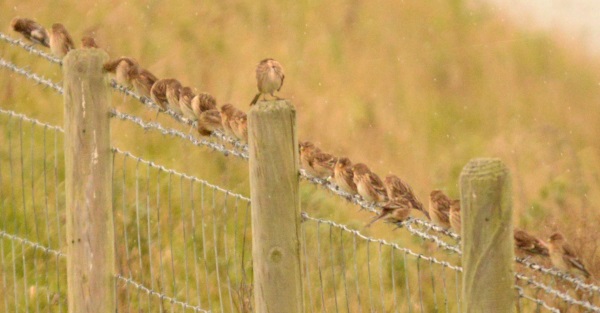 Twite at Connah's Quay Nature Reserve © Richard Beckett
In the UK Twite (Carduelis flavrosris) are on the Red-list for Birds of Conservation Concern because of a long-term decline, particularly during the 20th century. However, as is often the case with birds, the picture is complex and that is one of the reasons why various colour ringing schemes have been set up to try and gain a better understanding of what is happening, one of these schemes is run by BTO Cyrmu and includes birds ringed on the Dee Estuary. The recent BTO Atlas 2007-11 showed a 19% contraction in breeding range since the 1968-72 Breeding Atlas, perhaps not such a dramatic reduction over 40 years as some people had feared, whereas there was an unexpected increase of 19% for the wintering area since the 1981-84 Winter Atlas. One problem is that breeding Twite are very difficult to survey with birds nesting in loose colonies and showing very little territorial behaviour in relation to the nest site. A study of the South Pennine area in the 1990s, where it's thought there has been a sharp decline, showed a marked reduction in range but nesting density had almost doubled.
On the west coast of England and Wales birds winter in flocks usually of 50 to 100 birds at various locations in Cumbria, Lancashire and the Welsh coast of the Dee estuary, with a few small flocks occasionally reported along the North Wales coast as far as Anglesey. On the Dee estuary nearly all birds are recorded in the area which includes the Connah's Quay Nature Reserve, Oakenholt Marsh and around Flint Castle. They also visit the salt marsh on the far side of the River Dee channel which is seldom visited by birders so many probably go unrecorded.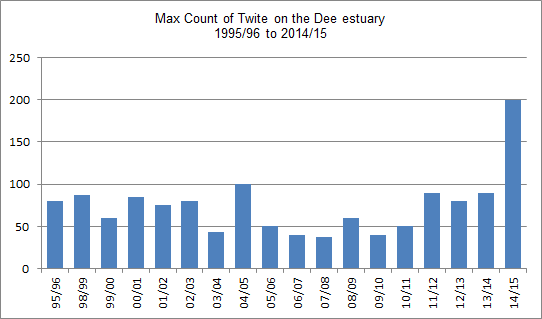 The graph shows max counts for the past 20 years on the Dee estuary, all of which have been either at Connah's Quay Nature Reserve or around Flint Castle. Apart from a dip in the mid-2000s numbers have held pretty steady at the 50 to 100 level. That is until last winter (2014/15) when there were no less than nine counts of 100 or more, all at Connah's Quay, peaking with at least 200 on January 21st. It is unclear why there has been a sudden increase but some habitat creation in the form of permanent drinking pools has helped and may well have attracted the birds which normally spend the winter across the River Dee on the marshes. We also heard that there were smaller numbers than normal at Southport and Heysham so it's possible birds travelled a bit further south than usual. According to reports on Bird Guides (not necessarily a reliable measure of Twite flocks) this was the biggest wintering flock outside Scotland that winter, although I note a flock of 263 at Knott End, Lancashire, in November 2014 which didn't get put on Bird Guides. But whatever the size of flocks elsewhere there's no doubt that this part of the Dee Estuary is one of the most important wintering sites in the country for this species.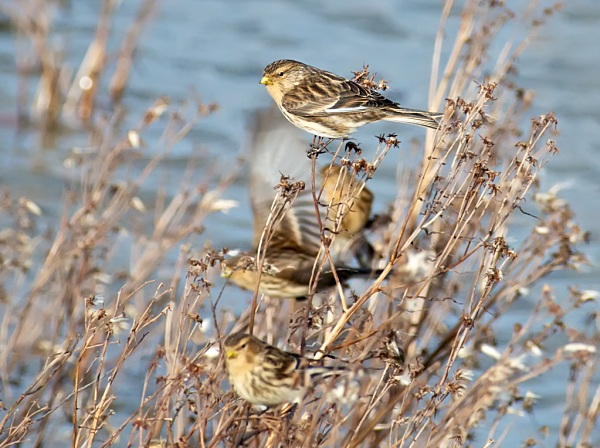 Twite at Flint Castle © Jeff Cohen

Twite do occur elsewhere on the estuary and nearby coasts but they are irregular visitors away from their stronghold. Last winter we had 16 reported both at Gronant and Red Rocks in November, but only on single days. The longest staying birds in recent years were a flock of 13 which spent from December 2008 to February 2009 on Thurstaston beach, we also sometimes get larger flocks reported from Burton and Parkgate which are probably visitors from Connah's Quay.
This winter looks like another good one for them and numbers had already reached over 50 by November 27th. If you want to see them the largest flocks are at Connah's Quay but remember they are being studied here on a daily basis so be VERY careful not to disturb them, and if you see other birders there take their advice about the best place to go. Remember the Connah's Quay Reserve is members only. The other regular site is around Flint Castle and they are often to be seen on the nearby marsh where photographs can be taken, although I wouldn't advise going out onto the marsh itself unless you want to be stuck in thick estaurine mud!
References/Sources of Information
1. Birds of Conservation Concern 3, BTO/RSPB.
2. Bird Atlas 2007-11, BTO, 2013.
3. Rowena H.W. Langston et al., Status of breeding Twite in the UK, Bird Study, 53:1, 55-56 2006.
4. Peter Middleton, The South Pennine Twite population, British Birds 100, Feb 2007.
5. BTO Bird Ringing Blog, entry for 7th October 2014 "Looking out for Twite".
6. Bird Guides www.birdguides.com.
7. All those who have sent Twite records to me for inclusion in www.deestuary.co.uk, with particular thanks to Richard Beckett.
8. Clwyd Bird Reports/North East Wales Bird Reports 1995 to 2013.
Richard Smith.
Top of Page
Colour Ring/Wing Tag Report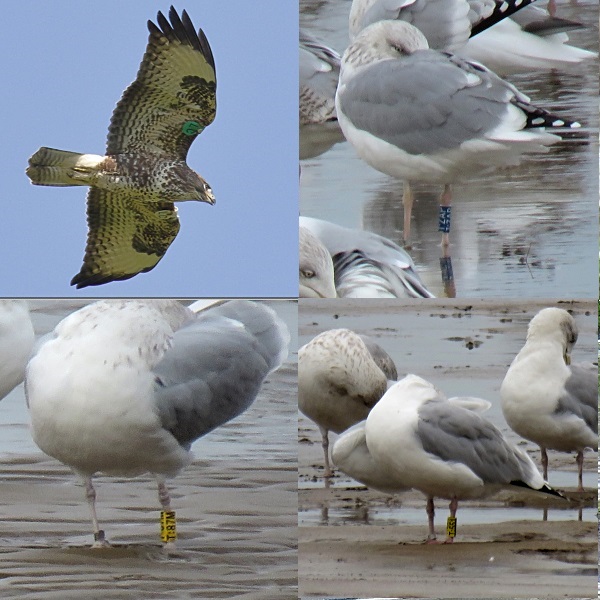 Top left and clock-wise. Buzzard LC/LC - Charles Farnell, Herring Gull T.ZAP, Herring Gull T:551, Herring Gull T:87M. Gull photos by Richard Smith.

Large raptors tend to be wing-tagged rather than colour-ringed, and a juvenile Buzzard was recorded at the end of September. Not a very exciting record but the dispersal of juvenile Buzzards is a very interesting area of research and their dispersal no doubt has an impact on how they are continuing to spread. Another one was in the Leasowe Lighthouse area in the autumn but too distant to read the wing tags.
We have been completely frustrated in our attempts to log any colour ringed small waders over the past few months, and even most of the Black-tailed Godwits have moved on. To make up for that there have been large numbers of gulls at Hoylake, mainly Herring Gulls, and we describe the history of the three photogrpahed above.
Common Buzzard
LC green, LC grey
wing-tagged.
Tagged as a nestling at Thornton Hough, Wirral, on July 1st 2015.
Recorded at Thornton Hough on September 30th 2015.
Herring Gulls
T.ZAP
white on blue ring.
Ringed as a chick at Zeebrugge, Belgium on July 15th, 2011.
Recorded at Hoylake Shore on November 26th, 2015.
After it was ringed it moved SW to Nieuwpoort (near Ostend) where it was seen in August then moved inland to Blaringhem in France (west of Lens) where it remained the rest of that winter (2011/12). September 2012 saw it at Pas-de-Calais before being sighted back in Blaringhem in December 2012. The only other record was back at Pas-de-Calais in May 2013.
T:87M
black on yellow ring.
Adult male ringed in Aberdeen on July 25th 2013.
Recorded at Hoylake Shore on October 28th 2015.
The only other record was also at Hoylake Shore on September 21st 2013.
T:551
black on yellow ring.
Adult male ringed at Medicine Well, Montrose, on May 24th 2012.
Recorded on Hoylake Shore on November 14th 2015.
Recorded at Moore Nature Reserve by Mersey estuary in January 2013 and on Crosby Beach in November 2013 before moving to Richmond Bank in the Mersey Estuary in February 2014. It was at New Brighton in August 2015.
Black-tailed Godwit
LW-WN
ringed as a chick in southern Iceland on June 19th 2015.
Recorded at Gilroy Nature Park on October 28th 2015.
First record after ringing was at Traigh golf course, Morar, Scotland, on August 9th before moving on to the RSPB Reserve at Conwy where it was on August 12th.
Richard Smith and Matt Thomas
.
Colour-ringed birds were also recorded by Charles Farnell, John Jakeman and Steve Hinde.
Wirral Wader Festival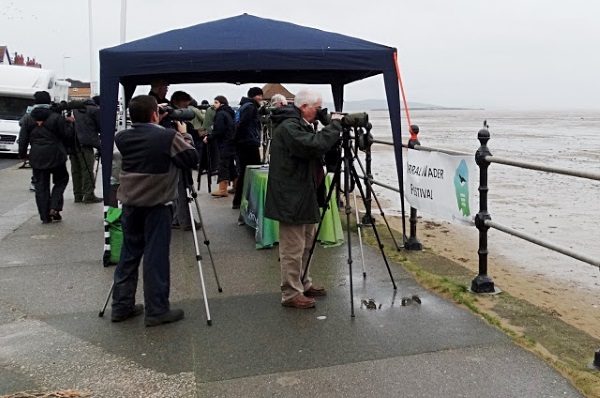 Hoylake High Tide Birdwatch during the Wirral Wader Festival © Sheila Ryde.
The weather did it's best to sabotage the Wirral Wader Festival on November 14th and 15th but despite that it was a big success. I was at Hoylake for the High Tide Birdwatches on both days and was surprised just how many birds there were given the distinct lack of them a few days earlier. For me the most spectacular sight was the huge number of gulls. My estimate was 8,000 Herring Gulls on Saturday morning and when a Great Skua flew over (unseen by me!) the whole lot flew up making for a fantastic display. We also had a Mediterranean Gull and a good selection of waders, but the highlight was a fly past by a Long-tailed Duck.
There was a steady flow of visitors to the Thurstaston Visitor Centre looking at the stalls and attending the various talks. I think I was the RSPB stall's first visitor and I got them off to a good start by buying an expensive tripod! As expected, Alan and Ruth Davies of the Biggest Twitch were a big draw; as well as chatting to people they gave a talk and led two low tide birdwatches on Thurstaston Shore.
Read more about the festival here:
http://www.waderquest.org/2015/11/wirral-wader-festival-survives-storm.html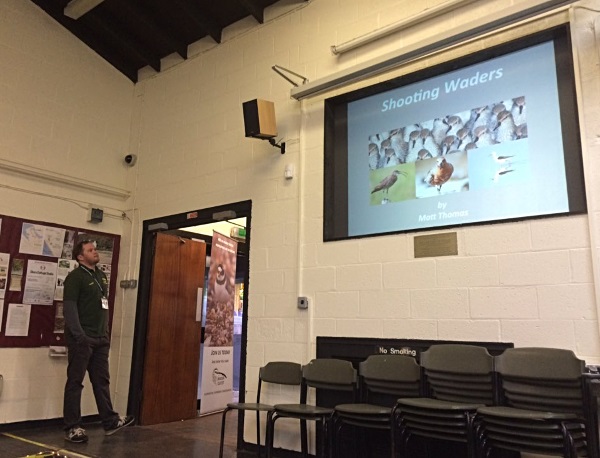 Matt Thomas giving a talk at Thurstaston during the Wirral Wader Festival © Ron Thomas.
Birkenhead Docks Birding Blog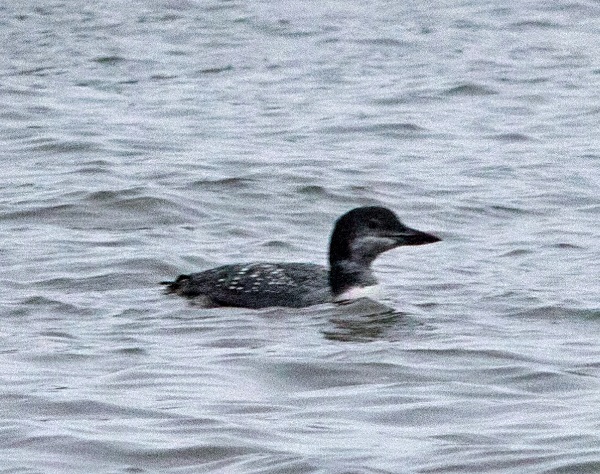 Great Northern Dive on East Float, Nov 28th © Elliot Monteith.
Just outside the area covered by deeestuary.co.uk are Birkenhead Docks, given it's industrial location it is a surprisingly good birding site. The docks are little used so the birds are rarely disturbed and they can have a good selection of water birds during the winter including the occasional rarity such as the Great Northern Diver above. This summer they were also home to Cheshire and Wirral's only Common Tern colony with about 20 pairs.
To see and hear all about what is happening at Birkenhead Docks read the recently set up Birkenhead Docks Birding Blog, run by local birder Elliot Monteith.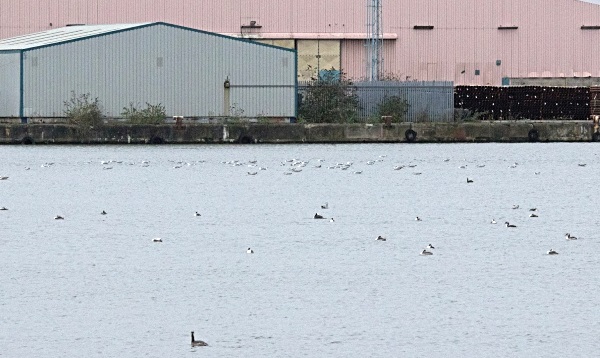 Great Crested Grebes and various gull in the dock © Elliot Monteith.
Top of Page
November Bird News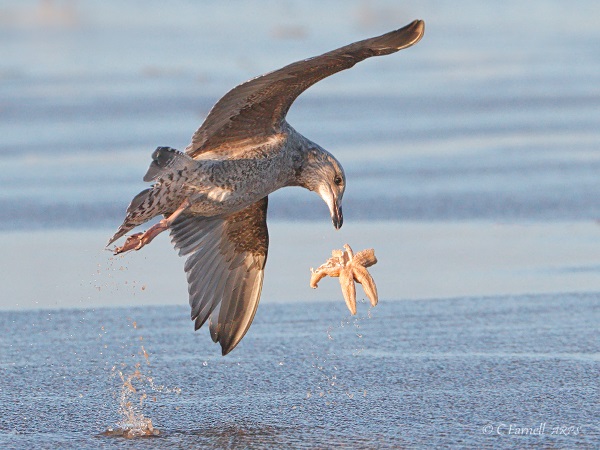 This superb photo of a juvenile Herring Gull on Meols shore was taken by Charles Farnell on Nov 21st.
We did think it was going to be a Leach's Petrel free year but the gales arrived in the end and between the 13th and 20th we had 27 go past including eight off Leasowe Gunsite on the 20th. This was after prolonged south-west gales which blew them up from their wintering grounds out in the Atlantic and into the Irish Sea, a change of wind direction to West then pushed them past our coast. The gales also blew in the skuas with good numbers of Great Skuas in particular, five were off Hilbre on 14th and 16th and nine there on 18th. There were three records of Pomarine Skua including one over Burton Marsh on the 21st which was mobbed by a Marsh Harrier. An Arctic Skua was seen on the 17th and a Long-tailed Skua on the 19th.
A day after strong winds often brings in large numbers of gulls to north Wirral presumably attracted by a wreck of shell fish and other washed up food such as the starfish above. On the 14th there were 8,000 Herring Gulls at Hoylake but on the 22nd Hilbre Bird Observatory estimated a remarkable 20,000 on East Hoyle Bank. There were at least a total of 360 Kittiwakes counted from Hilbre during the strong winds of the 16th, a very high number for this species.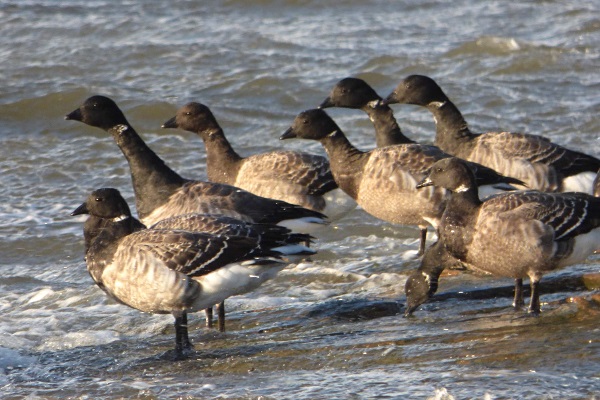 Brent Geese on Bird Rock, November 18th © Les Hall.
Brent Geese peaked at 144 off West Kirby on the 14th, although they have been difficult to count in the bad weather. There was a reserve record of 8,000 Teal at Burton Mere Welands on the 8th. A few years ago one or two Smew were regular at Inner Marsh Farm but these days are are somewhat of a vagrant so it was good to have one on the Rifle Range Pool in the inner marshes, unforunately it only stayed a day. Two Long-tailed Duck were off Hoylake and Red Rocks on the 14th and 15th.
This Red-throated Diver (below) arrived on West Kirby Marine Lake on the 25th and stayed for the rest of the month and a Great Northern Diver was off the north end of Hilbre on several dates through the month.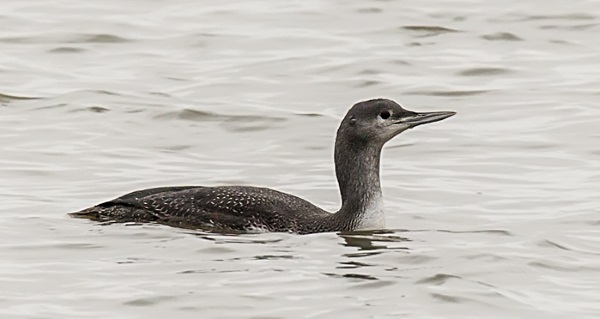 Red-throated Diver on West Kirby Marine Lake, November 26th © Jeff Cohen
It continues to be a good winter for Short-eared Owls and off Denhall Quay we had five on the 1st and six on the 3rd and 22nd. They also turned up inland including two in a field by Hilbre School, West Kirby. It was a good month for Marsh Harriers with a max count of four, seen together, at Burton Mere Wetlands on the 9th. There were plenty reports of Hen Harriers, all ring-tails, with a max count of four at Denhall Quay on the 4th.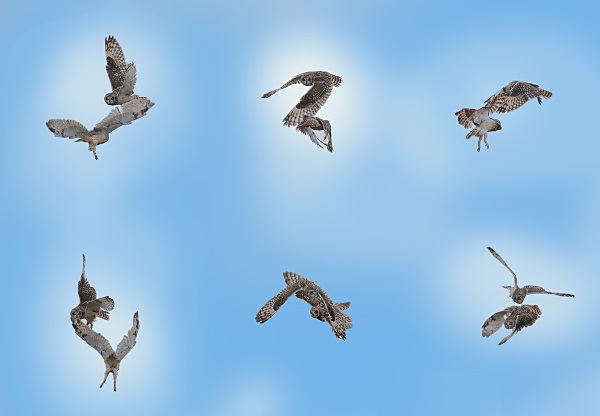 Collage of two Short-eared Owls displying over Neston Marsh,early November © Jon Ashton.
Mild temperatures and strong winds meant wader numbers were generally low with highlights of 10,000 Dunlin at West Kirby on the 1st, 3,000 Black-tailed Godwits at Connah's Quay on the 12th with 2,300 at Burton Mere Wetlands the next day. 14 Purple Sandpiper at Hilbre was a good count and there were at least six on the pontoon at New Brighton Marine Lake by the end of the month.
Richard Smith.
Many thanks go to Mal Sergeant, Jane Turner, Colin Wells, Tim Vaughan, Rich Whitby, Paul Mason, Richard Beckett, Derek Bates, Jeff Cohen, Steve Hinde, Stan Skelton, Mark Turner, Matt Thomas, Chris Butterworth, Allan Conlin, Jeremy Bradshaw, Eddie Williams, Alan Hitchmough, Steve Williams, Charles Farnell, Elliot Montieth, Dan Trotman, Ray Eades, Ian Fleming, Denzil Nicklin, Les Hall, Carole Killilikelly, Ramond Lyons, Alan Irving, Frank Burns, George Knight, Jon Ashton, Tanny Robinson, Brian Lingard, Steven Edwards, Paul Earley, Paul Shenton, Richard Payne, Julie Rogers, David Leeming, Bruce Atherton, Stan Davidson, Mike Hart, Andy Thomas, Hugh Stewart, Bernard Machin, Steve Dewsnap, Steve Jennings, David Knass, Helen Bannister, Sean O'Hara, Chris Sutton, Denise Kearney, Ian Hughes, Ken Mcniffe, Susan Moody, John Spottiswood, Chris Wilding, John Blades, Andrew Ingham, Keith Duckers, the
Lighthouse and Wirral Birding Blog
, the
Dee Estuary Wardens
and the
Hilbre Bird Observatory
for their sightings during November. All sightings are gratefully received.
Top of Page
What to expect in December
It was December several years when I had one of my best birding experiences, watching Leach's Petrels fly over the surf at Point of Ayr after prolonged south-west gales which had then turned north-west blowing them past our Liverpool Bay coast. Leach's Petrels in December are a once in a lifetime event but if this current run of south-westerlies carries on (I'm writing this on the last day of November) then they are certainly a possibilty. We also had the 'Great Storm' of 2013 in December which subsequently produced a Buff-bellied Pipit feeding on the resulting tide-wrack, as well as one or two Siberian Chiffchaff and an over-wintering Wheatear.
Exciting birds can certainly be brought in by gales but personally I would much rather have crisp, sunny and windless days in which to do my birdwatching in. As a reminder of what that can be like have a look at the
December 2010 newsletter
. This is the sort of weather where you can count thousands of birds on the flat calm sea - Common, Velvet and (maybe) Surf Scoters, Great Crested Grebes, Red-throated Divers, Long-tailed Ducks and Scaup. Freezing conditions will also result in a big increase in waders, particularly Knot when spectacular flocks of up to 40,000 may be seen.
Whatever the weather we can expect to see Hen Harriers and Marsh Harriers on the marshes, and still weather would certainly bring the Short-eared Owls out with Denhall Quay probably the best spot to see these, we could get into double figures.
If we did get the wished for cold weather it will be interesting to see just how many Pink-footed Geese we see on the marshes, earlier this year the total reached over 6,000. Brent Geese will also increase through the month, last winter they peaked in December with 262.
Top of Page
Forthcoming Events
December Highest Spring Tides (Liverpool)
Also see Tides page.

26th December, 11.29hrs (GMT), 9.5m.
27th December, 12.11hrs (GMT), 9.5m.
Forthcoming Events
Organised by the Wirral Ranger Service , Flintshire Countryside Service and the RSPB (Dee Estuary):
All these events and walks have bird interest, even those not advertised specifically for birdwatching. No need to book for these events unless specified - please check below.
Also see 2015 Events Diary.
Sunday 6th December and Sunday 10th January
,
Skydancers on the Dee
at the Donkey Stand at
Parkgate
(opposite Nicholl's Ice Cream Shop).
1 pm - dusk
Price: Free
Most people have never seen a hen harrier, but once seen it is rarely forgotten. In support of the RSPB's Skydancer project, we are pleased to bring you a series of events to showcase these enigmatic birds of prey which use the marshes of the Dee Estuary as their home for the winter months.
The name "Skydancer" comes from the aerobatic displays that the male birds perform in their courtship ritual on the moors in the spring. Sadly, this has become an increasingly rare sight and they are close to becoming extinct as a breeding bird in England.
This could be the last chance to see Skydancers on the Dee, so come along to Parkgate to find out more about the hen harrier story and what you can do to help save them before it's too late. Look for the RSPB marquee along the main promenade at Parkgate, where friendly staff and volunteers will be on hand with telescopes and binoculars to show you these beautiful, agile birds hunting over the marsh, and coming in to roost there at dusk. Plenty of family activities and other RSPB information will be available.
Car parking is limited on Parkgate promenade, but there is free public parking at the Old Baths car park (CH64 6RN) at the north end of The Parade, and the Wirral Country Park car park on Station Road (CH64 6QJ). There are public toilets at Mostyn Square in the middle of The Parade, and a number of pubs and cafes for refreshments. Wrap up warm, and prepare to be patient as the harriers have a large area of marsh to roam!
For more information on the RSPB's Skydancer project, visit
http://www.rspb.org.uk/skydancer/