Wirral Barn Owl Trust's Recorder, Mike Maher, does an extremely important job for the trust, recording all Barn Owl sightings for the Wirral peninsula on a computer database. Clusters of sightings may indicate breeding sites or potential breeding sites. Sightings also greatly help the trust to select suitable sites for nest boxes and to consider the need for habitat protection or enhancement.


Barn Owl, Steve Round ©

As well as greatly assisting us in the work that we do, the sightings data is also forwarded to the Cheshire and Wirral Ornithological Society, the County Recorder and to rECOrd, the local biological records centre for the Cheshire region. Our data is not made available for commercial use by ecological services companies. Breeding data is very sensitive and kept confidential.

Mike tells us that sighting reports have slowed down lately; this is understandable as the days shorten but we would urge everyone to keep sending in sightings, even in well-known spots. There is an easy-to-complete report form on our website which you can use to send the information straight to us. If anyone is uncertain where they might see Barn Owls please get in touch and we can suggest areas for watching.

Perhaps you have seen a Barn Owl and haven't yet got round to sending us the details? If so, no problem - just send any details you have to us when you can. Any information you have will be welcomed.
Identification
Most sightings are of a 'large white bird' seen in car headlights at night.

Heart-shaped facial disc, underside and legs are white; top of wings, head and back are gold/grey.

Mainly nocturnal and secretive, but sometimes seen in daylight.

Hunts low (1-2 metres above ground) and slow over open country, especially rough grassland.

Listen for distinctive, eerie screeching call of adults (not hooting) and 'snoring' sound made by chicks.

Black pellets (thumb-sized) contain undigested fur and bones of voles, mice etc. usually found in barns or beside hollow trees.

Occupied roosts will have long smears of white, liquid droppings.
Ed. This article was reproduced from the Wirral Barn Owl News, Nov 2005 edition, with kind permission of the editor, Steve Harris. Thanks to the trust Barn Owls in Wirral are doing very well with 31 pairs in 2005 compared with only one pair in 1999 - an amazing achievement. Similar efforts are also being made by the Welsh Raptor Study Group (North East Wales branch), please send any sightings from the Welsh side of the estuary to myself, Richard Smith, and I'll pass them on to the appropriate person - .
One advantage of covering a large site like the Dee Estuary is that there is always something interesting going on somewhere, and this November was certainly interesting!

The immature Long-billed Dowitcher which had been at Inner Marsh Farm since 12th October stayed for the first week of November but hasn't been since since. A Black Redstart was at Red Rocks on the 2nd and stayed until the 7th. A nice bonus for the month were two Richard's Pipits which arrived on the marsh on West Kirby shore on the 21st and stayed until the end of the month. This rarity is a native of central Asia but a few do turn up in this country every year, typically in the autumn. Less rare were two Snow Buntings seen at Red Rocks and West Kirby around the mid-month.
Brent Geese were the big story of the month. Last winter they peaked at a record number of 63 in January, whilst the highest ever November count, also last winter, was 51. Both these records were broken on the 6th with 64 pale-bellied birds. The numbers kept on rising during the month with the maximum of 86 reached on the 23rd, these included two dark-bellied. As always the best place to see the geese was on Hilbre at low tide. The graph below shows just how remarkable the rise in numbers has been over the past six winters. The pale-bellied race which breed in Greenland and eastern Canada, and winter mainly in Ireland are increasing in numbers so no doubt this is why we are seeing more over here. One of the Hilbre geese was colour ringed in Ireland.


Pale-bellied Brent Geese with roosting Knot off the north end of Hilbre, Nov 7th
© Richard Smith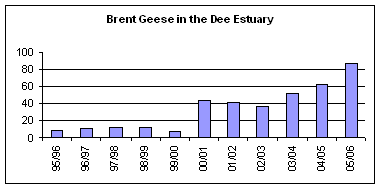 Some of our Black-tailed Godwits are individually colour ringed which means we can track each one. I saw at least eight this month off Thurstaston and have had a report back from the ringing team in Iceland. To give you an example of the sort of information gathered on these birds one was ringed as a male on spring passage in Iceland on Apr 27th 2000. The following winter it was recorded on the Stour Estuary several times. It wasn't seen again until 2004 when it was on the Ouse Washes in April, the autumn passage saw it on the Wash and it was last reported in April this year at the famous Cley reserve in north Norfolk.

Photo left was kindly sent to me by Tómas Gunnarsson, one of the ringers in Iceland. It shows a Black-tailed Godwit chick ringed this summer in Iceland.
Hen Harrier numbers reached five, including one full adult male and a sub-adult male. I had a great view of the full ad male from 10 metres away as it flew past Denhall Quay. All but the full male bird are roosting in reed birds of the Old Baths car park at Parkgate, but sometimes it is virtually dark before they come in (see also 'The Magic of Parkgate').
Apart from good numbers of waders, especially off Thurstaston at low tide - a spectacular sight -, one other thing of note was a late passage of Gannets with six off Hilbre being on the 15th the last ones through. Last year the last ones were seen in early October.
What to expect in December
They keep on predicting a colder than normal winter, and the second half of November was certainly cold enough. If the weather on the continent is severe than we should get cold weather movements coming our way, particularly waders and wildfowl.
In a normal year we would expect Brent Geese to continue to increase and peak in late January, but in a normal year we don't expect 86 by the end of November. Anyway, the way things are going we could have 100 by Christmas! Other wildfowl should include at least one Smew at Inner Marsh Farm, a regular here. Bewick's Swans normally increase to at least 60 and flocks of Pink-footed Geese are often seen moving through, usually heading north towards south Lancashire. Numbers of Wigeon, Teal and Pintail should all remain high, perhaps higher than normal if cold weather drives them west.
Knot and Dunlin numbers should remain high, expect up to 30,000 of each, best seen at Hoylake or Point of Ayr at high tide, and Thurstaston or Leasowe at low tide. So far it has been a good winter for Sanderling and it will be interesting to see if they stick around if the weather gets colder. Bar-tailed Godwits numbers have not yet picked up but we would expect at least 5,000 of Leasowe this month, also similar numbers of Black-tailed Godwits inside the estuary off Thurstaston, Heswall and Flint.
It would be good to see more than the five Hen Harriers we have had over the past two winters coming in to roost at Parkgate. Short-eared Owls seem to be more spread out this year so expect to see them just about anywhere in our area.
It was a superb winter for Waxwings in 2004/2005 and we cannot really expect the same again, but they usually start coming in during December so look out for them in those berry trees, they usually seem to go for supermarket car parks!
Many thanks go to Ray Eades, John Boswell, Steve Renshaw, John Kirkland, Sean Fortune, Mark Turner, Colin Davies, Steve Astley, Bernard Machin, Sheila Blamire, Alan Jupp, Frank Huband, David Esther, Dave and Emma Kenyon, Colin Schofield, John Campbell, Clive Ashton, Paul Rutter, David Haigh, Colin Jones, Charles Farnell, Steve Williams, Phil Woolen, Chris Butterworth, Nick Moss, Andrew Wallbank, Stephen Ainsworth, Sabena Blackbird, Jeff Stevens, Dave Harrington, Jane Turner, Allan Conlin, Mike Hart, Dave Wilde, Andrew Jennings, Tanny Robinson, Mark O'Sullivan, Bob Pilgrem, Steve Round, Eric Sherry, Iain Douglas, Paul Vautrinot, Graham Thompson, Damian Waters, the Dee Estuary Voluntary Wardens and the Hilbre Bird Observatory for their sightings during November. All sightings are gratefully received.