| | |
| --- | --- |
| A few Snow Buntings have been seen along the North Wirral coast with four at Leasowe/ Wallasey and two at West Kirby. Strangely no reports from their usual haunt at the Point of Ayr and Gronant. The rarer Lapland Bunting was also seen briefly at Leasowe. | |
The Hoylake Langfields (between West Kirby and Hoylake) have been flooded with all the recent rain, attracting a good selection of birds. Unfortunately as the local Golf Course has also been flooded drainage work to clear the River Birket of its reeds will probable take place fairly soon and the water, with its birds, will disappear. The highlight was undoubtedly five White-fronted Geese (European race), small parties do visit the north-west region occasionally but more usually the Mersey marshes rather than Wirral. Other birds seen on the floods included 2 Whooper Swan, 20 Snipe, 1,200 Lapwing, 7 Water Rail, 28 Yellowhammer, 23 Tree Sparrow and a good selection of duck.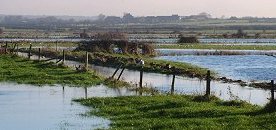 Hoylake Langfields

We had two excellent Parkgate high tide birdwatches at the beginning of the month with some superb bird watching. 3,000 Teal, 6,000 Wigeon, 4+ Short-eared Owls on the first day, then the big surprise on the second day - a Spotted Crake which swam right up to the car park wall and parked itself on a clump of grass for the duration of the high tide, under the gaze of the assembled throng of birders.

We had a late passage of Curlew Sandpipers with one or two present at Inner Marsh Farm right up to the 17th. Good numbers of Black-tailed Godwits spent most of their time at Oakenholt and Flint, I don't have a total estuary count for November but it probably didn't quite reach October's all time record of 4,231. We had the usual large flocks of Dunlin and Knot along the north Wirral coast with up to 15,000 of each. The rarest wader was a Long-billed Dowitcher briefly seen at Inner Marsh Farm, a vagrant which breeds in North America and eastern Siberia.

Two Scaup were rare visitors to West Kirby Marine Lake, a drake Green-winged Teal was seen several times at Inner Marsh Farm and eleven Brent Geese put in an appearance at Hilbre right at the end of the month. There were two sightings of Marsh Harriers and three of Hen Harriers. Other birds of particular note included a Firecrest on Hilbre and two Black Redstarts at Point of Ayr, with another one at Wallasey.

What to expect in December
This time last year we had massive numbers of waders, particularly along the north Wirral coast. This included 32,000 Dunlin, 8,000 Bar-tailed Godwits and a single flock of 50,000 Knot at Hoylake - an amazing sight. These waders are best seen either at low tide off Leasowe or high tide at Hoylake or Point of Ayr, but Thurstaston at low tide can also be spectacular, where the muddier conditions attract a thousand or so Black-tailed Godwit rather than Bar-tailed.

Smew have been turning up regularly for the past few winters, usually seen either at Inner Marsh Farm or Shotwick boating lake. Expect at least one drake, but often a pair or two of these lovely duck are present. If we go by the pattern of the past two years about 20 Brent Geese, mostly pale-breasted birds, should be seen off Hilbre Island. They often spend high tide around Little Eye or across the estuary at the Point of Ayr

The daylight hunting Short-eared Owl can sometimes be seen over the marsh at Burton, or the sand dunes at Point of Ayr and Leasowe. If the beginning of the month brings a strong west wind and low atm. pressure get down to Parkgate to see the birds driven off the marsh at high tide, the 4th and 5th should be best.

The

Wirral Bird Club attempts to cater for all who are interested in birds - the mildly interested to the keenly interested - the beginner to the experienced. For more details see their new website: http://www.wirralbirdclub.com/.

Many thanks go to Carl Clee, John Kirkland, Stephen Ainsworth, David Hinde, Allan Patterson, Stephen Menzie, Tom Giles, Alan Graham, John Harrison, Iain Douglas, Jean Morgan, Rosemary Smith, John Campbell, Colin Schofield, Nigel Troup, Brian Grey, Mike Hart, Stephen Williams, Chris Butterworth, Martyn Jaimeson, David Esther, Keith Lester and the Dee Estuary Voluntary Wardens for their sightings during November. All sightings are gratefully received.