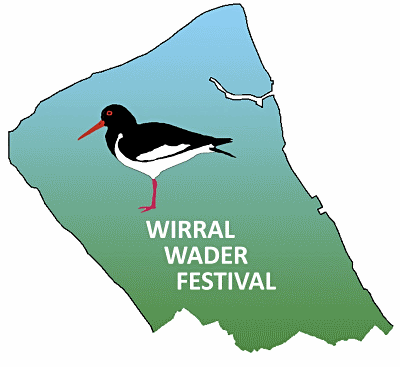 This year the UK will have its first dedicated wader festival

Join us for the Wirral Wader Festival Sat 14th - Sun 15th November 2015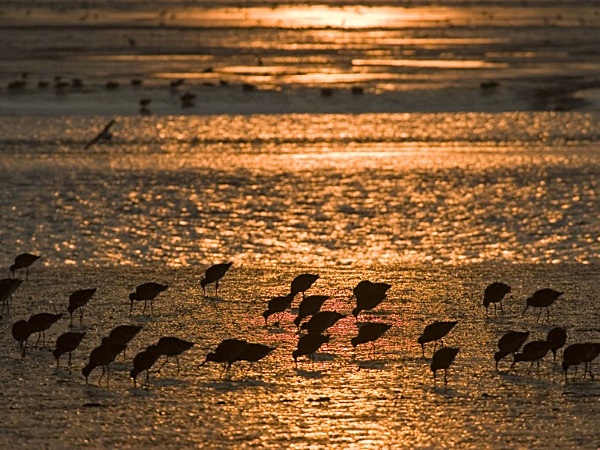 ---
---
Wirral Country Park - Thurstaston Visitor Centre and Thurstaston Shore.
High Tide
(Liverpool) Saturday 1221hrs, Sunday 1256hrs.
The main event will take place in and around the Visitor Centre at Thurstaston Country Park where it will be hosted by the Wirral Rangers. The Visitor Centre is at the end of Station Road, Thurstaston (CH61 0HN, telephone 0151 648 4371) and will be open from 10am to 4pm. Free Parking at the Visitor Centre. There will be plenty to see and do for all the family:

Live art demonstration

by Robert Parkin
Kids' Art competition

for both under 11s and 11 to 16 - winning entries on both days (prizes to be announced) will be displayed at the North-west Birdwatching Festival at Martin Mere.

Shore Cottage art event

(Shore Cottage is a short walk from the Visitor Centre, ask for directions when you arrive)
- Sunday: Drop in and Create a Laser Cut Wading Bird Greetings Card

RSPB Optics for sale


Cheshire Wildlife Trust merchandising for sale
Wader exhibit


- from the Liverpool Museum and the British Natural History Museum, London.

Talks


Saturday
- Wader Quest (Rick and Elis Simpson) - Community Wader Conservation. 2 - 2.30pm.
- Matt Thomas - Shooting Waders. 2.45 - 3.15pm.
- Alan and Ruth Davies - The Biggest Twitch. 3.30pm - 4pm.

Sunday
- Allan Conlin - Wader Workshop. 2 - 2.30pm.
- David Clare - Wader Food in the Mud. 2.45 - 3.15pm.
- Scott Reid - Digiscoping. 3.30 - 4pm.

Low Tide Birdwatch

(Saturday 2pm to 3pm, Sunday 2.30pm to 3.30pm)
- with the

Biggest Twitch team

.
Rockcliffe Raptors

(Saturday)

Cancelled due to bad weather.

Creatures in the mud

(both days 1.00-3.00pm)
- examining the creatures that live within the mud of the Dee estuary. The food that the mud provides is one of the reasons the waders are here.

Raffle


- a great variety of prizes to be won; all proceeds will go to wader conservation.

Films showing all day

in the theatre (when talks are not taking place).
Beach-cleaning

with the Soroptomist beach cleaners on Thurstaston Shore (Sunday only - 1.30pm to 3pm).
West Kirby Shore and Red Rocks
High Tide

(West Kirby) Saturday 1209hrs, Sunday 1244hrs.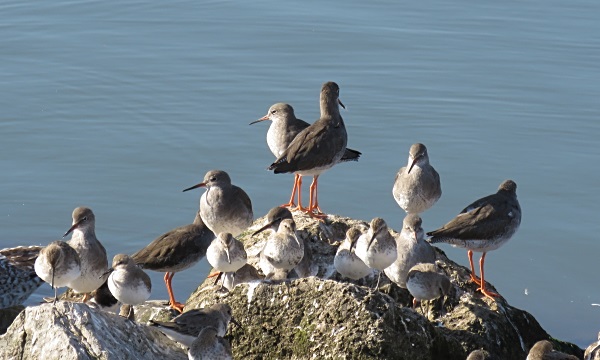 Redshank and Dunlin at West Kirby © Richard Smith
Hoylake Shore
High Tide

(Hoylake) Saturday 1209hrs, Sunday 1244hrs.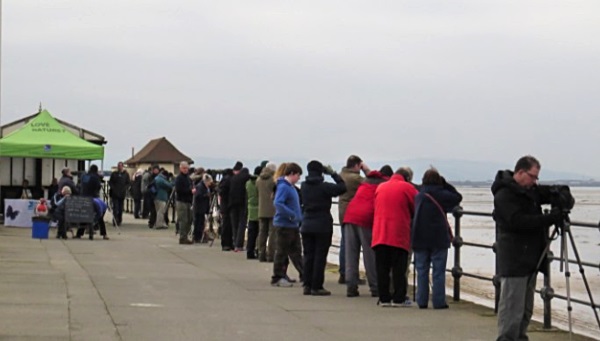 Birders at Hoylake on a High Tide Birdwatch - Wader Quest (Elis Simpson)
New Brighton
High Tide

(Liverpool) Saturday 1221hrs, Sunday 1256hrs.
High tide bird watch

- led by the RSPB, Wirral Rangers and Cheshire Wildlife Trust that includes the pontoons on the Marine Lake (Start 11.00 am Sat and 11.30am). Meet at

New Brighton Marine Lake

, car parking at both King's Parade and Marine Promenade.
Afterwards warm up in the

Caffe Cream

(CH45 2PB, adjacent to the Marine Lake) with a 'Wader Warmer' - A large hot drink and cake for £4.00.
Parkgate
Top of Page
Colour Ring Report


Top left and clock-wise. Black-headed Gull TMEN, Black-tailed Godwit R8-GO, Black-tailed Godwit LN-YO (only right leg showing), Black-tailed Godwit WW-OYflag. Photos by Richard Smith.

There was a good gull roost at Hoylake for several days and a we managed to spot a few with rings although we are still waiting for feedback for several of them. The pontoon at the north end of West Kirby Marine Lake seems to be very attractive to Black-headed gulls, I think they use it to rest on between feeding on bread provided by the general public! We've had at least one long-staying colour-ringed bird there over the past three winters and one has turned up again this autumn. There have been quite a few Sanderling around but much searching failed to reveal a single colour-ring and the only colour-ringed Dunlin to be seen was on the groyne at Leasowe but too far away to read. So we are back to the good old Black-tailed Godwits and we saw 16 different colour-ringed birds in October, all in the flooded field next to Gilroy Nature Park - I give the life histories of the three in the photographs above.
Herring Gull
K4:W
black on yellow ring.
Ringed at Walney Island, Cumbria, on May 19th 2014.
Recorded on Hoylake shore on October 28th 2015 (first record away from Walney Island).
Recorded at Walney Island in April and May 2015.
Black-headed Gull
TMEN
black on white ring.
Ringed at Lodz, Poland, on April 12th 2013.
Recorded at West Kirby on October 9th 2015 and several times since.
First record away from the ringing site was at West Kirby on September 11th 2013, it was present until January 18th 2014.
It returned to West Kirby on July 9th 2014 and remained until February 18th 2015. The only other record away from West Kirby was at Hoylake on February 5th 2015.
Black-tailed Godwits
At the end of September and early October our colour ring records showed that there was a distinct movement of 'Blackwits' from the east coast of England to the Dee estuary, this included two of the birds below. The folks from Operation Godwit tell us that such east-west movements are quite unusual, much more usual is a north-west to south east flight in late winter and early spring when birds feed up on the Ouse Washes and Thames Estuary prior to the long migration back to Iceland.

R8-GO
ringed as an adult male in northern Iceland on July 7th 2010.
Recorded at Gilroy Nature Park during the second half of October 2015.
The first record after ringing was at Gilroy on August 13th 2011. It remained on the Dee Estuary (Thurstaston) until February 2012. It was on the Humber estuary in September and October 2012 but there were no records for the following winter. It returned to Thurstaston in September 2013 and remained until December with the same pattern in 2014. It was at Gibraltar Point, Lincs, at the end of August 2015.
LN-YO
ringed as an adult male in northern Iceland on June 12th 2005.
Recorded at Gilroy Nature Park on October 10th 2015.
Not many records for this bird being seen only in Icleand in May 2008 and the Blackwater Estuary, Essex in March 2009 before turning up at Waterford, Ireland in January 2012. Late summer 2014 saw it on the Wash and it was also there on September 27th 2015.
WW-OYflag
ringed as a chick in Iceland on July 13th 2012.
Recorded at Gilroy Nature Park many times between July 19th and October 26th 2015.
First record after ringing was at Thurstaston Shore on October 11th 2013 where it remained a few weeks with a visit to the Mersey estuary in January 2014. It returned to Thurstaston Shore in November and December 2014.
Richard Smith and Matt Thomas
.
Colour-ringed birds were also recorded by John Jakeman and Steve Hinde.
Hoylake Golf Resort
Wirral Borough Council is to host drop-in public consultations about the proposed Hoylake Golf Resort:
Melrose Hall, Hoylake 11-13 November 2015 between 1pm and 7pm

Westbourne Hall, West Kirby 18-20 November 2015 between 1pm and 7pm.

Also see the Hoylake Golf Resort Facebook page:
https://www.facebook.com/hoylakegolfresort?fref=ts
Looks like we will at last get some details about this project which threatens to destroy the biologically rich area called the Hoylake Langfields, it is also a very important area for roosting waders from the nearby North Wirral and Dee Estuary Special Protection Areas and Ramsar sites, in particular they are regularly used by Internationally Important Numbers of Black-tailed Godwits - see the Godwits of Gilroy Article.
Top of Page
October Bird News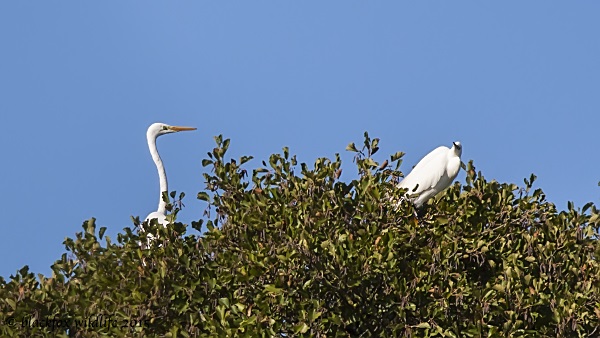 Great White Egret and Little Egret in the roost at Burton Mere Wetlands,October 12th © Jeff Cohen.
Just how many Great White Egrets we had in October is difficult to say but we did have three records of four birds together, and many more of two and three birds. My guess is that it won't be too long before there is a count of 10 birds for the whole estuary.
I did predict gales but none materialised and it was the quietest September and October I remember, so not even a hint of a Leach's Petrel. Calm weather often means poor visibility but we did have one or two days when the sea was flat and it was also clear with the result that we had a huge count of 961 Great Crested Grebes on the 2nd, confirming North Wirral as the second most important site for this species in the UK behind Dungeness and Rye Bay. There were very few Common Scoters that day but by the 19th there were 1,200 and probably more by the end of the month. The highest count of Brent Geese was 84 at West Kirby on the 27th whilst there have been very impressive counts of Teal with 6,000 at Both BMW and Connah's Quay.
October is usually good for rarities and this one was no exception with: a Slavonian Grebe at Hilbre; a fly over probable Olive-backed Pipit at West Kirby; two records of Richard's Pipit; a Spotted Crake, a Pectoral Sandpiper, several records of Cetti's Warbler and Yellow-browed Warbler at BMW (Burton Mere Wetlands); four further sightings of Yellow-browed Warbler; a Pallid Harrier over Hoylake.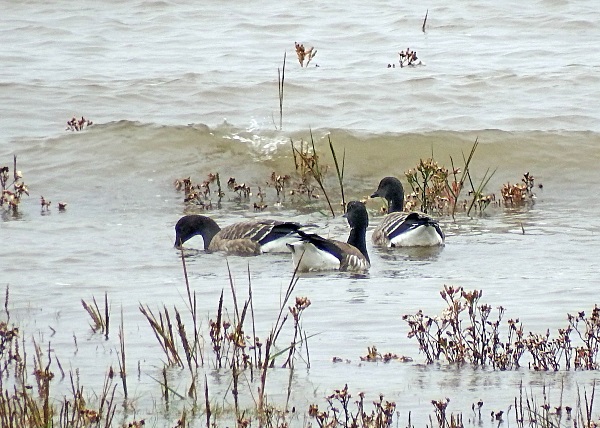 Brent Geese on the marsh at West Kirby, October 27th © Tanny Robinson
It continues to be a good 'winter' for Short-eared Owls and we had many sightings of them between Burton and Parkgate, unfortunately the tides at the end of the month weren't quite high enough to flush them all from the roost off Gayton. There was also many records of both Hen and Marsh Harriers, with at least three of each.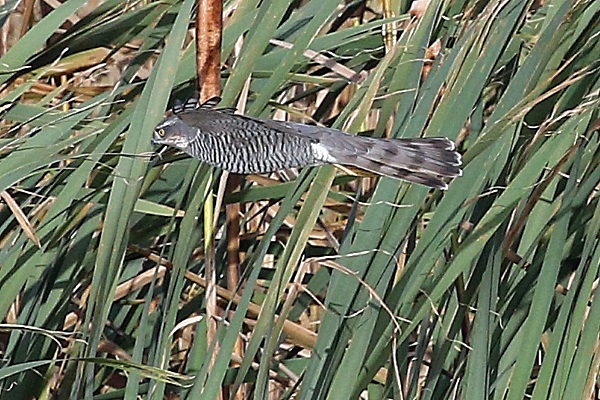 Sparrowhawk at Burton Mere Wetlands, October 24th © Roy Lowry.
Black-tailed Godwits continued to roost in the flooded field by Gilroy Nature Park with Internationally Important Numbers nearly every day, max 2,300 on the 23rd. There was also a juvenile Garganey there for several days. 4,000 Black-tailed Godwits were at Point of Ayr by the 31st. Up to four Little Stints and a Curlew Sandpiper were at BMW for most of the month whilst there was a very impressive 21 Spotted Redshanks at Connah's Quay.
Richard Smith.
Many thanks go to Mal Sergeant, David Parker, Graham Conolly, Jane Turner, Steve Hand, Mark Gibson, Rich Whitby, Paul Mason, Roy Lowry, Mal Seargant, Richard Beckett, Derek Bates, Jeff Cohen, Dave Edwards, Keith Scovell, Mark Turner, Matt Thomas, Chris Butterworth, Allan Conlin, David Haigh, Jeremy Bradshaw, Alan Hitchmough, Steve Williams, Charles Farnell, Elliot Montieth, Richard Steel, Dan Trotman, Ray Eades, Ian Fleming, Denzil Nicklin, Carole Killilikelly, Gail Gannon, Alan Irving, George Knight, Tanny Robinson, Steven Edwards, Paul Shenton, Julie Rogers, David Leeming, Paul Vautrinot, Henry Cook, Glenn Morris, Bruce Atherton, Stephen Lane, Stan Davidson, Mike Turton, Mark Palin, Andy Newall, Ian Dyer, Colin Wells, Geoff Robinson, Gail Wilson, Mike Hart, Andy Thomas, David Small,Richard Would, Alan Bisell, Alistair Foggo, Mathilde Baker-Schommer, John Coupe, David Jones, Dave Chandler, Martin Sherwood, Hugh Stewart, Bernard Machin, Damian Waters, the
Lighthouse and Wirral Birding Blog
, the
Dee Estuary Wardens
and the
Hilbre Bird Observatory
for their sightings during October. All sightings are gratefully received.
Top of Page
What to expect in November
Plenty of waders, we hope! A blast of cold air over the North Sea coasts of Europe would certainly do very nicely and push large numbers of Dunlin, Sanderling and Knot towards us, to join the thousands of Oytercatchers, Redshank and Black-tailed Godwits already here.
It's good that large numbers of Pink-footed Geese on our marshes are now a regular feature and we can expect 4,000 or more this month, although they can be hard to see in the long grasses and reeds. Sometimes they feed within a couple of hundred yards of Parkgate prom making for a specacular sight when they take off.
We would expect to see our first Snow Buntings of the winter, often on the beach at Point of Ayr or Gronant, or around Hilbre and along north Wirral. Connah's Quay has become one of the most important sites in the country for over-wintering Twites over the past two or three years and they could reach at least 100 this month. By the end of the month we will know if we are in for a good Waxwing year or not, if so they will be pouring into Scotland and the first ones may have reached here.
It looks like we are going to have a Leach's Petrel free year, although a prolonged south-west gale may still produce one or two. You have to go all the way back to 1993 since the last time when we had no Leach's Petrels in the autumn, but we did have one in January that year! If the calm weather continues it is well worth looking out to sea where many Red-throated Divers can be seen, sometimes a hundred or more, as well as several hundred Great Crested Grebes and thousands of Common Scoters, and we may well expect a few Velvet Scoters and perhaps a Surf Scoter or two among them.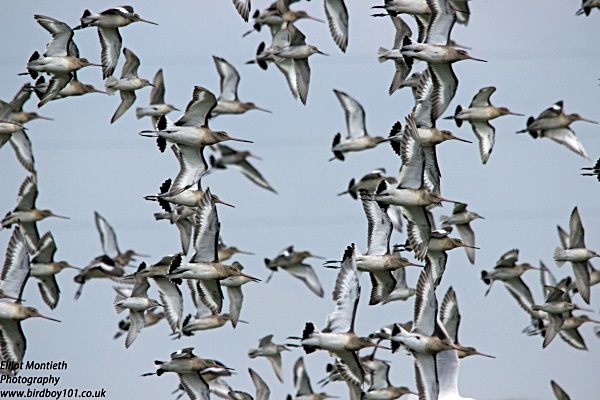 Top of Page
Forthcoming Events
November Highest Spring Tides (Liverpool)
Also see Tides page.

26th November, 10.57hrs (GMT), 9.8m.
27th November, 11.41hrs (GMT), 9.8m.
Forthcoming Events
Organised by the Wirral Ranger Service , Flintshire Countryside Service and the RSPB (Dee Estuary):
All these events and walks have bird interest, even those not advertised specifically for birdwatching. No need to book for these events unless specified - please check below.
Also see 2015 Events Diary.
Sunday 1st November and Sunday 6th December
,
Skydancers on the Dee
at the Donkey Stand at
Parkgate
(opposite Nicholl's Ice Cream Shop).
1 pm - dusk
Price: Free
Most people have never seen a hen harrier, but once seen it is rarely forgotten. In support of the RSPB's Skydancer project, we are pleased to bring you a series of events to showcase these enigmatic birds of prey which use the marshes of the Dee Estuary as their home for the winter months.
The name "Skydancer" comes from the aerobatic displays that the male birds perform in their courtship ritual on the moors in the spring. Sadly, this has become an increasingly rare sight and they are close to becoming extinct as a breeding bird in England.
This could be the last chance to see Skydancers on the Dee, so come along to Parkgate to find out more about the hen harrier story and what you can do to help save them before it's too late. Look for the RSPB marquee along the main promenade at Parkgate, where friendly staff and volunteers will be on hand with telescopes and binoculars to show you these beautiful, agile birds hunting over the marsh, and coming in to roost there at dusk. Plenty of family activities and other RSPB information will be available.
Car parking is limited on Parkgate promenade, but there is free public parking at the Old Baths car park (CH64 6RN) at the north end of The Parade, and the Wirral Country Park car park on Station Road (CH64 6QJ). There are public toilets at Mostyn Square in the middle of The Parade, and a number of pubs and cafes for refreshments. Wrap up warm, and prepare to be patient as the harriers have a large area of marsh to roam!
For more information on the RSPB's Skydancer project, visit
http://www.rspb.org.uk/skydancer/
Saturday 7th November and Sunday 8th November
Wader Conservation World Watch at Burton Mere Wetlands.
9.30 am-4.30 pm.
Price: Free (normal entry fees apply to non-members)
Ever taken part in the RSPB's Big Garden Birdwatch? Well, our friends at Wader Quest have created an annual, global event that is effectively the same, but for wading birds rather than garden birds; the Wader Conservation World Watch.
An opportunity for birdwatchers across the world to show their solidarity with, and appreciation of, wader conservationists be they professionals or volunteers, and just two simple steps to taking part:
1. Go out and see wading birds wherever you are in the world.
2. Report what you have seen and where to Wader Quest.
It is that easy; no registering required, just good old-fashioned bird-watching!
Burton Mere Wetlands is playing "host" to this event on the Wirral Peninsula; drop in any time during opening hours over the weekend to report your sightings from any local location, and we'll submit them to Wader Quest, credited to you of course!
We'll also be reporting all waders present at the reserve over the weekend, so feel free to come down and help us seek out that elusive greenshank or little stint, or who knows what other late migrant?!
Further details on the event, and Wader Quest's work, can be found on the Wader Quest website, here: http://www.waderquest.org/p/wader-quest-world-watch.html

Saturday 14th November and Sunday 15th November
Wirral Wader Festival with Events at Thurstaston, West Kirby, Red Rocks, Hoylake, New Brighton and Parkgate.
See Article Above for Details.

Sunday 29th November, Weekend Walkabout at Burton Mere Wetlands.
12.30 pm-2.30 pm (approx. finish)
Price: Free (normal reserve entry charges apply to non-members)

Join one of our friendly, knowledgeable volunteers for a gentle walk from the Reception Hide to the end of the Hillfort Trail on Burton Point, to learn more about the wildlife that thrives here, the work we do to give nature a home and the remarkable history of the estuary.
Great for first time visitors or those who'd like a guide to help them get the most enjoyment from a visit. With constant changes as we move through the seasons, it's impossible to predict what might be seen but as we move into winter, the number of ducks, geese and and wading birds rises into the thousands, whilst a variety of birds of prey can be seen. One of the greatest spectacles comes at dusk as hundreds of little egrets and jackdaws fly into roost, plus a growing number of starlings attempt a murmuration over the wetlands.
No booking required, just turn up on the day. A reasonable level of fitness and sturdy footwear are required. Ring 0151 353 8478 for details.