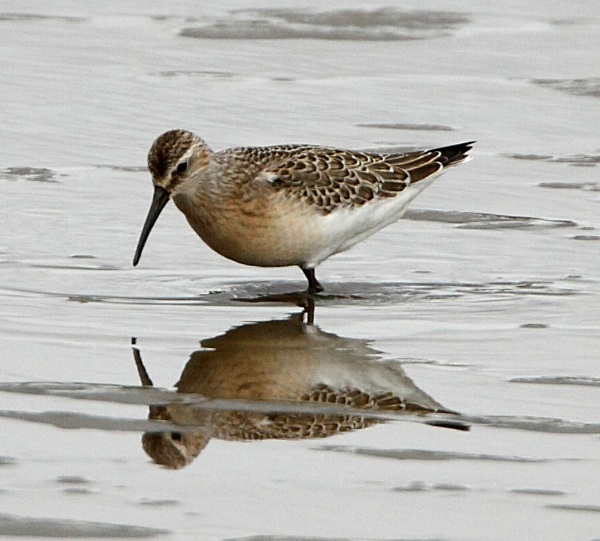 Curlew Sandpiper at Inner Marsh Farm, Sep 3rd, 2011 © Keith Scovell.
This year's influx of Curlew Sandpipers started as they usually do, with an adult in breeding plumage at the end of July, this year it was one at Hilbre on the 31st. The first juvenile didn't arrive until August 26th but by the end of the month there were over 10 - at Hoylake and Inner Marsh Farm - and for the next couple of months they were nearly all juveniles. Numbers peaked in the first week in September, with a second peak later in the month. Most birds were at Hoylake, max 24 on the Sept 5th, and Inner Marsh Farm/Burton Mere Wetlands, max 32 on Sept 25th. Other high counts were 12 at Hilbre on Sept 4th and eight on the shore at Leasowe Lighthouse on the same date.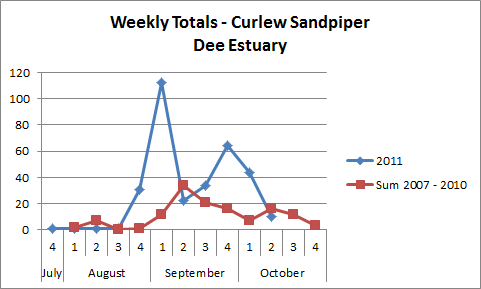 As you can see from the graph below we were certainly due a good year after 10 poor ones. Simply totalling all the records together, as I have done for this graph, probably does exaggerate the total number of birds we have seen as any birds spending more than one day here will be counted more than once, but it does give an accurate means of comparing one year with the next.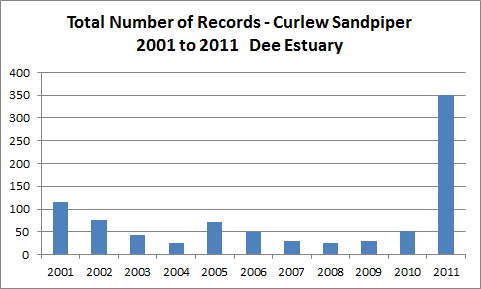 My detailed daily records only go back to 2001, which is unfortunate as prior to that we had five good years, so I have had to resort to the graph below which just shows the single highest annual count; this is a cruder measure of relative abundance but interesting nevertheless.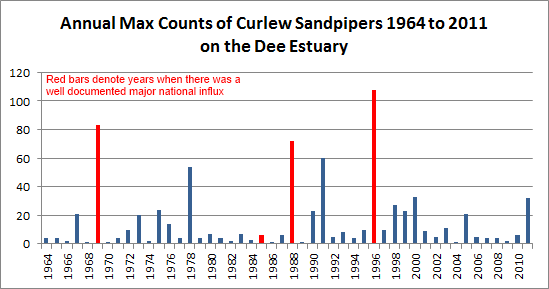 Although 2011 will undoubtedly go down as a good year, you can see it was nothing special as far as large influxes are concerned. 1996 gave us the highest count with 108 on Heswall shore, that year there were 40 or more there for about four weeks. Each year is different, over the years Heswall has been one of the best places to see this species but this year, 2011, there was just one record of four birds here. Sometimes a large flock is recorded at Hilbre and there were 60 here in 1991. Going all the way back to the major national influx of 1969 we had 83 on West Kirby Shore. This species is as likely to be at a freshwater site as saltwater and Inner Marsh Farm has always held good numbers, as it did this year, and we even had two at my local wader scrape in West Kirby. Point of Ayr usually has a good number of birds, in 1991 they peaked at 34, but this year there was not a single one reported from there.
But why do we get these large influxes, and why has it been over 10 years since the last one?
As you can see from the map below we live well to the west of their normal migration routes. For an influx to happen two things are crucial, the weather and breeding success. Most experts agree that the weather during migration is particularly important. The blue line in the map below shows the probable route the juveniles take, they are said to largely follow the coast line but I suspect many fly over Finland into the Baltic, most years they would then carry on south but if there is a low pressure system sitting over south Scandinavia they then get blown westwards and into the UK. This is certainly what happened in the well researched influxes of 1969 and 1988. A Curlew Sandpiper influx usually coincides with good numbers of Little Stints and Ruff in the country, as it did this year. It is interesting that both these species breed in the same general area as Curlew Sandpipers with Ruff breeding right across northern Europe and Asia and Little Stints just to the west of the Curlew Sandpipers.
Breeding success can vary widely from year to year and is dependent on the lemming cycle. In poor Lemming years the Arctic foxes will eat wader chicks instead. As influxes always seem to consist mainly of juveniles then a good breeding season is also important.

Map kindly provided by University of Texas Libraries (arrows, text etc. added by the author).
As a species Curlew Sandpipers seem to be doing well, with a good increase in the population over the past 30 years or so. All the world's Curlew Sandpipers breed in a relatively small area as shown on the map. During the winter they disperse widely with some going as far east as Australia and the south-east Asia, but the majority go to Africa south of the Sahara, spread right across the continent and not just the coasts. It is estimated that 1,400,000 winter in Africa, this is the same number as Dunlin which winter and migrate through Europe each year - so it is a large population. Most migrate overland to Africa via the Black Sea but several thousand fly further west via the Waddensea and you can see that it wouldn't take much for a few hundred birds to be pushed west over the North Sea by a low pressure system and cause an influx into the UK.
ADDENDUM (Nov 8th): I have recently spoken to someone who lives in northern Norway. Apparently there was a large influx of juvenile Curlew Sandpipers into north-west Norway in August during prolonged easterly winds. This fits in with both the theory that wind direction during migration plays a big part in the route juveniles use and also with the observation that they tend to stick to the coastline. The blue arrow on my map purporting to show the migration route of juveniles this year is therefore largely incorrect.
References/Sources of Information:
1. Cheshire Bird Reports 1964 to 2009.
2. Clwyd Bird Reports and North-east Wales Bird Reports - various.
3. Latest Sightings archive - www.deeestuary.co.uk (many thanks to everyone who sent their sightings to me).
4. Simon Delany et al., An Atlas of Wader Populations in Africa and Western Eurasia, Wetlands International, 2009.
5. Richard Smith, The Curlew Sandpiper, September 2000 Newsletter Dee Estuary Website.
6. P.I. Stanley and C.D.T. Minton, The unprecedented westward migration of Curlew Sandpipers in autumn 1969, British Birds 65: Sept 1972.
7. J.S. Kirby, K.K. Kirby and S.J. Woolfall, Curlew Sandpipers in Britain and Ireland in autumn 1988, British Birds 82:9, 399-409.
8. Pers. Comm. (J Wilson, Nov 7th 2011).
Richard Smith.
Top of Page
October Bird News
The bird of the month was undoubtedly the Red-flanked Bluetail found, trapped and ringed on
Hilbre
on Oct 16th - a first for Cheshire and Wirral and, as far as I'm aware, a first for North-west England. It stayed on the island for a few hours giving the visiting birders great views and much pleasure! Records of this species in this country have rocketed over the past four years (mostly in the east half of the country), there were 30 in 2010 alone compared with a total of just seven between 1958 and 1984. The reason for this change is not understood but it is known there is a small but growing breeding population in Finland. The bulk of the population breed in Russia and eastwards across cool temperate forests in Asia, and winters in south-east Asia. Nearly all records, including the one on Hilbre, are 'first winters'.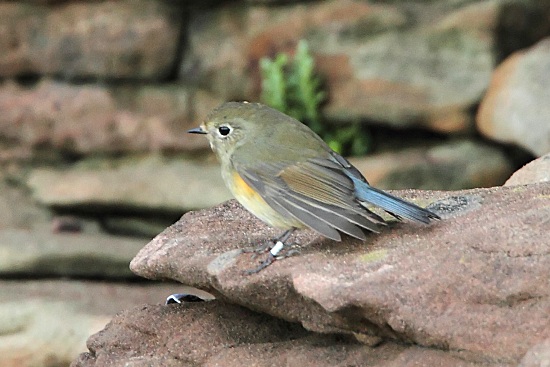 Red-flanked Bluetail, Hilbre, Oct 16th © Keith Scovell.
The Bluetail wasn't the only rarity - remarkably the Great White Egret present in September was joined by a second bird on the 3rd and both stayed all month. They spent much time in the marshes off
Parkgate and Neston
, and came into the roost at
Burton
in the evening with the Little Egrets. This is the first record in our area of more than one. A Cattle Egret then turned up at
Burton Mere Wetlands
on the 14th, well seen from the Reception hide.
We also got several days of westerly gales and there was some marathon sea watches made from
Hoylake
in particular, as well as elsewhere along north Wirral and also
Hilbre
and
Point of Ayr.
Highlights were a Sooty Shearwater, one Balearic Shearwater, 54 Leach's Petrel, Sabine's Gulls, a Blue Fulmar, Grey Phalarope, Great Northern Divers as well as Long-tailed, Arctic, Pomarine and Great Skuas. Compared to some years this hasn't been a 'classic' Leach's Petrel year, but we've recorded them on 14 days over September and October, compared with just six days last year - not bad! On a calmer day a massive 805 Great Crested Grebes were counted off north Wirral on the 15th, with the high counts made last winter this must make this site one of the top three most important in the country for this species. Brent Geese had reached 105 by the month-end, beating the previous highest October count of 94 on Oct 31st 2008.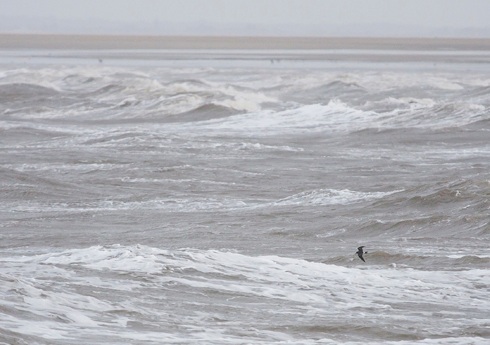 It was certainly a month of mixed weather as we also had some good days for Visible Migration. Oct 13th was a good day for a winter thrush movement and we had several hundred, mostly Fieldfare, coming through. Good numbers of birds passed over
Red Rocks
and max count of Chaffinches here was 1,650 on the 24th, 5 Lapland Buntings were here two days later. Other highlights include a Richard's Pipit at Hilbre and single Yellow-browed Warblers at
Point of Ayr
,
Leasowe Lighthouse
and Red Rocks.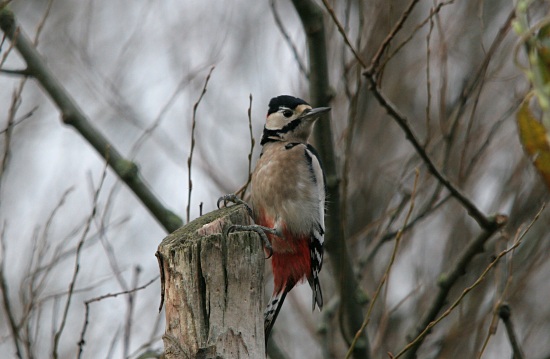 Great Spotted Woodpecker along Park Lane, Meols, October 24th © Jeremy Bradshaw
Richard Smith.
Many thanks go to Kevin Smith, Eddie Williams, Mark Gibson, Jeff Cohen, Keith Scovell, Ken Roberts, Richard Beckett, Robert Littler, David Haigh, Rob Devenish, Steve Round, Bernard Bagnall, Ray Eades, Tanny Robinson, Paul Mason, William Haworth, Bruce Atherton, William Boyce, Joe Wynn, Robin Moody, Steve Williams, Diane Rawlinson, David Esther, John Jakeman, Jeff Stephens, Mark Evans, Charles Farnell, Dave Edwards, Gail Wilson, Dave Harrington, Paul Brady, Chris Butterworth, David Leeming, Richard Steel, Dave Wild, Matt Thomas, Jeremy Bradshaw, Jane Turner, Paul Vautrinot, Andy Thomas, Ian Dyer, David Small, Sean O'Hara, Colin Schofield, Sid Ashton, Ian Fleming, Colin Davies, Martin Kelly, Ken Mullins, Derek Bates, Michael Ward, Bernard Machin, Peter Haslem, Peter Forshaw, John Sharp, Pete Button, Andrew Mehta, Steve Renshaw, Chris Revell, Graham Thompson, Neil Simpson, Daniel Trotman, Roger Jacobs, Nigel Jacob, Chris Wilding, Clive Part, the
Dee Estuary Wardens
and the
Hilbre Bird Observatory
for their sightings during October. All sightings are gratefully received.
What to expect in November
At least three or four Hen Harriers should take up residence on the marshes, hopefully including a nice 'grey' male or two. Short-eared Owls will be present, high tides at the end of the month should flush them giving great views. Other winter favourites will include Snow Buntings with Point of Ayr and Hilbre being favoured spots, if we are very lucky we might even get a Shorelark. If we are to get another good Waxwing winter the first ones will probably arrive this month.

Wildfowl and waders will be increasing in number with the Brent Geese likely to reach at least 140 by the end of the month, and Pintail at Thurstaston approaching 1,000. The usual waders will be present in their thousands - Knot, Dunlin and Black-tailed Godwits, with hundreds of Sanderling, Grey Plover and Bar-tailed Godwits. Last year the severe cold weather at the end of the year started at the end of November and there were spectacular numbers of Knot in particular, Hoylake Shore is one of the best places to see these huge flocks.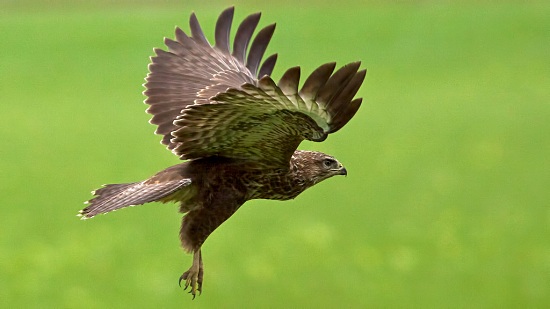 Common Buzzard at Shotwick Fields, October 18th © Jeff Cohen
This photo was BBC Autumnwatch photo of the day!
Forthcoming Events
November Highest Spring Tides (Liverpool)
Also see Tides page.
26th November, 11.20hrs (GMT), 9.8m.
27th November, 12.06hrs (GMT), 9.8m.
Forthcoming Events
Organised by the Wirral Ranger Service , Flintshire Countryside Service and/or the RSPB:
All these events and walks have bird interest, even those not advertised specifically for birdwatching. No need to book for these events unless specified - please check below.
Also see 2011 Events Diary.
Saturday 26th November 9:30 am until 12:00 noon. Birdwatch at
Hoylake Shore
.
(Please note – change of usual meeting place).
Join the Rangers, Dee Estuary Voluntary Wardens and staff from the RSPB to watch the waders as they roost and feed on the incoming tide. High tide at 11.05am. Dress warmly and bring binoculars if you have them. No need to book. Meet at the bottom of Trinity Road near the new Lifeboat Station, Hoylake Promenade. For further details please telephone Wirral Country Park on 0151 648 4371 or the RSPB on 0151 336 7681.
Sunday 27th November, 2.30pm start, RSPB Raptor Watch at the Old Baths Car Park, Parkgate.
The Dee Estuary Nature Reserve is a vital wintering grounds for many birds of prey – Discover these impressive birds in their wild habitat, hunting and roosting on the saltmarsh.
Warm clothing and binoculars recommended. Ring 0151 336 7681 for further information.
Sunday 18th December, 2pm start, RSPB Raptor Watch at the Old Baths Car Park, Parkgate.
The Dee Estuary Nature Reserve is a vital wintering grounds for many birds of prey – Discover these impressive birds in their wild habitat, hunting and roosting on the saltmarsh.
Warm clothing and binoculars recommended. Ring 0151 336 7681 for further information.
Birding North West is a monthly magazine for birders in the North West Region. Our aim is to bring you the news of rare and scarce birds in our region while it is still news. We consider that up-to-date news, photographs of regional birds, articles on the occurrence of birds in the North West and other articles relating to our region is what our readership want.