October Highest Spring Tides (Liverpool)
27th October, 12.04hrs 9.7m. (all times BST)
28th October, 12.42hrs 9.7m.
See Tides page for tide table.

Note that the marsh at Parkgate is covered when tide height is 9.8m or over, dependent on weather conditions. Low pressure with strong north-west wind will create higher than expected tide, high pressure with southerly wind means lower than expected tide.

Young Ornithologists Club at Ness Gardens
See the listing of events for 2000. This group have a most interesting series of monthly outdoor and indoor meetings for the younger birdwatchers.

Wirral Peregrines Phoenix Group
A group for teenagers jointly run by the RSPB and Wirral Ranger Service. For all young people (you don't have to be RSPB members) who want to do something to improve our environment and enjoy wildlife. See the year 2000 events.

Wirral Bird Club
The Wirral Bird Club welcomes all who are interested in birds, from the beginner to the experienced. See the complete listing of events for 2000.

Forthcoming Events (organised by the Wirral Ranger Service, Flintshire Countryside Service and/or the RSPB):
All these events and walks have bird interest, even those not advertised specifically for birdwatching.

1st, 14th and 15th October. Migration Watch 2000 (see below)

1st October. High Tide at Flint Castle. 12 noon.
Superb coastal birding with potential for scarce birds such as Twite and Hen Harrier. (HW 14:19 9.4m) Meet at Lifeboat Station car park. For more information ring 0151 336 7681.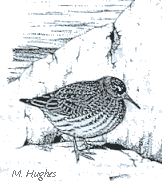 7th October. Guided Walk to the Hilbre Islands.
Cross the sands to discover the Islands' wildlife and history. A 4 mile walk of 4 hours, ideal for first time visitors. Please bring warm waterproof clothing and a snack. Wellies recommended. Booking essential, 0151 648 4371.There is a £1 charge for this event. Sketch by Tony Broome.
15th October. Beginners Bird Watch at Hoylake. 12 noon to 1:30pm
If you want help identifying all those waders, come along - members of the Dee Estuary Voluntary Wardens will be there to show you. We expect at least nine different species. Those of you who read my Latest Sightings page will know what a great place Hoylake shore is. Meet at Kings Gap/North Parade (by Lifeboat Station). No need to book, for details ring Wirral Country Park at 0151 648 4371.
18th October. Parkgate Walk. 11am - 4pm
A leisurely circular walk through fields and marshes to the lost port of Parkgate, looking at the local and natural history of the area. Booking essential, 0151 678 4200.
28th October. High Tide Birdwatch on Hilbre Island.
Come and see the shore birds of Hilbre. A 4 mile walk, staying on Hilbre for approx. 5 hours. Please bring warm waterproof clothes, wellies, a snack, a hot drink and binoculars. No dogs. There is a £1 charge for this event. Booking essential. 0151 648 4371.
29th October. Heswall Shore High Tide Bird Watch. 9:15am
Waders and Wildfowl galore at the tide's edge. (HW 12:18, 9.6m). Meet at Banks Road car park (near Sheldrake's Restaurant). For details ring Wirral Country Park at 0151 648 4371
12th November. Searching the Strandline. 11am - 1pm.
Join the Rangers for a walk along the high water mark, discover some of the things left on Thurstaston Beach by the tide and learn more about the dynamics and ecology of the estuary. Booking essential. 0151 648 4371.
Note: Many of these forthcoming events extracted from 'Birdwatchers Diary 2000', which covers both the Dee and Mersey regions. Copies available from the visitor centre at Thurstaston, Wirral Country Park 0151 648 4371.