The winter of 2007/08 was not a good one for waders on the Dee Estuary, for the second winter running we had days on end of strong and mild westerly winds - this really suppresses numbers of Knot and Dunlin in particular and these are the two species most numerous at the West Kirby high tide roost. But it certainly wasn't a complete disaster for all wader species with large numbers of Redshank and Curlew present in the autumn (mostly at Heswall), and a record winter count for Black-tailed Godwits (at Heswall and the inner estuary). Additionally Oystercatcher numbers recovered back to the average for the past ten years after a disappointing winter in 2006/07. Many of these Oystercatchers were present in good numbers at the West Kirby high tide roost where the voluntary wardening scheme recorded over ten times, on average, the number of birds present during the previous winter, equalling the highest average count since the scheme started in 1986 (see graph below). The max count was 13,500.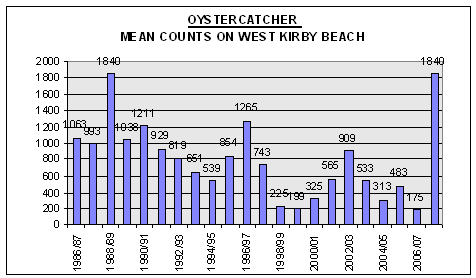 I don't think there was any particular reason for this dramatic increase in numbers at West Kirby other than the birds just decided that the beach was a good place to roost this winter.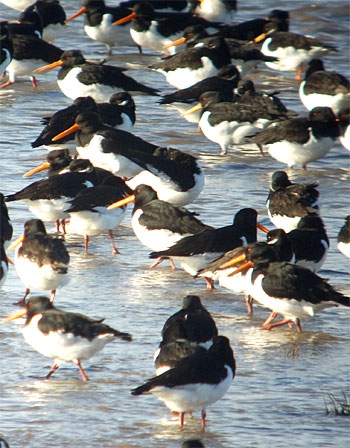 We'd had quite large counts of Oystercatchers at West Kirby during the late summer, I was down there one day in August and despite many walkers, dogs and even a Life Guard quad-bike, they stuck to the beach like glue - and they carried on like this through the autumn and most of the winter. In contrast, during the previous winter they hardly came near the beach, and when they did form a roost they seemed restless and would fly off at the slightest excuse. I think this has to go down as a good example of how unpredictable birds can be!

Left - Oystercatchers walking in with the tide, © Richard Smith.
In contrast to Oystercatchers, counts for Ringed Plovers reached an all time low at West Kirby last winter, with an average of just one bird per high tide. Birds were present on only 11 of the days wardens were on the beach. When I first started wardening in 1999 Ringed Plovers, although never very numerous, were the most reliable bird to be seen - there were always a small flock scurrying around busy feeding. Four years later numbers really dropped off, perhaps the shore at West Kirby no longer contains the food items required by Ringed Plovers. We certainly miss them.
What else was present at West Kirby during the past winter, apart from relatively low numbers of Knot, Dunlin and Ringed Plover, and high numbers of Oystercatchers? We had good counts of Curlew which we suspect was due to the presence of the Oystercatchers - because the 'Oycs' were obviously settled and happy to stay through the high tide then the Curlew stayed with them rather than going inland to the Hoylake Langfields.
One of the things I remember most about last winter were the Brent Geese, of which there were record numbers (max 172). On calm days we would see the flock fly from Hilbre to Little Eye where they normally spent high tide on the sea, but on windy days they often came right on to the marsh edge at West Kirby, just a few yards from where the wardens would be standing - an amazing sight. Last winter was also the first one where Little Egrets were present for virtually the whole winter, with two or three on West Kirby marsh. Many a time a member of the public would rush up to the wardens telling them with excitement they had seen a 'white heron', obviously unaware how common they have now become on the Dee marshes. One warden was very lucky, during gales in November she was standing on Red Rocks when a Leach's Petrel came past so close she could almost reach out and touch it!
Monitoring what is in effect our local patch for 21 years has given us a fascinating insight into how bird behaviour and numbers change from week to week, and year by year. Sometimes the reason for these changes are obvious (e.g. the weather), sometimes it is a fascinating mystery (see the article about the 'sine wave'). To see more information/articles about the wardening scheme at West Kirby see the site index. The voluntary wardens' main job is to protect the high tide roost from disturbance, the season lasts from mid-September to mid-March. If you would like to join us feel free to just come along say hello, or speak to the Coastal Ranger - ring 0151 678 5488.
August Bird News
A good month for terns. We had the usual large numbers of Sandwich Terns with a max single count of 930 on Aug 19th, on Hoylake Shore, although total numbers for the estuary will have been at least 2,000. We seemed to have had more Common Terns around than usual with large flocks building up through the month, 1,000 off Hilbre on the 10th was the max single count but there were also large roosts at Gronant, West Kirby and Hoylake for most of the month. 110 Little Terns were on West Hoyle Bank on 23rd. The final Little Tern fledgling count at Gronant was 104, so it turned out to be a good year despite another summer of bad weather. The much rarer Roseate Tern put in a welcome appearance with two at Point of Ayr on 6th. There were also Black Terns around at the beginning of the month with a total of eight records, max three off Hilbre on 1st, with presumably the same birds at Red Rocks the following day.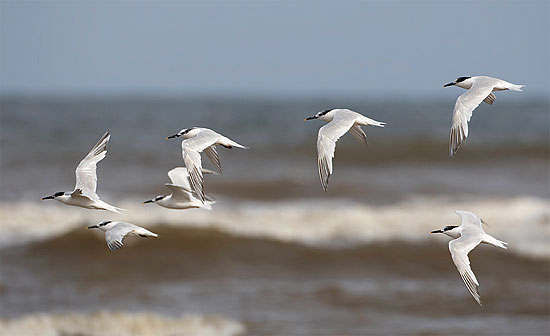 Sandwich Terns flying past Leasowe Lighthouse, Aug 14th, ©
Richard Steel
.
Sea watching was good without being spectacular. There were two sightings of Great Skua, singles on 3rd off Hilbre and off Meols on 17th. Two adult Pomarine Skuas were also seen, 16th and 30th, both off Meols. Arctic Skuas were reported almost daily with max of 14 at Hilbre on 28th. Manx Shearwaters were recorded on a few days, 233 from Red Rocks on 19th during a strong westerly was easily the highest count. Max count of Gannets was over 100 off Meols on 18th. The only Storm Petrels were two at New Brighton on the 1st.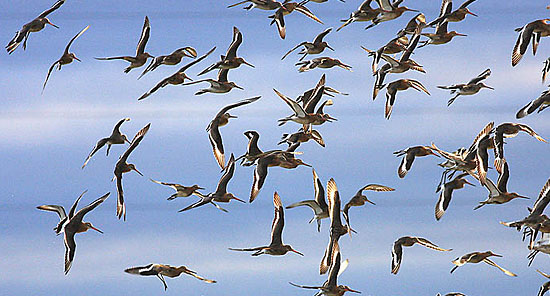 Black-tailed Godwits flying over Gilroy Nature Park, West Kirby, on Aug 29th. © Mike Jones.
Disappointingly, there were no Curlew Sandpipers reported, but there were single Little Stints at Hoylake (2nd) and Heswall (6th), with two at Hoylake on 19th. Both Heswall and Hoylake have held large numbers of waders including 6,300 Redshank at the former and 1,210 Ringed Plover, 6,200 Dunlin, 391 Sanderling and 790 Knot at the latter. The Greenshank passage has been good with max of 19 at Parkgate and 25 at Connah's Quay. There were also six Spotted Redshank at Connah's Quay, as well as the usual large number of Black-tailed Godwits - 2,500 on 19th was max count. Very unusually for August there have been good numbers of 'Blackwits' at Parkgate, Thurstaston and West Kirby - where we don't usually see any until October. They seem to be feeding at Thurstaston at low tide (max 464), and roosting at high tide either at Boathouse Flash or Gilroy Nature Park. The flooded field next to Gilroy is proving a real magnet for birds, lets hope it is not destroyed by the proposed Golf Resort. 15 Whimbrel at Heswall early in the month was the highest count for this species. Nine Common Sandpipers along the River Dee by the A548 road bridge was a good count for this often solitary wader. Wood Sandpipers were seen at both Inner Marsh Farm and Meols Shore.
Two Hen Harriers frequenting the marshes were the first August birds since 2005. At least one Marsh Harrier has also been seen, along with Hobbies, Merlins and Peregrines. Little Egrets usually peak in late summer on the Dee Estuary, so far the highest count coming in to roost at Burton has been 254, peak count last year was 210. A Spoonbill was observed on Oakenholt Marsh RSPB several times during the last two weeks of the month.
Many thanks go to Steve Oakes, Alan Conlin, Mike Jones, Jason Stannage, Dave Edwards, Steve Williams, Ian Dyer, Steve Wrigley, Paul Shenton, Chris Butterworth, Ian Moyes, Charles Farnell, John Elliot, Richard Steel, John Tubb, Rob Bithell, David Esther, Steve Hasell, Mike Dykes, Paul Mason, Andy Coxon, Matt Thomas, Ron Armstrong, Dave Harrington, Colin Wells, Phil Woollen, Glyn Roberts, John Smerdon, David Small, Colin Schofield, Michael Baron, Paul Vautrinot, Martin Kelly, Andrew Wallbank, Phil Liston, Stephen Hinde, Colin Jones, Stuart Taylor, James Smith, Gilbert Bolton, Steve Round, Iain Douglas, Mark O'Sullivan, Leon Castell, and the
Hilbre Bird Observatory
for their sightings during August. All sightings are gratefully received.
What to expect in September
We are somewhat overdue for a windy September, although given the bad summer so far it probably means we are in for a still and sunny September, instead! Anyway, if we do get prolonged north-west winds, force six and above, we can expect lots of Leach's Petrel for which the north Wirral, Hilbre and Point of Ayr are nationally renowned. Along with Leach's we can expect four species of Skuas, Sabine Gulls, Manx Shearwaters, Kittiwakes, Gannets and plenty of auks.
Rarer waders should include Little Stints and Curlew Sandpipers, which can turn up just about anywhere but Heswall Shore is particularly good for the latter. There should be plenty of Greenshank passing through, best place to see these are Inner Marsh Farm, Boathouse Flash on Parkgate Marsh and the Connah's Quay Reserve.
On the marshes expect to see both Marsh Harriers and Hen Harriers. This time of year is also good for Hobbies, particularly early in the month.
Forthcoming Events
September Highest Spring Tides (Liverpool)
Also see Tides page.
1st September, 13.08hrs (BST), 9.6m.
Several 9.5m tides through the month, see the link from the Tides page for details.
Forthcoming Events
Organised by the Wirral Ranger Service , Flintshire Countryside Service and/or the RSPB:
All these events and walks have bird interest, even those not advertised specifically for birdwatching. No need to book for these events unless specified - please check below.
Friday 5th September, 7.30pm Start, Bird Migration: A Local Perspective.
This illustrated talk by Wirral Country Park Ranger Matt Thomas focuses on bird migration – a subject that has fascinated people for centuries – and relates it to birds that can be seen on the Wirral Peninsula.
Booking essential ring 0151 648 4371/3884
Thursday 11th September, 6pm – 9.30pm, Sunset Walk to Hilbre.
Join the Ranger and cross the sands to discover the wildlife and history of the Hilbre Islands Local Nature Reserve. This 4-mile walk of 4 hours is ideal for first time visitors and suitable for all the family to enjoy, although some people may find the walk strenuous in places. Warm waterproof clothing and suitable footwear are essential. (Wellies are recommended). Sorry no dogs. There is a £1 charge per person for this event.
Booking essential ring 0151 648 4371/3884
Sunday 28th September, 10.30am – 12noon, A Stroll around the Dales.
Join the Ranger for an energetic walk around this wonderful heathland site. This event is suitable for all the family to enjoy but might be challenging for some people in places. No need to book. Meet at Dale farm Entrance, Oldfield Road, off Telegraph Road, Heswall (CH60 6SN)
For further enquiries 0151 677 7594
Sunday 19th October, 10am – 3pm, Connah's Quay Reserve Open Day.
Join the Deeside Naturalists Society for some spectacular high-tide birdwatching. (HW: 29.5ft, 13.57). Location: From A548 take the Connah's Quay turn, and follow the Power Station signs. A member of the society will greet you at the reserve entrance. Further information: D.N.S. - 01244 537440.
Free.

Birding North West is a monthly magazine for birders in the North West Region. Our aim is to bring you the news of rare and scarce birds in our region while it is still news. We consider that up-to-date news, photographs of regional birds, articles on the occurrence of birds in the North West and other articles relating to our region is what our readership want.