This article is the second instalment to the one I wrote in the May 2005 newsletter. West Kirby shore high tide roost is monitored on a daily basis between mid-September and mid-March by the Dee Estuary Voluntary Wardens (DEVW) when the tide height is over 8.8 metres, in effect about 50% of the days available. West Kirby is an important roost for nine species of waders, in particular Knot and Dunlin (see map for location of West Kirby relative to the rest of the Dee Estuary).
| | |
| --- | --- |
| I ended the previous article by showing a graph demonstrating a very marked cyclic pattern which, without actually putting an equation to it, looked very much like a sine wave. This showed the average number of the waders roosting on West Kirby Shore over each winter, 1986/87 to 2004/2005. If you take a look at the individual species graphs it is obvious that Dunlin, Knot, Bar-tailed Godwit and Grey Plover show this pattern but that Oystercatchers, Redshank and Curlew do not.Sanderling and Ringed Plover might well be following the same pattern but as numbers are so small it is rather hidden in the 'noise' of various other factors such as disturbance, weather etc. | Dunlin at West Kirby Jan 2005, © Richard Smith. |
So if we just include the four species which definitely show the cyclic pattern we come up with the following graph. A remarkably smooth and pronounced sine wave like pattern with only one winter (1999/00) in nineteen slightly out of line. It is important here to stress that the data represent average counts, rather than peak counts which are more often used to illustrate trends.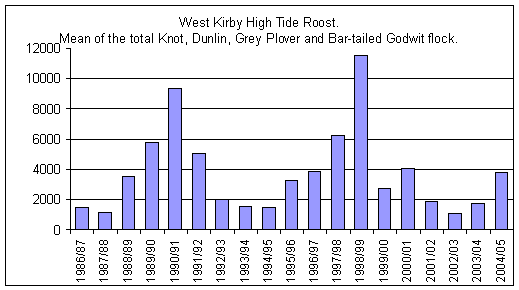 © Dee Estuary Voluntary Wardens
It is not surprising that Oystercatchers, Redshank and Curlew do not show this cyclic pattern as, apart from anything else, their main roosts lie elsewhere on the estuary and West Kirby just gets a small and irregular proportion. An exception to this are Oystercatchers in autumn when quite large numbers can be present at West Kirby - and it is intriguing that they are the only one of these three species that appears to show a pattern, albeit different from the main sine wave like graph.
It would be interesting to look at data from other roosting sites both on the Dee and elsewhere to see whether they too show a cyclic pattern. Unfortunately there is not a great deal of data available, but I do have Wetland Bird Survey (WeBS) counts for Hoylake, a major roosting site for Dunlin, Knot, Bar-tailed Godwit and Grey Plover, just a short distance from West Kirby. The graph below shows the average November to February count from Hoylake, for the years 1993/94 to 2002/03.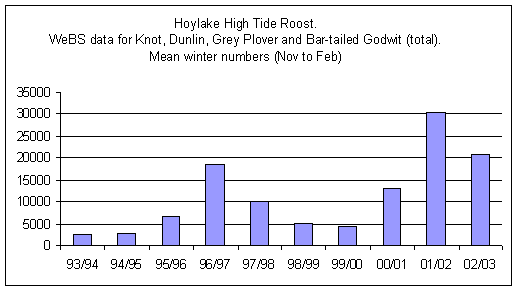 © Wetland Bird Survey
Here we have what appears to be another sine wave pattern but different to that at West Kirby. Some caution is in order here as the data available is for a shorter time period than that for West Kirby, and WeBS counts are only carried out once a month, far less frequently than DEVW counts at West Kirby. But despite the limited amount of data there does appear to be a sine wave with a six year cycle, in contrast with West Kirby which has an eight year cycle.
Before we go on, and for those that don't know the area, let me explain what the differences are between West Kirby and Hoylake and why that may possibly lead to different patterns. First of all take a look at the map of the estuary (the link below this map may be a bit clearer). The two roost sites are little more than a mile apart and by and large they attract the same species, both are major roosts for Knot and Dunlin but also attract the other six species mentioned in this article. One difference is that the sand bank at Hoylake is slightly higher than West Kirby and therefore remains dry at higher tides, but both get covered during high spring tides. But the major difference between the roosts is where the birds come from, i.e. where they are feeding at low tide. There is a major feeding area off north Wirral at Mockbeggar Wharf/Leasowe Shore (in the area covered by the word Wallasey in the 'Streetmap' map). Most of the birds feeding here usually roost either at Hoylake or across the River Mersey at the Alt Estuary. Another major feeding area is Dawpool Bank off Thurstaston and most of the birds using this area usually roost at West Kirby. The two feeding areas are therefore quite different, one being well within the Dee Estuary and sheltered from the Irish Sea, and the other on the north Wirral coast exposed to the winds of the Irish Sea and close to the mouth of the River Mersey with its strong tidal currents. In reality there is quite a lot of interchange between the West Kirby and Hoylake roosts, and some birds will fly from one to another during a single high tide, but the general trend would seem to be as I have described above.
As far as I'm aware there hasn't been any scientific study, or even statistical analysis, of wader population dynamics at single roosts such as we see at West Kirby. I'm also not aware of any study which shows a clear sine wave like pattern at any other roost. Below are a few of my own ideas as to the possible causes of this pattern:-
Food availability. Probably the most likely cause for the cyclic pattern. If the amount of food available is fluctuating then the numbers of birds will fluctuate with it. Populations of animals do often follow a sine wave, particularly short lived species such as those waders feed on. One would think that with waders ranging in size (or more importantly a range of bill size) from Dunlin to Bar-tailed Godwit that a large range of food species are involved. But all are surface feeders at least some of the time, and a look at Birds of the Western Palaearctic reveals that many of the same surface dwelling prey are taken by all four waders. Indeed, we do not know precisely what the birds on the Dee Estuary feed on, it could be that one prey species, such as the tiny snail Hydrobia, constitutes the main diet for all four wader species. In other words, the sine wave might well reflect the population dynamics of just one food item (e.g. Hydrobia). One interpretation of the pattern is that it is not actually a 'classical' sine wave but shows a smooth increase in numbers followed by a sharp fall. This would be consistent with predators (birds) periodically exceeding the amount of prey able to sustain such numbers, which would then dramatically fall. However, we should be careful not to read too much in to too limited amount of data!

Population. By which I mean all the birds in a particular sub-species or large geographical area (such as Western Europe). Populations of animals often follow a sine wave pattern, especially short-lived and fast breeding species such as small rodents. In contrast waders are relatively long-lived and have only one or two young a year, this means that any change in numbers of the population is slow (barring a catastrophe). This is borne out by looking at WeBS data which show only small changes to the national population of each species from one year to the next. For example, Dunlin increased by just 1% between 1995/96 and 1998/99 nationally* but by 420% at West Kirby over the same period! It is also difficult to believe that the populations of four different wader species breeding over a large area of the northern hemisphere would all move in unison.

Overflow effect. It is known that waders find the muddy North Sea estuaries more attractive than our relatively sandy estuaries on the west coast of Britain. But these estuaries presumably can only hold a certain number of birds. When these estuaries reach capacity it may well be that the excess birds make their way west. Now this excess, which might be only a few percent of the total population, might well vary year by year in the form of a sine wave. This would result in us seeing a pronounced sine wave here, even though the total population is varying only by a small amount. I have to admit, however, that I think this is unlikely to be the origin of our cyclic pattern as there are so many other variables, not least cold weather which drives birds westwards in a much more random way - or at least that is what one would think.

Disturbance. Disturbance can certainly have a big effect on wader numbers at roosts, and to a smaller extent on feeding areas. However it is difficult to see how any pattern of disturbance would be in the form of a sine wave.

Tides. The tide height has a big effect on the wader roosts at both West Kirby and Hoylake. Too low a high tide and birds tend to be spread out and stay on sand banks nearer the feeding areas. Too high a tide and the roosting sites are completely covered by the sea. However, I am not aware of any year on year pattern which would result in a pronounced sine wave.

Weather. Numbers of waders on the estuary are certainly effected by the weather. For example in cold weather there is usually a noticeable increase in numbers with birds flying west escaping the freezing North Sea coasts. Another, possibly less obvious effect, are autumn gales. It was certainly noticeable this last winter (2004/05) that Mockbegger Wharf was sandier than in the previous few years after prolonged September gales washed sand over the mud banks. The food species preferred by waders occur in greatest number in mud, rather than sand, and the smaller numbers of waders than usual on Mockbeggar Wharf this last winter presumably reflects this. Consequently there were smaller numbers at the Hoylake high tide roost. In contrast there appeared to be more birds than usual in the estuary on the mud at Dawpool Bank, resulting in more birds at West Kirby at high tide, perhaps displaced from north Wirral. Having said all this I'm not sure how all this could produce the sine wave pattern.

Follow my leader. It may well be that just one species is affected by one of the above, Dunlin being the most obvious candidate, and the rest are following their lead. It is common behaviour by waders for mixed flocks to both feed and roost together - Godwits, for example, are rarely seen without their accompanying flock of Knot. So it is feasible that if Dunlin are present in large numbers on Dawpool Bank (or wherever) this attracts other waders in. Whether this would result in such a clear sine wave like pattern is another matter!
* based on an average winter count (Nov to Feb). Peak counts, on the other hand, showed a slight drop in numbers over the same period.
References:
Cramp, S (Editor) 'Handbook of the Birds of the Western Palaearctic - Vol 3', 1992 (OUP).
Wetland Bird Survey Reports 1996/97 to 2000/01.
Dee Estuary Voluntary Wardens data collected between 1986 and 2005.
Wetland Bird Survey Data (Core Counts) 1970 to 2003, kindly provided by Andy Musgrove of the BTO.
Many thanks to:
1. Dee Estuary Voluntary Wardens for allowing me to use their data for this article, and more importantly for performing all those counts over the years.
2. Roy Palmer for collating the DEVW data on to spreadsheets and for drawing my attention to the 'sine wave' in the first place.
3. Chris Butterworth for his own thoughts on the 'sine wave'.
4. Andy Musgrove (BTO) for his help and advice with the article.
Wetland Bird Survey Data in this article should not be used in any way without permission of the WeBS Office. To access official WeBS data please contact the WeBS Office - BTO, The Nunnery, Thetford, Norfolk IP 24 2 PU, http://www.bto.org.
Richard Smith