Little Egrets have been in the news with yet another record number - 87 coming in to roost at Burton on the 20th. The previous record was 70 in December 2004. You can be forgiven, however, in thinking sometimes there aren't any Little Egrets in the estuary as they are so hard to see, feeding as they do down in the salt marsh creeks.
Every so often you will see one fly up to move to a new feeding place, but the best views are either when they are flying to or from the roosting site in Burton, or when disturbed by a raptor. On the last day of the month I was on Heswall shore thinking there were five Little Egrets in the marsh, then suddenly there were 21 just across Heswall gutter, I suspect a Peregrine came over and flushed them, but I didn't see it. My previous highest number at Heswall had been three!


Steve Round © Little Egret at Parkgate, 2005.
Early August is the time of year when we get large post breeding flocks of gulls on the estuary, and they are often seen overland after ants. But the flock of 9,000+ mainly Black-headed Gulls over West Kirby on August 2nd must have been one of the biggest ever seen over that part of Wirral. Also at West Kirby were five Common Buzzards soaring over nearby fields, another sign of their increase. Red Kites are another bird of prey increasing in numbers across the country and we were lucky enough to have two this month: one over Gronant on the 10th and another over West Kirby on the 20th. Other raptors included a female Marsh Harrier, an early Hen Harrier and the usual sighting of one or two Peregrines.
500 Manx Shearwaters past Hilbre on the evening of Aug 25th was a great sight, other Hilbre birds included a female Eider, one Great Skua and the usual Common and Sandwich terns. Two Roseate Terns sitting on a buoy were a lovely sight just off Meols near the end of the month.
An unusually easy to see Spotted Crake (relatively easy to see!) spent most of the month at Inner Marsh Farm. A Spoonbill has been seen with the Little Egrets there early morning but disappears in to the marsh during the day. A Wood Sandpiper has also been at IMF. The maximum count of Greenshank at Parkgate reached 31, on the low side compared with the previous few years. Three Kingfishers were spotted on Arrowe Brook, they were known to breed here last year and probably have again this summer.
What to expect in September
215 Leach's Petrel, 195 Manx Shearwater, 355 Gannet, 5 Pomarine Skua, 54 Arctic Skua, 35 Great Skua and 4+ Sabine's Gull - these are the max daily counts we saw last September during some very strong NW winds. Usually we only get these numbers about once every four or five years, but there is no rule to say we can't get them in consecutive years - so lets hope! Ideal conditions are prolonged NW winds over several days around the middle of the month, about force 5 to 7. Get down anywhere along the north Wirral Shore, Hilbre Island or Point of Ayr to see all these birds, usually best on a high tide. Often the day after an overnight gale is best.
One thing we are overdue for is a good passage of Curlew Sandpipers (see article). For this we need both a good breeding season and an east wind to the north of us, that should bring in a good number of juvenile birds on their way to Africa. Difficult to predict where these will turn up but both Hoylake and Heswall shore have been good in the past. A good Curlew Sandpiper year is usually also a good year for Little Stints although they tend to prefer freshwater - such as Inner Marsh Farm, having said that we always seem to get one or two among Dunlin flocks at Hoylake.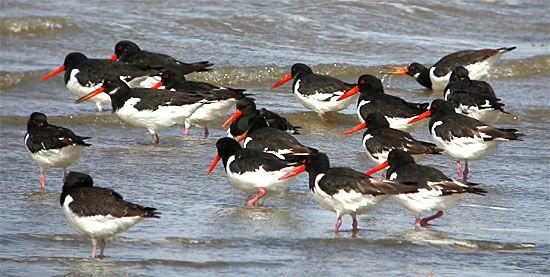 Oystercatchers waiting for the tide to recede on Hoylake Shore, Aug 22nd, 2005, © Richard Smith.

Shelduck should be back in good numbers, last year we had over 12,000, a record for September, and we often get good numbers of Teal at

Inner Marsh Farm. Also expect large numbers of Redshank, Oystercatchers, Curlew and Black-tailed Godwit. This is often a good month for rare waders, over the past two years we have had American Golden Plover, Pectoral Sandpiper and Dotterel. We might reach the milestone of 100 Little Egrets coming in to roost at Burton, that would be quite a sight. Looking back at the 2000 Cheshire and Wirral Bird Report it said "up to six Little Egrets were present on the Dee Marshes", and we thought that an amazingly high number!

Many thanks go to David Esther, Sabena Blackbird, Simon O'Connell, Shaun Williams, Nigel Troup, Dave and Emma Kenyon, Chris Tynan, Colin Schofield, Alan Patterson, Dave Hughes, John Roberts, James Armstrong, Clive Ashton, Bill Potts, Charles Farnell, Steve Williams, Chris Butterworth, Stephen Ainsworth, Steve Renshaw, Phil Wood, Chris Wilding, Dave Harrington, John Boswell, Peter Poole, Mathew Gardiner, Jane Turner, Allan Conlin, Mike Hart, Dave Wilde, Mark O'Sullivan, Jean Morgan, Richard Hurst, Phil Woollen, Steve Roberts, Colin Wells, Steve Round, John Rowlands, Iain Douglas, Heather White, Ian Hughes, David Banbury, Eric Sherry, Bob Howarth, Lynne Greenstreet, the Dee Estuary Voluntary Wardens and the Hilbre Bird Observatory for their sightings during August. All sightings are gratefully received.