Heswall and Thurstaston Site Guide
Richard Smith
How to get there
Heswall is on the A540, 5 miles from West Kirby and 13 miles from Chester. To get to Thurstaston Shore from Heswall take the A540 northbound for 2 miles, turn left down Station Road at the Thurstaston/Irby crossroads (just before the Cottage Loaf Pub). Continue down Station Road until, just prior to a bridge, you see the sign to the car park at Thurstaston Visitor Centre (Wirral Country Park) on the left. The Visitor Centre has toilets and there is a Cafe nearby. From the car park you have access to the Wirral Way and a view point over the estuary from the top of the cliffs. Follow the footpath at the end of Station Road where there are steps down to the beach. To reach Dawpool Nature Reserve and an (unofficial) car park which overlooks the estuary carry on over the bridge on Station Road, take the bumpy road on the right past the caravan park until you reach the car park.
To get to Heswall Shore retrace your route back to the A540 and travel back towards Heswall, before reaching Heswall centre take Thurstaston Road on the right which leads towards Lower Heswall. After about half a mile turn right in to Delavor Road, follow this winding road which turns in to Banks Road from where you can gain access to Heswall Shore. At the end of Banks Road is a car park on the left. Sheldrakes Restaurant is just beyond towards the shore where you can get a very pleasant lunchtime or evening drink and meal.
Retrace your route back to Thurstaston Road. To get to the Riverbank Road car park, turn right through Lower Heswall. Immediately after you pass the last shop in Lower Heswall turn right in to Station Road, then left in to Riverbank Road. The car park is at the end of this road on the right.
There are Bus routes from Heswall centre to both the Banks Road and Riverbank Road car parks.

Highlights
Great Birding at all states of the tide and all times of the year, with some excellent view points. Huge flocks of Curlew, Redshank and Shelduck are the highlight in late summer and autumn, with thousands of Knot and Oystercatchers through the winter. Greenshank and Curlew Sandpipers are present late summer and in to September. Raptors are plentiful on the marsh including regular views of Hen Harriers. Short-eared Owls and Water Rails are flushed from the marsh on the highest spring tides.

Map right: Scale, approx two miles from top to bottom. Grid Ref for Thurstaston Visitor centre is SJ238836. Grid Ref for car park at Banks Road is SJ254815. Numbers 1 to 5 refer to viewpoints over the estuary mentioned in the text. Solid lines are roads, large dotted lines are lanes suitable for cars, small dotted lines are footpaths. See Streetmap (Heswall) for a more detailed road map.
When and where to go
The area described in this guide is quite large but if you have your own transport and are prepared to do a bit of walking you can easily cover the whole site in one day, but you will want to come back to see it at different times of year and at different states of the tide. The tide time and height is crucial when planning your trip, so check the tide table before you come. At low tide most of the birds will be on Dawpool Bank, they then move towards Heswall Marsh as the tide comes in with many birds disappearing in to the marsh at high tide or flying on to the nearby fields. On Spring tides the tide may be high enough to cover the marsh and this will bring the wildfowl close to the shore and flush Short-eared Owls, Water Rails and Snipe.
One of the most important features of this area is Heswall Gutter. It runs all the way from Parkgate to Caldy, at Heswall it is just a few yards from the shore path before moving out about 100yards towards Dawpool Bank at Thurstaston. The Gutter acts as a magnet for birds at low tide and it is along this gutter the sea rushes in when the tide is rising. The birds use it as a flyway at all states of the tide.
Low Tide (three hours after to three hours before high tide)
At low tide there will be spectacular numbers of birds on Dawpool Bank, best seen from the viewpoints 1 and 2 marked on the map, these are both at 60 feet above the beach on the cliff top. Birds start returning here after the breeding season as early as late June; by August there will be thousands of Oystercatchers, Redshank and Curlew. But it is one species in particular for which this area is renowned - the Shelduck. Through September numbers rapidly build up and by October as many as 10,000 can be scattered across the mud bank, the largest flock in the UK. Occasionally a Ruddy Shelduck or two turns up with this vast flock, almost certainly feral birds but there is always the possibility, admittedly unlikely, that a wild bird may have made it's way over from eastern Europe.


Some of the thousands of Shelduck on Dawpool Bank at low tide.
© Richard Smith
By November there will be up to a couple of hundred Bar-tailed Godwits, a thousand or more Black-tailed Godwits and 10,000 or more Knot. Many of these feed on the mud between Heswall Gutter and the beach giving some fantastic close views, sometimes large flocks of Knot and Godwits are just 20 feet away. Many of these waders form sub-roosts at low tide and it is a fairly common sight to see mixed flocks of Knot and Black-tailed Godwits fast asleep in Heswall Gutter off Target Road (view point 3).
At low tide it is safe to walk along the causeway which the fishermen use to gain access to their boats. This goes out from below the car park by Dawpool Nature Reserve and gives you a real feeling that you are right in among the birds. Please don't be tempted to walk out any further on to Dawpool Bank; there is thick mud here and we don't want you to get stuck there with the tide rushing in, but more importantly you will be disturbing the birds!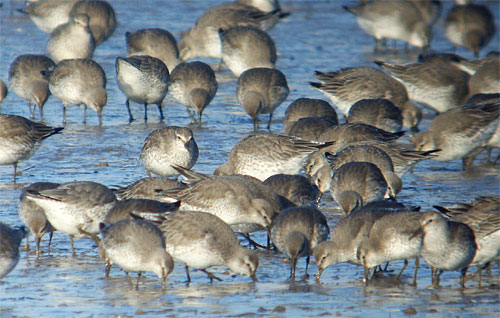 Part of a 10,000 strong Knot flock feeding within a few yards of the beach at Thurstaston,
January 2007, © Richard Smith.
Mid-tide (between three and one hours before high tide)
If you get down to the shore three hours before high tide you may wonder where the sea is with so much mud still showing, but you will be surprised just how fast it comes in. If there is a spring tide due there can even be a mini-bore a few inches high as it comes up Heswall Gutter. There will be movement everywhere as the birds get driven off the mud-flats, and in the gutter will be many Shelduck, Pintail and Teal floating in with the tide. In August and September the Dee Estuary usually has more Redshank than any other site in the country and Heswall is the major site for them with anything up to 8,000. Stand at the end of Target Road (viewpoint 3) or Banks Road (viewpoint 4) and flock after flock will come past lining the edge of the marsh in their thousands. Heswall is also a major site for Curlew with over 3,000 present outside the breeding season, they tend to start roosting very early and a constant stream of birds can be seen flying in to their roost on the marsh over the mid-tide period. In winter there is usually a flock of about 1,000 Lapwing and up to 200 Golden Plover on the edge of the marsh which are often disturbed by hunting Peregrines, making for a spectacular sight.
Passage migrants include Whimbrel, Greenshank, Curlew Sandpiper and Common Sandpiper and mid-tide is the best time to observe these. Up to 20 Whimbrel can be present on the marsh at high tide both during the spring passage in May and the late summer passage in July and August. Late August and early September is when the Curlew Sandpipers come through, as the tide comes in they can be seen feeding with the Knot and Dunlin on the mud on the edge of Heswall Gutter off Target Road.
High Tide
The biggest mistake birdwatchers make at Heswall is to go there at high tide! An odd comment to make, perhaps, but many people turn up at the Banks Road car park just before high tide and walk towards Thurstaston by which time most of the birds have disappeared in to the marsh or moved to roosts elsewhere on the estuary. High tide is only ever any good between Banks Road and Thurstaston on a neap tide when a decent amount of the mud remains exposed for the birds to roost on, in mid-winter this can be spectacular with waders and ducks in their thousands.
Except on neap tides the place to go for high tide is the car park at the end of Riverbank Road (viewpoint 5). Here there is a good outlook over the marsh with an excellent view of Heswall Gutter just below the car park. Out beyond the edge of the marsh you should see Red-breasted Mergansers and Great Crested Grebes, sometimes Brent Geese spend high tide here, and all along the seaward side of the marsh will be hundreds of Shelduck. The marsh itself will have pockets of waders dotted all over, in particular hundreds of Curlew, Oystercatcher and Redshank. Look carefully at the various posts sticking up out of the marsh, more often than not a Peregrine or a Merlin will be perched on one; often two or three of these magnificent birds of prey can be seen hunting, the Peregrines after the waders and duck and the Merlins usually after something a bit smaller such as a Meadow Pipit. A sudden disturbance among the waders and the sight of a large bird of prey flying low probably means the presence of a Hen Harrier, if you are lucky it might be a male in full grey adult plumage.
If it is a spring tide it will continue to come in over the marsh and up Heswall Gutter. The Gutter is often full of Teal whilst Redshank, continually disturbed by the rising water, use it as a flyway to go further in to the estuary in their search for a dry roost. By the time the marsh is half covered the first Short-eared Owl should show itself; on a good day we see four or five here, and both Common and Jack Snipe will be flushed with the birds often flying overhead as they make their way inland. The incoming sea brings the hundreds of waders and wildfowl closer and there is continual movement; look out for gulls hunting for rodents. The reed bed below the car park often contains Water Rail so keep a sharp eye out as they scuttle their way to dry land.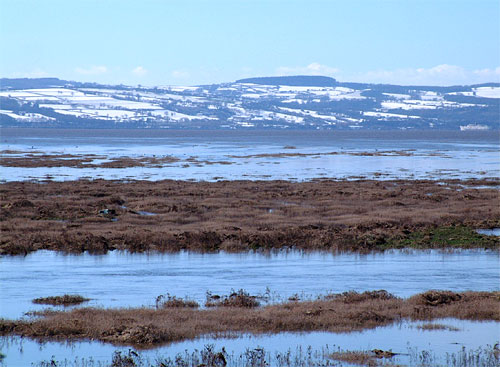 The view from Riverbank Road car park with the sea rushing in on a spring tide, Heswall
Gutter is in the foreground, you can see the ripples the tide is making as it rushes by.
© Richard Smith.
Inland
As shown on the map there are plenty of paths, including the Wirral Way, to enable visitors to explore the area inland of the estuary. In winter the fields are a favourite place for feeding Curlew and Oystercatchers, as well as the occasional flock of Black-tailed Godwits. The Curlew will often spend all day inland and there is a very noticeable morning and evening flight, worth seeing as several hundred fly low overhead; crying noisily in the morning but usually silent on the evening return journey.
In the spring Dawpool Nature Reserve and the tall hedges either side of the Wirral Way will be full of singing warblers with Garden Warblers, Grasshopper Warblers and Lesser Whitethroats regular among the more common species. Wheatears are frequent both in the fields and on the clay cliff and rocks next to the beach. A walk up to Dungeon Wood is well worth the effort for the view alone; expect to see and hear the usual woodland birds including both Greater Spotted and Green Woodpeckers.
Closer to the shore Heswall Fields National Trust and the grassy area in front of the Visitor Centre are excellent spots to observe visible migration in the autumn. If conditions are right in the two hours following dawn you can observe hundreds of starlings, thrushes and finches making their way south in flock after flock. On October 20th 2004 over 10,000 Chaffinches were counted in just over two hours flying over Heswall Fields. Ideal conditions are a light to moderate south-east wind, overcast with a slight mist.
In the winter there are often large flocks of corvids, particularly Jackdaws, plus the occasional visiting Raven or two. Overhead look out for flocks of Pink-footed Geese, although only small numbers occur on the Dee Estuary we can get large movements passing over of birds flying between their strongholds of north Norfolk and south Lancashire.
Rare and Scarce Birds
Although not renowned for rare birds regulars to Heswall and Thurstaston have recorded a reasonably impressive list of rare and scarce birds over the past couple of years. These include Goshawk, White-tailed Eagle, Marsh Harrier, Osprey, Black-necked Grebe, Ruddy Shelduck, Spotted Redshank, Mediterranean Gull, Ring Ouzel, Richard's Pipit, Water Pipit and Snow Bunting.
Richard Smith.
Top of page
Mersey Ferry Bird Cruises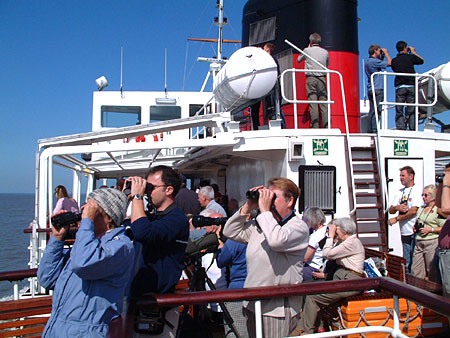 A lovely sunny birdwatching trip out into Liverpool Bay, © Richard Smith
Liverbird Wildlife Discovery Cruises.
The RSPB, National Museums of Liverpool and Mersey Ferries have teamed up again to provide birdwatching cruises in to Liverpool Bay. There will be three cruises this year (2007), on August 20th, August 22nd and September 17th, each one lasting about three hours. To book use the Mersey Ferries website - http://www.merseyferries.co.uk/special/index.aspx or contact Mersey Ferries directly by ringing 0151 330 1444.
PLEASE NOTE:
1. The August trips are advertised as 'Mersey Heritage Cruises' by Mersey Ferries but I am assured by both RSPB Liverpool (see http://www.rspbliverpool.org.uk/ferrypageevent.htm) and Mersey Ferries that birdwatching will be included as part of the cruise and RSPB volunteers will be on board. As in previous years we will be going out to Formby Point, weather permitting. The September trip is advertised as a Liverbird Discovery Cruise as in previous years.
2. Due to work on the Pier Head at Liverpool the cruises will depart from Seacombe and Woodside only. For those with cars there is usually ample car park space at Seacombe, for those coming by train get off at Hamilton Square Station, Birkenhead, which is a short walk to Woodside Pier.
These trips are always enjoyable with Arctic Skuas usually the stars of the show. Last year we also saw a couple of Storm Petrels, the first ever for these trips. In previous trips rarer birds have included Long-tailed Skua, Great Skua and Osprey with regular birds including Peregrines, Guillemots, Mediterranean Gulls, Kittiwakes, Sandwich and Common Terns, Little Gulls, Bar-tailed Godwits and Knot on the beach at Crosby/Formby, and Black-tailed Godwits at New Ferry. We also usually see a Grey Seal or two.
As with any sea-watching the weather is crucial and ideally we want to go out the day after a westerly gale which should produce plenty of interesting birds including Scoters, Gannets and Manx Shearwaters, and may be even some Storm and Leach's Petrels; but I suppose a Sooty Shearwater would be too much to hope for!
Richard Smith.