The Great White Egret which was seen briefly in May turned up again on the 1st at Decca Pools, Burton Marsh, it then flew to Gronant where it was seen on the lagoon the next day. Burton was also host to the only other rarities of note this month - a female Red-backed Shrike which showed nicely for a few hours in a field next to Denhall Lane on the 24th, and a pair of Spoonbills which arrived on the 1st and stayed most of the month; they spent most of the time at the Inner Marsh Farm and Burton Marsh RSPB reserves.
Our tern colonies both have record numbers of pairs breeding. At Shotton there are 762 pairs of Common Terns, the previous highest number was 722 last year. Gronant has 125 pairs of Little Terns, the previous highest number being 110 pairs in both 2003 and 2006. Hopefully, this will mean that we will have record numbers of fledglings at end of the breeding season but the bad weather at the end of June will certainly not have helped breeding success, so we will just have to hope for the best. Good numbers of Sandwich Terns were already back in the estuary by the end of the month with 115 roosting at West Kirby.
Having written an article on Manx Shearwaters for the June newsletter I feared that we were not going to see a single one this month, but the same bad weather which caused problems for our tern colonies brought some strong westerly winds resulting in 385 Manxies off Hilbre and 125 off Red Rocks on the 29th. On the same day we had 4 Arctic Skuas, 255 Gannets and 28 Kittiwakes off Hilbre and a Black-throated Diver at Point of Ayr. An immature Great Skua at New Brighton on the 5th was also of note.
We have had up to 11 Avocets at Inner Marsh Farm and although there appeared to be three nests only one was successful with three chicks. A Spotted Redshank had returned by the 20th, increasing to five within a couple of days; looking glorious in their black summer plumage. Up to 286 immature Black-tailed Godwits have spent the month at Inner Marsh Farm. Curlew had returned to the estuary in good numbers by mid-month with 672 at Heswall on the 17th. There have been one or two Whimbrel hanging around Thurstaston/Heswall, presumably non-breeding birds. Two Quail were heard calling near Burton Marsh on the 2nd, followed by a single bird during the next three days.
Left: Avocet at Inner Marsh Farm, Steve Oakes © AEBS Ltd.
What to expect in July
The one species I most associate with July is the Sandwich Tern, the estuary will be filled with their screeching calls as they disperse here in their hundreds as soon as they finish breeding. High tide roosts can be seen at Red Rocks, West Kirby, Point of Ayr and Gronant, and at low tide they gather on the sand banks around Hilbre. Gulls also build up rapidly after breeding with thousands present in the estuary, look out for the distinctive Mediterranean Gulls in among the rest. If flying ants are about we can get hundreds of gulls, particularly Black-headed, overhead. This month can also be good for other seabirds, particularly in a strong westerly wind - look out for Storm Petrels, Manx Shearwaters, Gannets and Arctic Skuas.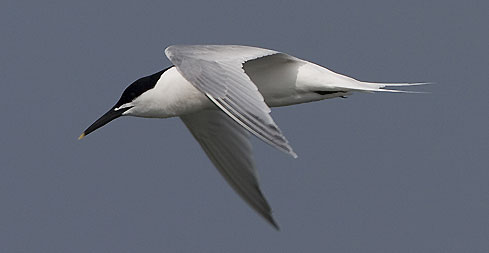 Sandwich Tern off Hilbre Island, Steve Oakes © AEBS Ltd.
The return passage of waders will be noticeable with Common and Green Sandpipers at our fresh water sites, and maybe one or two Wood Sandpipers, but Common Sandpipers can also turn up just about anywhere around the estuary. A few Greenshank, Spotted Redshank and Little Ringed Plover will also be passing through. Of the commoner waders we should get good numbers of Redshank, Black-tailed Godwit, Dunlin and Sanderling returning, the latter in their summer plumage often catching people out who are more used to seeing their bright white winter plumage.
Unlike the waders and seabirds the estuary will be virtually empty of wildfowl as they under go their annual moult, the Shelduck moult in their thousands on the mud banks of the nearby Mersey Estuary, although there is some evidence that a couple of thousand or so now moult on the Dee Estuary. Marsh Harriers start heading south this month, and we can also get the occasional wandering Red Kite.
Many thanks go to Paul Vautrinot, Dave Edwards, Karen Leeming, Chris wilding, Neil McLaren, Graeme Lowe, Tanny Robinson, Jayne Peet, Pete Button, Frank Huband, David Small, Mike Jones, David Harrington, Mark Gibson, Allan Conlin, Bob Pilgrem, Dave Wild, John Kirkland, Colin Schofield, Mark Murphy, Steve Round, Dave Barrow, Steve Williams, John Boswell, Chris Butterworth, Derek Gifford, Jane Turner, Charles Farnell, Paul Shenton, Paul Rowlands, Gilbert Bolton, David Ritchie, Mark Evans, Ron Graves, Nigel Young, Rose Schofield, Paul Ritchies, Ian Maw and the Hilbre Bird Observatory for their sightings during June. All sightings are gratefully received.