Introduction
Two Cetti's Warblers, Cettia cettia, were found at the southern end of Neston reedbed, which is part of the Dee Estuary RSPB Reserve, on the Wirral (Cheshire) by Paul Jacques in February 2005.
The reedbed at Neston has suffered terribly from vandalism in the past, the presence of Bearded Tits, the sensitivity of the area where the Cetti's Warblers were present and the fact the birds were not singing and were typically elusive all meant that the release of the news had to be dealt with sensibly.
After some temporary management work at the reedbed by the RSPB and discussions with various information services the news of the presence of the Cetti's Warblers was released to the general birding public on 28th February 2005. It was greeted with great excitement by local and regional birders alike. Cetti's Warbler not only being a rare bird on the Wirral (see below), but it is yet another indication of this species' expansion in our region and in the UK in general.

Range
Cetti's Warbler breeds in North West Africa from Morocco to Tunisia, in Iberia, France, Britain, Italy, Greece, Bulgaria, Romania and Crete (as well as other Mediterranean islands) eastwards to the Ukraine and the Crimea. There is an eastern form recognised as Cettia cettia albiventris which is larger, paler grey-brown above and whiter underneath.
In eastern Asia it seems that Cetti's Warbler is replaced by the Chinese Bush Warbler, Cettia diphone, which ranges from South East Siberia to Japan and northern China and also lives in scrub and reeds.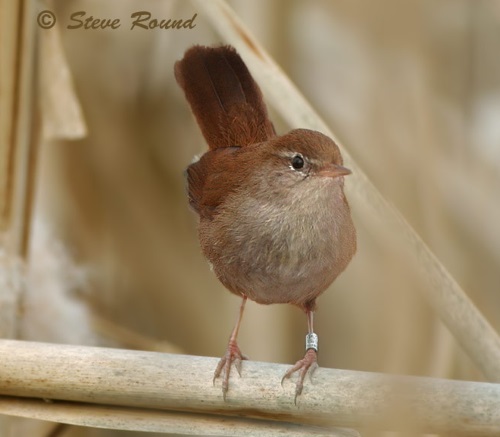 Cetti's Warbler (with ring) at Neston reed bed March 2005, Steve Round

Habitat
Cetti's Warbler is found in damp scrub, reedbeds and near rivers. Birds found on the coast
apparently favour association with reedbeds more so than inland birds.
It is normally a shy and skulking bird, although early mornings and less often in the evening they will show themselves as the Neston birds prove. The call note of the Neston birds is often the only indication of their presence - a sharp 'twik', 'chip' or 'chik-chik' - described by some as reminiscent of a distant Great Spotted Woodpecker-like call.

Movements
It is generally a sedentary species, however there is some northerly dispersal, particularly of first year birds, during the autumn. Furthermore, there is some southerly expansion of its range during the winter. Clearly, cold winters affect this species but it is a hardy passerine with ringed birds having survived into their eighth year at least.
Apparently, where wintering in its breeding areas is normally impossible, it tends only to move short distances to find suitable habitat.
It has made an impressive northwards expansion of its range in Western Europe in the last 100 years. In Europe around 1900 it was apparently restricted to around the Mediterranean basin. The map opposite shows Cetti's Warbler's breeding range expansion in Western Europe between 1929 and the mid 1970s. It has been produced from the data contained in British Warblers (see below).
The first proven breeding in Britain was in fact as recently as 1972.

Interesting facts
The Cetti's Warbler is the most 'size-dimporphic' passerine in Europe and this may be linked to its polygymous breeding behaviour (albeit its behaviour ranges from monogamy to polygamy), with some males serving several females. The unequal sex ratio, less males than females, is thought to arise because larger males find it harder to survive the winter than males and therefore the males having higher mortality rates.
Status in Cheshire and Wirral and beyond
Cetti's Warbler has occurred only three times on the Wirral, prior to the Neston birds, with a single male trapped at a North Wirral Site 23rd October 2001 and another, this time a female, remarkably trapped in the same part of the same mist net at that site on 30th October 2003. Another bird was caught at Shotton (on the Wirral but in Flintshire not Cheshire) on 3rd November and 14th December 2002 and 5th January 2003 having been ringed at Chew Valley Lake on 23 June 2002. Amazingly, the same bird was re-trapped at Shotton the following winter on 7 December 2002 - where had it been during the breeding season is still unknown? Perhaps it is an indication of the origins of the Neston Reedbed birds one of which is ringed?

Investigations into where the Neston bird was ringed have been undertaken, with two of the ring sequence readable from Steve Round's remarkable images. Unfortunately, the results of these investigations are ongoing although it appears that it was definitely ringed in the south of England. (Ed. latest news is that it was apparently ringed in Gloucester).

There have been three further Cheshire records, all seven Cheshire records are listed below and as can be seen the Neston birds are the first to be 'twitchable':
One trapped and ringed at Frodsham on 20th April 1984.


One seen at Rostherne on 8th and 9th May 1989.


A female mist netted at Woolston on 26th September 1998 retrapped on 18th October
1998 and seen on 19th December 1998.


Male trapped at North Wirral site on 23rd October 2001.


Female trapped at North Wirral site on 30th October 2002


Two birds present at Neston Reedbed February to March 2005 at least.
Similarly, Lancashire has had just seven records, all since 1991. However, it is thought
likely that the Marton Mere records relate to one or two returning individuals, as follows:
Marton Mere, one, 17th October 1990 to 24th March 1991


Marton Mere, one, 26th November 1994 to 4th December 1994


Marton Mere, one, 9th October 1995 to 8th April 1996


Leighton Moss, one, 28th October to December 1996


Marton Mere, one, 13th November 1998 into 1999


Marton Mere, one, 28th December 1999 to 10th February 2000


Marton Mere, one, 13th October 2000 to 13th December 2000
The first Welsh record was one on Bardsey (Gwynedd) on 26th to 30th October 1973 and the next was one at Rhosneigr (Anglesey) in December 1976. Only odd birds then occurred in North Wales until the very recent colonisation of Valley Wetlands RSPB Reserve (Anglesey) where seven singing males were present in the spring of 2004. One or two birds have also been reported in the last couple of years at Llyn Maelog near Rhosneigr and a single bird has been present in early March of this year at a small private reserve near Porthmadog (Gwynedd).

Colonisation has been a slow process in North Wales since the first record in 1973 and birds are currently established at only one site. Birds are now well-established in good numbers at several sites in South Wales including the new Newport Wetlands NR and Kenfig Pool NNR.

The Neston birds were last reported on 31st March. However, it is apparent that North West birders can expect to hear, and with some patience see, more of this species in our region in the forthcoming years particularly if global warming results in milder winters continuing.

Steve Williams - March 2005


References:
Cramp, S (Editor) 'Handbook of the Birds of the Western Palaearctic - Vol 6', 1992 (OUP).
Cheshire and Wirral Ornithological Society, Cheshire and Wirral Bird Report, 1964-2003 (CAWOS).
Merseyside Ringing Group, MRG Report and 50th Anniversary Report, 2003 (MRG).
Simms E, 'British Warblers', 1985 (Collins New Naturalist Series).


Acknowledgements:
Thanks to Dave Cross for details of North Wirral records, Steve White for information regarding the Lancashire records and Birdline North West for general information and details of other individual sightings and to Colin E Wells for reviewing this article.
The above article was first published in Volume 2 No 3 issue of Birding North West (April 2005).