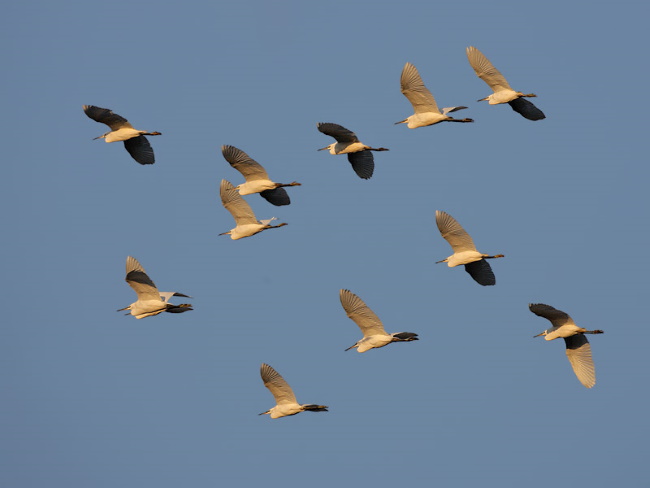 Little Egrets flying into roost © Steve Round


Both the Dee Estuary and National Wetland Bird Survey Reports for 2018/19 have recently been published and gives us a chance to see how our birds are doing both locally and in a national context.

The BTO write what they call a 'Summary Report' but it is much more than this with many fascinating articles - you can access it, and download a PDF file, by clicking:
www.bto.org/our-science/projects/wetland-bird-survey/publications/webs-annual-report/
Here you can access not only the 2018/19 report but reports going all the way back to 1947-52. From that same Web page you can also have a look at the detailed on-line data, click on where it says 'results on WeBS Report Online'.

The Dee Estuary is currently the fourth most important wetland site in the country after The Wash, Morecambe Bay and the Ribble Estuary. In effect there are two mega sites in the country with The Wash and North Norfolk Coast on the east coast and Morecambe Bay, Ribble Estuary, Alt Estuary (Sefton coast), Mersey Estuary and Dee Estuary/North Wirral on the west coast.

On the Dee Estuary 2018/19 was particularly good for wintering ducks, as well as Egrets, Pink-footed Geese and Black-tailed Godwits:
Egrets
When this website started just over 20 years ago Little Egrets were still something of a rarity with max counts in single figures. At that time they were already fairly well established along the south coast with, for example, a count of 271 in Chichester Harbour in August 1999. We never dreamt that just 20 years later the Dee Estuary would have the biggest count in the country with 425 in August 2018 - incidentally that was an incomplete count so the real total is undoubtedly higher! In the meantime the Chichester Harbour count has remained much the same with 209 for 2018/19.

Great Egrets have become established on the estuary and bred at Burton Mere Wetlands. The WeBS count of 16 was the fourth highest count in the country.
Remarkably Cattle Egrets also bred at Burton Mere Wetlands, believed to be the most northerly breeding pair in the world. There is an article about Cattle Egrets in the Summary Report and I quote: "The rate of increase in the numbers of Cattle Egrets has been unprecedented".
Pink-footed Geese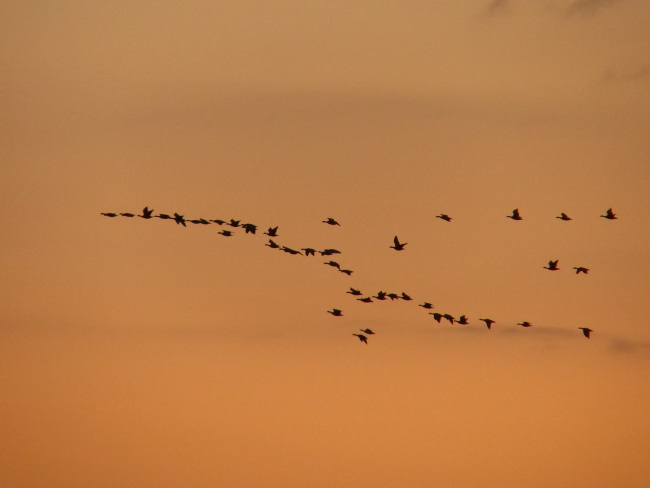 Pink-footed Geese leaving the estuary in April © Hilbre Bird Observatory


It was just 10 years ago when we had our first WeBS count of Pink-footed Geese of over 1,000, with 2,500 in 2011. I remember seeing them at Parkgate and thinking how amazing. Now in March 2020 we have had a count of at least 20,000 and the increase is exponential (but surely must start to level off soon??).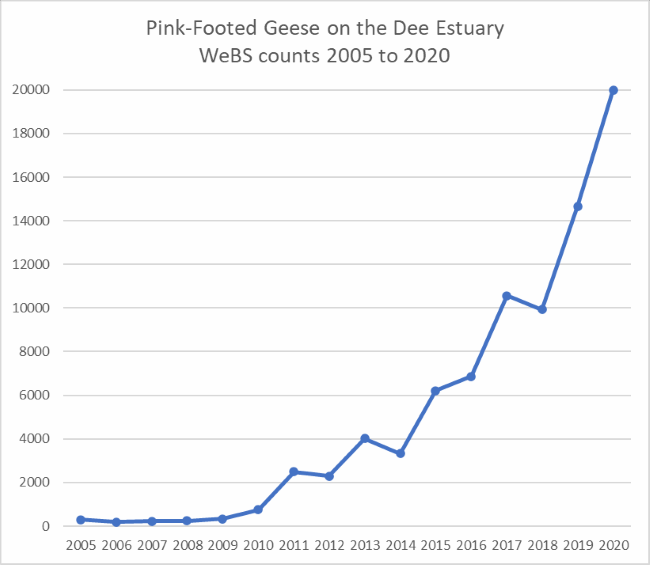 As a result the Dee Estuary, from being more or less goose-less from the World War I to the end of the 20th century, is rapidly becoming one of the most important sites in the country for this species. Numbers usually peak in March after the cessation of shooting on Burton Marsh.
Common Scoter
Thanks to some very high counts of migrating birds from 2015/16 to 2017/18 the Dee Estuary is the most important site in the country for this sea duck with a five year mean of 21,210. They are, of course, not actually seen in the estuary but out to sea in Liverpool Bay. We know from aerial surveys carried out several years ago that many more Common Scoters are out in the Irish Sea but out of sight of land, particularly off the Lancashire coast.

Nothing to do with the Wetland Bird Survey but there was some fascinating research done on Common Scoter movements in late March/early April during the lockdown, co-ordinated by BirdGuides. It's long been known, or strongly suspected, that many sea birds of several species cross the country from west to east in spring and in the other direction after breeding. This includes Common Scoters with a few every year ending up on various inland fresh water lakes but little was known of how many birds were involved or the routes they took, until very recently. Nocturnal Migration studies have revealed what seemed to be large numbers moving overhead at night in late March and early April, probably consisting of thousands of birds i.e. those seen in the Irish Sea in February and March. This year, 2020, with everyone stuck at home during the lockdown, the opportunity arose to coordinate via social media the tracking of this overland movement, made possible because the Scoters can be heard when flying overhead at night.

Over a period of four nights flocks were tracked crossing the country. The map below is a summary of those four nights and you can see the birds appear to use three main migration routes - Severn Estuary to the Thames/East Anglia, the Dee and Ribble to the Humber and the Solway to the north-east coast of England. There is a fascinating article on the BirdGuides Website all about this (click on the link) - Citizen science reveals nocturnal scoter migration routes.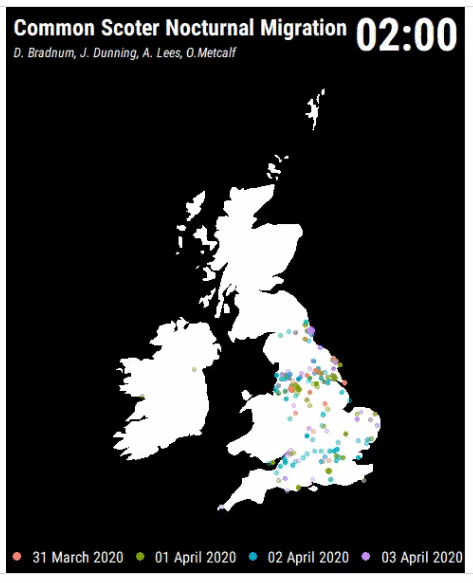 During this period Barry Barnacal recorded Common Scoters flying east over Burton, usually at night but sometimes during the day. Barry says small flocks often pause on Shotwick lake for a drink and a bathe before moving on. Surprisingly none were heard over Hoylake despite Jane Turner recording every night, presumably they must fly down the Dee Estuary before heading inland over Burton.
Wintering Ducks

2018/19 was exceptionally good for ducks with max counts:

11,524 Shelduck, the highest count since October 2003 and the highest in the UK in 2018/19.

8,941 Wigeon, the highest ever WeBS count for this species on the Dee estuary.

9,892 Teal, the highest count since December 1991, the third highest in the UK in 2018/19.

7,993 Pintail, the highest count since October 1991 and the highest in the UK in 2018/19.

All these duck species showed the same pattern with autumn arrival and numbers then falling markedly after Christmas - where do they all move to??

Black-tailed Godwits

There was a record Dee estuary count of 7,631 in October 2018, the highest in the country. This total included 1,670 at Heswall, 2,400 at Caldy Wildfowl Collection, 2,200 Point of Ayr, 400 Oakenholt and 800 Flint. The max count at Caldy was 6,010 at the end of August (not a WeBS count) and it is remarkable that this one small field has become one of the most important moulting/roosting sites in the country for this species. There was only one WeBS count outside the Dee that exceeded that number, 6,183 in September but that was for the whole of the Thames estuary!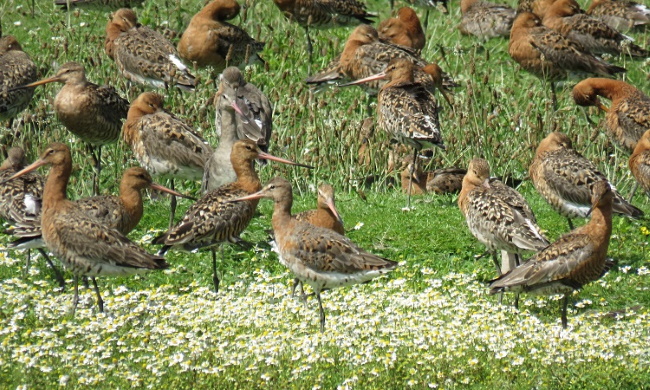 Black-tailed Godwits newly returned from Iceland in 2019, Caldy © Richard Smith


References
1. Neil Friswell and Colin E. Wells, Dee Estuary and North Wirral Foreshore, WeBS Annual Report 2018/19.
2. BTO, WeBS Report on-line 2018/19. https://app.bto.org/webs-reporting/.
3. Citizen science reveals nocturnal scoter migration routes, BirdGuides, April 2020.

Richard Smith.
Colour Ring Report

With the lockdown in force opportunities for colour ring reading was somewhat limited but we managed a couple of Black-tailed Godwits, also a metal ringed Herring Gull was picked up dead. Details below.

Black-tailed Godwits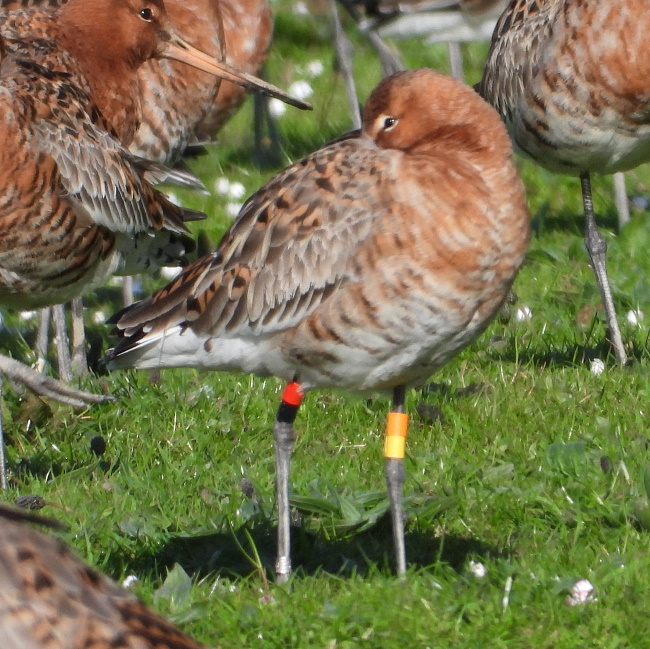 Black-tailed Godwit OY-RN at Caldy © Richard Smith

The fine weather and east wind meant the godwits left for Iceland early this year, thus numbers locally were a bit on the low side. We saw just two colour-ringed birds, as follows:
OY-RN - ringed in southern Iceland on June 11th 2017 as a chick.
2017 was a very good breeding season for Icelandic Black-tailed Godwits and OY-RN was one of the first juveniles to arrive here when it turned up in early August at Caldy.
It remained there throughout the remainder of the summer and early autumn but was recorded at Marshside and Lytham Hall in Lancs through that winter 2017/18.
As a non-breeding bird it turned up again at Caldy in June 2018 and remained until October.
2019 saw it at Caldy throughout April, it returned in late July and remained until mid-September, with a brief visit to Thurstaston in October.
It was recorded at Caldy during April 2020 between 11th and 21st. By the time this newsletter is published in early May it will probably have reached Iceland for the first time since it was hatched.

L//L-L - ringed in southern Iceland on June 17th 2003 as a chick.
This bird has been recorded no less than 255 times with 99% of the records being on the Dee Estuary, mostly at Thurstaston, West Kirby and Caldy.
It was recorded at Caldy during April 2020 between 15th and 21st.


Herring Gull

Metal ring GV74585.
Ringed on Puffin Island, Anglesey, on June 22nd 2019 as a chick.
Found dead on the beach at New Brighton on April 21st 2020.

The black-tailed Godwits were recorded by Richard Smith and Herring Gull by Rob Bithell.

April Bird News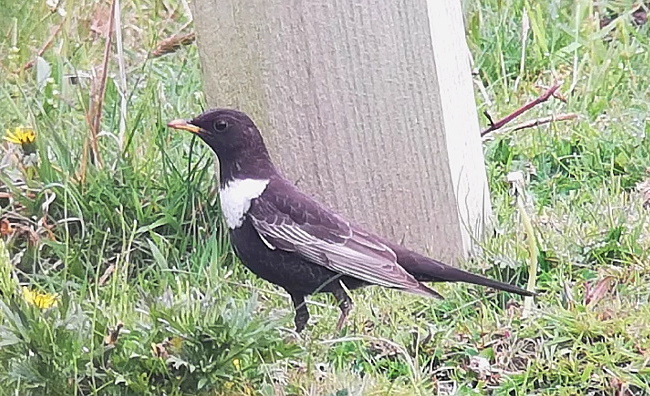 Ring Ouzel on Kerr's Field, April 26th © Allan Conlin

Despite the closure of Burton Mere Wetlands RSPB, Connah's Quay Nature Reserve and Hilbre there was plenty to see this month with people managing to get out regularly for their daily exercise, and some lovely sunny weather helped.
The spring migration was steady without being spectacular and we didn't get a repeat of last year's large numbers of Ring Ouzels and Yellow Wagtails. But on the subject of the latter, the Iberian Wagtail (more commonly known as Spanish Wagtail), seen at Leasowe from 26th to 29th April 2019, has been accepted by BBRC as the UK's third record. A great find by Stan Davidson.

Species
2020
Location
2019
2018
White Wagtail
1st March
Leasowe
28th Feb

14th March
Sand Martin
16th March

Leasowe
16th Feb
15th March
Wheatear
16th March
Leasowe
27th Feb

9th March
Swallow
23rd March
Leasowe
21st March
29th March
Willow Warbler
26th March
Hoylake and
Heswall

24th March
27th March
House Martin
5th April

Leasowe
31st March
6th April
Whitethroat
8th April

Heswall
14th April
7th April
Swift
21st April

West Kirby and
Leasowe
23rd April
22nd April
Cuckoo
23rd April

Arrowe Park
18th April
23rd April
The table above shows the first arrivals of some of our commoner species, plus Cuckoo which unfortunately is now quite rare in our area. The dates are fairly typical, the very early arrivals in February last year being decidedly untypical!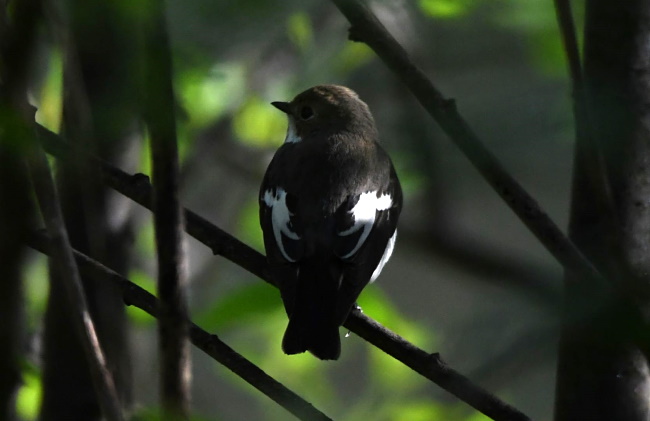 Pied Flycatcher in Ashton Park, West Kirby, April 21st © Mark Turner


There was a good passage of Whinchats including seven at Leasowe on the 23rd, in total there were 32 records which is about the same as last year. The first Ring Ouzel arrived on the 6th and there were a total of seven records. The first Common Redstart arrived on the 9th with a total of 18 including three on the 23rd. A flock of 10 summer plumaged Water Pipits in Heswall Fields was unexpected, I think this is a record count for the Dee estuary area. The 14th saw a good passage of White Wagtails with 62 on Hoylake Shore, 49 were at Red Rocks on the 18th and up to 95 at Gronant on the 23rd. Wheatears came through all month with 32 at Leasowe Lighthouse on the 21st being the highest count. A Pied Flycatcher was seen on the 21st and a Spotted Flycatcher on the 22nd, both in West Kirby.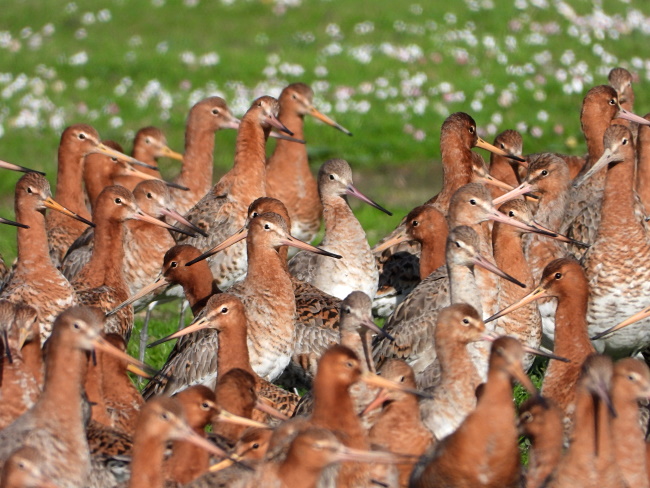 Black-tailed Godwits at Caldy, April 13th © Richard Smith

Although it's sad to see the Pink-footed Geese leave it is always a spectacular sight, even more so with such large numbers now on the estuary. Between the 5th and the 9th thousands were observed flying north early each morning, and with a full moon and clear skies many were heard moving at night as well. A pair of Garganey dropped in at Gilroy duck pond on the 25th, unfortunately they didn't stay long thanks to an angry Coot! There were plenty of Whimbrels passing through with Heswall, as usual, having the biggest numbers with over 80 on the 21st. Black-tailed Godwits paused at Caldy to moult into full breeding plumage, they peaked at 790 on the 19th.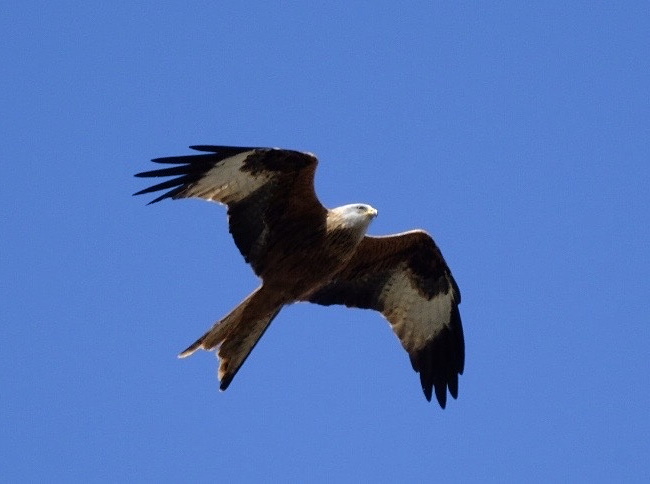 Red Kite over Meols, April 13th © Jeremy Bradshaw


Out to sea the first Sandwich Terns were spotted on the 4th. There appears to have been a good passage of Arctic Terns on the 21st including at least 40 past Hoylake, further inland on the same day 53 were over Budworth Mere and 25 along the River Mersey at Woolston Eyes. Up to three drake Eiders and a female were off north Wirral and Hilbre through the month, and two Long-tailed ducks were with Scoters off Hoylake on the 11th. Generally sea-watching was quiet until low pressure came in at the month-end resulting in a fresh westerly which blew in hundreds of gannets and terns, plus a couple of Manx Shearwaters.
A Red Kite showed well over Leasowe and Hoylake on the 13th and there were a total of seven Ospreys recorded.

Four Common Cranes flew south over Denhall Quay on the 16th, there was a record breaking 56 pairs in the UK in 2019 so maybe they were part of this British population. A Hooded Crow flew inland from West Kirby Shore on the 25th.
As usual in April loads of warblers were passing through and I finish with a selection of photographs below.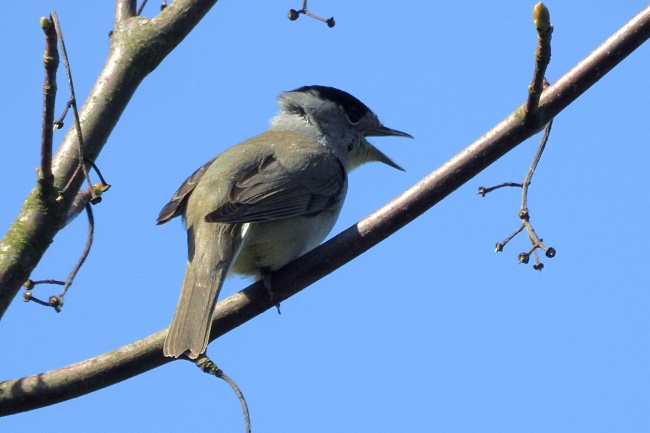 Blackcap at Leasowe, April 16th © Les Hall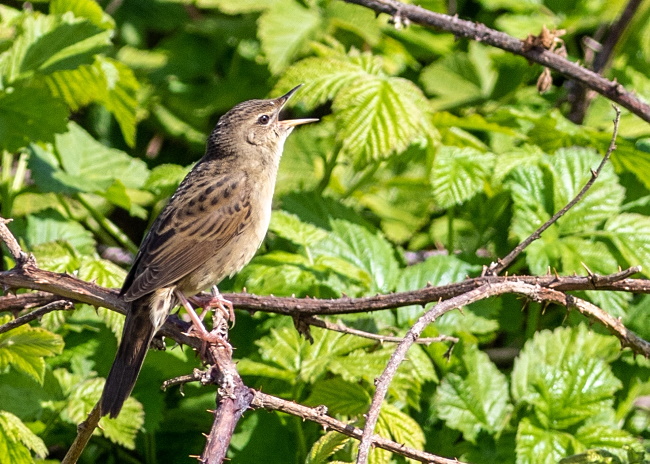 Grasshopper Warbler at Leasowe, April 19th © Peter Sutton

Many thanks go to David Haigh, Mark Turner, Colin Schofield, Carole Killikelly, Steve Hinde, David Leeming, Alan Hitchmough, Derek Bates, Allan Conlin, Steve Williams, Karen Leeming, Richard Whitby, Tim Kinch, Frank Burns, David Thompson, David Small, Linda Platt, Jeremy Bradshaw, Richard Speechley,Ian Goldstraw, Mark Gibson, Peter Sutton, Les Hall, Dave Edwards, Steve Hasell, Bill Owens, Mal Sargeant, Bill Wonderley, Robert Freeth, William Keig, Greg Roebuck, Jason King, Suzi Bell, Dick Calver, Andy Coxon, Jack Wilson, Richard Cotterill, Jonathon Thornton, Glyn Thursfield, Gail Wilson, Martin McDonell, Neil Coyne, Dave Harrington, Ian Blackhurst, Paul Earley, Richard Beckett, Paul Vautrinot, Paul Greenslade, Norman Wong, Paul Humphrey, Mark Houghton, Chris Shaw, Stuart Feely, the
Dee Estuary Wardens
and the
Hilbre Bird Observatory
for their sightings during April. All sightings are gratefully received.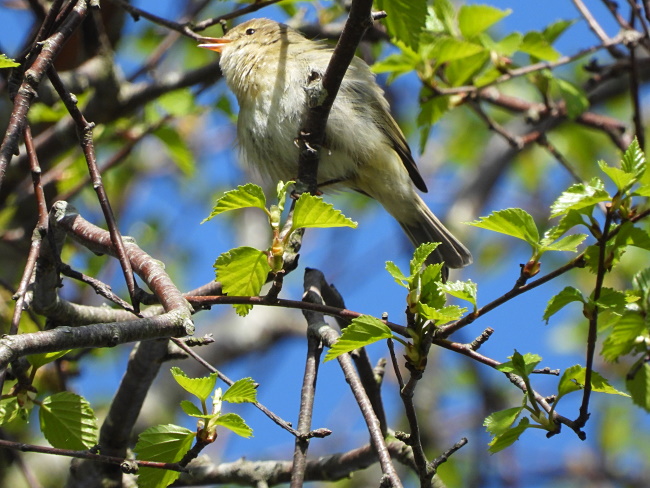 Chiffchaff on Thurstaston Hill, April 15th © Bill Wonderley

Forthcoming Events
Until the Corvid 19 restrictions are lifted there will not be any birdwatching events.