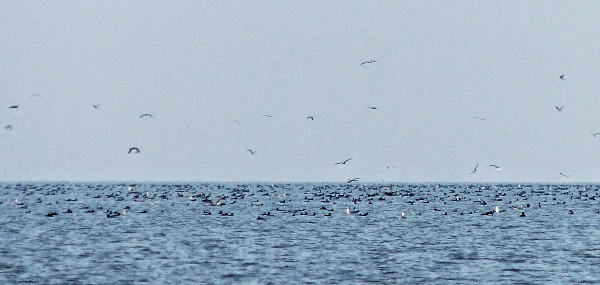 Over the past few weeks we've had one of the best wildlife spectacles in the country off North Wirral with well over 20,000 Common Scoters on the sea, may be even 30,000. We've also had the first ever Surf Scoter for Cheshire and Wirral in the flock as well as good numbers of Velvet Scoters. This great sight will have been completely missed by the general public, of course, as to see them you either had to have a powerful telescope at high tide or you had a long walk to the edge of East Hoyle Bank at low tide.
Surf Scoters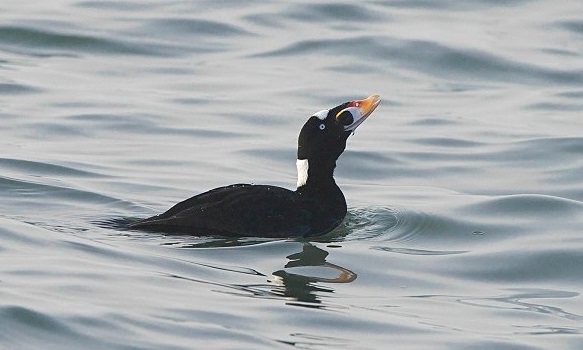 Unfortunately this splendid drake Surf Scoter wasn't one of the ones off north Wirral as they were far too far away to get decent photos. This one was off Filey, North Yorkshire, on February 15th 2015 © Martin Standley
Many thanks to Martin for letting me use his photo - see his blog at
www.eastyorkshirewildlife.co.uk.

The first ever Surf Scoter recorded in Cheshire and Wirral was found by Allan Conlin and Kenny Dummigan on March 25th 2015 off the edge of East Hoyle Bank. It had been suspected one had been present for a few weeks and after several long treks across the sand bank their persistence finally paid off. By April 2nd it was realised two were present - a first winter male and an adult male, but we were then amazed on the 9th to see seven with six, including four adult drakes, the following day. A breakdown of all the birds seen, including females and immatures, came up with a remarkable total of nine.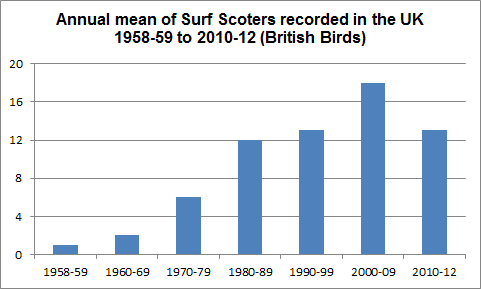 The rapid rise in the number of birds from 1958 to the 1980s is more likely due to the
increase in the number of birders with telescopes rather than a real increase.

Most records of Surf Scoters in the UK come from Scotland, but according to the data on BirdGuides none have exceeded a count of six between 2001 and 2015. However, just west of the Dee Estuary, in Colwyn Bay, numbers have increased in recent times from a rare sighting of just one to three birds to up to five drakes by early 2012. Four drakes was the 2013 max then there were two counts of six in early 2014 and by the following winter (2014/15) numbers had jumped again with two counts of nine including seven drakes. Colwyn Bay is only 18 miles west of Hoylake so it's no great mystery where our birds have come from - except at Colwyn Bay mostly drakes have been counted (max seven) whereas max drake count off Hoylake was only four so you wonder just how many Surf Scoters in the area of southern Liverpool Bay there have been this spring - the figures suggest at least 12. Whatever the number Colwyn Bay and north Wirral now appear to be the Surf Scoter capital of the UK!
Velvet Scoters
Most Velvet Scoters in this country are found on the east coast of Scotland, total numbers 10 years ago were estimated to be in the region of 2,500 but there has been a major decline since then. Here in Liverpool Bay they have always been rare, they are a Cheshire and Wirral county rarity but do occur annually.
This year on March 28th, off Hoylake, and on April 15th, off Hilbre, there were counts of six Velvet Scoters which equals the second highest ever count for Cheshire and Wirral (according to C&W Bird Reports), the highest count was of a flock of 20 past Hilbre which flew west on September 16th 1979. A bit further west, in Colwyn Bay, numbers in double-figures have been regular over the past five years or more with a count of at least 40 in November 2011 the highest figure. The highest count there this last winter seems to have been 11 on February 27th - all this means is that in future we can probably expect more off the Dee estuary and north Wirral.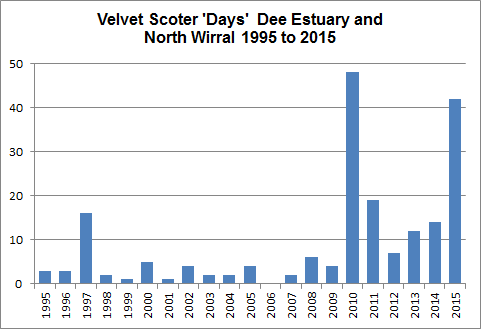 The graph showing 'Velvet Scoter Days' (i.e. totals of daily counts) does indicate a recent increase in records, not surprising as they largely associate with the Common Scoters which definitely have increased.
Common Scoter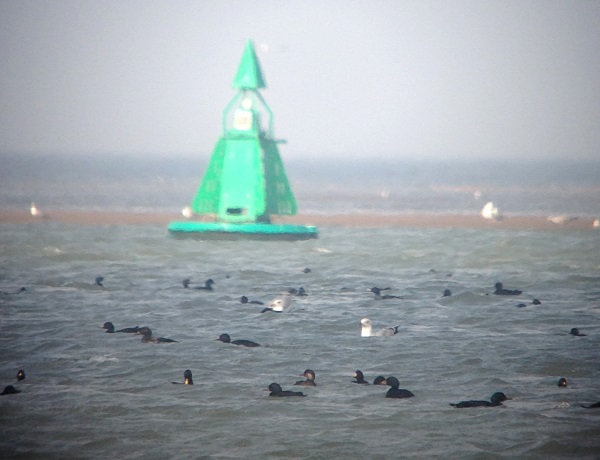 Common Scoters in front of HE3 Buoy at low tide © Richard Smith

Not a huge amount to add to the article I wrote last year (see the May 2014 Newsletter) except to say the large numbers seem to be appearing more frequently further east i.e. off Hoylake, Meols and Leasowe rather than between Hilbre and North Hoyle Windfarm (off Gronant). Trying to count them has been a bit of a nightmare but, as you see from the graph I've plumped for a max count this year (so far) of 22,500. I think that is probably slightly on the conservative side, some estimates were as high as 30,000! Anyway, if anybody has done an accurate count higher than 22,500 please let me know.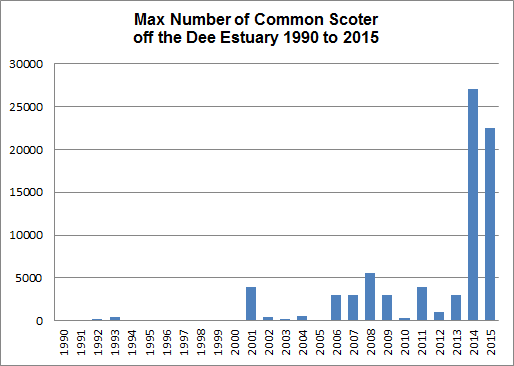 Whatever the true number it was certainly a magical experience to be so close to so many birds out on the edge of East Hoyle Bank. What struck me was the amount of movement with hundreds of birds swimming in a long single file, backwards and forwards, whereas others seemed to be displaying with an awful lot of aggression and splashing - I hope the photos at least gives some idea of this.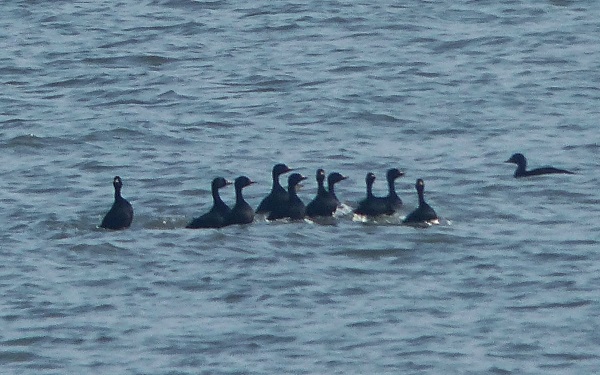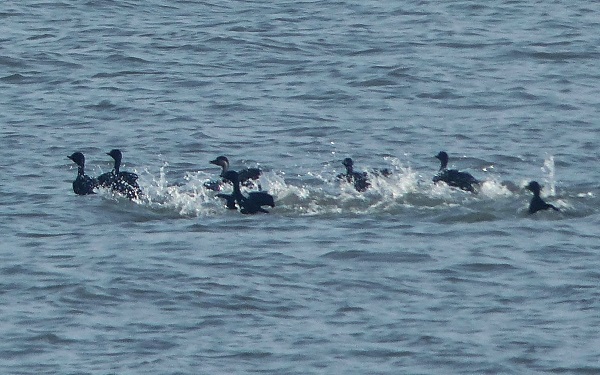 Sex Ratios
It is rare to be so close to so many Common Scoters so normally such things as determining sex ratios is very difficult if not impossible - and one thing which immediately struck me as I was looking at them at relatively close quarters was that they were nearly all males. Both myself, on April 9th, and Mal Sergeant, the next day, both reckoned the male:female ratio was at least 20:1, a remarkably high figure. As it happens some research was carried out between 2002 and 2004 (prior to the building of windfarms in Liverpool Bay) on this very subject when Kaiser et al. studied Common Scoters off the North Wales coast.
The graph above shows the male to female ratio as estimated by Kaiser et al. off the North Wales coast in 2003* and as estimated by ourselves off Hoylake in 2015. The graph may indicate that males arrive first in October, to be joined mid-winter by the females who then depart leaving the males behind. But this implies the presence of almost double the amount of birds in December, is this likely? If these birds disperse right across Liverpool Bay then that it is quite possible, but probably more likely is that the males present in October continue further south to be replaced by a mix of sexes mid-winter, and it is these returning males we again see in March and April.
Either way we just don't know, but their presence off East Hoyle Bank does give us a chance to accurately measure the sex ratio right through the winter and, hopefully, gain a better understanding of the movements of this species - something to think about later on this year. Numbers in the southern half of Liverpool Bay are certainly higher now than they were in 2003 and the current sex ratio implies that it is the males that have increased rather than both of the sexes. Maybe milder winters has resulted in more females staying in the Baltic. Interestingly, Birds of the Western Palearctic (BWP) does go into some details about the different moult and migration strategies of the different sexes and I'll try and summarise here: males pass through the Baltic during the summer to moult to the west of Denmark, around the Freisian Islands and other unknown moulting areas further out to sea. After moulting males disperse south and west during September and by September and early October birds in Danish waters are then mainly females and juveniles; birds which spend the winter in the Baltic are also mainly female. Further migration after moulting takes place in the Baltic and North Sea and the proportion of females in western seaboard flocks rises steadily until passage ends in December.
BWP doesn't say what happens to the males and females after December, implying that they move back to the breeding grounds together but we know from our observations that that is not the case. I look forward to their return in October!
* It is interesting that Kaiser, either on land or from a boat, never got nearer to the Scoters than 800 metres. In contrast I reckon the birds I saw off East Hoyle Bank were between 200 and 400m (perhaps nearer), as I think is demonstrated in the photos I took which were digiscoped with my IPhone on 20x magnification.


Common Scoters close to East Hoyle Bank © Richard Smith
General Scoter Status
It is sad that, despite the local increases as detailed above, all three species as a whole are decreasing in number - or so we think. We do have to take into account how little we know about them, not surprising when you remember that they breed in the far north with many spending the rest of the year out of sight of land. For example, thousands of Common Scoters are seen flying south past Morocco every autumn but no one knows where they go. I like the blunt quote from the Ducks Unlimited website when talking about Surf Scoters "they are virtually unstudied", and Prater says, talking about Velvet Scoters, "we are unable to account for very large numbers, assuming the calculations are correct". As far as Common Scoters go we didn't even know about the vast majority of the 50,000 or so birds in Liverpool Bay until the aerial surveys a few years ago.
Sources of Information
1. Lighthouse and Wirral Birding Blog -
lighthousebirding.blogspot.co.uk/
.
2. Steve White and Chris Kehoe, Report on scarce migrant birds in Britain in 2011-12, British Birds 108, March 2015.
3. Bird Guides,
www.birdguides.com
.
4. Cheshire and Wirral Bird Reports, 1967 to 2013, CAWOS.
5. Clwyd Bird Reports/North-east Wales Bird Reports - various between 1990 and 2013.
6. A.J. Musgrove
et al
., Overwinter population estimates of British waterbirds, British Birds 104 July 2011.
7. Richard Smith, Common Scoters,
Dee Estuary Website May 2014.

8. Richard Smith; Common Scoters, Liverpool Bay SPA and Windfarms -
Dee Estuary Website July 2008.
9. M.J. Kaiser
et al
., Distribution and behaviour of Common Scoter
Melanitta nigra
relative to prey resources and environmental parameters; Ibis (2006), 148, 110-128.
10. David Cabot, Wildfowl, The New Naturalist Library, Collins, 2009.
11. Birds of the Western Palearctic, BWPi - Interactive version (2003 - 2006).
12. Ducks Unlimited,
www.ducks.org.

13. A. J. Prater, Estuary Birds of Britain and Ireland, T & A D Poyser, 1981,
14. Hilbre Bird Observatory -
http://www.hilbrebirdobs.blogspot.co.uk/.
15. Taej Mundkur and Szabolcs Nagy
et al.
, Waterbird Population Estimates Fifth Edition, Wetlands International 2012.
Richard Smith
Top of Page
Colour Ring Report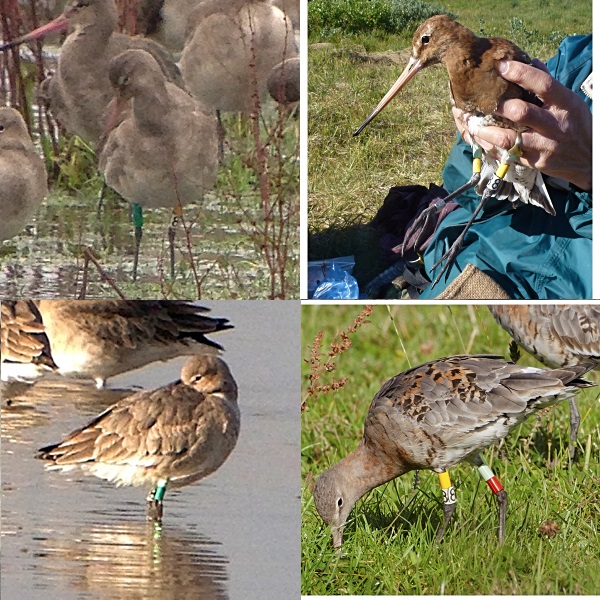 Starting top left and clockwise: 1. Y8-GG at Gilroy (Richard Smith) 2. Y8-LY at Siglufjord, Iceland (Pete Potts and team) 3. Y8-LR at Gilroy (Matt Thomas) 4. Y8-LG at Gilroy (Richard Smith).

Colour-ringed birds are a bit thin on the ground at the moment so I thought I'd take you back to a day last November when we were out looking at Black-tailed Godwits.
A Profusion of Y8s!
On November 28th 2014 John Jakeman, Matt Thomas and myself were scanning through 1,500 Black-tailed Godwits at Thurstaston. We were getting a bit frustrated as hardly any were colour-ringed, I thought I had seen Y8-LG but when I looked again I realised I had made an error as it was really Y8-GG - but hang on, it wasn't an error as Matt had seen both! Then John comes along to say he had seen Y8-LR as well. We only saw a total of five that day so for three to be so similarly ringed was unusual. When I got back home and checked the database I saw that all three had been ringed in Iceland, as adults, on the same day - July 10th 2012 - now that WAS unusual!
It turned out that not only had they been caught the same day but in the same net in a total catch of 20, and that we had also seen a fourth bird caught in that net here on the Dee estuary in 2012, Y8-LY. It was Pete Potts and his team who did the ringing, right in the middle of the north Icelandic coast at Siglufjordur. You can see Y8-LY just after it had been ringed in the photo above (top right) and being held in the group photo below.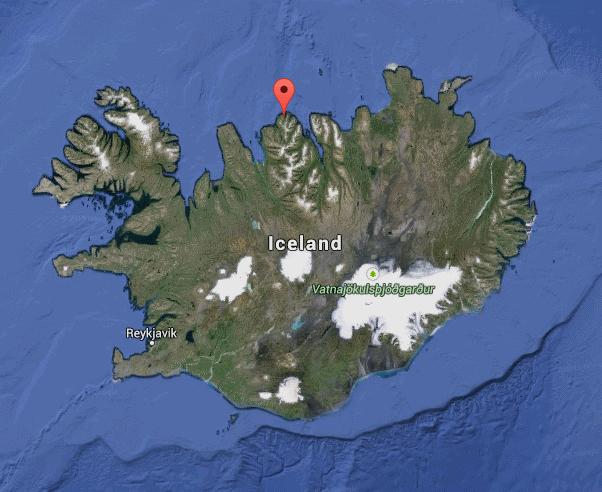 The marker on the map shows the location of Siglufjordur and this is where the photo of the ringing team was taken, below.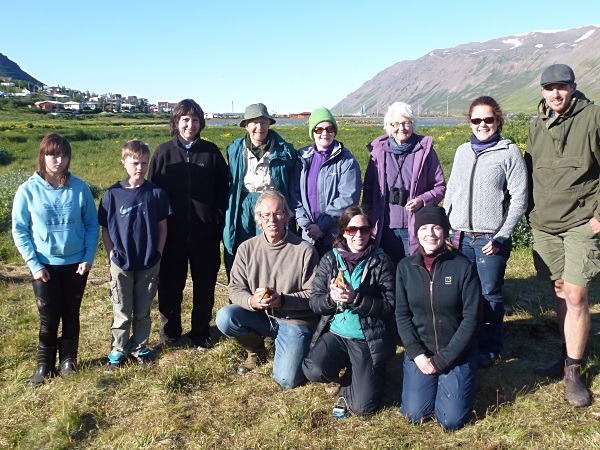 So had the three birds we saw in November been travelling around together ever since July 2012? The short answer is - no. Of the total of 151 records we have for them they have never all been seen together before November 28th although two of them, Y8-LG and Y8-LR, have been recorded together three times - each time on the Dee estuary. Incidentally, Y8-LY, after last being seen at Thurstaston in December 2012, disappeared until February 2014 when it turned up in a rice field in Portugal!
Richard Smith and Matt Thomas
.
Colour-ringed birds were also recorded by John Jakeman and Steve Hinde.
Top of Page
April Bird News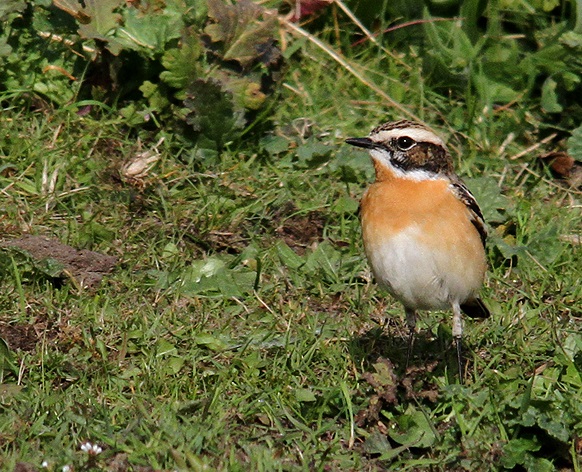 Whinchat at Leasowe Lighthouse, April 10th © Steve Seal.
The spring migration continued with first sightings of the species listed below fairly typical for recent years.

| Species | 2015 | Location (2015) | 2014 | 2013 |
| --- | --- | --- | --- | --- |
| Sand Martin | 7th March | Flint | 20th March | 28th March |
| White Wagtail | 10th March | Red Rocks | 8th March | 14th March |
| Wheatear | 11th March | Hilbre | 10th March | 17th March |
| Swallow | 20th March | Burton | 19th March | 10th April |
| Willow Warbler | 22nd March | Flint | 12th March | 6th April |
| House Martin | 31st March | Burton | 29th March | 12th April |
| Whitethroat | 12th April | Heswall | 4th April | 15th April |
| Swift | 18th April | Burton | 3rd May | 17th April |
| Cuckoo | 20th April | Burton | 2nd May | 13th April |
Although there were no big falls of migrants there were certainly some good numbers including: 22 Wheatears at both Leasowe Lighthouse and Red Rocks on the 15th and a total of at least 160 Willow Warblers across Hilbre and north Wirral on the 22nd. There were 31 Ring Ouzel records including a remarkable eight at Red Rocks on the 10th, but we had no long staying birds this year. Early in the month saw a large movement of Meadow Pipits including 1,600 heading north at Leasowe Lighthouse on the 6th. There was a total of 37 Redstart records, not quite reaching last year's total of 42 which was an exceptional year.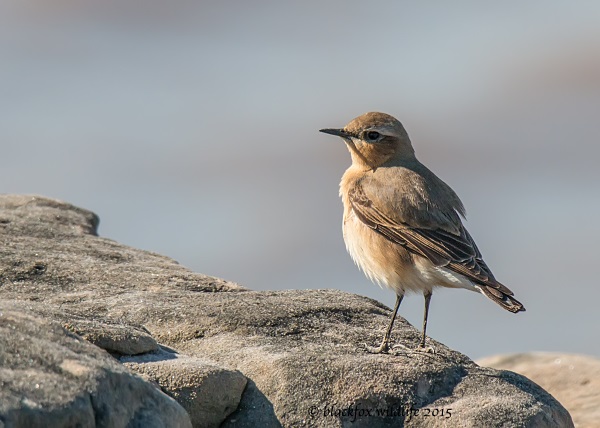 Wheatear at Red Rocks, April 19th © Jeff Cohen.
A total of 10 Ospreys flew over and the first Hobby arrived at Burton Mere Wetlands on the 23rd. The peak number of Whimbrels was 28 at Heswall but the spring passage of Black-tailed Godwits was poor after two good years although we did have a satellite tagged bird of which more in a future newsletter. A Little Gull was at Burton Mere Wetlands for several days early in the month whilst the peak count off Hilbre was 63 on the 16th. Single male Pied Flycatchers were seen at Red Rocks and Leasowe Lighthouse on the 22nd (possibly the same bird) and again at the lighthouse on the 26th.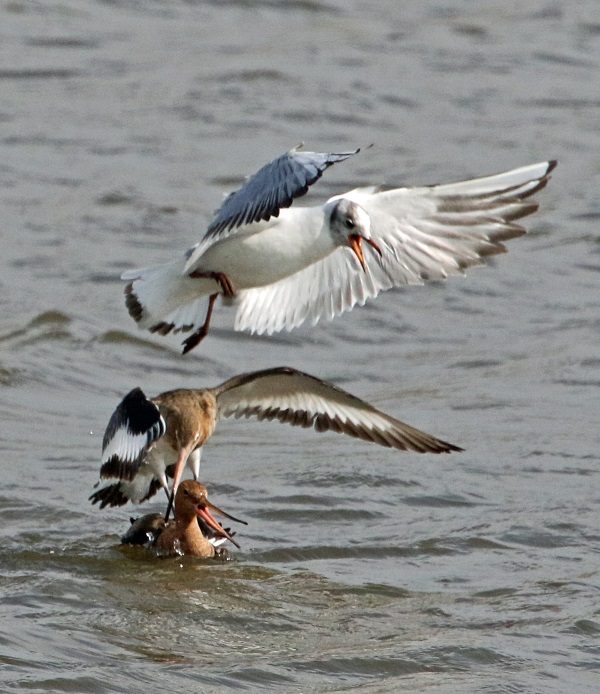 Conflict at Burton Mere Wetlands, April 10th © Roy Lowry
It was a good month for rarities including the Laughing Gull at New Brighton which was still there until at least the 20th. Elsewhere there was a Hoopoe at Thurstaston (14th), an Alpine Swift at Leasowe Lighthouse (22nd) and a Dotterel at Red Rocks (23rd), plus several sightings of an Iceland Gull along north Wirral. One Great White Egret was recorded on three occasions through the month.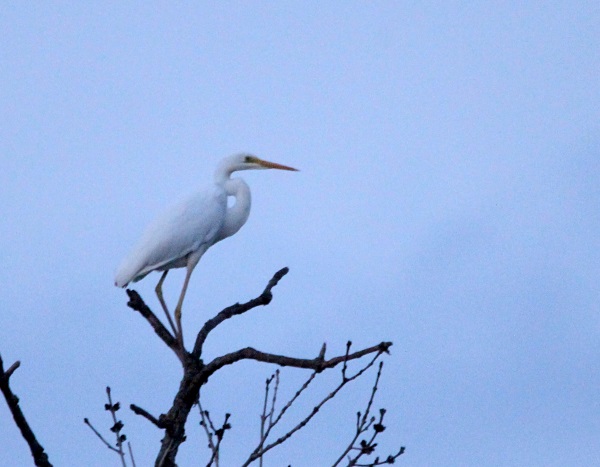 Richard Smith.
Many thanks go to Jane Turner, Les Hall, John Jakeman, Glenn Morris, Mike Davenport, Derek Bates, David Parker, Mal Sergeant, Ian Fleming, Matt Thomas, Richard Beckett, Chris Butterworth, David Peate, Steve Hinde, Roy Lowry, Allan Conlin, Colin Schofield, David Haigh, Jeremy Bradshaw, Alan Hitchmough, Steve Williams, Charles Farnell, Mark Gibson, Elliot Montieth, Dan Trotman, David Leeming, Steve Hasell, Mike Buckley, David Owen Jones, Ray Eades, Dave Edwards, Gail Wilson, Douglas Holmes, Jeff Cohen, Bruce Atherton, Frank Burns, Paul Yarlett, Steve Seal, Graham Connolly, Colin Jones, Harry Davies, Norman Hallas, Stephen Burke, Sean O'Hara, Rob Massey, Mark Brockley, Alan Irving, Hugh Stewart, Clive Ashton, Richard Speechley, Brian Tollitt, David Coward, Roger Shuttleworth, Loren Miller, Steve Hand, Ian Cotterell, Chris Roberts, Roger Jacobs, Leon Castell, Alan Nevitt, Anne Mulcahy, Jeff Stephens, Rob Morsley, the
Lighthouse and Wirral Birding Blog
, the
Dee Estuary Wardens
and the
Hilbre Bird Observatory
for their sightings during April. All sightings are gratefully received.
Top of Page
What to expect in May
The breeding season will be well underway in our gardens and woods but for many species it is still very much migration time and I remember some great days with birds seemingly everywhere - see "
Three Magical Spring Days
" and also
May 2011
when we had a large Yellow Wagtail flock at Leasowe. Our first Spotted Flycatchers will be arriving, hopefully we will both see and hear one or two
Wood Warblers
and we should see a good passage of Whinchats.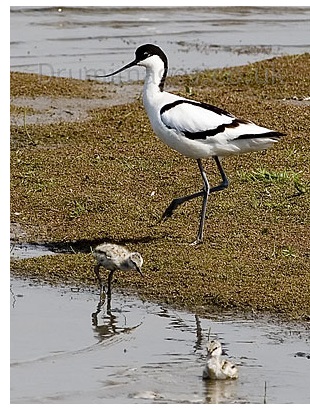 If we get some fresh westerly winds sea watching can be excellent with good numbers of Gannets and Manx Shearwaters as well as skuas, and a few thousand Common Scoters will still be around although I can't promise any Surf Scoters! By the end of the month both our Common Terns, at Shotton, and Little Terns, at Gronant, will have started breeding.
Some years we can get a good build-up of waders in May which can include a passage of Little Stints as well as the more usual Dunlin and Ringed Plover. I'm always in awe of these waders knowing that they have spent the winter thousands of miles to the south of us and have still to travel many more hundreds of miles to the far north. With the more common waders we can get a rarity or two and in recent years we've had a Broad-billed Sandpiper at Hoylake and Temminck's Stints at both Burton and Parkgate. Other rarities seen in May over the past three or four years include Bee-eater, Black-winged Pratincole, Citrine Wagtail, Golden Oriole and Red-rumped Swallow. One more wader species not to be missed are the Avocets at Burton Mere Wetlands where they should be producing chicks by the end of the month - a lovely sight. Photo above right by Damian Waters.
Top of Page
Forthcoming Events
May Highest Spring Tides (Liverpool)
Also see Tides page.

18th May, 11.57hrs (BST), 9.6m.
19th May, 12.42hrs (BST), 9.6m.
Forthcoming Events
Organised by the Wirral Ranger Service , Flintshire Countryside Service and the RSPB (Dee Estuary):
All these events and walks have bird interest, even those not advertised specifically for birdwatching. No need to book for these events unless specified - please check below.
Also see 2015 Events Diary.

Sunday 3rd May, Dawn Chorus at
Burton Mere Wetlands
.
5 am-7 am
Price: £6 (RSPB members £4.50),
Booking essential
.
It's International Dawn Chorus Day, so join us at Burton Mere Wetlands to experience the magic of the reserve waking up as the sun rises. With a wonderful mix of woodland and wetlands, there's no better place to experience the early morning birdsong.
Expert guides will help identify the bird calls and songs around you, plus all the other kinds of wildlife that makes its home here. Enjoy a croissant and a hot drink afterwards in the Reception Hide, then a chance to explore the rest of the reserve on your own before it opens at 9 am.
Advanced booking and payment essential. Price includes the light breakfast afterwards.
Ring 0151 353 8478.
Sunday 3rd May, Saturday 16th May and Saturday 30th May, Weekend Walkabout at
Burton Mere Wetlands
.
1 pm-3 pm (approx. finish)
Price: Free (normal reserve entry charges apply to non-members)
Join one of our friendly, knowledgeable volunteers for a gentle walk from the Reception Hide to the end of the Hillfort Trail on Burton Point, to learn more about the wildlife that thrives here, the work we do to give nature a home and the remarkable history of the estuary.
Great for first time visitors or those who'd like a guide to help them get the most enjoyment from a visit. With constant changes as we move through the seasons, it's impossible to predict what might be seen but nesting wading birds, herons and ducks are guaranteed, with an array of colourful flowers, butterflies and dragonflies emerging into the warmer months, there's always something to marvel.
No booking required, just turn up on the day. A reasonable level of fitness and sturdy footwear are required.
Telephone 0151 353 8478 for further details.
Sunday May 3rd - 4:30am - 6:30am, Dawn Chorus at
Royden Park
.
Listen to the fantastic sounds of nature as birds sing at this very early time of year.
If you have them, bring a pair of binoculars.
Meet at the Court Yard/Coach House at Royden Park.
Sorry no dogs.
Booking essential.
Telephone:
0151 677 7594.
Sunday 10th May, Bluebells and Birdsong at
Burton Mere Wetlands
.
10 am-12 pm
Price: £5 per person (£4 RSPB members)
Booking essential ring
0151 353 8478.
As part of Wirral Walking Festival, join us for this guided walk around Burton Mere Wetlands to admire one of the best bluebell woodlands in the area whilst being serenaded by the array of birds we have nesting here.
For those who are up for a longer walk, we will venture up to Burton Point where there is another impressive stand of bluebells beneath the small copse, along with stunning panoramic views over Burton Mere Wetlands and across the estuary to the Welsh hills. This part of the walk will take in some trails including sloped grass paths.
Stick around afterwards to enjoy the rest of the reserve, and a hot drink in the Reception Hide.
Sturdy footwear is essential.