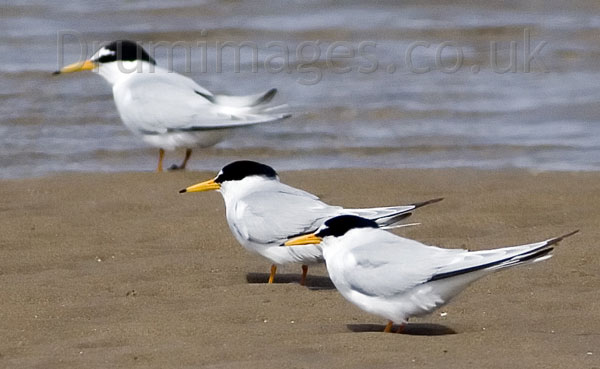 May sees the return of the Little Terns to Gronant having spent the winter off West Africa. Gronant is the only Little Tern colony in Wales and one of the largest and most productive in the UK, to a large extent this is due to the team of wardens and volunteers who protect the colony from predators in all weathers from May to August. This is important conservation work and as usual we are appealing for volunteers to help us, just an hour or two per week would be a help, more even better. Please ring the Denbighshire Countryside Service (01745 356197) if you want to volunteer or need further details, or just turn up at Gronant during the breeding season to see what is involved - see the Gronant Site Guide for more details both of Gronant itself and the birds to be seen in the area.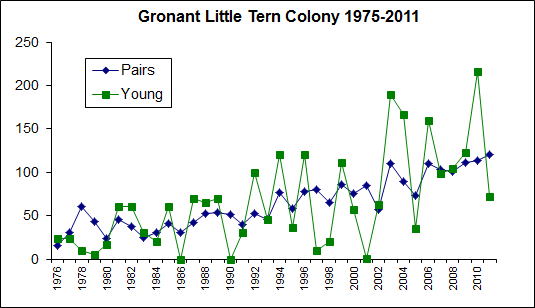 Little Terns are said to be not particularly site faithful, but there has been little sign of that at Gronant over the years with a steady rise in breeding pairs and relatively little year to year variation in numbers indicating the same birds are returning year after year. What does vary is the number of young successfully fledged which is typical of any Little Tern colony with weather, height of tides, predation and human disturbance all potentially having a negative effect on breeding success. 2011 was a more difficult season than most with a combination of bad weather and a pair of persistent Kestrels causing a large drop in young fledged compared to the record breaking year of 2010. But the past 10 years have been largely good ones with only two years where numbers fledged were significantly below an average of one per pair whereas for four years numbers fledged per pair were way over one (e.g. 1.9 in 2010). To sustain numbers it has been calculated by the RSPB that the average young fledged per pair has to be 0.66 whereas the long term average at Gronant is actually spot on 1.0, which means we can expect the numbers of pairs to carry on increasing for a long time yet.
Below is an interesting comparison of Little Tern colonies around the UK in 2011 with that at Gronant over the past three years, you can see that the better weather along the East Coast in the summer of 2011 led to good breeding success there, particularly for the colonies along the Cleveland coast. Lets hope that, with the help of the volunteers and wardens, the Little Terns at Gronant can have another record breaking year in 2012.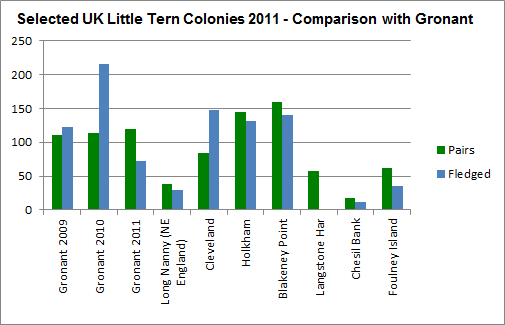 Sources of Information:
1. Peter Milner & Jonathan Fleming, Little Tern Report Gronant 2011, Denbigshire County Council.
2. Table showing 2011 Breeding Success of selected UK Little Tern Colonies received from DCC Countryside Services with thanks.
3. Denbighshire County Council, Little Tern Report, GRONANT 2009, Emma Thomas, Owen Chamberlain and Sally Conyers.
4. The Migration Atlas, BTO, 2002.
5. Cramp & Simmons, Birds of the Western Palearctic, DVD edition BWPi, 2006.

See also Gronant Little Tern article from 2011 - Click Here.

Richard Smith (Gronant Voluntary Warden).


Top of Page
April Bird News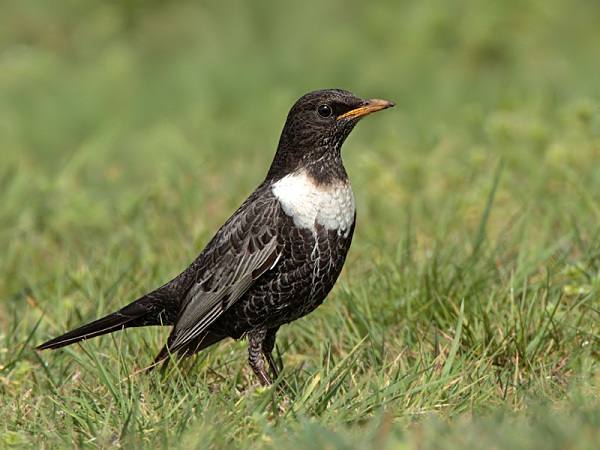 Ring Ouzel near Leasowe Lighthouse, April 11th - ©
Steve Round.
With the weather being like it was April was fairly quiet but it certainly had a few highlights including this stunning photo of a male Ring Ouzel, one of six recorded this month. We had to wait until the last day of the month before we had a 'classic' spring migration day when we had over 70 Wheatears, 2 Redstarts, 10 Yellow Wagtails and 7 Whinchats in the Leasowe Lighthouse area - but it was certainly worth the wait!
Other highlights include two rarity records, both of which have question marks over them, as follows:
The first is the 'Ashy-headed Wagtail' at Burton Mere Wetlands on the 18th and 19th. For those that don't realise this is one of several races of the continental from of Yellow Wagtail, most of which have dark heads, unlike the British race which has a yellow head. The 'Ashy-headed' is usually found in Italy. The problem is that there are many intermediates and much variation within the races so it is usually difficult to be certain which race a particular bird is from. Despite this particular bird being identical to 'Ashy-headed' (
M flava cinereocapilla
) in my Collins Bird Guide and the experienced birders who actually saw the bird being certain of its ID expert opinion has it that it is not an 'Ashy-headed' but some intermediate form, although their opinion stems from looking at just one 'record shot'. I understand better photos of this bird were taken so it will be interesting to see what the final opinion of the rarity panel is.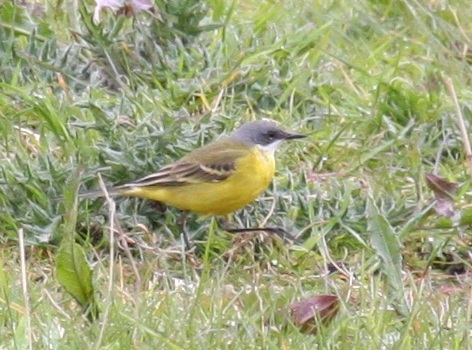 "Ashy-headed" Wagtail, April 18th © Paul Brady
The second record is of six White Storks. This is a pretty remarkable record, particularly for this side of the country, but they were obviously wild birds. They were probably the ones first seen on April 17th in Worcestershire. There was a report on Bird Guides put out on the 23rd of six in a field by Holywell the previous day (22nd), it must have been these which were subsequently seen and photographed flying over Llandudno on the 23rd by none other than Alan Davies (of the biggest twitch fame - see photos on
www.thebiggesttwitch.com
), these were flying west (i.e. away from Holywell direction) then flew NNW. Next I received an email late on the 25th from a birder saying that some non-birding friends of his had seen several large heron type birds in a field at Frankby on the 24th, which they subsequently confidently identified as White Storks (they had no knowledge of the possibility of these birds being in the area so no reason to be expecting them to be White Storks). Unfortunately these birds were not present the next day. Just out of interest six turned up in Oxfordshire in late April.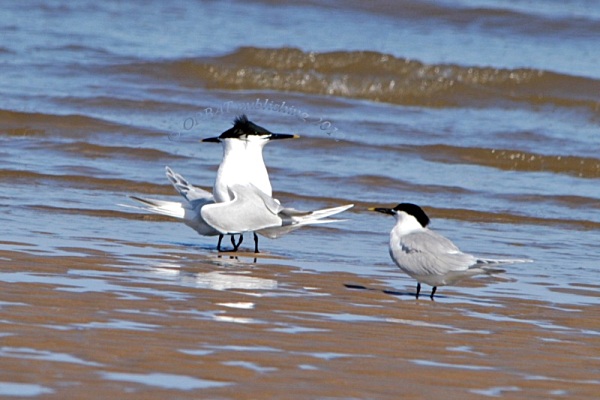 Sandwich Terns at New Brighton, April 16th © William Boyce
Migration was also taking place out to sea and included good movements on the 17th with large numbers of auks (including at least 570 Guillemotts) with 100 Gannets and 150 Sandwich Terns off Hilbre the following day. The largest number of Little Gulls recorded were 65 past Hilbre on the 6th.
After disappointing spring tides since April last year we at last had a high tide covering the marsh on the 8th and 9th, the highlight being 8 Short-eared Owls on both dates. Other good birds included five records of single Ospreys overhead and the long staying Great White Egret and Spoonbill.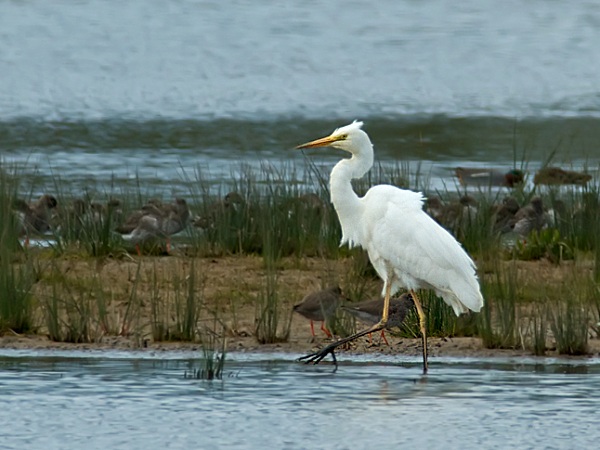 Great White Egret at Burton Mere Wetlands, April 14th © Jeff Cohen.
Richard Smith.
Many thanks go to Jeremy Bradshaw, Tony Kendrick, Neil McLaren, Paul Brady, Steve Williams, Richard Steel, Charles Farnell, Leon Castell, Steve Hasell, Chris Smith, Chris Morley, Jeff Cohen, Roy Palmer, Dave Ritchie, Steve Round, Malcolm Sergeant, David Haigh, John Kirkland, Mike Hart, Steve Lamb, Kenny Dummigan, Roger Jacobs, Richard Beckett, Peter Morgan, Paul Vautrinot, David Jones, Ray Eades, Paul Yarlett, Andy Thomas, Andy Barnsley, Ken Mullins, Paul Rutter, Bruce Atherton, Stephen Simpson, Tim Baldock, John Jakeman, David Farrell, Mark Evans, Richard Payne, William Boyce, Dave Edwards, Michael Baron, Greg Harker, Nigel Jarratt, John Rowlands, Chris Butterworth, Jane Turner, James Smith, Peter Haslem, Dave Kenyon, Dave Wild, Matt Thomas, Ian Cotterell, Nick Bullen, Tanny Robinson, Jon Greep, A Quinn, Tony Edwards, David Small. Julian Weldrick, Paul Mason, Kevin Roberts, Sean O'Hara, Malcolm Guy, Steve Hand, Stan Skelton, Iain Douglas, Damian Waters, Peter Forshaw, the
Dee Estuary Wardens
and the
Hilbre Bird Observatory
for their sightings during April. All sightings are gratefully received.
What to expect in May
May can be good for rarities with 'migration overshoots' - i.e. when birds on migration overshoot their normal breeding area. The last couple of years has brought in Red-Rumped Swallow, Broad-billed Sandpiper, Bluethroat and Nightingale, and we must be well overdue for a Hoopoe - so keep a sharp eye out!
The spring migration will continue well into May and we should see Cuckoos, Hobbies, Yellow Wagtails, Whinchats and Whimbrels among others, and hopefully a Wood Warbler or two. Last May we had exceptional numbers of migrating Dunlin and Ringed Plover along north Wirral shore, and any waders we see are likely to be in full summer plumage with Spotted Redshanks, Bar-tailed Godwits and Grey Plovers looking particularly gorgeous.
Any strong westerly will bring in good numbers of seabirds in to our coast, certainly terns and Gannets but also auks, Manx Shearwaters and may be an Arctic Skua or two.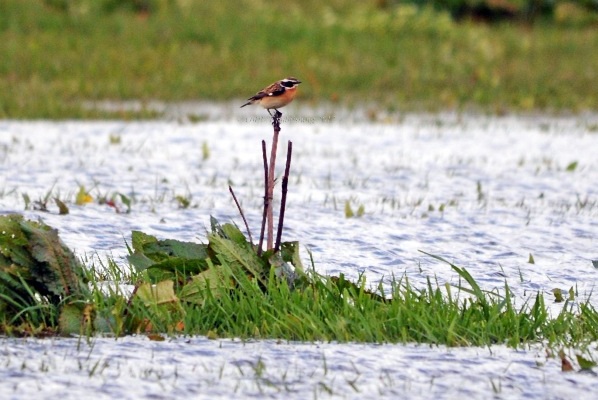 Whinchat by Leasowe Lighthouse, April 30th © William Boyce
Forthcoming Events
May Highest Spring Tides (Liverpool)
Also see Tides page.
6th May, 11.48hrs (BST), 9.7m.
7th May, 12.36hrs (BST), 9.8m.
8th May, 13.25hrs (BST), 9.7m.
Forthcoming Events
Organised by the Wirral Ranger Service , Flintshire Countryside Service and/or the RSPB:
All these events and walks have bird interest, even those not advertised specifically for birdwatching. No need to book for these events unless specified - please check below.
Also see 2012 Events Diary.
Sunday 6th May, 5am to 7am, Dawn Chorus Walk at
Burton Mere Wetlands
.
Meet at Burton Mere Wetlands Car Park, off Puddington Lane, Burton, Cheshire, CH64 5SF.
Get down to Burton Mere Wetlands and help us celebrate our first ever International Dawn Chorus Day.
With a wonderful mixture of woodland and wetlands is there a better place to experience the dawn chorus?
This is a fantastic opportunity to see the reserve 'out of hours' and you'll never know what other wildlife we might bump into .... stick around afterwards for a chat, hot drink and the chance to have the reserve to yourself for another two hours!
£2 or £5 non-members.
Places limited so book your place now by phoning 0151 353 8478 or 0151 336 7681.
Sunday 6th May, Dawn Chorus at Royden Park, 4.30am to 6.30am.
Up with the Lark and experience the delights of the Dawn Chorus within the wonderful setting of Royden Park and Thurstaston Common. Meet at the Rangers Office, Royden Park.
Please wear warm and waterproof clothing. Sorry no dogs.
There is a maximum of 18 people on this walk, please ring 0151 678 4371 to book a place.
Saturday 2nd June and
Sunday 3rd June, Garden Wildlife Weekend at Burton Mere Wetlands RSPB, 10 am to 4pm.
Pop along anytime to get free, friendly advice from the experts on gardening for wildlife.
Be inspired by how the reserve has been set up and even take home a few plants to help you get started.
Children can get their hands on some wildflower seeds and enter our grow a sunflower competition.
For further details phone 0151 353 8478 or 0151 336 7681.
Saturday 9th June, Dusk Chorus - RSPB Event, 8pm to 10pm.
Dawn Chorus too early? Then perhaps our first ever Dusk Chorus event is for you?
Many birds continue to sing and some become even more active. With a bit of luck we may even see some of the creatures of the night...... Owls? Bats? Badgers?
Meet at Burton Mere Wetlands Car Park.
Cost: Adults - £2 RSPB members, £5 non-members, Children - Free Wildlife Explorer members, £1 non-members.
Booking essential so please call 0151 353 8478 or 0151 336 7681.
Tuesday 12th June, 1:30pm - 3:00pm, Summer Walk over Stapledon Woods and Caldy Hill.
Discover the variety of wildflowers and other wildlife on this stroll with the Ranger.
Meet Kings Drive North off Column Road.
Sorry no dogs
No need to book.
For further enquiries ring 0151 677 7594.