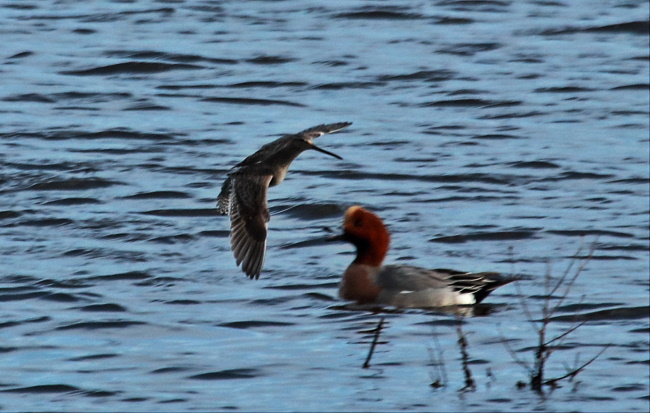 Long-billed Dowitcher with Wigeon at Burton Mere Wetlands, February 24th 2020 © Carole Killikelly

A Long-billed Dowitcher was recorded at Burton Mere Wetlands RSPB on February 24th and 25th 2020. Long-billed Dowitchers are BBRC (British Birds Rarities Committee) rarities, i.e. national rarities, so always exciting to see and this one gave good views from the Inner Marsh Farm Hide over the two days. It was an adult, it's relatively short bill and some rufous on it's face made it fairly distinctive so it's known it was the same bird that arrived at Marshside RSPB (Southport) in January where it stayed until early February. It was at nearby Martin Mere WWT on February 23rd, moved to BMW for two days before returning to Martin Mere on the 26th. At least one other bird was present in the country over this period with one in Devon, plus another across the Irish Sea at Wicklow.

Here are the Dee Estuary records for this species:
1961 November 19th - Dowitcher at Shotton Lagoons.
1964 June 21st - Dowitcher at Shotton Lagoons.
Due to identification difficulties many Dowitcher records were often not specified to species (Long-billed Dowitcher or Short-billed Dowitcher) until the 1970s. Since the 1970s identification has been clearer and the UK totals from 1950 (where species specified) are 258 Long-billed Dowitchers and four Short-billed Dowitchers. Short-billed Dowitchers have never been recorded on the Dee Estuary or in the adjacent counties of Cheshire and Clwyd. Therefore it seems highly likely that the two records in the 1960s were Long-billed Dowitchers. All the records below were accepted as Long-billed Dowitchers.
1979 October 14th to 26th - Burton Marsh.
1993 October 24th to November 3rd - Inner Marsh Farm (juvenile).
2002 November 10th - Inner Marsh Farm.
2003 January 28th to April 27th - Inner Marsh Farm (first winter).
2005 October 12th to November 7th - Inner Marsh Farm (juvenile).
2009 September 26th to October 17th - Inner Marsh Farm (two juveniles), October 19th to 21st - Connah's Quay Nature Reserve (one juvenile), October 28th to 31st - Inner Marsh Farm (one juvenile).
2010 February 14th to 18th - Burton Marsh (adult), August 26th - Inner Marsh Farm (adult), August 28th to October 11th - Connah's Quay Nature Reserve (adult).
2012 October 1st to 19th - Burton Mere Wetlands (juvenile).
2020 February 24th and 25th - Burton Mere Wetlands (adult).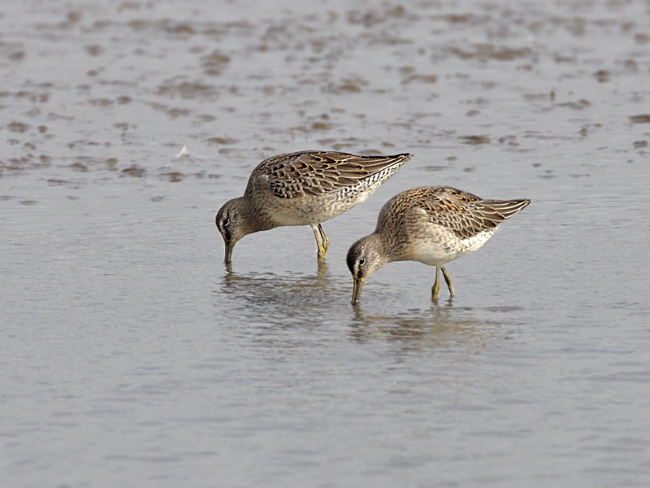 The two juvenile Long-billed Dowitchers at Burton Mere Wetlands in 2009 © Steve Round


The majority of 'new' birds into the UK are juveniles and there is a noticeable peak of records in September and October as you would expect, and as is normal for Neartic waders. Some do then stay for a considerable time and there are records of these birds in the UK throughout the year. It is very likely the adult seen on the Dee Estuary in 2010 was one of the juveniles recorded in 2009.
Like most birders I find migration fascinating and it is intriguing to speculate by which route these birds arrive in the UK. They breed on the far side of the northern hemisphere from this country so they could arrive here either from the west or from the east.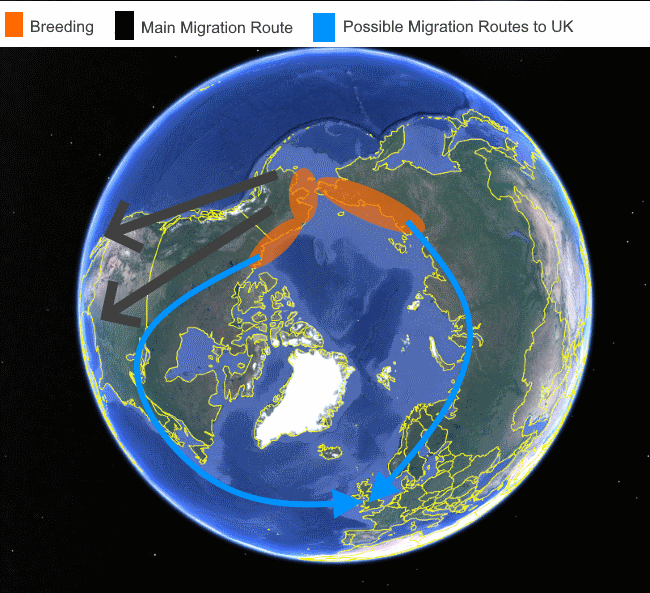 Long-billed Dowitchers breed in northern Alaska and north-east Siberia. In contrast Short-billed Dowitchers breed right across Canada including near the east coast, these migrate south along the western Atlantic flyway and you would therefore think we would see more of these when they get blown across the Atlantic by weather systems, but they remain ultra rare. Long-billed Dowitchers migrate south and south-east mainly west of the Mississippi and therefore are unlikely to get blown across the Atlantic, at least that is what you would think. However, there is an argument that there is a strong west to east movement, particularly from Siberia, and the birds we see are those that over-shoot their normal flyway and end up in the north Atlantic. Looking at the map it is conceivable that some just fly straight over the north pole! Or they could arrive by flying west from eastern Siberia where there has been a recent range expansion. Holt et al. , in the 2017 Report on Rare Birds in Great Britain, say this: "It is perhaps unsurprising then that some are caught up with other Arctic shorebirds moving west in autumn to arrive on the east coast of Britain". You have to say all these routes seem unlikely yet they continue to arrive here with an average of five records per year in the UK.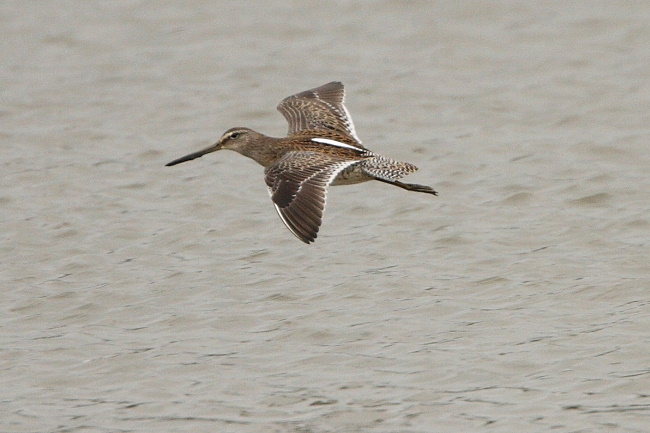 Long-billed Dowitcher at Burton Mere Wetlands in 2009 © Keith Scovell


References:
1. Holt et al., Report on rare birds in Great Britain in 2017, British Birds October 2018.
2. BBRC Reports published in British Birds, various.

3. Allan Conlin & Eddie Williams, Rare and Scarce Birds of Cheshire & Wirral, 2017.
4. Robin Sandham, Scarce and Rare Birds in North Wales, 2017.
Richard Smith.

Colour Ring Report

Oystercatcher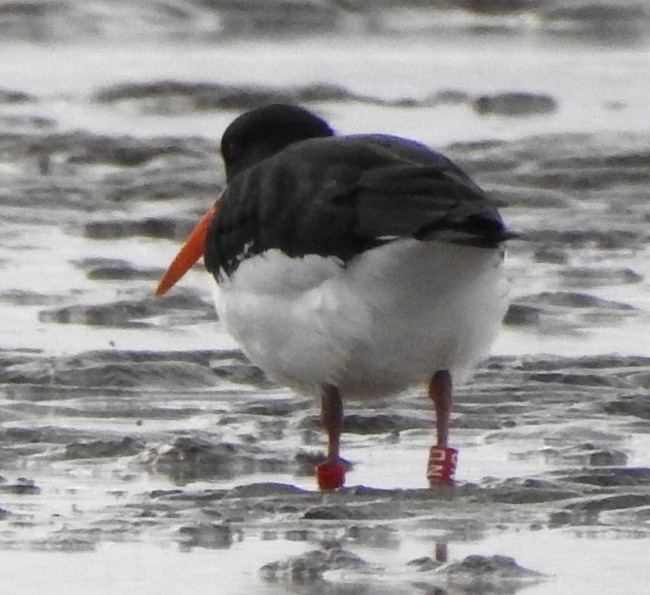 © Steve Hinde


R-NO (Red left tarsus - white NO on red ring, right tarsus).
Ringed at Newtonmore, Highland (Scotland) on March 17th 2018.
Recorded on Thurstaston Shore on January 28th 2020.

Nigel Buxton, the ringer, says: Thanks for this sighting; it is a bird from our study of local breeding birds at Newtonmore, Highland. We have been ringing birds here since 1996 and for the last 2 years have been adding colour rings. Recoveries/controls and colour ring sightings show that these birds winter all round the Irish sea coasts – Lancashire, North Wales, Irish Republic, Northern Ireland, SW Scotland and now Merseyside/Cheshire. The birds are very site faithful and some birds we have caught 3 & 4 times although N0 was a new bird ringed on 17th March 2018 (FP48151). The location is a night-time roost on the banks of the River Spey a little way north of Newtonmore (NN736997). All the birds on it are full adults, with younger birds still being elsewhere, although at least some do return to their natal areas when they are older (as other ring controls show).


Mediterranean Gulls

It's always good to see a Mediterranean Gull, so much more impressive than the slightly smaller Black-headed Gull. Quite a lot of these are colour-ringed and over the years 16 have been recorded on the Dee Estuary and North Wirral, and they have all been ringed on the continent in countries to the east of us - Belgium, Netherlands, Germany, Denmark, Poland and Slovakia. The two below have an interesting history, particularly PPJ3.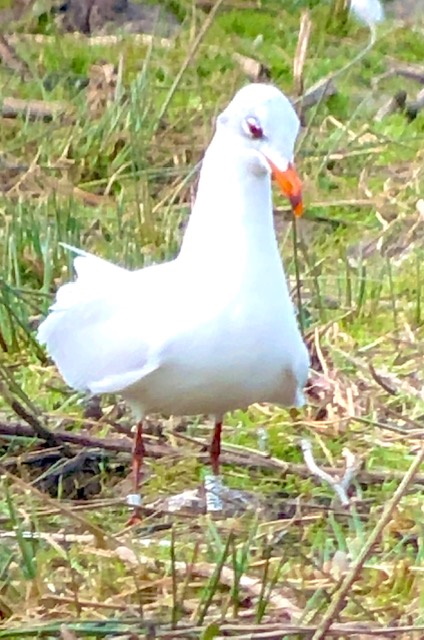 Med Gull 3PKV at Burton Mere Wetlands © Colin Schofield


3PKV - on white ring.
Ringed on De Kreupel Island, Ijsselmeer, north Netherlands on June 15th 2018.
Recorded:
Nevern Estuary, Newport, Pembrokeshire in January 2019.
Holyhead, Anglesey, in January 2020.
Burton Mere Wetlands on March 19th 2020.

De Kreupel is a lonely little island right out in the middle of the extensive Ijsselmeer, it is an artificial island specially created for wildlife and is full of nesting terns and gulls through the summer.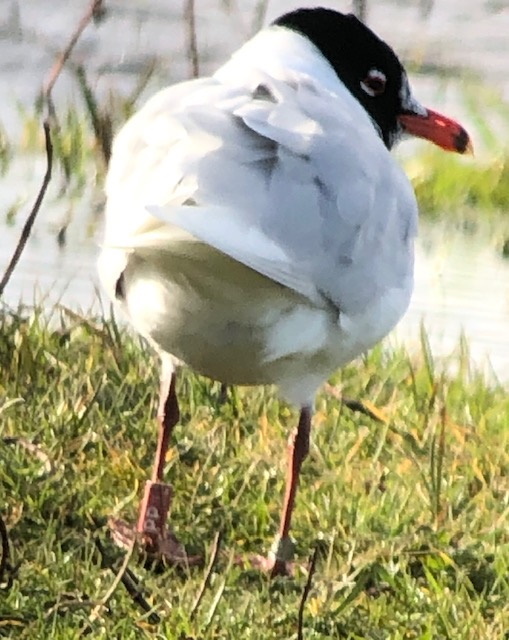 Med Gull PPJ3 at Lesowe © Colin Schofield

PPJ3 - white on red ring, ringed as a chick.
Ringed in Wojcice in SW Poland on June 4th 2015.
Recorded:
Ameland, Netherlands in July 2015.
Farne Islands in April 2016.
Cedynia, Poland, in May 2017.
Hoylake in September 2017.
Old Moor Wetlands, Yorkshire, in March 2018.
Mecklenburg, NE Germany, in May 2018 and May 2019.
Poznan, Poland, June 2019.
Kerr's Field, Leasowe, on several dates March 2020.
This bird appears to be breeding in north-east Germany but in 2019 moved south-east back to near where it was hatched before moving west to the UK.


Grey Plover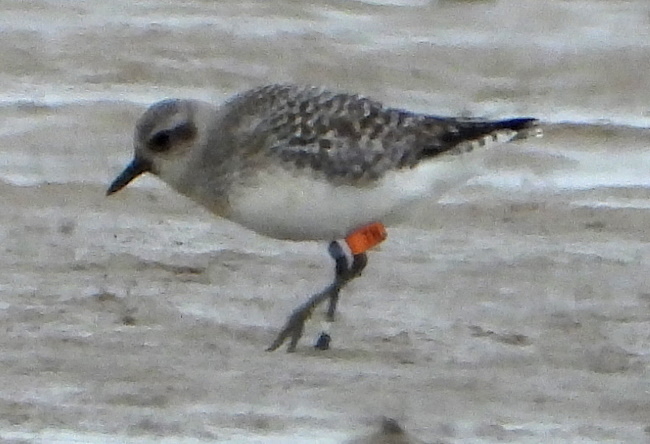 Grey Plover TH © Richard Smith

Four Orange flagged Grey Plovers were recorded in March. They included 'TH' and 'VJ' - these have been recorded three times since being ringed, and always together.

TH and VJ on Orange Flag (left tarsus), Pale blue ring (right tarsus).
Ringed at Altcar on March 22nd 2019.
Recorded:
Formby on April 17th 2019.
Southport on April 24th 2019.
Meols on March 18th 2020.
TC on Orange Flag, reported in the March Newsletter, was again at West Kirby in March, almost a month to the day when it was in the exact spot in February.

Colour-ringed Birds were recorded by Richard Smith, Steve Hinde, Colin Schofield, Tim Kinch, Graham Connolly and Peter Haslem.

March Bird News
Covid-19: People are still seeing interesting birds either on their daily exercise or from their homes and gardens so, for the time being, I'll continue to report these. I hope to keep on producing this newsletter although I imagine the next two or three may be significantly shorter than normal, and there certainly won't be any events to publicise. In the UK we are likely to see a peak in Corvid-19 cases in April, so it is possible I will not produce a May newsletter. By the summer I hope, I'm sure we all hope, that restrictions will begin to be lifted.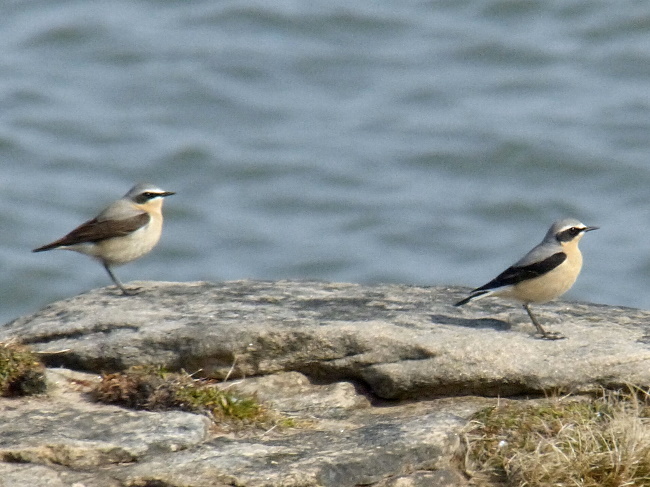 Wheatears on Hilbre, March 24th © Steve Williams

To me the harbinger of Spring is the first Wheatear, and once these start coming through they just keep coming. The first one was a bit late this year, and all the early migrants were later than last year. But February 2019 was more like May with warm weather so that's not surprising. The table shows the first arrival of some of the more common spring migrants for this year and 2019 and 2018.

Species
2020
Location
2019
2018
White Wagtail
1st March
Leasowe
Lighthouse
28th Feb

14th March
Sand Martin
16th March

Leasowe
Lighthouse
16th Feb
15th March
Wheatear
16th March
Leasowe
Lighthouse
27th Feb

9th March
Swallow
23rd March
Leasowe
Lighthouse
21st March
29th March
Willow Warbler
26th March
Hoylake and
Heswall

24th March
27th March
House Martin
31st March
6th April
Whitethroat


14th April
7th April
Cuckoo


18th April
23rd April
Swift




23rd April
22nd April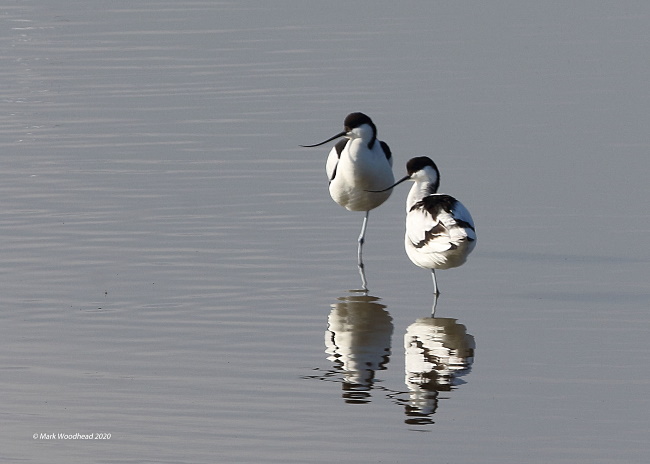 Avocets at Burton Mere Wetlands. March 6th © Mark Woodhead


Avocets had built up to an impressive 112 at Burton Mere Wetlands by the 16th. I don't know how many heron species are attempting to breed there but we have two Cattle Egrets, two Spoonbills and probably well over 10 Great Egrets on the estuary, as well as a few hundred Little Egrets. Four Bearded Tits have been showing well at the reserve. During the high spring tide of the 12th, when the sea covered the marsh, many birds flew to BWM and the list of highlights for that day is pretty impressive: 4,000+ Redshank, 5 Spotted Redshank, 62 Avocet, 220 Black-tailed Godwit, 40 Golden Plover, 10,000+ Pink-footed Geese, 2 Mediterranean Gull, 21 Grey Heron, 8 Great Egret, 3 Marsh Harrier and 75 Shoveler.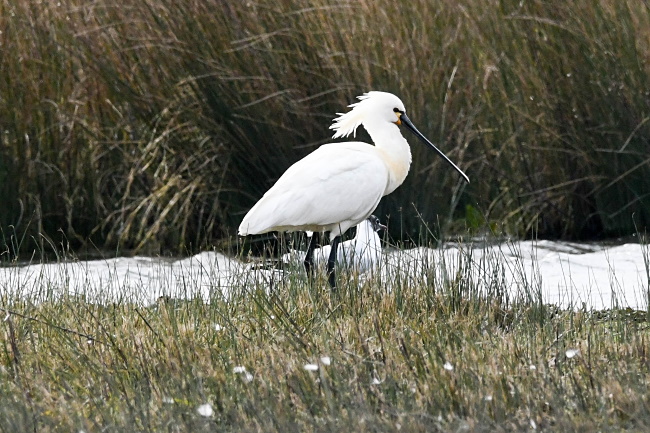 Spoonbill at Burton Mere Wetlands, March 17th © John Hewitt

With several high tides in February inundating the marshes and presumably wiping out the rodent population I thought our Short-eared Owls would have moved on, but surprisingly there were still plenty about with good views in particular at Heswall Golf Course where they were seen both on the adjacent marsh and on the golf course itself, max count was five on the 1st. At least four Marsh Harriers and two Hen Harriers, including a grey male, were recorded regularly through the month.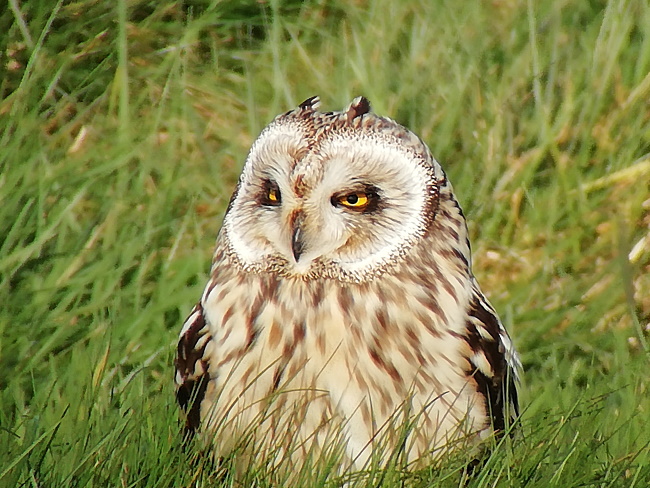 Short-eared Owl off Heswall Golf Course, March 1st © Chris Wilding


Two drake Eiders were at Hilbre and this one below gave particularly good views. The first two Gannets of the year were spotted from the island on the 10th. Four Little Gulls were on passage on the 15th but numbers have been very low so far, hopefully we will see more in April. Brent Geese reached a very creditable 352 on the 7th. Out to sea were good numbers of Red-throated Divers with at least 60 spotted from Hoylake on a flat calm sea on the 20th.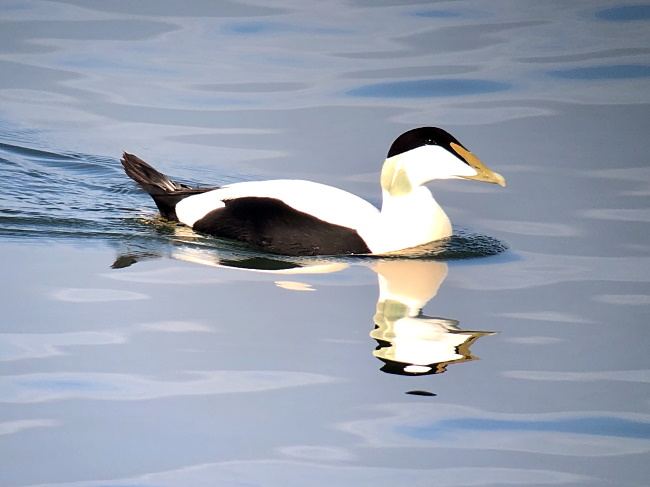 Eider off Hilbre, March 6th © Steve Williams

Many thanks go to David Haigh, Colin Schofield, Carole Killikelly, Steve Hinde, David Leeming, Alan Hitchmough, Derek Bates, Allan Conlin, Steve Williams, Karen Leeming, Richard Whitby, Tim Kinch, Frank Burns, Mark Peers, Charles Farnell, David Thompson, David Bradshaw, David Small, Linda Platt, Mark Woodhead, Jeremy Bradshaw, Richard Speechley, Graham Connolly, Steve Hart, Gary Powell, Ron Brumby, Ian Goldstraw, Mark Gibson, Peter Sutton, Stuart Maddocks, Danny Carmichael, Andrew Ingham, Steve Andrews, John Hewitt, Les Hall, Mark Evans, Roy Wilson, Andrew Morriss, Paul Mason,Graham Jones, Eddie Williams, Steven Edwards, Paul Bennett, Huw Morgan, David Roe, Dave Edwards, Chris Wilding, Ken Davies, Sue Crawford, Geoff Robinson, Ed Murphy, David Huntingford, Steve Hasell, Mike Hart, Henry Cook, Bill Owens, Graham Thompson, James Smith, Rob Bodels, David Lea, Stephen Wende, Michael Bewley, Andrew Morris, Ron Armstrong, Pete Chester, Liz Shand, Paul Carter, the
Lighthouse and Wirral Birding Blog
, the
Dee Estuary Wardens
and the
Hilbre Bird Observatory
for their sightings during March. All sightings are gratefully received.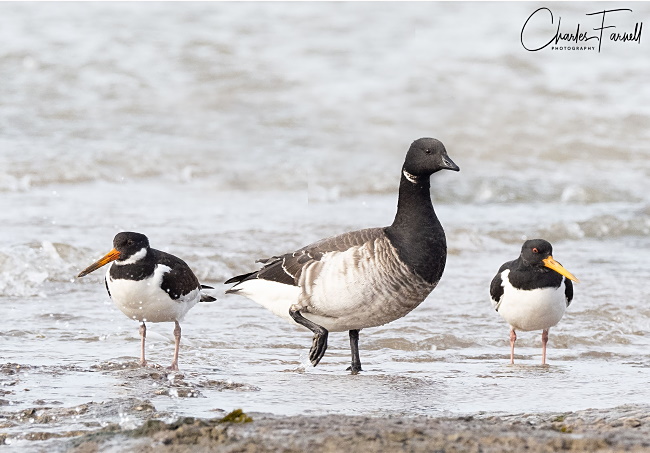 Brent Goose and Oystercatchers at Thurstaston, March 21st © Charles Farnell

Forthcoming Events
Until the Corvid 19 restrictions are lifted there will not be any birdwatching events.