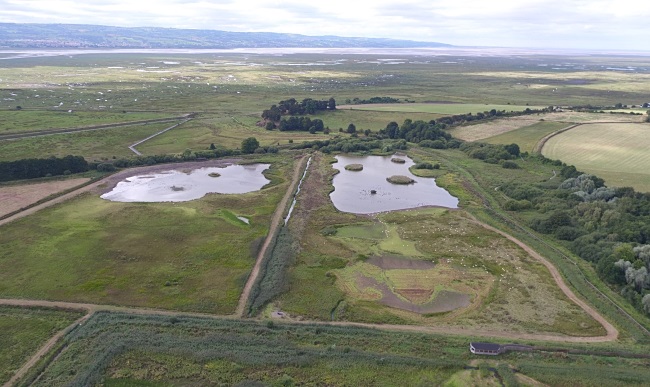 Burton Mere Wetlands in the foreground with Marsh Covert hide bottom right, Inner Marsh Farm Hide can just be made out in front of the trees at Burton Point with Burton Marsh beyond and the Welsh side of the estuary in the distance including Point of Ayr.

In the mid 1970's the RSPB made a strategic decision to purchase as much land as possible on British estuaries. This was in direct response to the increasing threats from industrialisation that estuaries were facing. These threats were varied and complex, but included serious pollution, land loss through drainage and development, and an ever-increasing disturbance to birds on ever-decreasing areas where they could safely feed.

And so, in 1979 the RSPB purchased over 2000ha of intertidal saltmarsh and mudflat from British Steel - an area known as Gayton Sands (but now known as Parkgate Marsh), to protect important numbers of wintering waders and wildfowl. This marked the start of the RSPB's presence on the Dee, and now 40 years later the RSPB owns or lease over 6100 ha - over half of the estuary. And the Dee Estuary reserve is the ninth biggest RSPB reserve in the UK.

The next land purchase was in 1986, when an abandoned, waterlogged arable field was bought at Inner Marsh Farm. Creation of a wetland reserve took 3 years to complete, and in 1988 purchase of Burton Point Farm meant that access was now possible to the new wetland reserve. However, due to residents' concerns over an increase in traffic a hide wasn't opened until 1992, with access only available to RSPB members initially.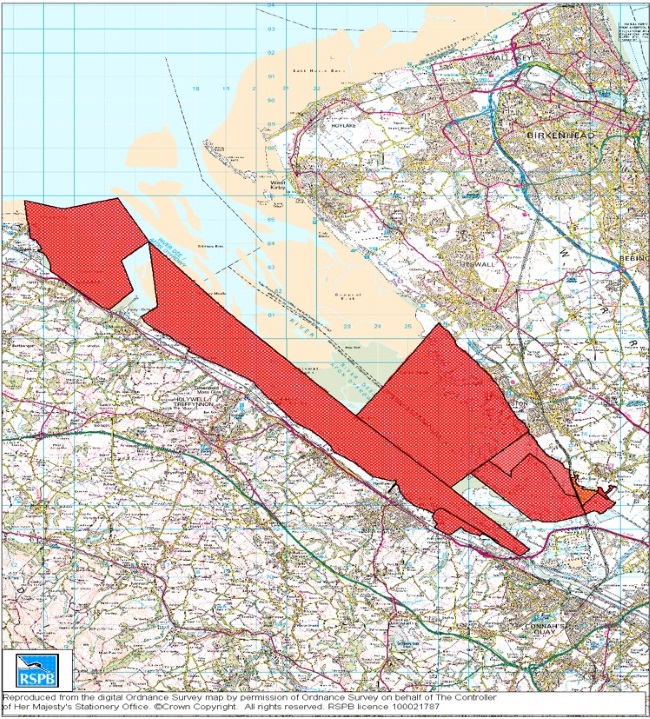 The area in red illustrates the current RSPB landholding on the Dee (both freehold and leasehold)

On the Welsh side, the RSPB took on the wardening agreement at Point of Ayr as early as 1983, and this continues to date. While the first land purchase on the Welsh Dee was 36ha at Oakenholt Marsh in 1988 - a vitally important high tide roost site for waders and wildfowl. Today, the RSPB either owns or has wardening agreements for virtually the whole side of the Welsh Dee. With the only areas not owned or managed being around Mostyn Port, and the land owned by Tata Steel at Shotton.

In 2006, an opportunity arose for RSPB to purchase Burton Marsh Farm and the 1000ha of saltmarsh and inland fields included in the holding. As well as increasing RSPB's land holding considerably, this purchase also meant that we would have control over both the grazing and shooting rights at Burton Marsh. In terms of assisting with management ambitions this was just too good an opportunity to miss, and so the farm was bid for and successfully purchased. Since then, sheep numbers have been reduced considerably, with just 2 - 3000 sheep grazing the marsh currently, down from 200,000 from 20 years ago.

The small reserve at Inner Marsh Farm exceeded all expectations, in terms of both its conservation importance and birdwatching spectacle. And in 1998 it was designated as a SSSI for its internationally important numbers of wintering wildfowl and waders. Today, virtually all the RSPB land holding is designated on a national (SSSI), European (SPA / SAC) and International (Ramsar) level.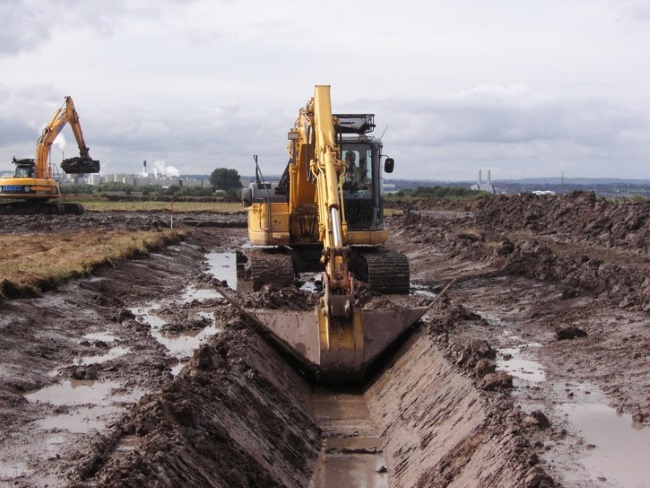 A specialist digger creating the all important drains on IMF2 that are
used to manage water levels for breeding waders
Extending the reserve at Inner Marsh to build on this success had always been a priority. In 2007 we were able to purchase 55ha of land adjacent to the reserve from the Welsh Assembly. Named IMF 2, a 3-year work programme began almost immediately to create a 5 ha reedbed, into which volunteers' hand-planted over 10, 000 reed seedlings. To have the possibility of Bearded Tit breeding in the very same reedbed this summer has been a wonderfully fitting culmination of all that hard work.
The very last piece in the jigsaw, was the purchase of Burton Mere Fishery in 2008. Giving easy access to the existing site, with much bigger car parking facilities from the 12 places available at Inner Marsh. Work soon began on creating a reception building, along with new hides and trails, and in 2011 Burton Mere Wetlands was opened to the public. A few years later, a boardwalk and path were completed linking the Inner Marsh Farm reserve with the new Burton Mere Wetlands. So after over 30 years of concerted effort, over half of the Dee Estuary was now in active conservation management by the RSPB. With over 43,000 people visiting Burton Mere Wetlands each year to enjoy one of the best wildlife spectacles in the UK.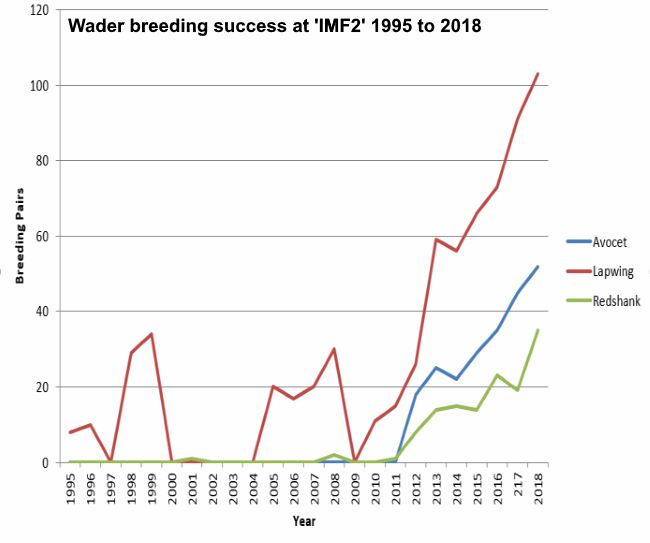 As well as managing habitat for the internationally important numbers of waders and wildfowl that use the Dee to winter. The other main priority for the Dee has always been breeding waders, and Burton Mere Wetlands is almost exclusively managed for that. To reduce the impacts from predation, particularly from Fox and Badger, an anti-predator fence was installed at Burton Mere Wetlands in 2011 that encloses all the wet grassland here. This has benefited breeding waders enormously, and numbers of breeding pairs have increased year on year ever since. In 2018, 109 pairs of Lapwing successfully fledged 115 young; 40 pairs of Redshank fledged 45 young; and 60 pairs of Avocet fledged 67 young - one of the highest densities of breeding waders on any RSPB reserve in the UK.
Over this 40-year period of habitat management and creation, it is interesting to look back at the birds that have colonised the Dee during that time. Little Egret is well known throughout the UK for its rapid colonisation and continuing spread northwards over the last 25 years. But the Dee has also had a similar 'colonisation' by scarce egrets too. The pair of Cattle Egret that bred in the heronry at Marsh Covert in 2017, successfully raising a single chick, was the most northerly breeding pair of Cattle Egret anywhere in the world. And we await to see if the Cattle Egrets that are currently present on the reserve will attempt to breed again this year. So far, signs are encouraging.
Similarly, Great Egret is almost resident on the Dee now, and each year we hope that this is the year that they finally attempt to breed. Other scarce herons may also attempt to breed in the next few years too, with Spoonbill the most obvious contender. Especially as they are now a regular breeder at several other RSPB reserves in northern England.
Other colonisers include Cetti's Warbler – first recorded at Inner Marsh Farm in just 2003, the population has gone from strength to strength, with 8 pairs breeding at Burton Mere alone last year. Marsh Harrier also bred on the Dee for the first time in 2018, with a pair successfully fledging 3 young at Neston Reedbed.
As mentioned earlier, the next 'coloniser' is potentially Bearded Tit, with up to 6 pairs present in the reedbed at Burton Mere since October, with a similar number also reported at Neston Reedbed. A pair did breed in Neston Reedbed in 2003 successfully raising young, and at the time it was hoped that this would be the start of regular breeding of Bearded Tit on the Dee, but unfortunately the reedbed was destroyed by fire the following year. Here's hoping this is the year when Bearded Tit finally colonise the Dee. Numerous celebrations are planned for 2019 as part of our 40th year anniversary. A bumper breeding year would certainly be the icing on the cake.
For me, this 40th year is not just an RSPB anniversary, but a celebration of all that is wonderful about nature and the Dee. Every local birder and nature enthusiast should be rightly proud of this. In a time when there is so much worryingly negative news regarding the natural world. The Dee and its wildlife are so very often bucking these downward trends, providing a good news antidote to the gloom. And proving that with space, hard work, passion and commitment, declines can be reversed, and nature can flourish. Here's to another 40 years.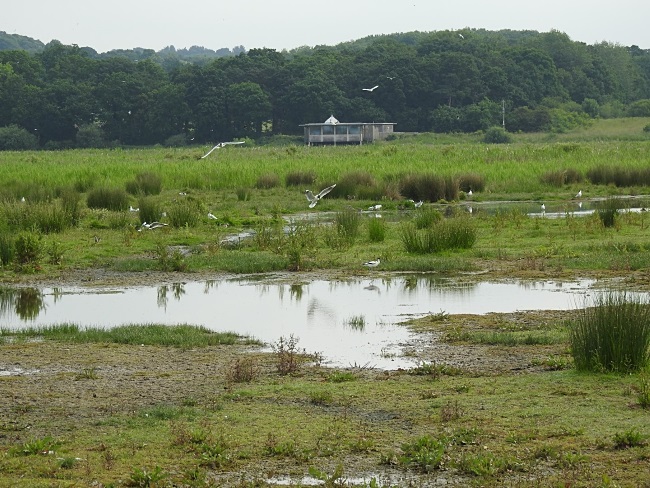 The all-important wet grassland at the back of IMF2. This is where the majority of breeding wader success is concentrated.
The image was taken from a tractor while undertaking wader breeding surveys.
Graham Jones - RSPB Dee Estuary Manager
Top of Page
Colour Ring Report
Three interesting birds this month, two new ones and an old friend.
Turnstone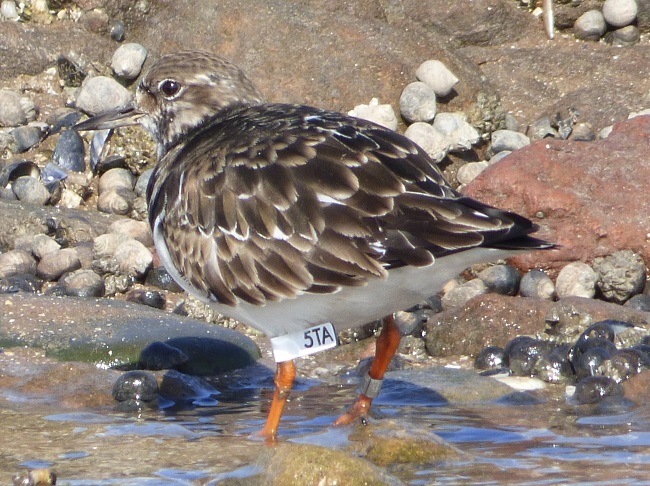 Turnstone 5TA at Hilbre, March 26th © Stephen Simpson
White flag with 5TA.
Ringed at Alert, Ellesmere Island, northern Canada, on May 31st 2018.
Recorded at Hilbre on March 26th 2019.
Alert, to the north-west of northern Greenland, is just 508 miles from the North Pole (see map below).
"Its ours! Its ours!! Banded at Alert 31 of may 2018. This is awesome!!" - This was the enthusiastic reply from François Vézina's ringing team (Université du Québec à Rimouski). Thanks to Richard de Feu we'd managed to track down his ringing group within a day and it was great to get his immediate response and know our reading of colour rings is so appreciated. Stephen Simpson found the bird and took some great photos, many thanks for that and for passing them on.
Richard du Feu tweeted "Of the 190 foreign ringed Turnstone found in the UK 36 are from Canada which is second only to Norway with 40. Winter site fidelity in Turnstone is high, as are stop over points on migration so hopefully this one will be seen in future winters/springs."
Brent Goose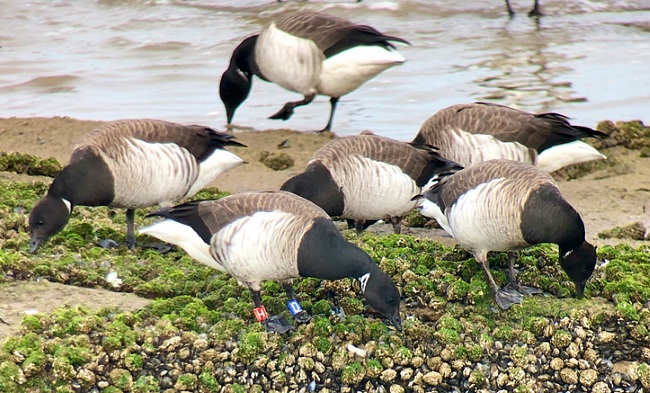 Brent Goose HDRB on Hilbre, March 27th © Steve Williams

HDRB - Left leg D on blue ring, right leg H on red ring.
Ringed at Axel Heiburg island (just to the west of Ellesmere Island), northern Canada, on August 2nd 2007.
First seen at Hilbre on December 9th 2008 and every winter since, including on March 27th 2019.
(Information kindly provided by Steve Williams of the Hilbre Bird Observatory).
This is an extract from the RSPB website - "In April, brent geese leave the UK and Ireland and head north again. The pale-bellied brent geese stop over in Iceland. Here they fatten up, increasing their weight by up to 40 per cent in preparation for the final 3,000 km (1,865 mile) flight over frozen Greenland to their breeding grounds in Canada."
Map showing where both Turnstone 5TA and Brent Goose HDRB were ringed.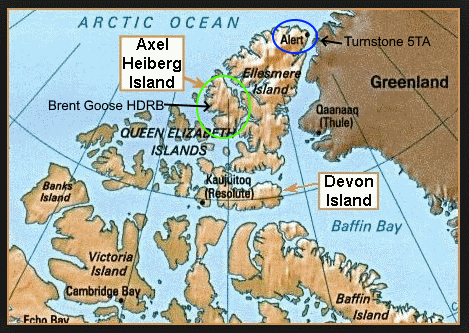 Shelduck
L3 on lime green ring, left tarsus.

Ringed at Martin Mere (WWT), Lancs, on November 11th 2017.
Recorded at Martin Mere February, October and November 2018, February 2019 and last recorded there March 5th 2019.
Recorded on Heswall Shore on Marsh 24th 2019.
This is the first colour-ringed duck in our database. WWT have ringed almost 200 Shelduck at Martin Mere and plan to ring more so hopefully we will see some more of these.
Colour-ringed birds were recorded by Stephen Simpson, Steve Hinde, Richard du Feu, Elliot Montieth and Steve Williams (Hilbre Bird Observatory).
Richard Smith.
Top of Page
March Bird News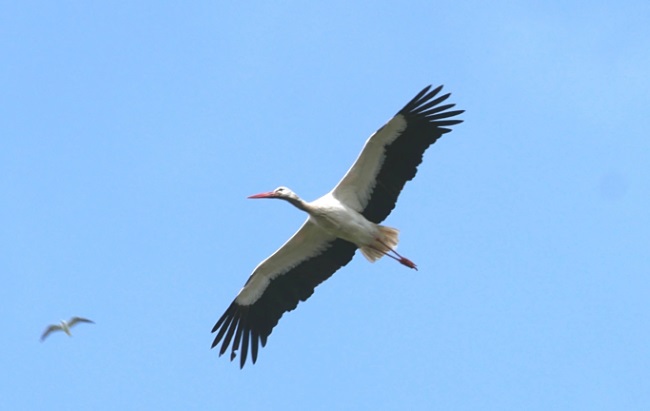 White Stork over Burton, March 30th © Allan Conlin


After near summer weather in late February, bringing some very early migrants, March reverted back to more normal weather with westerly gales and rain until the weather settled down again and brought in our first Swallow, Willow Warbler and House Martin, more or less on schedule.
Species
2019
Location
2018
2017
Sand Martin
16th Feb
New Brighton
15th March
11th March
Wheatear
27th Feb
Hoylake
9th March
11th March
White Wagtail
28th Feb
Leasowe
Lighthouse
14th March
4th March
Swallow
21st March
Leasowe
Lighthouse
29th March
14th March
Willow Warbler
24th March
Hoylake
27th March
17th March
House Martin
31st March
Leasowe
Lighthouse
6th April
27th March
Whitethroat




7th April
17th April
Swift


22d April
19th April
Cuckoo


23rd April
24th April
By the last week in March good numbers of Sand Martins were coming through with over 20 recorded at Burton Mere Wetlands on several days. Our first Osprey was spotted on the 25th with three more flying over by the month-end. The 30th saw the first Little Gulls flying past Hilbre with 25, these fly overland to the north-east of England before making their way to the Baltic to breed.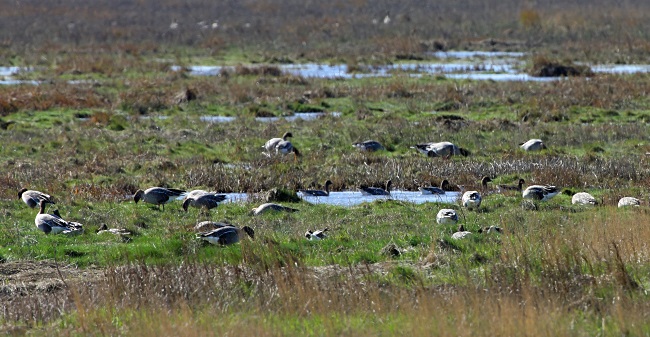 Pink-footed Geese easily visible from Parkgate prom, March 24th © Roy Lowry

Avocets arrived in good numbers at Burton Mere Wetlands with over 130. An unexpected visitor there was a Long-tailed Duck which arrived on the 22nd and was still present at the end of the month. Even more unexpected was a White Stork which flew over several times on the 30th and 31st. Bearded Tits are still in the reed bed, could well be that they stay to breed, same goes for Cattle Egrets in the trees. It was estimated that around 10,000 Pink-footed Geese on the marshes, they will be on their way to Iceland soon.
We don't often see Eiders displaying with their 'ooh-ahh' calls in our neck of the woods but that was what three pairs off Hilbre were doing this month. Spring Yellow-browed Warblers are very much a vagrant in this country and the one near Leasowe Lighthouse on the 24th was the first spring record for the Dee estuary area, although one was at Chester a couple of years ago.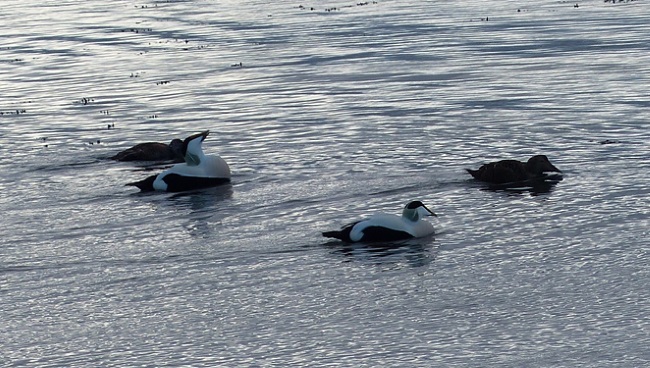 Eiders at Hilbre, March 17th © Allan Hitchmough
Many thanks go to Ryan Williams, Jeremy Bradshaw, Jon Ashton, Geoff Robinson, Richard Steel, David Haigh, Steve Round, Mark Woodhead, Geoff Cohen, Steve Hinde, John Lacey, Matt Thomas, Joan Byrne, Chris Butterworth, Peter Atherton, Mark Garner, David Wilson, David Leeming, Alan Hitchmough, Paul Mason, Steve Williams, Derek Bates, Allan Conlin, Karen Leeming, Frank Burns, Roy Lowry, Colin Schofield, Dave Edwards, Richard Whitby, Linda Platt, Mark Peers, Steve Hart, Julie Rogers, Charlie Lowe, Charles Farnell, David Thompson, Gail Wilson, David Roe, Roger Jacobs, Dave Harrington, Jaydon Paylor, Richard Payne, Tony Sinnott, John Watson, Bill Owens, Chris Revell, Scott Bryom, Peter Broder, Wayne Goulden, Ian Fewtrell, Ian Goldstraw, Neil Mcmorran, Chris Lewis, Ian Fraser, Roger Halsey, Clive Part, Kevin Smith, Martin Horton, Gina Couch, Pete Marsh, Sean O'Hara, Malcolm Guy, Steve Hasell, Hugh Stewart, the
Lighthouse and Wirral Birding Blog
, the
Dee Estuary Wardens
and the
Hilbre Bird Observatory
for their sightings during March. All sightings are gratefully received.

Top of Page
What to expect in April
There will be so much going on in April it's almost impossible to summarise other than to say spring migrants will be pouring into, out of and through the country.
Starting with waders Whimbrels will be passing through, last year's max April count was 49 at Heswall. By the end of April last year we had 155 Avocets at Burton Mere Wetlands and I wouldn't be surprised if we broke that record this month. Black-tailed Godwits will be moulting into their breeding plumage, something I love to see. Burton Mere Wetlands and the Caldy Wildfowl collection are the best sites to see them with several hundred over the second half of the month, many of these will have spent the winter in France, Portugal and Spain.
Out to sea look out for Little Gulls, Hilbre is usually the best spot to see them and we had 31 fly past on the 3rd last year. Given some fresh westerlies the passage of Gannets can be spectacular with several hundred in sight and we will see our first Common, Little and Sandwich Terns of the year. Some years we get huge numbers of Common Scoters in Liverpool Bay on their way north, if they come close to the shore there's a good chance of spotting one or two Surf Scoters among them.
If we get the right weather - a light south-east wind, overcast perhaps with an early morning shower - we can get a good fall of migrants when Wheatears, Willow Warblers and other migrants appear to be everywhere. We always look forward to the arrival of Common Redstarts and Ring Ouzels, always looking splendid in their smart plumage. Also looking splendid will be Yellow Wagtails, last year was a bit quiet for them so hopefully there will be more this year. We can get several hundred White Wagtails feeding on sand flies on the beach at both Gronant and Hoylake, I always think it's amazing that such delicate looking birds can fly across the Atlantic to Iceland and back.
If you hear gulls making a racket overhead there's a good chance there's an Osprey flying over, we always see more in spring than on the return passage. Sometimes they will hang about for a few hours and catch a fish before eating it on one of the sand banks.
The Pink-footed Geese will be leaving us, usually around the second week of April with the majority leaving during just one morning - meaning there will be some spectacular flocks flying over north Wirral heading north.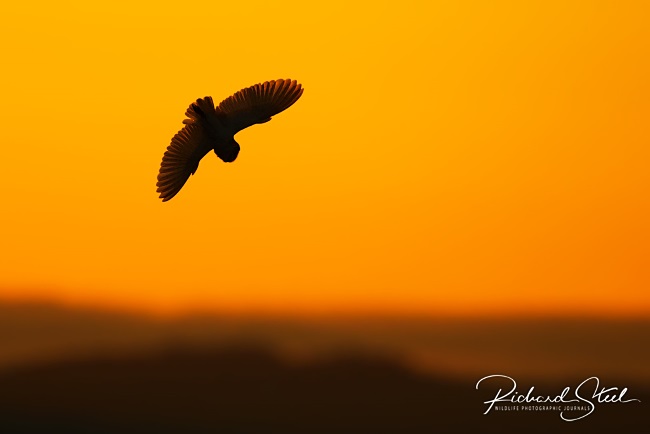 Barn Owl at Parkgate, March 20th © Richard Steel
Top of Page
Forthcoming Events
April Highest Spring Tides (Liverpool)
Also see Tides page.
19th April, 11.54hrs (BST), 9.9m.
20th April, 12.36hrs (BST), 10.0m.
21st April, 13.18hrs (BST), 9.8m.
Forthcoming Events
Organised by the Wirral Ranger Service , Flintshire Countryside Service and the RSPB (Dee Estuary): All these events and walks have bird interest, even those not advertised specifically for birdwatching. No need to book for these events unless specified - please check below.
---
Gronant Little Tern Colony Tasks
To find out more about the Gronant Little Tern colony
click here
, see the
Little Tern Facebook page
or the North Wales Little Tern Group Website -
https://northwaleslittleterns.weebly.com/
.
Monday 15th April and

Tuesday 16th April.
NOTE:
Most of the work required was finished on 15th April. We still need volunteers for 29th April to 2nd May.
Meet 10am to spend each day installing the fencing at the
Gronant
Little Tern Colony
, starting with the perimeter fence. Meet at the new 'shelter' at the end of the old boardwalk 10:00 am, next to the beach. There is a car park opposite the Crofter's Cafe on Shore Road, Gronant
VOLUNTEERS NEEDED!
For further details ring 01352 810614 or 01745 356197.
Monday 29th April to Thursday 2nd May.
Gronant
Little Tern Colony
. There is over a kilometre of electric fencing to construct to protect one of the largest Little Tern colonies in Britain and Ireland. Meet at the new 'shelter' at the end of the old boardwalk 10:00 am, next to the beach. There is a car park opposite the Crofter's Cafe on Shore Road, Gronant
VOLUNTEERS NEEDED!
For further details ring 01352 810614 or 01745 356197
---
Tuesday 30th April - Bluebells and Birdsong
at Burton Mere Wetlands (RSPB).
10am - 12pm.
Booking Essential.
In celebration of the RSPB Dee Estuary reserve's 40th anniversary, join us for this guided walk through Gorse Covert, a semi-natural ancient woodland at Burton Mere Wetlands which happens to be one of the best bluebell woods in the area.
Admire the beautiful spring spectacle, and learn about other woodland plants, whilst being serenaded by the array of birds noisily defending territories for nesting with some guidance on identifying their songs.
Wear sturdy footwear and warm, layered clothing appropriate for the weather on the day, and bringing a waterproof layer is always wise. Don't forget your binoculars if you have some, otherwise you can hire from us on the day.
Stick around afterwards to enjoy the rest of the reserve, and even buy lunch or a snack in the visitor centre afterwards. Places are limited so advanced booking and payment are essential, via Eventbrite:
https://deebluebellsandbirdsong.eventbrite.co.uk
Telephone: 0151 353 2720 for more information.