You may have seen in the news at the end of last year that the Liverpool Bay Special Protection Area (SPA) has been expanded, giving greater protection to a number of bird species. This is certainly good news so I thought I would fill in with some details.
The SPA has been increased in area by 48% and the map below shows the current area in purple with the seaward boundary of the original SPA shown as a green dotted line (this line was drawn by myself so should be regarded as an approximation). It has also been extended into the Mersey Narrows going right past the Liverpool waterfront. The only other addition is just west of the Gronant Little Tern colony where an area off Prestatyn is now included, presumably a Little Tern foraging area.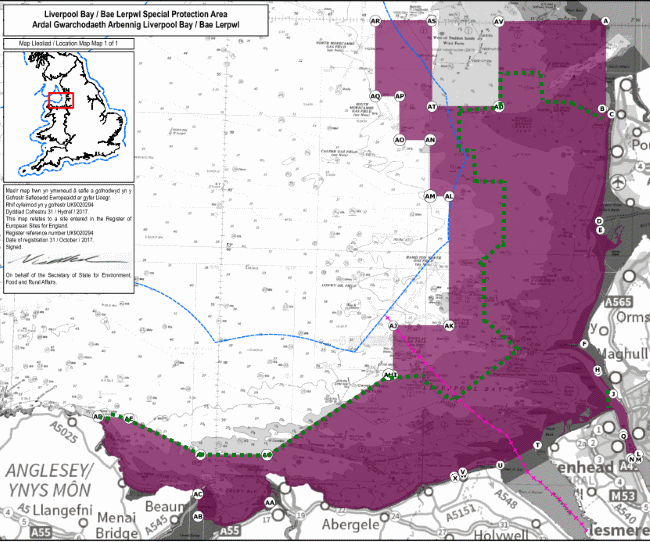 The original Liverpool Bay SPA was designated in 2010 so it is good that it has already been upgraded. It was originally designated for it's wintering population of Red-throated Divers (estimated as 922 individuals, 5.4% of GB population) and Common Scoter (estimated as 54,675 individuals, 3.4% of the European population).
This list of designated species has now been increased as follows, together with upgraded estimate of numbers:
Little Tern
, 260 individuals which is 6.8% of GB breeding population. These are the birds breeding at Gronant
Common Tern
, 360 individuals which is 1.8% of GB breeding population. These are the birds breeding at Seaforth.
Red-throated Diver
, 1,171 individuals which is 6.9% of GB wintering population.
Little Gull
, 319 individuals, there is no estimate of GB wintering population although 50 is conventionally used as min threshold.
Common Scoter
, 56,679 individuals which is at least 10.3% of the wintering NW Europe population.
Assemblage of at least 20,000 waterfowl or seabirds in any season: regularly supports 69,687 individual waterbirds including
Common Scoter, Little Gull, Red-breasted Merganser and Great Cormorant.
You may wonder at the over-precise numbers for some of the counts above but they are just an average of several counts - I'm not really sure why they don't give a range or round the numbers off.
Survey and data gathering
A lot of work has been done surveying Liverpool Bay in recent years, both before the original SPA was designated and since. This includes aerial surveys of wintering birds carried out by the Wetlands and Wildfowl Trust between 2001 and 2011. The JNCC Report about their assessment of wintering birds includes some fascinating maps and reveal, among other things, that the area of Liverpool Bay just north of the Dee estuary contains the highest concentration of Red-throated Divers (see Ref 2). It also reveals that the major reason for the seaward extension of the SPA was the presence of Little Gulls in that area, and not, as I had assumed, the presence of Common Scoters.
In addition numbers from the Seabird Monitoring Programme have been used, and there have also been boat based and shore based surveys identifying the important foraging areas for Little Terns and larger terns, particularly Common Terns.
The Consultation
This was carried out between November 2016 and February 2017. The report written about this consultation reveals a few interesting details:
There were 33 formal responses, mostly supportive or neutral. Nobody formally objected but I quote "We consider that responses from two stakeholders constitute objections despite not explicitly stating this in their responses". The 'objections' were from the British Marine Aggregate Producers Association and Tidal Lagoon Power Plc. I won't go into details but the activities of these firms could pose a potential negative effect on the SPA, and in turn the expanded SPA could pose a negative effect on their business. Natural England/Natural Resources Wales/JNCC give a robust and detailed response to these objections - for details see Ref 3.

The three main bodies in support appears to have been the Lancashire Wildlife Trust, the North Wales Wildlife Trust and the RSPB, all of which submitted very similar responses and I quote the RSPB response as an example:
RSPB - Supporting response and made the following comments:
1. Requested that Great Cormorant should be added as a qualifying feature because i) cormorant is a qualifying feature of Puffin Island SPA and Liverpool Bay SPA completely surrounds Puffin Island SPA and ii) the numbers roosting on Hilbre island support >1% of the biographical population. RSPB jointly submitted WeBS data with LWT to support their comments.
2. Concerned that passage common tern and sandwich tern were not included as qualifying features due to significant numbers along the Sefton Coast and Ribble area.
Disappointingly, Natural England/Natural Resources Wales/JNCC rejected both the requests re Cormorants and terns basically saying the evidence wasn't strong for their presence in qualifying numbers in Liverpool Bay SPA but that their main concentrations were in existing estuarine SPAs and that these should be amended as appropriate. However, as you see above Great Cormorant is now specifically mentioned as part of the 'assemblage of at least 20,000 waterfowl or seabirds' which is something of a victory in itself.
Liverpool Bay SPA is now one of the largest in North-west Europe. When taking account all the adjacent SPA's (such as Lavan Sands, Dee Estuary, Ribble Estuary, Morecambe Bay etc) the whole area can now be regarded as a 'super SPA' and is of crucial importance to both estuarine and sea birds.
References and Further Reading:
1. The JNCC on-line entry for Liverpool Bay SPA:
http://jncc.defra.gov.uk/page-7507
This web page details the protected features, details of survey work carried out and much other interesting information, plus various useful links.
2. Lawson, J., Kober, K., Win, I., Allcock, Z., Black, J., Reid, J.B., Way, L. & O'Brien, S.H., (2015), An assessment of the numbers and distributions of wintering waterbirds and seabirds in Liverpool Bay/Bae Lerpwl area of search, JNCC Report 576, ISSN 0963-8901.
http://jncc.defra.gov.uk/page-7103
.
3. This Web page gives several relevant links including to the Consultation Report:
https://www.gov.uk/government/consultations/liverpool-bay.....
4. Richard Smith, Common Scoters, http://www.deeestuary.co.uk/news0514.htm.
5. Richard Smith, Species Spotlight - Cormorant, http://www.deeestuary.co.uk/news0415.htm.
6. Richard Smith, Common Scoters, Liverpool Bay SPA and Windfarms,
http://www.deeestuary.co.uk/news0708.htm#sec.
Richard Smith


Connah's Quay Nature Reserve
It is becoming increasingly apparent – both from anecdotal and first-hand experience - that many people are accessing Connah's Quay Nature Reserve despite not being current members.
Notwithstanding the fact that non-members are uninsured when on site, it is clearly unfair to paying members that some visitors are using the facilities for free. It also creates a situation whereby regular visitors to the reserve are either reluctant or unwilling to publish details of any scarce birds that visit the site given what has occurred on previous occasions.
If you are a non-member and wish to visit us in the future, please ensure that you are carrying a 2018 Permit. Both new members and those wanting to renew an expired membership can find the renewal form at: http://www.deenats.org.uk/joinus.html .
Hereafter, anybody suspected of not being a current member will be asked to produce their Permit and failure to do so could result in them being asked to leave the site.
It is understandable however, that on occasion, current members may wish to bring prospective members to the reserve and in such cases exceptions will be made. After all, we have some excellent wildlife to enjoy here at Connah's Quay and we are keen to encourage as many people as possible to join us.

Kind Regards,

Paul Shenton

Chair, Deeside Naturalists' Society.

Colour Ring Report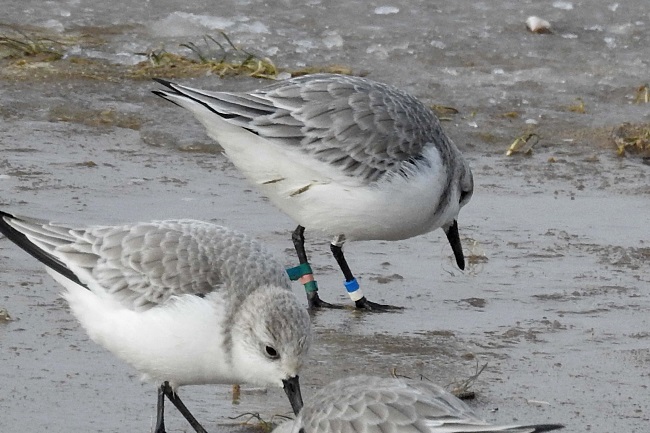 Sanderling G3RGBW - Les Hall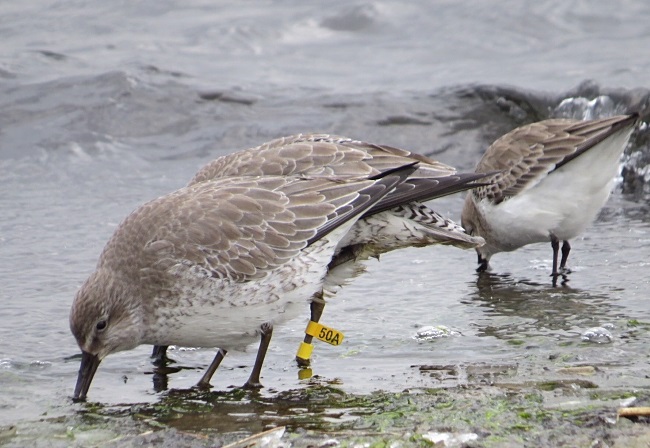 Knot Yflag(50A) Y - Jason King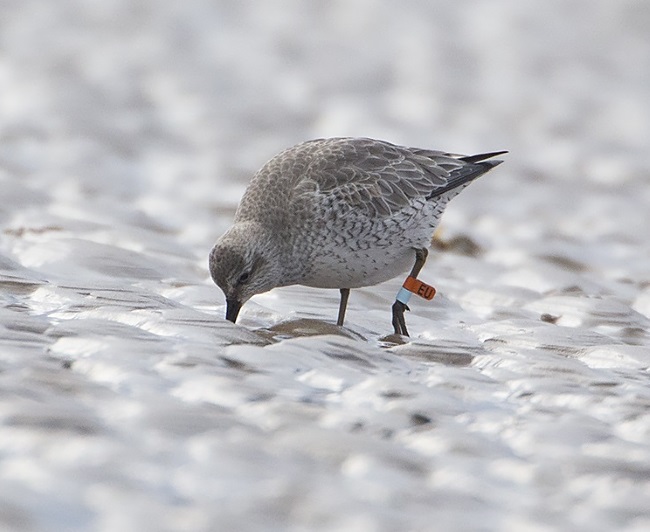 Knot Oflag(EU) P - Charles Farnell
Sanderling
G3RGBW - note, the Red (R) ring is very faded and could easily be mistaken for Yellow, see photo above.
Ringed at Sandgeroi harbour, SW Iceland, on 28th May 2013.
Recorded at Hoylake Shore on 3rd March 2018.
Also recorded at Hoylake in early Nov 2014. All other records are from Formby Point and Ainsdale Beach usually in March/April and August/September so we don't know where it spends the winter, but it was at Formby Point on 17th February 2018.


Oystercatcher
Metal ring FH95991
.
Ringed at North Ronaldsay Bird Observatory on 26th June 2017, nestling.
Recorded at Saughall Massie, Wirral, on 4th March 2018 - bird found freshly dead.
Dunlin
ZYZ
- black on white ring.
Ringed on the River Vistula estuary, Gdansk, Poland, on 20th July 2015.
Recorded at Hoylake Shore on 5th March 2018.
Also recorded at West Kirby Marine Lake on 13th February 2017.
5UV
- black on white ring.
Ringed on the River Vistula estuary, Gdansk, Poland, on 25th July 2016.
Recorded at Hoylake Shore on 5th March 2018. No other records.
Of the 14 Polish ringed Dunlin we've recorded
ZYZ
is only the second to be re-sighted.
Knot
Yflag(50A) Y
.
Ringed at Skogarnes, SW Iceland, on 20th May 2017.
Recorded on Thurstaston Shore on 24th November 2017.
Recorded by West Kirby Marine Lake on 1st March 2018.
Oflag(EU) P (P= pale blue)
Ringed on the Alt Estuary (Sefton coast) on 22nd September 2017.
Recorded at Formby Point on 6th October and 4th November 2017.
Between 20th February and 19th March 2018 it was recorded eight times on the mud just by the southern end of West Kirby Marine Lake.
Yflag(14) - on tibia.
Ringed at Dynjandisvogur in NW Iceland on 25th May 2014.
Recorded at Meols Shore on 20th March 2018.
This bird was recorded at Southport in April and October 2016, and again there in March 2017. It was at Crosby on 2nd September 2017.
So this bird has only been sighted in Spring and Autumn, where does it spend the winter?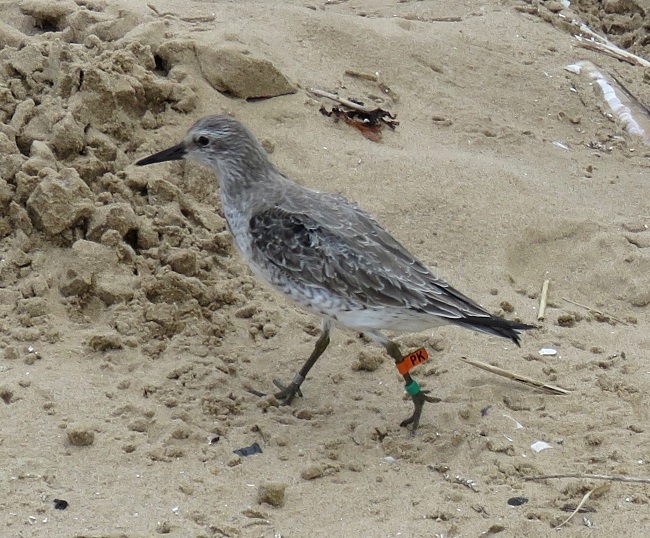 Knot Oflag(PK) G - Richard Smith

Altcar Knot Catch - March 30th
Oflag(PK) G
Ringed near the Alt Estuary (Altcar) on 30th March 2018, photograph shows the bird just as it has been released after ringing.
An excellent catch in good weather on Good Friday resulted in 496 Knots with new Orange flags and green rings. As I write this some of these have already been sighted on the Dee estuary by the Hilbre Bird Observatory. Several Bar-tailed Godwits and Grey Plovers were also fitted with Orange flags.
Richard Smith.
Colour-rings were also recorded by Steve Hinde, Matt Thomas, Les Hall, Steve Williams, Allan Hitchmough, Manu Santa-Cruz, Jason King and Charles Farnell.
Top of Page
March Bird News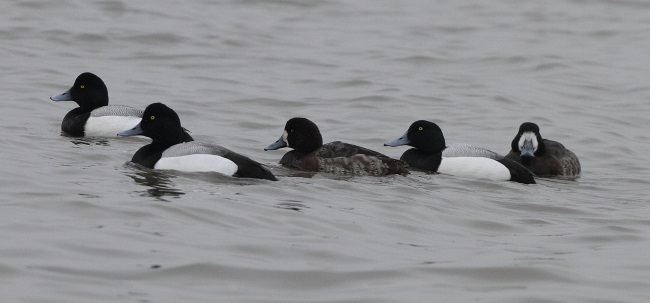 Scaup on West Kirby Marine Lake, March 4th © Keith Scovell

The 'Beast from the East' was in full swing early in the month with the coldest prolonged spell since December 2010. Cold weather movements included 11 Shoveler at Hilbre (rare here), up to seven Scaup both at Hilbre and West Kirby Marine Lake (probably the same birds), movements of Redwings and Fieldfares were noted and there was a notable influx of Jack Snipes and Woodcocks. Although probably not related to the cold weather over 20 Brent Geese started feeding on West Kirby Marine Lake, these were often close to the Scaup making for an unusual spectacle - they certainly made for some nice photos.
Because of the cold weather everyone thought that the first spring migrants would be severely delayed but the first Wheatear was one of the earliest we've ever had, and, although later than 2017, the other species were not unusually late. Continuing poor weather did mean migration was very slow but that isn't unusual in March, lets hope for some better weather in April!
The table shows the first date each migrant species was seen.
Species
2018
Location
2017
2016
Wheatear
9th March
Leasowe
Lighthouse
11th March
23rd March
White Wagtail
14th March
Hilbre
4th March
15th March
Sand Martin
15th March
West Kirby
11th March
16th March
Willow Warbler
27th March
Greasby
17th March
29th March
Swallow
29th March
West Kirby
14th March
24th March
House Martin
27th March
7th April
Whitethroat


17th April
13th April
Swift
19th April
22nd April
Cuckoo


24th April
21st April
Out to sea the first Sandwich Tern of the year was spotted from Hilbre on the 30th and there was a small but steady passage of Little Gulls, max 24 on the 26th. The over-wintering flock of Eiders was present all month, reaching 12 on the 24th. Common Scoters reached 15,000 on the 7th but didn't seem to stay long, when I saw them they were an awful long way out into Liverpool Bay. A Velvet Scoter was recorded from Leasowe Lighthouse on the 5th.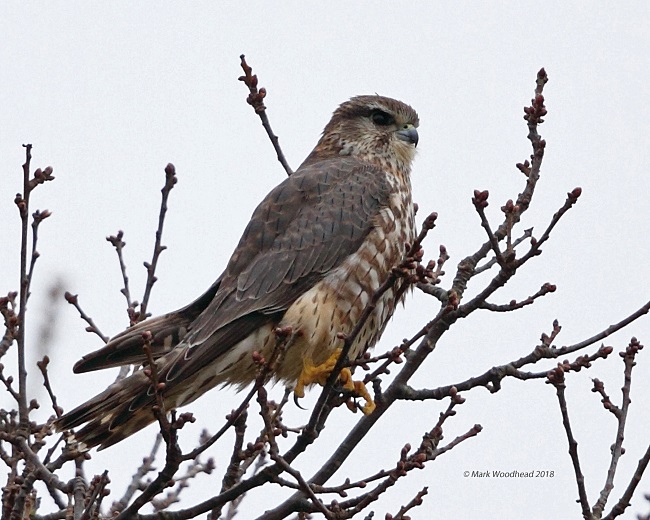 The Merlin in it's favourite tree at Burton Mere Wetlands, March 30th © Mark Woodhead
A female Merlin seemed to take up permanent residence in a tree next to the reception hide at Burton Mere Wetlands, with one or two recorded elsewhere on the estuary.
Large numbers of Pink-footed Geese were seen including two counts of at least 10,000. Knot numbers were high during the cold spell with up to 30,000 early in the month but most had disappeared by the month-end, either flying east to the Waddensea or north to the Ribble. Avocet numbers were exceptional at Burton Mere Wetlands with reports of a record high number of 122 on the 18th.
Scarcer birds included regular reports of one or two Water Pipits at both Neston Old Quay and Burton Mere Wetlands, up to four Mediterranean Gulls at Burton Mere Wetlands, two reports of over-flying Red Kites, a Black Redstart at Hoylake andreports of Cetti's Warblers at various locations.
Numbers of Twite at Connah's Quay and Flint haven't been quite as high this last winter but there were at least 60 at the end of the month. These days Great White Egrets are ever present with six the highest count on the 25th, we can but hope that they'll breed here this summer.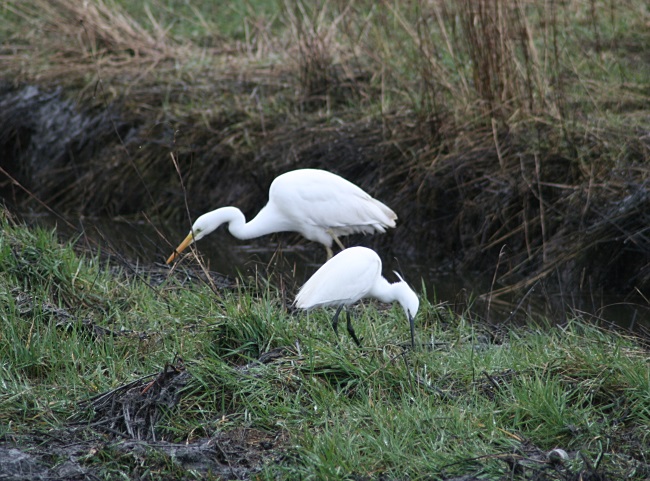 A nice contrast in size - Great White Egret and Little Egret at Parkgate, March 28th © Fran 'Wild About Wirral'.
Many thanks go to Timothy Kinch, Chalres Farnell, Mark Woodhead, David Haigh, Steve Hinde, Matt Thomas, Chris Butterworth, Roy Lowry, Elliot Montieth, David Leeming, Alan Hitchmough, Steve Williams, Les Hall, Derek Bates, Eddie Williams, Allan Conlin, Karen Leeming, Clive Part, Geoff Robinson, Julie Rogers, Colin Schofield, Frank Burns, Gail Wilson, Dave Harrington, David Thompson, Mark Gibson, Mark Turner, Graham Connolly, Paul Mason, Linda Platt, Richard Beckett, Mike Hart, George Knight, Richard Whitby, Tony Breen, Steve Hand, David Small, William Keig, Jane Turner, Jason King, William Boyce, Keith Scovell, Mark Evans, Kevin Cahill, Steve Round, Roy Wilson, Richard Steel, Steve Hart, Paul McDonell, Bill Wonderley, Carole Killikelly, David Wilson, Pauline Bell, Jeremy Bradshaw, Bruce Hogan, Steve Edwards, Ryan Williams, Keith Ackerley, Richard Parker, David Jones, Paul Vautrinot, Paul Ralston, Sean O'Hara, Manu Santa-Cruz, Ian Bradshaw, Stuart Feeley, Rosemary Kirkus, Bryan Joy, Amanda Challoner, Mark Evans, David Poole, Andrew Hankinson, John Sutcliffe, Janine Johnson, John Elliot, Steve Hasell, Gill Lewis, Mike Buckley, Bill Owens, Neil Mack, Steve Burke, Stephen Simpson, Steve Hales, Steve Dewsnap, Ian Goldstraw, Simon Dowell, the
Lighthouse and Wirral Birding Blog
, the
Dee Estuary Wardens
and the
Hilbre Bird Observatory
for their sightings during March. All sightings are gratefully received.
Top of Page
What to expect in April
The exciting thing about the spring migration, particularly April, is that we see species we just don't get at any other time of year or are otherwise very scarce. So we'll get White Wagtails, Yellow Wagtails, Ring Ouzels, Whinchats and Redstarts. Some mornings we'll go out and every field will seem to be full of Wheatears and every bush full of Willow Warblers. Grasshopper Warblers will be more likely to be heard rather than seen, but sometimes they sing in full view and surprisingly unbothered by watching birders.
Take a second look at any large 'gull' overhead - it might just be an Osprey and we always see more in the spring than in the return migration. Out to sea Little Gulls will be flying towards the Sefton Coast from which they fly overland on their way to breed in the Baltic. Last year we had an exceptional passage of Black Terns and they can be either flying along the tide line or over fresh water sites such as Burton Mere Wetlands. On the sea we often get huge flocks of Common Scoters, 30,000+ have been recorded in the recent past.
Whimbrels will be passing through and can be seen anywhere along the coast but Heswall always seems to have more than any other site. I look forward to seeing Black-tailed Godwits in their glorious breeding plumage on their way to Iceland, at this time of year they use fresh water sites such as the lagoons at Connah's Quay Nature Reserve, Burton Mere Wetlands, Caldy Wildfowl Collection and even Gilroy Nature Park which at the time of writing has partially re-filled. Dunlins will be coming through in their thousands, also in breeding plumage, and there will be good numbers of Avocets at Burton, lets hope they have another good breeding season.
Rarities are almost guaranteed, the last three Aprils have included: Lapland Bunting, Hooded Crow, Glaucous Gull, Iceland Gull, Common Crane, Hoopoe, Dotterel and Alpine Swift.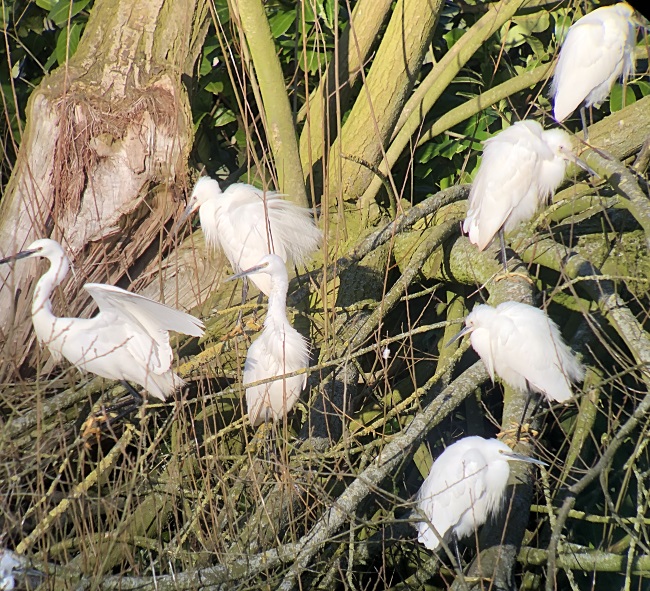 Little Egrets at Burton Mere Wetlands, FMarch 29th © David Thompson
Top of Page
Forthcoming Events
April Highest Spring Tides (Liverpool)
Also see Tides page.

1st April, 12.41hrs (BST), 9.7m.
2nd April, 13.18hrs (BST), 9.7m.
Forthcoming Events
Organised by the Wirral Ranger Service , Flintshire Countryside Service and the RSPB (Dee Estuary):
All these events and walks have bird interest, even those not advertised specifically for birdwatching. No need to book for these events unless specified - please check below.
Little Tern Events.
Feel free to just turn up at these events but if you need further details please email nwlittletern@gmail.com or ring Denbighshire Countryside Services 01745 356197. For the events actually at the Little Tern colony in Gronant Sand Dunes please park at the car park opposite Crofters Pantry Cafe on Shore Road, Gronant (Shore Road is sign posted 'Lower Gronant/Presthavens' from A548). Walk over the railway bridge and turn left through the five bar gate opposite Presthavens Sands Holiday Park, to the right you will see a footbridge over the river which you walk over to reach the dunes. Also see Gronant Site Guide which includes a map.
Anybody can help with the preparations for the new season at the only Little Tern Colony in Wales, and one of the most productive in the country thanks mainly to the volunteers and wardens doing such a fantastic and important job. I would recommend bringing refreshments, sturdy footwear and warm clothing.
6th April:7 pm - 8:30 pm Gronant Little Terns, an illustrated talk by Henry Cook, (previously a Little Tern Warden at Gronant) Gwaenysgar Village Hall, LL18 6EL 7 pm - 8 30 pm. £3 adult admission, under 16's free.
23rd - 27th April: 10 am - 4 pm Construction of the hide and perimeter fence at the Little Tern Colony in Gronant Dunes.

1st - 5th May: 10 am start - Electric fence construction at the Little Tern Colony in Gronant Dunes.
---
Wednesday 25th April and Sunday 29th April, Bluebells and Birdsong at RSPB Burton Mere Wetlands.
10am-12pm
Price: £10 per person / £8 RSPB members
Booking essential - ring 0151 353 2720.
Join us for this guided walk through Gorse Covert, a semi-natural ancient woodland at Burton Mere Wetlands which happens to be one of the best bluebell woods in the area. Admire the beautiful spring spectacle, and learn about other woodland plants, whilst being serenaded by the array of birds noisily defending territories for nesting.
Stick around afterwards to enjoy the rest of the reserve, and even lunch or a snack in the Reception Hide.
Sturdy footwear and a reasonable level of fitness is required. Advanced booking and payment essential.
Sunday 6th May, Dawn Chorus at RSPB Burton Mere Wetlands.
5-7am
Price: £12 per person (£9.50 RSPB members)
Booking essential - ring 0151 353 2720.

It's International Dawn Chorus Day, so join us at Burton Mere Wetlands to experience the magic of the reserve waking up as the sun rises. With a wonderful mix of woodland and wetlands, there's no better place to experience the early morning birdsong.
An expert guide will help identify the bird calls and songs around you, plus all the other kinds of wildlife that makes its home here. Enjoy a hot drink afterwards in the Reception Hide, then a chance to explore the rest of the reserve on your own before it opens at 9am.
Advanced booking and payment essential.
Sunday 13th May, Burton Marsh (RSPB) Birdsong and Breakfast.
7am-10am
Price: £15 per person / £12 RSPB members (includes full breakfast)
Booking essential - ring 0151 353 2720.
Meet at the junction of Station Road and Denhall Lane, west of Burton village.

Join us for this exclusive event as part of Wirral Walking Festival; a gentle walk along the Burton Marsh Greenway as far as Burton Point before retracing our steps to Denhall Lane as far as Nets Cafe for a full English breakfast.
A variety of warblers are busy establishing breeding territories here at this time of year, whilst the marsh is peppered with other summer migrants such as wheatears and alive with the songs of skylarks and meadow pipits. This early morning walk will offer chance to see and hear the marsh coming to life for the day in this busy time for nesting and migrating birds.
The route is along a fully accessible paved track. Booking and payment in advance essential. Price includes breakfast at Nets Cafe.