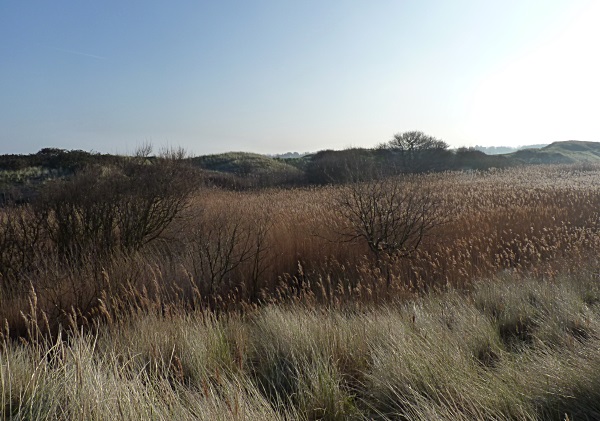 Red Rocks NR looking from the fore-dunes across the reed bed to the fixed dunes. The small trees are Sallows, despite being an important habitat for migrants and the BoCC Amber-listed Reed Bunting most are due to be felled © Richard Smith


I suspect this will be the first of a series of articles and it is with sadness I write this one. Sadness, not only because what has already happened at Red Rocks, and the disastrous plans for the future, but because it involves the Cheshire Wildlife Trust (CWT), an organisation I've been a member of since childhood and I was also a founder committee member of their Wirral Branch, Wirral Wildlife. CWT even gave me the Eric Thurston Award in 2011 'to recognise the good work that you have done to support wildlife in the county' which I was very proud to receive. I do feel let down - not just because of the physical damage done to Red Rocks but because of a series of misleading statements coming from CWT, I thought better of them. I should add here that the area concerned covers both the Red Rocks SSSI and a small portion of the adjacent Dee Estuary SSSI and therefore Natural England (NE) are also very much involved, therefore objections and protests should be sent to both organisations.
The Poplar stand, before and after © Jane Turner
The Felling of the Poplars
The first we knew of the destruction was in early March when the stand of Poplar trees on the northern edge of the reserve were cut down. CWT claim these were semi-mature trees which have grown since the SSSI was cited in 1979. NOT TRUE. We have cast iron evidence, as well as our own memories, that even the youngest of the trees were present in 1979 and that the Poplars were there in the 1950s, and probably before. In one of the trees a Mistle Thrush was actually building a nest before it was cut down, Mistle Thrushes are Amber listed for Birds of Conservation Concern and nest regularly here. Migrating birds are specifically mentioned in the citation for the SSSI, indeed, Red Rocks is famous for them. Speaking to CWT or NE people it seems they don't care that it was these trees in particular that attracted them to this site as they were the tallest trees in that locality at the very north-west corner of Wirral. They provided a vital resting and feeding habitat, now lost for ever.
Take a look at https://www.youtube.com/watch?v=8rjTy5lsp6k&feature=youtu.be to both see and hear what has been lost.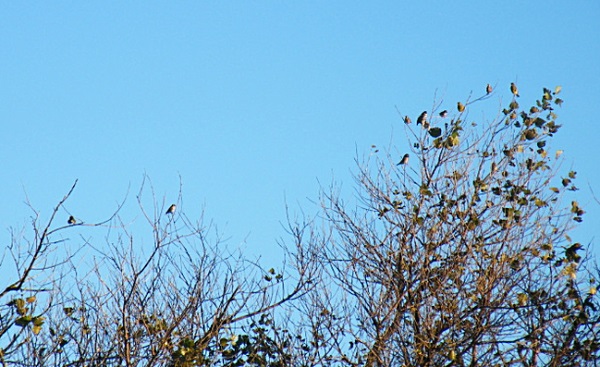 Migrants in the Poplars © Jane Turner
Clearing the Under-storey
On March 10th I threatened to stand in front of the digger which had just started to grub up the under-storey surrounding the Poplar stumps. A ridiculous situation that I had to resort to such tactics to stop CWT digging up prime bird nesting habitat with birds already nest-building. This is a Wildlife charity with their Reserves Manager present, and they have to be told that birds could be nesting close to mid-March??!!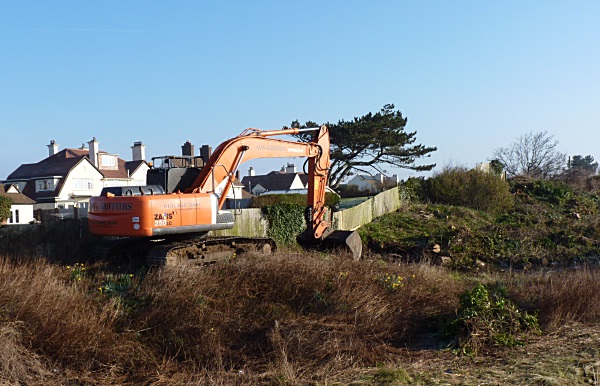 The offending digger with the Poplar stumps to the right © Richard Smith

Despite being made to stop the work temporarily the plan is still to clear all that understorey, mainly a thick layer of Ivy with a small number of shrubs and small trees - ideal bird nesting habitat and particularly desirable as that whole area is almost wholly undisturbed, something which is rare in North Wirral. This is all in the name of sand dune restoration.
NE claim that even though the amount of extra sand dune that will be created is tiny (c2% of the total) it is worth destroying this important bird habitat as sand dunes are such a rare feature in this area, and cited as special importance for the SSSI. Fair enough, you might say, except the idea is madness! I doubt this area has been a sand dune since the houses were built along Stanley Road in the 1920s and old maps certainly indicate that. Due to the presence of these houses this area is now very sheltered, so there is no sand blow which is a pre-requisite for sand dunes, also that end of the sand dune ridge is the furthest away from the sea so it has naturally reached the woodland climax stage and is, in effect, a soil dune rich in humus. The NE/CWT plan is to restore this area to Yellow dunes (i.e. sand and marram grass), but instead all they are going to achieve is to expose disturbed soil ideal for the very invasive plants which they are so concerned about. Just how effective the ivy is at suppressing these invasive plants is demonstrated by the fact that it successfully smothered some knotweed a few years ago, we believe that some of it remains on the other side of the fence.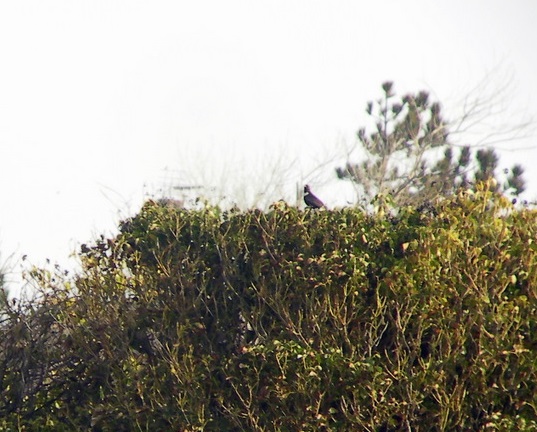 A Ring Ouzel on the Ivy © Jane Turner
Grasshopper Warbler Hollows
If you walk along the boardwalk that runs behind the reed bed you will see two dips, or hollows, in the sand dunes which contain a handful of shrubs including Dog Rose, some gorse and a lot of Burnet Rose, which is a native sand dune specialist*. This is where two to three Grasshopper Warblers breed regularly, and this area is one of only a handful of sites where breeding has been confirmed in Cheshire and Wirral in recent years. Grasshopper Warblers are RED-listed for Birds of Conservation Concern. CWT know where they nest and that they are red-listed, yet they are going to dig out all those shrubs and roses thus knowingly destroying the nesting habitat of a BoCC red-listed species! The BoCC booklet specifically states that it is scrub removal which has led to loss of suitable breeding habitat. Several pairs of Common Whitethroat, which are Amber-listed for Birds of Conservation Concern, also breed here. Again, this is in the name of Sand Dune restoration, and again, the area is only a small portion of the total sand dune area. We are seeking the views of the County Recorder, RSPB and BTO.
CWT and NE would have us believe that scrub is rapidly spreading across the dunes, this is just not true and, if anything, the number of shrubs in these hollows is less than they were in 1979.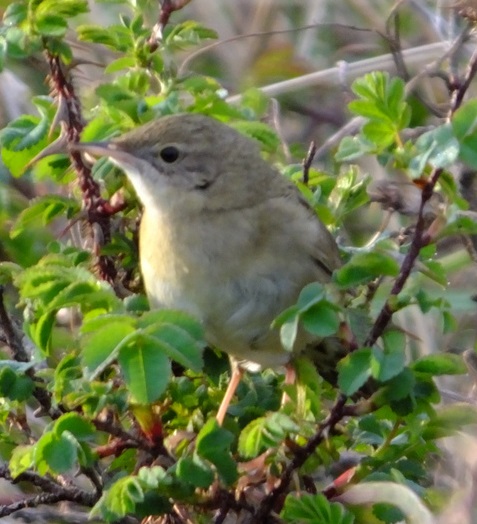 Grasshopper Warbler enjoying the Burnet Rose in the hollow,
Burnet Rose due to be killed off by spraying by CWT © Jane Turner
See video of singing Grasshopper Warbler in the hollow
https://www.youtube.com/watch?v=3aWN0zMajTg - note both the Dog Rose which the bird is perching on, and the Gorse in the background are due to be felled.
* You would think something as basic as telling the difference between the native, sand dune specialist Burnet Rose, and the garden escape Japanese Rose (Rosa rugosa), would not be beyond CWT and NE. But no, they consistently have been saying that the species of rose, variously described as 'a non native rose which has no place in sand dunes' and a 'non native aggressive ground rose' is Rosa rugosa. It was only during an on-site meeting at the end of March that they were persuaded otherwise. But no apology and no suggestion that they would re-assess their plan to 'control' the rose, even though they now know they are dealing with
a much loved native plant which is also an ideal safe nesting habitat for a variety of birds
, and not a non-native garden escape.
It should be noted that Skylarks, RED-listed for Birds of Conservation Concern, nest in the Burnet Rose areas.
Lack of Consultation
You may wonder how all this could have happened. Our main grievance is the complete lack of any meaningful consultation. We have asked numerous societies, groups and individuals, including the Bat Group, and came up with a 100% negative as far as consultation is concerned. CAWOS are the holder of Bird Records for Cheshire and Wirral yet no records for Red Rocks were asked for. Indeed, one theme running through all this sad saga is the seemingly complete indifference for the bird life of the site, red-listed or otherwise.

What Next?
Thankfully, due to the breeding season, we have a pause in the work. This gives us an opportunity to talk and come to an agreement on the way forward, whilst still meeting with most of CWT's and NE's objectives. Unfortunately, an on-site meeting with CWT and NE at the end of March was unsatisfactory but at least NE put there viewpoint in an honest and straightforward way, CWT were less helpful.
NE no doubt have targets to reach which we are hoping they can be persuaded to modify. CWT need to stop putting out misleading statements (verbal and written), admit they have made mistakes and start meaningful consultation.
What should happen is a complete survey of the site with full consultation with local experts. We would like the re-notification of the SSSI which takes into account what is there now rather than what was there in 1979. This should be followed by a NEW management plan which must be fully consulted on and reasonable objections and suggestions taken into account.
Can You Help?
Yes please! After reading the above article please send your thoughts to the Cheshire Wildlife Trust ( info@cheshirewt.org.uk ) and Natural England ( enquiries@naturalengland.org.uk ). If you think you can help with expertise, records, photographs etc., please email me at:



They CANNOT be allowed to further damage this lovely little reserve.
If this issue has not been resolved satisfactorily by the end of the breeding season then we may need help on-site - I'll keep you posted on this website.

Natterjack Toads
You may have got the impression from press releases and newspaper stories that all this work at Red Rocks is to do with trying to improve the habitat for Natterjack toads. In fact, all the work mentioned above is at the opposite end of the reserve and will have no effect on the toads whatsoever - this is NOT a case of Natterjacks versus birds. There has been some work done at the south-west corner of the reed-bed mainly involving the digging of new Natterjack breeding scrapes. We do have some issues with the effectiveness of what they have done, and they may well have badly damaged the habitat of a IUCN Red-listed moth (no consultation!) as well as some rare plants, but our immediate concern is with the wilful destruction of long-standing habitat of great importance to the cited Migrating birds as well as both Red-listed and Amber-listed Birds of Conservation Concern.

Sources of Information
1. Jane Turner, Site Guide - Red Rocks Marsh Nature Reserve -
http://www.deeestuary.co.uk/news1107.htm
.
2. Birds of Conservation Concern 3,
http://www.bto.org/sites/default/files/u12/bocc3.pdf.
3. Cheshire and Wirral Bird Reports, CAWOS, 1967 to 2012 (and associated database).
4. Birds in Cheshire and Wirral, A Breeding and Wintering Atlas (2004-2007), CAWOS, 2008.
5. Vegetation Succession: Sand Dunes, The MaCaulay Institute,
http://www.macaulay.ac.uk/soilquality/Dune%20Succession.pdf.
6. Red Rocks SSSI Information, Natural England:
http://www.sssi.naturalengland.org.uk/special/sssi/sssi_details.cfm?sssi_id=1003697
7. Cheshire Wildlife Trust Press Release, January 2014
http://www.cheshirewildlifetrust.org.uk/news/2014/01/29/new-home-natterjacks-wirral

and the same with my comments:
http://www.deeestuary.co.uk/Original%20CWT%20Press%20Release%20Jan%202014.pdf
8. Cheshire Willife Trust Statement of March 11th, 2014 (made after the digger was stopped the previous day):
http://www.cheshirewildlifetrust.org.uk/redrocksmanagement
and the same with my comments:
http://www.deeestuary.co.uk/CWT%20Statement%20of%20March%2011th%20with%20comments.pdf
9. Guy Farrar, Royal Liverpool Golf Club, 1933.
Richard Smith
Top of Page
March Bird News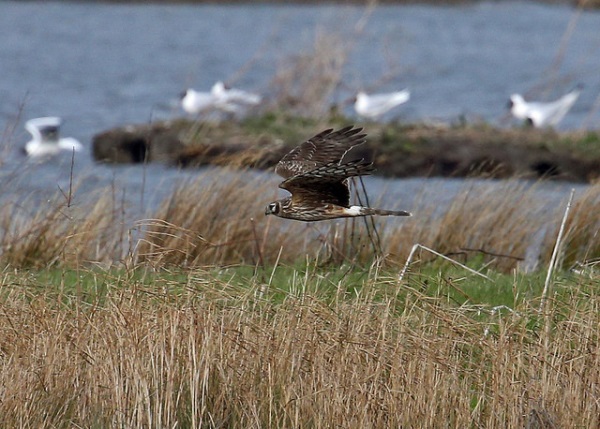 Hen Harrier at Burton Mere Wetlands, Mar 14th © Roy Lowry
.
The month started with another two big high tides which covered the marsh at Parkgate, I reckon that is a total of nine for the winter, probably not a record but certainly an exceptional number in recent years. Highlights were three Water Rails, seven Short-eared Owls and two Hen Harriers including a grey male. Pink-footed Geese numbers didn't quite reach the six thousand I rashly hoped for but the 4,500 actually counted was still one of our highest ever counts.
The second of the big tides, on the 3rd, was a flat calm and coincided with a remarkable 27,000 Common Scoters off Hilbre. I had hoped to write an article about Common Scoters this month but the debacle at Red Rocks intervened but I hope to have it ready for May. The first Little Gulls and Gannets were seen from Hilbre on the 16th.
A nice video of the high tides can be seen at
http://vimeo.com/89227679
.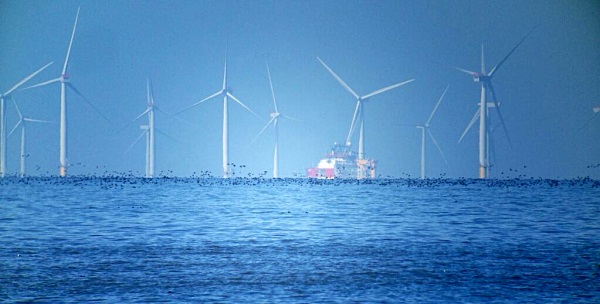 The spring migration got off to an early start with all the species tabulated below earlier than in 2013, a Willow Warbler at Burton Mere Wetlands was exceptionally early. Other spring migrants included a male ring Ouzel at Meols on the 13th with another near the end of the month near Leasowe Lighthouse. A Sandwich Tern was off Leasowe Lighthouse on the 30th with two Great Northern Divers also spotted, on the same day 20 Wheatears were in the horse paddocks.
| Species | 2014 | Location (2014) | 2013 | 2012 |
| --- | --- | --- | --- | --- |
| White Wagtail | 8th March | Hilbre | 14th March | 8th March |
| Wheatear | 10th March | Leasowe Lighthouse | 17th March | 9th March |
| Willow Warbler | 12th March | Burton | 6th April | 20th March |
| Swallow | 19th March | Connah's Quay | 10th April | 17th March |
| Sand Martin | 20th March | West Kirby | 28th March | 28th March |
| House Martin | 29th March | Gronant | 12th April | 4th April |
| Cuckoo | | | 13th April | 14th April |
| Whitethroat | | | 15th April | 1st April |
| Swift | | | 17th April | 26th April |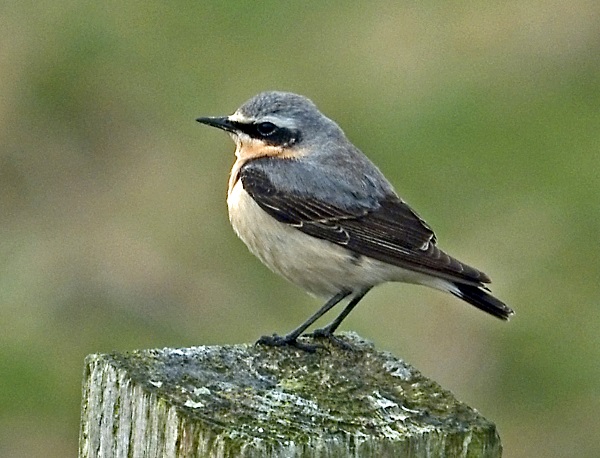 Wheatear at Leasowe, March 29th © Andy Thomas
Twite numbers have been high all winter at Connah's Quay and this month there were 70 early in the month with 50 still there at the end. Twite are much rarer on Wirral so two for most of the month near Leasowe Lighthouse were very welcome. Burton Mere Wetlands saw the welcome return of Avocets with a max count of 51 on the 26th.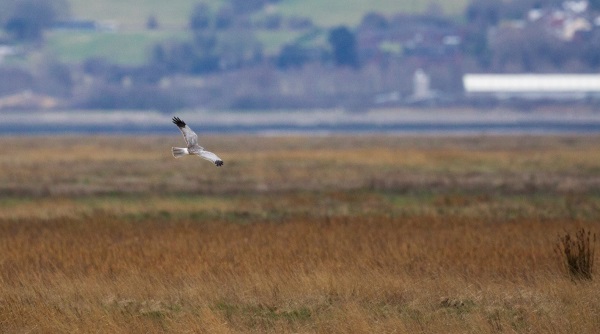 Male Hen Harrier off Parkgate, March 16th © Andy Davis
Richard Smith.
Many thanks go to Mark Tuner, Derek Bates, Steve Hinde, Jane Turner, Dave Edwards, Ian Fleming, Mel Bellingham, Frank Burns, Brian Lingard, Paul Mason, David Leeming, Dan Trotman, Les Hall, George Hill, Allan Conlin, David Haigh, Andy Davis, Alan Irving, Mike Buckley, Jeremy Bradshaw, Alan Hitchmough, John Jakeman, Steve Williams, Andy Thomas, Ray Eades, Bruce Atherton, Gail Wilson, Chris Butterworth, Dave Wild, Matt Thomas, Jeff Cohen, Colin Schofield, Roy Lowry, Mark Evans, Alan Irving, Richard Beckett, Nick Hill,Keith Scovell, Bill Wonderley, Geoff Robertshaw, Damian Waters, Roy Wilson, David Small, Robert Whiteside, David Peate, James Smith, Ian Fewtrell, Nigel Young, Jack Murphy, Dan Marland, Jeff Stephens, John Coupe, Ian Emmitt, Mark Johnson, Mike Davialr, Peter Haslem, Steve Hand, Alister Sclater, David Jones, Colin Twist, Elaine Harford, Chris Croft, the
Lighthouse and Wirral Birding Blog
, the
Dee Estuary Wardens
and the
Hilbre Bird Observatory
for their sightings during March. All sightings are gratefully received.
Top of Page
What to expect in April
An exciting month with the spring migration really getting under way, it's also usually an excellent month for rarities - last year we had American Wigeon, Blue-winged Teal, several Black-throated Divers, a Hoopoe, a Little Auk, a Red Kite and a Sabine's Gull. We can expect our first Common Tern, Little Tern, various skuas, Whinchat, Garganey, Osprey, Redstart, Yellow Wagtail, Grasshopper Warbler, Whitethroat and Lesser Whitethroat. But the most exciting events are the 'falls' when we can get migrants everywhere with fields covered by Wheatears, Whinchats on the fences, small flocks of Yellow Wagtails, warblers everywhere..... Out to sea can be just as good with large movements of Gannets, Little Gulls and maybe our first Manx Shearwaters of the year.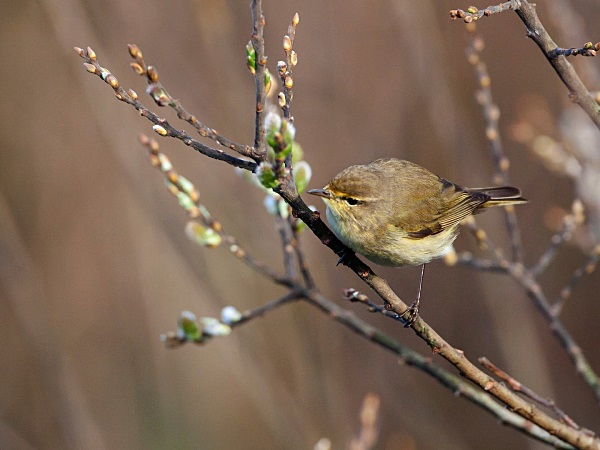 Top of Page
Forthcoming Events
April Highest Spring Tides (Liverpool)
Also see Tides page.

1st April, 13.02hrs (BST), 9.9m.
2nd April, 13.41hrs (BST), 9.6m.
Forthcoming Events
Organised by the Wirral Ranger Service , Flintshire Countryside Service and the RSPB (Dee Estuary):
All these events and walks have bird interest, even those not advertised specifically for birdwatching. No need to book for these events unless specified - please check below.
Also see 2014 Events Diary.
No Events yet announced for April 2014.