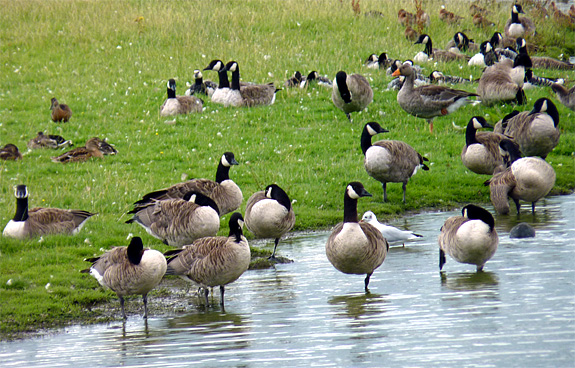 'Alien' Geese at Gilroy Nature Park, West Kirby © Richard Smith, There are three species of
feral geese in this photo, plus four other bird species - try and spot them all!
A birder watches a flock of geese fly over with a look of pleasure at the glorious sight. Another flock comes over and he hardly gives them a glance, turning quickly away to look at something more interesting. Why the difference? The second flock were aliens!
No, not Little Green Geese from Alpha Centauri but Canada Geese, which are aliens by the definition of British Birds. To quote: "a group of individuals of a species, subspecies or population that would not occur in an area without interference from humans". These are what I would call 'feral', but as that word seems not to have a clear definition I will stick to the word 'alien' for the purposes of this article.
There are several bird species locally which can be classed as alien but Canada Geese are by far the most numerous and visible. Like many other birders I'm afraid I take little pleasure in seeing them - after all, they shouldn't really be here and they're just too damned tame - and that's why they are never mentioned in my latest sightings page. However, I thought I'd make an exception this month and write an article about these aliens, including Canada Geese.
Canada Geese
The graph below shows the rapid increase of Canada Geese, both on the Dee and Mersey estuaries over the past 20 years. It seems incredible that the max count for the whole of the Dee estuary was just two during the winter of 1987/88! During their steep rise counts on the Mersey always lagged behind those on the Dee, until the past four years when numbers first equalled, then over took those on the Dee. The count of 4,519 during June 13th 2010 is almost certainly the highest ever single count for this species in this country. No doubt there is considerable interchange between the two estuaries, on Oct 10th 2010 there was a combined total of 5,788. Counts on the Dee seem to have levelled out over the past few years although a new max of 2,688 was reached in October 2010, the largest numbers are usually seen at Burton Marsh, Burton Mere Wetlands and Oakenholt Marsh.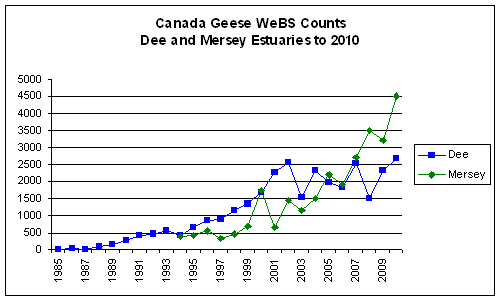 Greylag Geese
We look at Greylag more kindly than Canada Geese. Firstly, because there aren't so many, but also because naturally wild populations do actually breed and over winter in this country. You may wonder, therefore, why they are classed as an alien species. It is because the wild populations are confined almost exclusively to Scotland whereas the birds around the Dee estuary area are undoubtedly 'alien' by the definition above.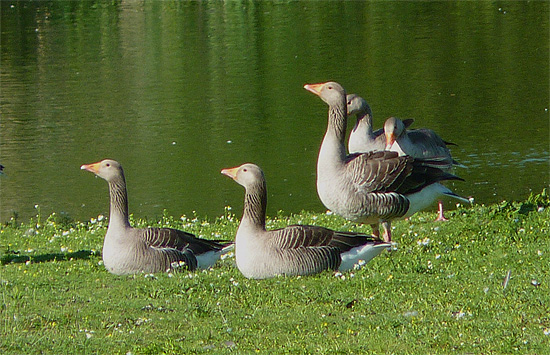 Greylag Geese in a field by West Kirby © Richard Smith.
Like Canada Geese numbers have increased rapidly over the past 20 years. Inner Marsh Farm RSPB max counts in 1994 were only 10, by 2000 these had increased to 35. Only six years later in 2005 they had reached 257 with 332 in 2007, and 400 in both 2009 and 2010. They are found quite regularly at various sites in west Wirral, with flocks of up to 70 at Gilroy Nature Park and Caldy Wildfowl Collection, they also visit Ashton Park lake in West Kirby. In the CAWOS Atlas they were confirmed to breed in three tetrads in the west of Wirral, and probably breeding in a further four. They certainly breed in Thornton Manor Woods where I've seen several large broods.
These 'alien' Greylag must have quite a lot of domesticated goose genes among the population as there are a lot which have white on them. Some are pure white, others just with a few white feathers. I've seen a group of four which have quite a fetching marbled look with a mixture of white and pale grey feathers. One bird caused some puzzlement a couple of years ago with a white patch above the bill. I got reports from at least six birders that this was either a White-fronted Goose or a White-front x Greylag hybrid. This was understandable as it was, after all, a grey goose with a 'white front'. Unfortunately it was just a Greylag!
All three populations of Greylag Geese in this country are increasing - Icelandic Breeding birds, native north-west Scotland Breeding birds and the feral 'alien' birds which are found mainly in England. However, this increase in the latter two populations has caused a complication as they have now over-lapped and in the Wetland Bird survey 2009/10 it was stated that it was no longer possible to distinguish the two populations. This combined population will in future be called the British Greylag Goose, with a total estimate of 140,000. So perhaps we should no longer regard them as 'alien' or 'feral', but rather see them as part of a very successful re-introduction scheme - if only they weren't so damn tame!
Barnacle Goose
It is quite possible that we get the occasional truly wild Barnacle Geese here on the Dee estuary. Certainly 12 seen flying along north Wirral and ending up on Oakenholt Marsh on October 7th 2006 behaved like wild birds at a time when many birds will have been migrating into the country from their breeding grounds. Wild Greenland Barnacle Geese winter on the Dyfi estuary in Wales, numbers had built up to 300 here by the end of September 2011 and it seems very likely that the 17 seen circling over Hilbre on September 18th, before flying off to Wales, were wild birds on their way to the Dyfi.
But the small flock of Barnacle Geese resident here are undoubtedly 'alien'. They spend most of their time at the Caldy Wildfowl Collection (next to the A540) where they also breed. Three successfully fledged in the summer of 2010. The max total of adult birds I have recorded there is 13, and they seem to be slowly increasing in number. They have also been recorded at nearby Gilroy Nature Park and Ashton Park lake. They sometimes venture further afield and have been seen on Heswall marsh and eight at Burton Mere Wetlands in October 2011 were most likely birds from this flock. This last winter (2011/12) saw two to three Barnacle Geese with the 'pink-feet' at Burton, it is possible these were wild birds but more likely they were either our local feral birds or had come over with the pinkfeet from Lancashire where there are at least a couple feral of flocks consisting of 40 to 50 birds each.
Black Swan
If there was some doubt about calling the previous two species alien, there is no doubt it is the correct definition for Black Swans which are naturally found in Australia. We usually get one or two turning up each winter with the other swans on the marshes, or on Shotwick Fields. When they are present it means we get a flock consisting of four species of swans!
Black Swans actually bred in Cheshire for the first time in 2008, and again in 2009 and 2010. This was at Haydn Flash, unfortunately none of the young survived but there were some very interesting interactions with the local pair of Mute Swans.
Mandarin Duck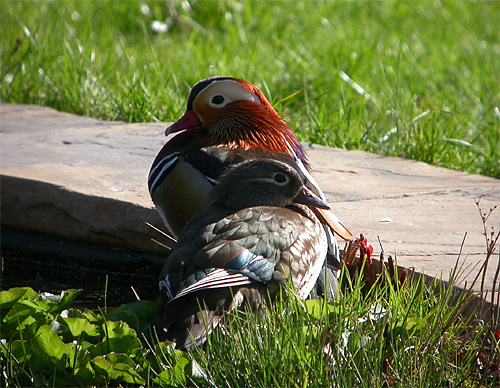 Mandarin ducks in my Caldy garden near Stapledon Wood © Richard Smith.
A truly exotic looking alien! They are fairly widespread across Cheshire and Wirral in small numbers, but very infrequent on the Welsh side of the estuary. There are quite a few in north-west Wirral and I've seen over 30 free flying birds at the Caldy Wildfowl Collection, and have had six visiting my garden pond. They breed in Stapledon Wood and Arrowe Park, and no doubt elsewhere. There seems to have been a decline in this local population over the past two years.
Other Species
Most 'aliens' are wildfowl as so many are kept in collections, and consequently escape, whilst others have been deliberately released. Species I haven't already mentioned include Egyptian Goose, Ruddy Shelduck (see July 2004 Newsletter) and the controversial Ruddy Duck. We get all three species here but only in very small numbers. None wildfowl species which sometimes turn up here include Ring-necked Parakeet, one or two of which turn up here every now and again. Then there are the game birds such as pheasant and red-legged partridge, and .............
Sources of Information:
1. Tony Fox, What Makes a Good Alien, British Birds Vol 102 (No. 12) Dec 2009.
2. Sheila Blamire, Interactions between breeding Black Swans and Mute Swans in Cheshire & Wirral, British Birds Vol 103 (No. 3) Mar 2010.
3. Cheshire & Wirral Bird Reports 1994 to 2009.
4. Neil Friswell and Colin Wells, Dee Estuary WeBS Annual Reports 2009/2010 and 2010/2011.
5. David Norman, Birds in Cheshire and Wirral (Atlas), CAWOS, 2008.
6. A.J. Musgrove et al., Overwinter population estimates of British waterbirds, Brtish Birds, July 2011.
7. RSPB Ynshir Blog.
8. Records sent to deeestuary.co.uk directly.
Richard Smith
Voluntary Wardens Needed to Protect Neston Reed Bed

Once again the RSPB are organising voluntary wardening at Neston Reed Bed, the scheme will begin near the end of March and run through until the end of May. Wardening will take place each evening in order to protect this important habitat from disturbance. I know in the past this scheme has attracted birders who have realised what a good opportunity this location is for some serious birdwatching with the possibility of seeing migrating Ospreys and Marsh Harriers, large numbers of Little Egrets flying in to roost, Bearded Tits, Hen Harriers, Short-eared Owls and the numerous birds which breed in the reed bed. If you are interested please contact Geoff Robinson (Geoffrey.Robinson@rspb.org.uk), telephone 0151 353 8478.
Richard Smith

Top of Page
March Bird News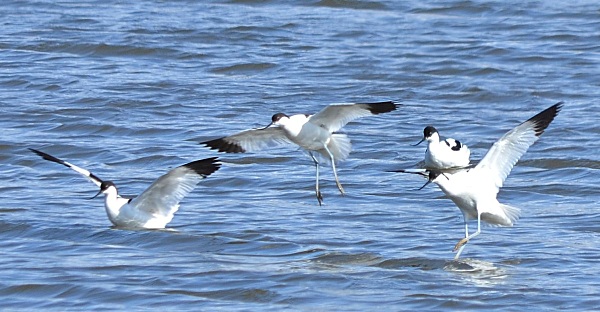 Avocets at Inner Marsh Farm, March 18th - © Mike Davenport.
As stated in the last newsletter spring migration started very early with a Sand Martin in late February, followed by several more early arrivals as shown in the table below, after which things slowed down - as they often do in March. We still await our first House Martin although it's not unusal to see the first one as late as the second week in April.
First dates of spring migration: 2012 (so far), 2011 and 2010

| Species | 2012 | Location (2012) | 2011 | 2010 |
| --- | --- | --- | --- | --- |
| Sand Martin | 28th Feb | Leasowe Lighthouse | 12th March | 18th March |
| White Wagtail | 8th March | Leasowe Lighthouse | 11th March | 12th March |
| Wheatear | 9th March | Leasowe Lighthouse | 13th March | 10th March |
| Swallow | 17th March | Red Rocks | 20th March | 18th March |
| Willow Warbler | 20th March | West Kirby | 16th March | 19th March |
| House Martin | | | 25th March | 30th March |
| Whitethroat | | | 8th April | 7th April |
| Swift | | | 17th April | 19th April |
| Cuckoo | | | 20th April | 10th May |
It was a good month for Ring Ouzels with five records (probably involving three different birds) with the first one on the 23rd, this is a very good number for March as the peak of the spring passage isn't usually until the third week in April, so perhaps we are in for a bumper year for this species. There was a remarkable passage of Goldcrests on the 15th including at least 200 counted on Hilbre. There was also a good passage of Redpolls including two Mealy Redpolls caught and ringed on Hilbre, but perhaps the most unexpected visitor to Hilbre was an overflying Hooded Crow on the 6th.
Two flocks of 20,000 and one of 10,000 Knot flew north past
Hilbre
out of the estuary during the month. These were presumably on their way to moult in the Ribble Estuary (
see June 2010 Newsletter
) before heading across the Atlantic to breed. It was nice to see the return of Avocets which reached a max of 10 mid-month and again at the end of the month - hopefully some will stay to breed at
Burton Mere Wetlands
. Other notable migrant waders were 15 Spotted Redshanks at
Inner Marsh Farm
on the 2nd.
There were still good numbers of geese around after the winter. At least 20 White-fronted Geese were still at Puddington on the 2nd but there were no further reports of these. The Pink-footed Geese spent most of the month out on the welsh side of Burton Marsh were they were difficult to see, max 1,700 on the 3rd. It was presumably 1,100 of these which landed at
Parkgate
on the 28th and they subsequently roosted at
Burton Mere Wetlands
that night. There were still 182 Brent Geese early in the month which had dwindled to 89 by the month-end.
Out to sea visibility varied from phenomenal to near zero! The 12th was a good day with 22 Eider seen from both
Meols
and
Hilbre
, and 1,000 Common Scoter off north Wirral. The 21st saw 10 Scaup off
Hoylake
and 60 Little Gulls flying past
Hilbre
.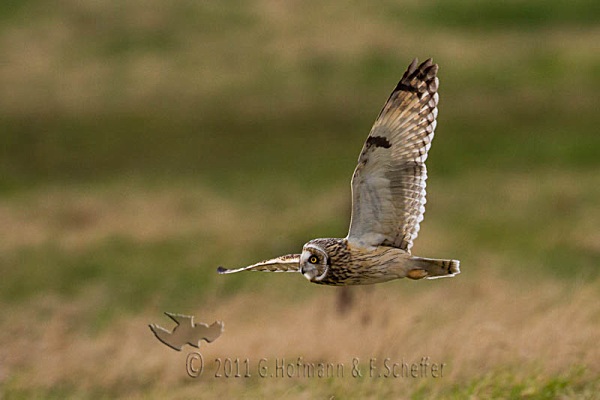 Up to three Short-eared Owls took up residence in fields near
Leasowe Lighthouse
, usually observed hunting in the evenings. Two ringtail Hen Harriers frequented the marshes off
Parkgate
and Burton. Single Marsh Harriers were reported on three dates early in the month, probably the same bird. A Red Kite appeared to be lost in the mist on the 22nd and did a circuit of north Wirral being seen at
West Kirby
,
Red Rocks
,
Leasowe Lighthouse
, Frankby and Bidston.
One of the highlights of the month was a Bittern at
Burton Mere Wetlands
which every so often gave great views from the main hide. Even more unexpected was a Long-eared Owl which flew off from a bush at
Red Rocks
on the 24th, the over-wintering Black Redstart was seen there several times but, as it has done all winter, spent most of the month hiding in gardens on Stanley Road. The long staying Great White Egret was last recorded at
Parkgate
on the 16th but the immature Spoonbill gave good views there all month. A second, adult, Spoonbill was at
Burton Mere Wetlands
on the 15th and both had been seen together at
Parkgate
a day or two earlier.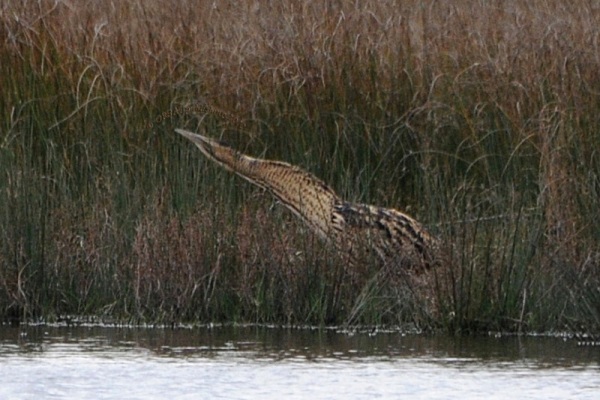 Bittern at Burton Mere Wetlands, March 30th © William Boyce
Richard Smith.
Many thanks go to Steve Round, David Farrell, David Haigh, Eddie Williams, Jeff Stephens, David Esther, Daniel Trotman, Mike Hart, Steve Hinde, Colin Schofield, Kenny Dummigan, Richard Beckett, Paul Vautrinot, Ray Eades, Mike Davenport, Alan Hitchmough, Dave Harrington, Andy Thomas, Ken Mullins, William Boyce, Bruce Atherton, Steve Williams, John Jakeman, Mark Evans, Dave Edwards, Greg Harker, Paul Brady, Chris Butterworth, Peter Haslem, Dave Wild, Matt Thomas, Jeremy Bradshaw, Gerhard Hofmann, Brian Lingard, Trevor Cole, Tanny Robinson, Jane Turner, Graham Thompson, Jon Greep, Bob Foulkes, A Quinn, Colin Jones, Tony Edwards, Tony Breen, John Coupe, David Small. Andrew Wallbank, Juilian Weldrick, Ashley Cohen, Bill Wonderley, Paul Mason, Kevin Roberts, Graham Conolly, Barry Darby, Mark Gibson, Sean O'Hara, Ian Fewtrell, Malcolm Guy, the
Dee Estuary Wardens
and the
Hilbre Bird Observatory
for their sightings during March. All sightings are gratefully received.
What to expect in April
If this April is only half as good as last year it will still be a great month! See
May News 2011
for details of last April.
The spring migration will be in full swing and hopefully we'll get days when migrants will be everywhere - Redstarts, Wheatears, Yellow Wagtails, White Wagtails, Grasshopper Warblers etc. Prime spots are Point of Ayr, Hilbre, Red Rocks and Leasowe Lighthouse, but Thurstaston and Burton can also be very good. Out to sea we will see plenty of Gannets and Sandwich Terns, and the passage of Little Gulls which pass by here before crossing the country on their way to breed in the Baltic is always great to see.
There are more spring tides due on the 7th to 9th, we've been unlucky with the weather this year for these high tides so lets hope April is better - although it's getting a bit late in the year there should still be plenty of birds to see including Short-eared Owls and hopefully both Marsh and Hen Harriers, and there's always the chance of a passing Osprey.
Forthcoming Events
April Highest Spring Tides (Liverpool)
Also see Tides page.
7th April, 12.11hrs (BST), 9.9m.
8th April, 12.54hrs (BST), 10.0m.
9th April, 13.39hrs (BST), 9.9m.
Forthcoming Events
Organised by the Wirral Ranger Service , Flintshire Countryside Service and/or the RSPB:
All these events and walks have bird interest, even those not advertised specifically for birdwatching. No need to book for these events unless specified - please check below.
Also see 2012 Events Diary.
Saturday 7th April, 10am start, RSPB High Tide Birdwatch at Parkgate.
High tide at 12.11pm, 9.9m. The marshes of Parkgate and the surrounding areas hold masses of small mammals and bird life. Will this year's tides flood the entire marsh and cause the wildlife spectacle hundreds of people travel miles to see?
RSPB Staff and volunteers will be on hand to help identify the birds and explain what is happening and why. Meet at Old Baths car park overlooking the marsh. Ring 0151 353 8478 or 0151 336 7681 for more info.

Sunday 8th April, 10am start, RSPB High Tide Birdwatch at Parkgate.
High tide at 12.54pm, 10.0m.

Monday 9th April, 10am start, RSPB High Tide Birdwatch at Parkgate.
High tide at 1.39pm, 9.9m.
Saturday 14th April, 7am to 9am, Up with the Lark.
Early morning bird song at Ness Botanical Gardens. A gentle stroll around the picturesque Ness Botanical Gardens with experts from the RSPB to help you identify the beautiful bird song of the early hours.
Cost: £10 including breakfast batch.
Places limited so book your place now by phoning Ness Gardens on 0151 353 0123.

Saturday 14th April, Hilbre Low Tide Birdwatch, 8:00am start to 1:30pm latest.
Join the Rangers, the RSPB and staff from the Hilbre Bird Observatory on this low tide birdwatching event on Hilbre Island.
We hope to catch up with some early spring migrants, learn about the work of the Hilbre Bird Observatory, the bird ringing processes and the fantastic migration journeys that visiting birds undertake. Booking essential. Phone (0151) 648 4371.
Sunday 22nd April, 9.30am start, Terns and Migrants at Point of Ayr.
April is the peak spring migration time, join us to see what turns up on Wales' northernmost point. Friendly staff and volunteers will be on hand to point out the birds with telescopes.
Meet at Smuggler's Inn Car , Station Road, Talacre.
For further details please ring 0151 353 8478 or 0151 336 7681.
A
Birding North West is a monthly magazine for birders in the North West Region. Our aim is to bring you the news of rare and scarce birds in our region while it is still news. We consider that up-to-date news, photographs of regional birds, articles on the occurrence of birds in the North West and other articles relating to our region is what our readership want.